What are popular types of YouTube channels this year? If you have the same question, read on. This article provides you with the top 12 popular types: gaming, make-up & beauty, reviews &unboxing, ASMR, vlog, etc. In addition, if you need to download these types of YouTube videos, MiniTool Video Converter can help you do that.
Hello, everyone! In this article, let's look at some of the most popular types of YouTube channels. YouTube is an interesting platform that has changed and evolved over the years. It has come a long way since 2005. Video and video quality have changed dramatically as technology and professionals have moved online.
With over 1.5 billion monthly active users and over 1 billion hours of video watched every day, YouTube is still expanding and growing at an amazing rate of 20% per year.
The big question about YouTube is can you start a YouTube channel and become a successful YouTuber in 2020? Let's get to the point. Yes, you can. Hundreds of millions of people join YouTube every year. They are potential new viewers, subscribers and maybe even customers or sponsors.
Now you may be eager to start using YouTube, but you're not sure how. So, this article will highlight the 12 most popular YouTube channel types that you can start or you can watch today! You can take some inspiration and see what moves you, then you can try to create something incredible.
Some classic channels on YouTube are still popular, but a lot of these channel types may surprise you!
Top 12 Types of YouTube Channels in 2023
Gaming
Make-up & Beauty
Reviews & Unboxing
ASMR
Vlog
Health & Fitness
Prank & Challenges
Music
Parody & Comedy
Tutorials
How-to & DIY
Educational
12 Most Popular Types of YouTube Channels in 2023
If you plan to start a new YouTube channel or you just want to find some popular types of YouTube channels to watch videos, the following part will introduce top 12 types of YouTube channels in 2020. If you are interested, read on. You're bound to learn something.
#1. Gaming
YouTube was once dominated by gaming channels. Even those in entirely different niches have built their own gaming channels to ride the wave. The wave has certainly died down, but dedicated gaming channels are as strong as ever.
With gaming channels being eligible for sponsorships and live streaming is becoming more and more popular, it becomes easier and easier to monetize your gaming channel.
The most popular type of gaming channel is commentary let's play. As the name suggests, these are gaming with entertaining commentary. There are many popular gaming channels for inspiration.
#2. Make-up & Beauty
Beauty channels focus on cosmetics and skincare products. With their expertise, they provide viewers with detailed tutorials on how to get a particular look or how to use a particular product for best results. They cover their daily makeup routine and give an insight into makeup novices and experts alike.
The popularity of beauty YouTubers means that cosmetics brands often reach out to them to reach their target market. These YouTubers are seen as trendsetters because the products they show off tend to become very popular.
#3. Reviews & Unboxing
When you think about reviews & unboxing channels, technology might be the niche that comes to mind. It can also be applied to a variety of other niche areas. Viewers' interest in review & unboxing channels is to determine whether a particular product is worth buying.
Smartphones, computers and cameras are some of the most popular product reviews. Unboxing is another aspect of a review channel that deserves to be a topic. These videos usually show what you get when you make a purchase and highlight some of the main features of the product without getting into too much detail in a particular video.
#4. ASMR
Automatic Perceived Meridian Response (ASMR) was, and still is, one of YouTube's fastest growing niches. ASMR refers to the soothing feeling when someone gently touches your skin with their fingertips or whispers something in your ear.
YouTubers who own the ASMR channel can cover a variety of topics and even combine their themes with other areas such as makeup and how-to guides. What's most fascinating, however, are the soothing sounds and images that YouTubers use to relax their viewers.
#5. Vlog
Vlogging is a portmanteau of video and blogging (Refer to this article to know how to start a vlog). The whole concept revolves around filming and letting the audience experience everyday life with you. Daily vlogging is so popular that good video makers become part of the audience's daily routine. Good vloggers can capture normal events and turn them into wonderful moments.
#6. Health & Fitness
These channels share healthy diets, fitness and exercise habits with viewers. Some post full-body workouts, while others post workouts that can be done at home or the gym.
These YouTubers are either fitness professionals who want to teach you how to live a healthy lifestyle or simply want to share their fitness routines with the world.
#7. Prank & Challenge
Prank and challenge channels are popular for their entertainment value. They always push boundaries and follow trends. These channels often trick family or friends, or eat strange things in an attempt to shock or humor their viewers.
#8. Music
On YouTube, music channels can take many forms. Singers, songwriters, choreographers and dancers fall into this category. Singers and songwriters write their
own original songs or cover pop songs. Choreographers and dancers create routines and tutorials and then share these on their channels.
#9. Parody & Comedy
These channels can be divided into a series of themes, but can also be divided into other categories, like Malinda Kathleen Reese using funny/comedy on her music channel, or a funny/comedy channel using music.
The main purpose of these channels is to make viewers laugh. Simon's cat has a comic side. This animation channel produces short plays that all cat owners will enjoy.
#10. Tutorials
The tutorial channel shows you how to do things. YouTube is a popular search engine in the world. YouTube tutorials are visual, which makes it easier for you to follow and determine if you're doing the right thing. There are a variety of tutorial channels on YouTube.
#11. How-to & DIY
The how-to and DIY channels are similar to the tutorial channel in that they show viewers how to achieve certain goals. These channels are more about creating things and teaching you how to do things, while tutorials are more about your step-by-step instructions. They can overlap, of course.
#12. Educational
These channels present information to viewers in an engaging and interesting way. These can also be inspiring avenues for teaching through experience. TED and GaryVee are good examples of educational channels. (Further reading: Top 12 Best Educational YouTube Channels [2020 Updated])
These are the top 12 most popular types of YouTube channels in 2020. Here are more types of YouTube channels: commentary (book, movie, etc.), sports, compilations, news/journalism, lifestyle, cooking (Best YouTube Cooking Videos for Adults and Kids), infotainment, travel, etc.
If you want to start a YouTube channel or want to find a popular YouTube channel to watch, choose one from these popular types.
These are the top 12 most popular types of YouTube channels of now.Click to Tweet
How to Download Different Types of YouTube Videos?
Right now, you have known the top 12 most popular types of YouTube channels in 2020. What if you want to download different types of YouTube videos? You can do that via a YouTube video downloader. Then, you can watch these videos anytime and anywhere without any issues.
Here are many YouTube downloaders in the market. Which one should you choose? MiniTool Video Converter is a great assistant. It is the best free YouTube video downloader featuring a simple interface. It is compatible with Windows 7/8/10/11. It offers high-speed downloads and superior quality conversions. Meanwhile, there is no ads and no bundle.
You can download YouTube videos with a great choice of output formats – MP4, MP3, WAV and WEBM in the fastest and easiest way. You are also allowed to download video subtitles, download music from YouTube and even download the YouTube playlist.
Further reading:
Read on. The following part will show how to download videos via MiniTool Video Converter.
MiniTool Video ConverterClick to Download100%Clean & Safe
Step 1: Open MiniTool Video Converter.
Download MiniTool Video Converter.
Install it on your computer.
Launch this free YouTube downloader and go to its main interface.
Step 2: Download Videos on YouTube.
Search for the video you want to watch or just type the URL link of it, and then open this video.
Click the Download button at the top side.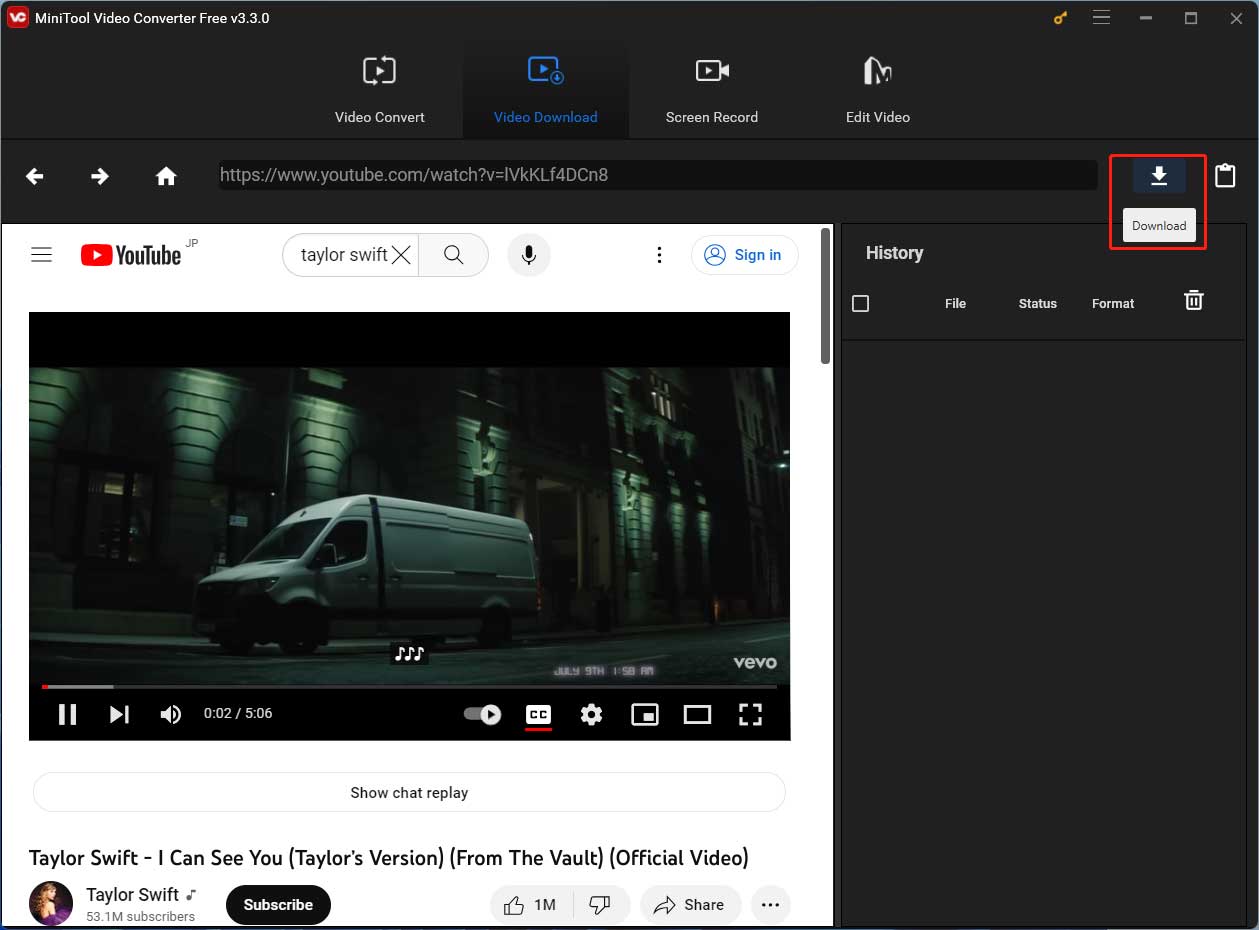 Step 3: Save Videos.
Then, select the output format of the video. You can choose to convert it to MP3, MP4, WAV, and WEBM. Here you can choose to download YouTube subtitle or not.
Click DOWNLOAD to start to download the video right now.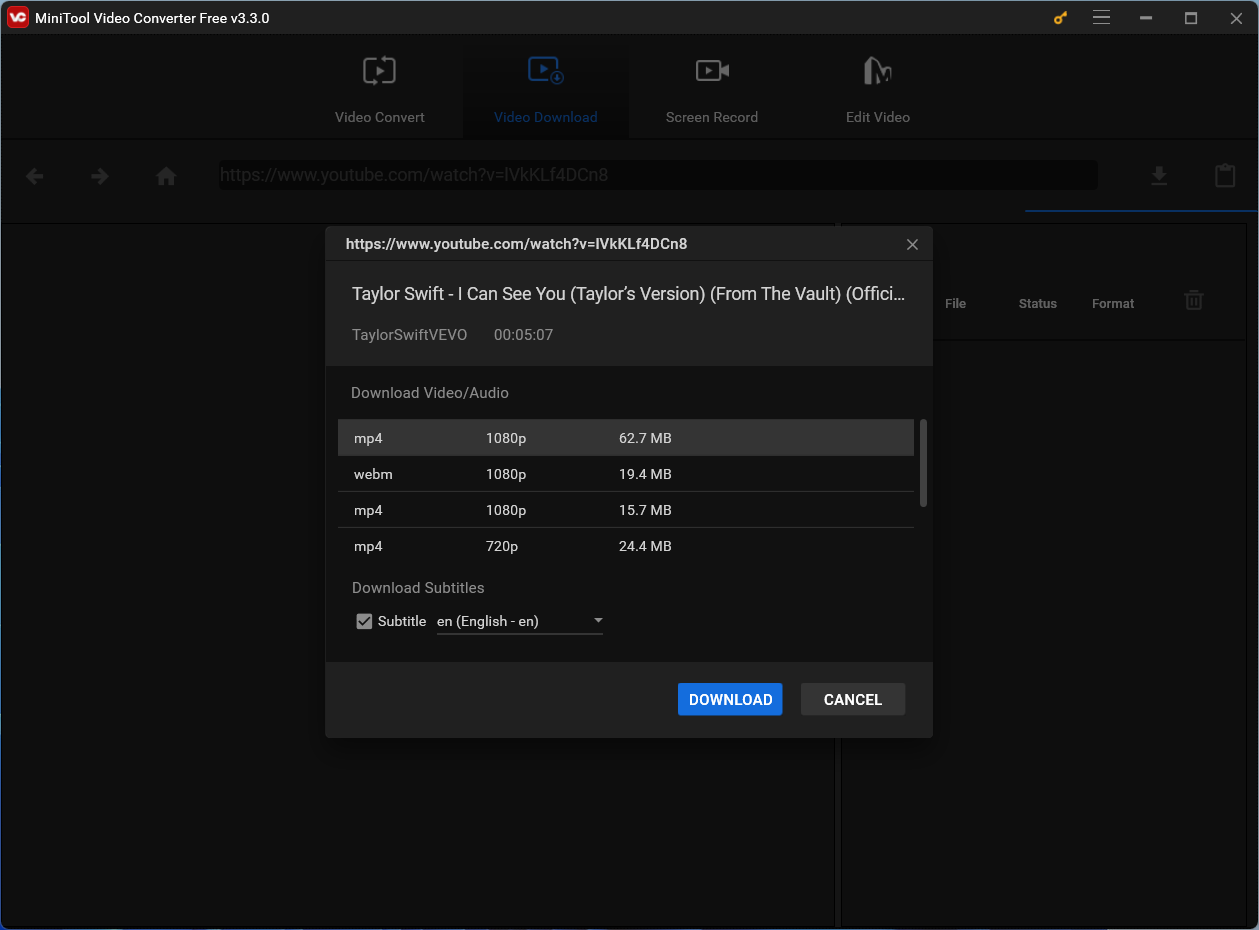 Step 4: Watch Videos You Just Downloaded.
Now, you can choose to check the video by clicking the Navigate to file button after it is downloaded successfully.
You can also watch it now by clicking the Play button.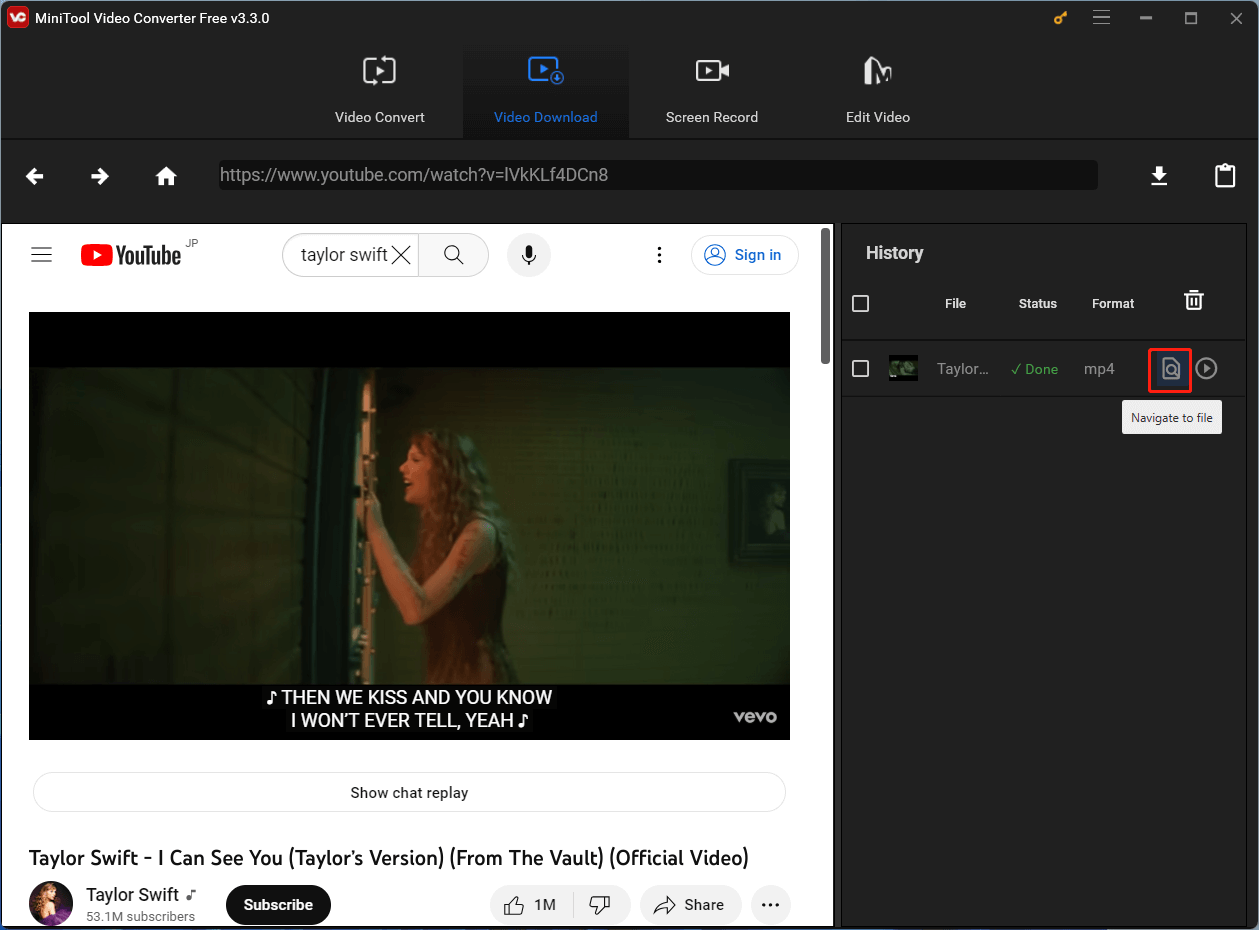 After you finish all the steps above, you should have successfully downloaded and saved the different types of YouTube videos you like.
MiniTool Video Converter is a useful YouTube downloader app. It is easy-to-use. I've downloaded many YouTube videos with it.Click to Tweet
Conclusion
This article has provided you with the top 12 most popular types of YouTube channels currently. In the end, hope you have found the type of YouTube channel you like from these popular types. Then, you can start your own channel or watch the videos from these types just for fun.
Besides, this article also introduces a great YouTube downloader app – MiniTool Video Converter. It can help download videos and audios from YouTube.
MiniTool Video ConverterClick to Download100%Clean & Safe
If you have any questions or you know any good and free YouTube downloader app, please share them with us. Thanks in advance!
Types of YouTube Channels FAQ
What are people searching for on YouTube?
Top 10 Worldwide Queries:
1. Despacito
2. BTS
3. Bad Bunny
4. Pewdiepie
5. ASMR
6. Shape of You
7. Ed Sheeran
8. Ozuna
9. Eminem
10. Justin Bieber
Does category matter on YouTube?
The answer is yes, because the content of the videos will determine how many views you get, and all you have to do is choose the right categories to grow your YouTube channel in the right way.
Can I change my YouTube channel category?
You can customize and change YouTube's video category using YouTube settings in your PC or Laptop device. Here are different types of video categories on YouTube such as sports, education, science & technology, news, people & blogs, entertainment and more.
How can I promote my YouTube channel for free?
Here are 9 tactics for promoting your YouTube channel:
1. Create thumbnail images that draw viewers in.
2. Give your videos irresistible titles.
3. Use search keywords that show mostly video results from Google.
4. Include calls to action.
5. Make sure you're allowing people to embed your videos.
6. Cross promotes your YouTube channel like a pro.
7. Create playlists.
8. Consistency pays off: produce a regular video series.
9. Engage with viewers through contests, response videos, and collaborations.