Do you know what is ASMR? Are you interested in ASMR? If you want to learn more about ASMR, you are in the right place. This post offers 11 ASMR YouTube channels and shows how to download ASMR YouTube videos with a free YouTube downloader – MiniTool software.
ASMR Explained
What is ASMR on YouTube? On YouTube, video producers record themselves doing simple things like whispering, crafting sci-fi role-plays and developing storylines about time travel and demons, all of which can be called ASMR. They are welcomed by millions of viewers.
Here's what you need to know about ASMR that helps you relax. It's one of these weird tingling sensations. On YouTube, millions watched a video of a woman whispering into the camera, but she didn't do anything particularly funny. She only whispered in a sweet voice, and seemed to gesture casually.
However, millions of people were fascinated by it. For those unfamiliar with the phenomenon, this may raise the questions: What is ASMR? How does ASMR work?
What Is ASMR?
ASMR is short for autonomic sensory meridian response. It refers to how people feel when they watch stimulating videos or participate in other activities, often involving personal attention.
Many people describe the sensation as a tingling sensation running through the back of the head and spine. Others also say it's so relaxing that it even puts them to sleep.
Nature sounds can also make you feel relaxing: Get the Sound of Nature on YouTube from These 7 Channels!
As technical as the term ASMR sounds, there is no good research or science behind this phenomenon. The term is believed to have been coined by Jennifer Allen in 2010. She set up a Facebook group to find out more about it. Then, ASMR soon became popular because people finally had a way to describe the pleasant feeling they experienced.
How Does ASMR Work?
The way ASMR works varies from person to person. The science of ASMR is largely non-existent, so the understanding of it so far has been based on anecdotal evidence from the Internet.
People get the sense of ASMR from different triggers.
Some people like role-plays, in which people can get close personal attention and whispers. Others like videos showing extremely mundane tasks such as stirring a bowl of soup, spraying water bottles, or wrinkling wrapping paper.
Others are triggered by more complex role-playing. For example, someone impersonates a doctor to get a haircut.
If people listen or watch ASMR too much, they also seem to become immune to triggering events. So it's important for the ASMR video makers to keep it fresh, and viewers also need to make sure they don't overdo that amazing video.
Again, these are based on anecdotal evidence. We know that some people have experienced ASMR, but no one really knows how it works or why.
11 Great ASMR YouTube Channels
Bob Ross
WhisperingLife
Gentle Whispering ASMR
ASMRrequests
Heather Feather ASMR
WhispersRed ASMR
Gibi ASMR
ASMR Zeitgeist 
FrivolousFox ASMR
Angelica
ASMR PPOMO
Where to Get the Great ASMR Videos on YouTube – 11 Great Channels
If you are interested in ASMR and want to know where to get the ASMR videos on YouTube, the following part will help you. You will find some great ASMR YouTubers below.
1. Bob Ross
This channel is about soft speaking, tutorials and meditation. All Bob Ross videos are the original ASMR.
This perhaps is one of the best ways for you to understand ASMR. The host Bob Ross is often referred to as the godfather of ASMR because his gentle commands and soft, husky brushstrokes on his show – The Joy of Painting was a trigger point for many people who first experienced ASMR.
2. WhisperingLife
WhisperingLife uploaded the first real ASMR video on YouTube in 2009. This could be called the first intentional ASMR in history.
This video or rather audio recorded the rambling in a soft whisper. At first, the creator joked that it might be a fetish, but later explained that she just found it comforting and hoped other people would like it too.
It didn't get many views or comments, but it inspired other early ASMR channels like Gentle Whispering ASMR. In turn, Gentle Whispering ASMR also inspired more and more people and eventually became the ASMR community on YouTube. This is the starting point for ASMR on YouTube.
3. Gentle Whispering ASMR
The ASMR creator, Maria, is known as Gentle Whispering ASMR. She is the first ASMR star and has been making ASMR videos since before people called them ASMR.
Maria is often described as the best and most influential ASMRtist on YouTube by other content creators. She continues to produce well-crafted videos and improve the quality of her production. She is constantly putting out well-crafted videos and constantly improving the quality of her production.
She helped pioneer role-playing of mundane experiences based on the ability to trigger ASMR responses. For example, pretend to go to the doctor or try on clothes. These role-plays have become a staple of the ASMR community.
Since its launch, Maria's channel has grown and she has become the de facto spokesperson for ASMR as well as a leading advocate for the community.
If you are looking for some great ASMR YouTube videos, Gentle Whispering ASMR is worth a try.
4. ASMRrequests
ASMRrequests has pushed technological developments in ASMR. The creator – Ally is another ASMRtist. She has also been making videos since the early days. She uses incorporating custom props, elaborate green screen editing, and other techniques to improve the quality of ASMR video production.
Honestly, she deserves credit for raising the bar on the production quality. If you prefer the sci-fi ASMR YouTube videos, ASMRrequests is a good choice for you.
5. Heather Feather ASMR
The creator of the Heather Feather ASMR channel is an original and big ASMRtists on YouTube. She is credited with inventing the sksksk sounds and popularizing a style of layered, binaural microphone sounds.
In this channel, you will more than 50 role plays, Sound Assortments, Guided Meditations, original stories, Pure Sounds, Tingle Blitzes, & Sound Slices. If you want to try these kinds of ASMR sounds, open this channel now.
6. WhispersRed ASMR
The creator of WhispersRed ASMR – Emma is a leader in bringing ASMR to life.
Viewers often claim that ASMR videos can help them feel less alone, relax them when they're anxious, cure their insomnia, or help them treat problems like PTSD and depression.
Emma is a major supporter of the therapeutic applications of ASMR. Her focus on mental health and meditation through her channel has helped her build up her biggest fan base on YouTube.
Offline, she might be the most prominent ASMRtist, publicly branching into the in-person, immersive experiences offered by groups.
These experiences are still in the early stages of creation, such as group meditations led by popular ASMRtists, in-person versions of popular video role plays, and intimate and one-on-one ASMR Spa experiences.
Emma has participated in various events across the US and Europe. She remains one of the most active and popular ASMRtists on YouTube. Her efforts to provide the analog world touchpoints for the ASMR community have made her a pioneer.
7. Gibi ASMR
There are many different subcultures on YouTube. The creator of Gibi ASMR – Gibi dabbles in two of the most niche and popular areas: gaming and ASMR.
She has released a number of role-playing videos, often juxtaposing characters from different films, such as Harry Potter and classic Nickelodeon characters.
Although the channel was launched only four years ago, it has more than two million YouTube subscribers. This shows that the Gibi ASMR channel is really fascinating and popular.
Read also: 8 Simple Ways to Increase YouTube Subscribers in 2020 (Guide).
8. ASMR Zeitgeist  
He is the only male ASMRtist on this list. The male ASMRtists are too few because young women tend to be the most popular creators. As if a higher-pitched, feminine whisper is more soothing, but his deep voice has a commanding, calm presence.
9. FrivolousFox ASMR
At the other end of the audio spectrum are videos of low-fidelity microphones, like this one with the iPhone's earbud microphone. Some people find white noise and old school style audio more soothing than the crystal-clear sounds picked up by binaural microphones.
The creator of FrivolousFox ASMR – Frivvi. or Lauren has made a number of videos in which she eats and licks the microphone, a disgusting sound for some, but a soothing and pleasant sound for many of her subscribers.
10. Angelica
This channel offers the unique, tongue-in-cheek ASMR sounds. The creator is creative and one of her videos became a trending topic on twitter in 2018.
Its title and concept are a role play of a nun nursing you through the plague. This is completely ridiculous and does not seem particularly reassuring. No matter how bizarre, a video with a whisper or a whisper will inevitably trigger sensitivities about ASMR.
Angelica's brand is a uniquely entertaining one, and her channel consists of a large number of esoteric makeup videos and obscure historical role plays.
11. ASMR PPOMO
PPOMO, a Korean ASMRtist, says little in the video and is never seen. Most no-show ASMRtists may want privacy, but few have been as successful as PPOMO.
Not only does she make hours-long videos, she also has a 24/7 livestream of soft sounds and triggers. All of these are pre-recorded, but she does change them up. To date, ASMR PPOMO has more than 2 million subscribers from all around the world.
Further reading: 7 Useful Tips about How to Manage YouTube Channels
I am looking for the ASMR YouTube channels and I find some great channels that work for me in this post. Click to Tweet
How to Download the ASMR YouTube Videos
If you want to watch these ASMR YouTube videos more conveniently, here is a useful suggestion for you: download the ASMR YouTube videos with a YouTube video downloader. After you finish downloading the videos, you can watch YouTube offline anytime, anywhere without opening YouTube.
MiniTool uTube Downloader is a great assistant to help you do that work for free. It offers high-speed downloads and superior quality conversions. You are allowed to download and convert YouTube videos into 4 formats: MP4, WEBM, MP3 and WAV.
Hence, if you want to experience these ASMR sounds as an MP3, you can try to convert YouTube to MP3 with YouTube downloader.
In addition, MiniTool uTube Downloader can also help download video subtitles, download music from YouTube and even download the YouTube playlist.
Right now, you can click the following link to download MiniTool uTube Downloader and have a try.
MiniTool uTube DownloaderClick to Download100%Clean & Safe
Keep reading to learn how to download the ASMR YouTube videos with MiniTool uTube Downloader.
Step 1: Open MiniTool YouTube Downloader.
Download MiniTool uTube Downloader.
Install it on your computer.
Launch this free YouTube converter and go to its main interface.
Step 2: Download the ASMR YouTube Videos.
1. Just type the URL link of the ASMR YouTube video you want to watch or you can search the videos via the Search box.
2. Click the Download button at the top side.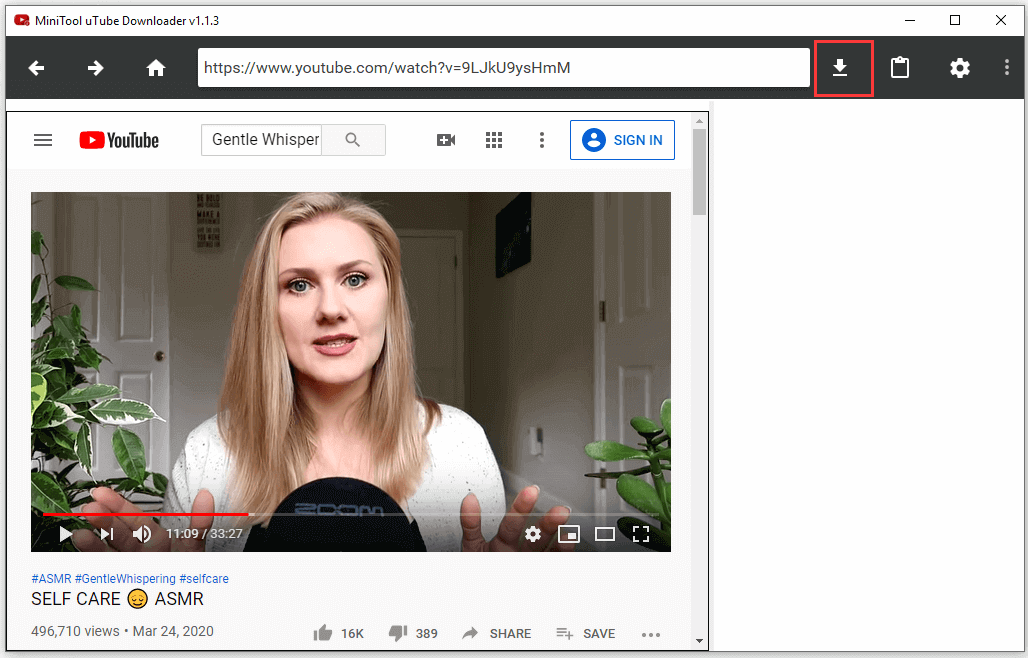 3. Now, select the output format of the video. Here are 4 available formats: MP3, MP4, WAV, and WEBM. Choose a suitable one. You can also choose to download subtitles or not.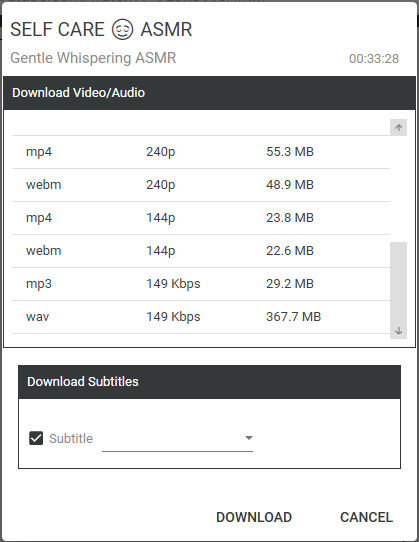 4. Finally, click DOWNLOAD to start to download the video immediately. Then, just wait until MiniTool uTube Downloader finishes downloading your ASMR YouTube videos.
You may be interested in this topic: Top 10 Free YouTube Converters You Should Know
MiniTool uTube Downloader is a useful YouTube downloader. I can download YouTube videos conveniently and easily. Click to Tweet
Conclusion
This article has shown 11 great ASMR YouTube channels in detail. If you are interested in ASMR, you can browse these channels and find some ASMR videos that work for you. To make these videos easier to watch, you can download them using the MiniTool uTube Downloader introduced in this article.
MiniTool uTube DownloaderClick to Download100%Clean & Safe
If you have any questions while using the MiniTool uTube Downloader or you know any good ASMR YouTube channels, please leave your comments in the comments section below.
ASMR YouTube FAQ
????Do ASMR YouTubers make money?
Yes, they do make money. Like other types of content, the amount of money varies greatly from creator to creator. Many ASMRtists create custom content for their clients, so there are some easy ways to diversify revenues. Further reading:
How to Make Money on YouTube – 9 Highly Efficient Ways
.
????Can ASMR be dangerous?
Although the effectiveness of ASMR is sometimes questioned, it is clear that it is not dangerous. Like the sounds of rain or wind, the ASMR sounds are designed to relax peoples' minds. There's no harm in listening to the rhythm of the falling rain or having someone whispering in your ear.
????What is the opposite of ASMR?
The opposite of ASMR is Misophonia. It is a poorly understood disease that is associated with an extreme aversion to certain sounds. Misophonia, like ASMR, involves triggers, things that trigger brain responses. For people with misophonia, the sounds of other people chewing, drinking or even breathing can trigger intense anxiety, fear or anger.
????Does ASMR work on everyone?
ASMR is not for everyone, but most people feel relaxing while listening to ASMR. The tingling sensation of happiness starts on the scalp and travels through the body to the arms and legs. So ASMR doesn't work for you, it's hard to imagine this feeling.