If you want to know how to start a vlog, this article can help you. If you've never done a vlog before, this article can provide you with some useful tips before you start to do that. Besides, you can download some vlogs on YouTube via MiniTool software and learn some techniques from some great vloggers.
What Is a Vlog?
Vlog, short for video blog or video log, is a form of video-based blogging and a form of online television.
In recent years, vlogging has grown into a huge social media community where people can post anything they want. Vlog is a unique way to help people in many areas of their lives. Written Blogs cannot provide visual design in the way that vlogs can provide deeper context through imagery.
Vlog entries typically place supporting text, images, and other metadata into combine embedded video or video links. These entries can be recorded in a fragment or split into parts. On the video-sharing platform YouTube, vlog is very popular.
Since 2005, the popularity of vlogging has soared. YouTube, the most popular video-sharing site, was founded in February 2005.
Its co-founder, Jawed Karim, uploaded the first YouTube vlog clip Me at the zoo on his channel in April 2005. The ordinary everydayness and dry aesthetics of Me at the zoo help set the tone for the type of amateur vlogging content, which is typical of YouTube, especially among YouTubers.
How to Start a Vlog?
How many vlogs on YouTube have you seen lately of a blogger going somewhere fancy or doing something totally cool? Their lives seem incredible. In some respects, many of them get to do some cool things in life.
The problem with this is that there's a fine line between watching an inspirational vlog that encourages you vs. makes you think you'll never get to that point.
If you only see the bright parts, it distorts reality and makes you feel bad when you're just starting out. Worse, it makes you doubt yourself that your life isn't good enough, interesting enough, or worth doing a vlog.
That's absolutely not true. For most people, our daily lives are actually very normal. Sure, 10% of our time might be spent doing something fun and memorable, but the other 90% of our time we do the same things we do every day: work, hanging out at home, spending time with friends and family, etc.
Thus, how to start a vlog even if your life isn't interesting enough? This post will share with you some instructions.
#1: Know Why People Watch Vlogs
People watch vlogs for two reasons: for fun or to learn. Ideally, your vlog should contain these two aspects. To make a successful vlog, you need at least one of them.
Further reading: Top 8 YouTube Funny Videos off All Time & Top 12 Best Educational YouTube Channels [2020 Updated].
When people first watch your vlog, they don't know who you are. But pretty soon you can prove by vlog that you're either interesting or helpful. This is what you need to pay attention to when you start creating vlogs.
But maintaining that attention and turning a former viewer into a loyal subscriber is harder than you might think. While people watch vlogs, or follow a particular vlogger, the truth is that all of these things require something more important - the person - to set the stage.
The main reason people follow others online is that they are invested in the relationship. The element of commonality, rapport, trust or engagement could force you to tune in regularly. Having a unique personality is absolutely key. If you play that up, no matter where you are, people will notice.
#2: Use Creative Film Making
This tip provides an opportunity for your vlog to stand out. While you may not be able to travel the world or spend a lot of money on your vlog, you can use your creativity to win over people.
The reason is simple: Talking head videos are usually not that interesting, and most people don't find them appealing.
But you can share the same information in more interesting ways: For example, walking around, putting your camera in different places, or using B-Roll can make a mundane video look great. If you're going this route, consider using a microphone, which will help improve sound quality.
You don't have to do this with fancy gear or cameras. Today's smartphones are so good, you'd be surprised at how much you can create with just one iPhone.
You may be interested in this topic: Top 5 Best Cameras for YouTube in 2020.
#3: Learn from Other Vloggers
If you've never done a vlog and you don't know how to get creative, one of the best ways to do this is to watch more videos and learn from other vloggers.
Every YouTube video, Instagram story, movie, TV show, commercial is your chance to learn and get inspired. Trust me, after watching a lot of videos and trying to make a lot of vlogs, your vlog will get better and better, and you will have more and more great ideas.
But it's worth reminding you that if all you do is watching YouTube, you'll end up undermining your creativity. Why is that? Because you will start copying what everyone else is doing, not showing your ideas. So, when you want to get inspired, you watch the video, and then you stop watching and start shooting the vlog of your idea.
If you need a starting point, you can download some vlogs on YouTube and learn some techniques right now.
How to Download Vlogs from YouTube for Learning?
Since there will be many issues while playing videos on YouTube or you might be interrupted by the ads and other useless videos on YouTube, you may want to download YouTube videos and learn some techniques from other vloggers. Then, you need a YouTube downloader to do this job.
After you finish downloading the vlogs you need, you can watch and learn anytime and anywhere without any problems or distractions. There are many YouTube downloads on the market, but do you know which one to choose?
I recommend that you use MiniTool uTube Downloader. It is the best free YouTube downloader. It offers high-speed downloads and superior quality conversions with no ads and no bundle. Right now, you can download it by clicking the following button and start to download the vlogs on YouTube.
MiniTool Youtube DownloaderClick to Download100%Free & Clean
Here is how to download the vlogs via MiniTool uTube Downloader.
Step 1: Open MiniTool YouTube Downloader.
Download MiniTool uTube Downloader
Install it on your computer.
Launch this free YouTube downloader and go to its main interface.
Step 2: Download Vlogs.
1. Search for the vlog you want and get the URL link of it.
2. Open the vlog in MiniTool uTube Downloader.
3. Click the Download button at the top side.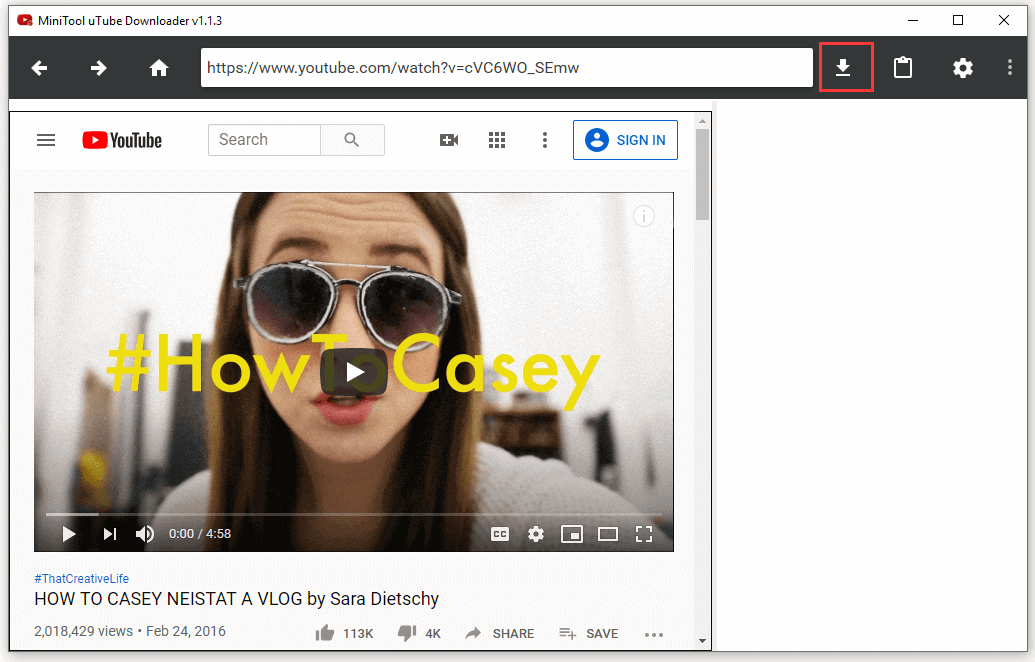 Step 3: Save the Vlogs.
1. Choose the suitable output format of the video. Here are 4 formats available: You can choose to convert YouTube to MP3, convert YouTube to MP4, convert YouTube to WAV, and convert YouTube to WEBM.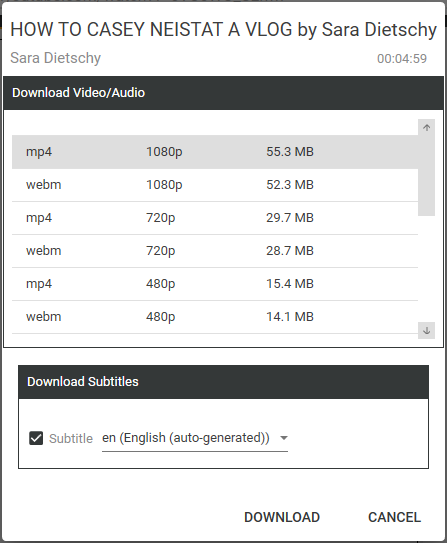 2. Then, click DOWNLOAD to start to download the video immediately. Here you can also choose whether or not to download YouTube subtitles.
Step 4: Watch the Vlogs You Just Downloaded.
Now, the video should be downloaded successfully. Check that by clicking the Navigate to file button.
To watch it now, click the Play button next to the Navigate to file button.
Now you should have successfully downloaded the vlogs you want. You can start to watch these vlogs and learn how to make a vlog from other vloggers. You could get some great ideas and useful techniques from them.
Then, so through the following part and continue to get more information on how to start a vlog.
#4: Familiarize Yourself with the Platform
If you don't understand how YouTube works, you can't succeed.
Big-name companies, for example, have been producing tone-deaf content that they believe will appeal to audiences. However, they lack understanding of the platform. In the end, the videos got lost in the shuffle and they failed to see any success.
So, you need to spend some time getting familiar with how YouTube works. Use the search engine to view the title displayed. View the channel page, thumbnails, and keywords. As you watch videos, notice how your favorite vloggers promote other videos through interactive links or subtitles.
All of these subtle details will have a huge impact in the future. Now that you understand how they work, it will give you the knowledge you need to get your channels off to a good start.
It's also a good idea to familiarize yourself with the technical aspects of things. Check out YouTube Studio. This is a platform for vloggers to upload content. It has handy tools such as a video management system and an audio library.
Here you'll get information about the video formats that YouTube accepts. YouTube supports many different kinds of video files, but there are some limitations in terms of file size, aspect ratio and so on. Familiarize yourself with these specifications so you don't make videos that you can't even upload.
You should also be aware of the overall YouTube environment. A good way to do this is to visit the trending page. It shows what is currently popular. Not only can you get some ideas for future videos, but you can also extract playback information from popular videos and use it to guide your own videos.
#5: Create Your YouTube Channel and Brand Yourself
Now it's time to create your own YouTube channel. It is very easy to create a channel and you will not spend money. Each user has the opportunity to upload a video, so each user's name is appended to a channel.
Read also: How to Start a YouTube Channel – 4 Useful Tips.
If you've ever written a comment under a video or subscribed to another vlogger's channel, you may already have one. If this is the case, you should consider creating a new channel from scratch.
That's because you need to separate your professional vlogging channel from your viewing account and keep your brand and prevent any of your activities from undermining all of your hard work. How to start a vlog channel? All you have to do is to input some basic information and in a few minutes you can set up a channel.
At this point, you should spend some time building your brand. Check out the channel pages of any professional vlogger and you'll get strategic branding throughout. For example, most of them have a profile picture that represents the content of their channel, links to any social media accounts they have, and an attractive banner photo.
It doesn't seem like much, but these little details make your channel look professional, even if you haven't posted any videos yet. Keep it simple and make sure you use high-quality media that will appeal to your target audience. Slick pictures and cheap photoshop won't please the audience.
You can also make a short video introduction or channel trailer. You don't have to do it right away, but it's something to think about.
#6: Create an Outline Ahead of Time
Once everything is ready, you can start the vlog. It can be complex or simple. You don't have to write a complete script. In fact, it's not recommended. Some of the best YouTube videos are created on camera. Reading from a script will only make you seem monotonous and unauthentic.
Instead, you can create a basic outline for the topic you want to cover or the content you want to include. If you're planning to do a basic talking vlog, jot down some keywords and keep them where you can see them. This will help you stay on track in the conversation.
While you can cut out some awkward pauses later, there's no way to make high-quality content appear if you're not prepared. It's a good idea to plan your videos ahead of time. By creating an outline, you can effectively cover all the points you want and focus on having fun.
So, that's all the information about how to start a vlog. You can start to do your first vlog right now.
I recently watched some interesting vlogs on YouTube, and I started thinking about doing a vlog myself. After reading this article, I have some ideas on how to do vlogs. Click to Tweet 
Conclusion
Hopefully, you should have ideas on how to start a vlog. These 8 tips are quite useful to help you make full preparations before you start to vlog. In addition, this article also introduces a great YouTube downloader app - MiniTool uTube Downloader that can help you download some vlogs on YouTube and then you can get some inspiration from other vloggers.
MiniTool Youtube DownloaderClick to Download100%Free & Clean
If you have any questions, please feel free to share them with us and we will reply to you as soon as possible.
How to Start a Vlog FAQ
Do vloggers on YouTube make money?
Some vloggers make money solely from AdSense, but many more have diversified their income to include affiliates, events, merchandise and, most notably, sponsorship. Many of these and other revenue sources can reach far beyond their AdSense revenues, the most significant of which may come from sponsorship. Further reading:
How to Make Money on YouTube - 9 Highly Efficient Ways
.
Are vlogs scripted?
Big-budget movies are mostly scripted, but vlogs are a completely different kind of content. Viewers want to be connected to the video they're watching. This is only possible if they think the video is real.
How often should I vlog?
Weekly publishing is a good standard schedule, but if you want to spend a lot of time editing videos and you work full time, weekly publishing is not realistic. Maybe you should send it every two weeks.
Where can I edit vlogs for free?
Avid Media Composer First.
Windows Movie Maker.
iMovie.
Shotcut.
Pinnacle Studio.
Final Cut Pro.
Adobe Premiere Elements.
Corel Video Studio Ultimate X10.5.