YouTube, the biggest video-sharing platform, is very popular in all age groups. Hundreds of hours of videos are uploaded to YouTube per minute. If you want to be one of them, you'd better start a YouTube channel, so you can share your life or skills and earn some revenues.
YouTube has billions of users, so it's a good opportunity for you to promote your business and make you famous.
Most people must know that YouTube creators can earn much money. For example, according to Forbes, PewDiePie earned $15.5 million in 2018. This year, PewDiePie becomes the first individual YouTube creator to reach 100 million subscribers (The Free MiniTool editing software – MiniTool Movie Maker can help you create amazing videos to attract more viewers).
However, not all YouTube creators can earn as much money as PewDiePie. To be a top YouTube creator, you have a long way to go. As an old saying goes, "The journey of a thousand miles starts with a single step".
So how to earn money on YouTube? You need to apply for and be accepted into YouTube partner program. Then you can make money on YouTube in the following ways:
Advertising revenue: You can display ads on video to get ad revenue.
Channel memberships: Offer a paid subscription for those who want special perks.
Merchandise shelf: Showcase official branded merchandise on your watch pages and attract your subscribers to buy your products.
Super Chat: Subscribers pay to get their messages highlighted in chat streams.
YouTube Premium Revenue: If YouTube Premium users watch your content, you'll get part of their subscription fee.
If you want to start a YouTube channel and have no idea, you must have to read this post. This post offers some basic tips for you to create a better YouTube channel.
Create a YouTube Channel
To be a YouTube creator is not easy. At first, you need to create a YouTube channel. But how to start a YouTube channel, before that you should consider the following questions.
What's your purpose?
What's your YouTube channel idea?
Why do you want to start a YouTube channel, to promote your products or make money on YouTube?
The second step is picking a suitable niche for your channel. Here are the most popular channel ideas on YouTube.
1. Vlog
Vlog is the easiest way to start a YouTube channel. You need to record what happens in your daily life or share your thoughts about a book or film and so on.
2. Unboxing
People like to watch unboxing videos. You just need to prepare some products, unpack them and talk about their features. It's a good chance to promote your own products or advertise for other's products.
3. Gaming
If you are a hardcore gamer and familiar with some games, creating gaming videos is a good option. You need to find the latest and most popular games most gamers playing.
4. Food and restaurant reviews
There are a lot of restaurants and food become popular because of YouTube videos. Food and restaurant reviews video can offer some good suggestions for those who want to try this food. If you like trying new food, food review video is your choice.
5. Lifehack
Some life hacks are really helpful in daily life, which attracts many people to watch them. To do this kind of video, you need to control the length of time and make the skill easy to remember.
Make a good channel name and create a new channel
You need to remember that your channel name should match the niche you choose for your channel. If you want to post some languages learning videos on YouTube, you can name "learning languages with XXX".
Now it's time to learn how to create a YouTube channel for your business step by step.
Step 1: Log in to your YouTube account. If you don't have a YouTube account, sign into YouTube with your Google account.
Step 2: Go to this page to manage your channel, tap on Create a new channel.
Step 4: Text the brand name and click Create.
After creating a YouTube channel, you should customize the channel.
Customize a YouTube Channel
Customizing a YouTube channel can attract more viewers when you start a YouTube channel.
Add a channel art
Channel art can brand your channel's identity. Because it looks different desktop and mobile displays, YouTube recommends uploading one 2560 x 1440 px image. You need to keep in mind that do not use copyrighted pictures.
If you want to use royalty-free pictures, you can read this post The Best Royalty Free Stock Video Footage Websites. It gives some free stock websites include videos and photos.
After creating a channel art, follow the steps to upload a channel art.
Step 1: After logging in to YouTube account, click on your avatar and choose Your channel option from the drop-down menu.
Step 2: Tap CUSTOMIZE CHANNEL to get its main interface.
Step 3: Click Add channel art, choose Select a photo from your computer option or drag a photo into the frame and click Select to upload the channel banner you choose.
Step 4: Hover your mouse on the channel art and click the icon, you will see two options here. Select Edit links option.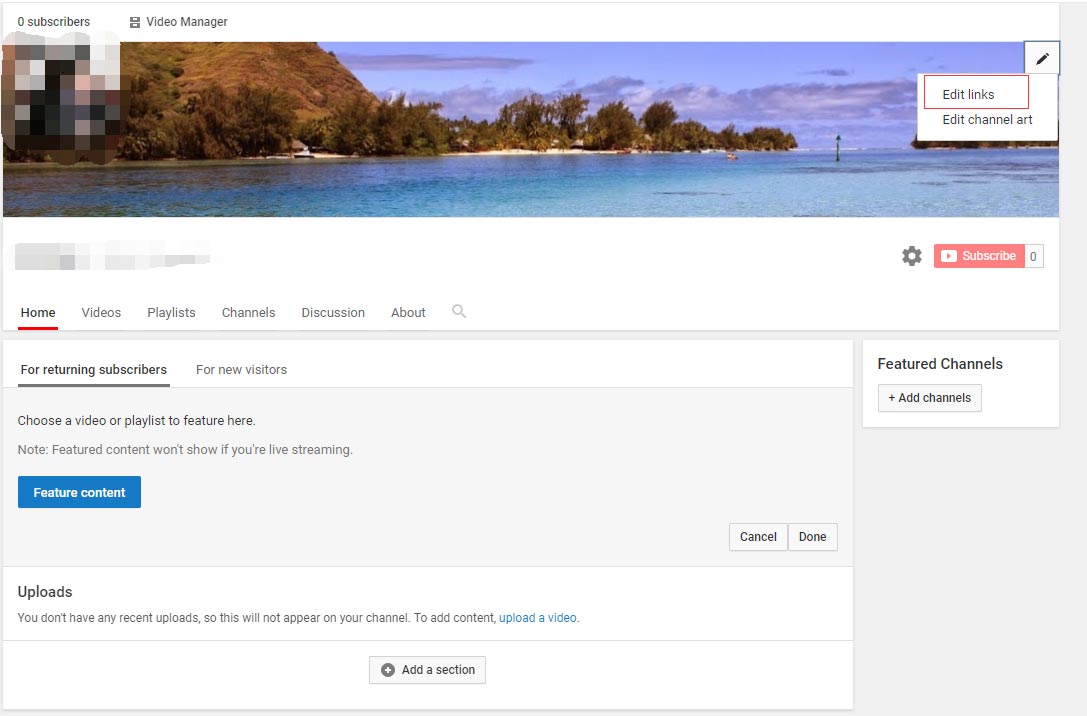 Step 5: Click on Add in the custom links tab and enter link title and URL which relate to your channel. Then click Done to apply changes.
Related Article: Everything You Need to Know about YouTube Banner Size.
Add a profile picture
If you already had a profile picture, to promote your channel, you need to change it.
Step 1: Log in to YouTube account, click your profile picture and select Your channel from the drop-down menu.
Step 2: Hover your mouse on your profile and click on it.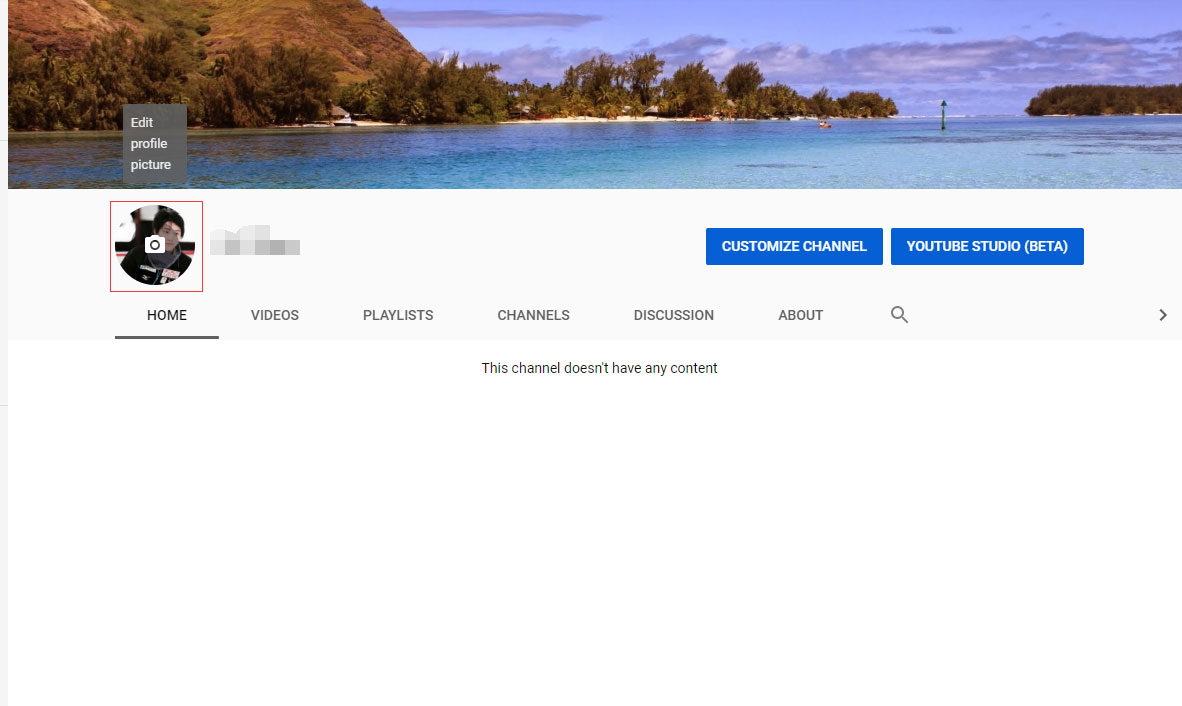 Step 3: Choose Edit in the pop-up window.
Step 4: Click on Upload photo to open the photo you like, and tap on Done at the top-right corner in the pop-up window. It will take a few minutes to apply this change.
Create a channel trailer for new viewers
For new viewers, you can create a channel trailer to introduce yourself and describe your channel and encourage visitors to subscribe.
To create a wonderful YouTube channel trailer, you can use the best video editor without watermark – MiniTool Movie Maker.
MiniTool Movie Maker is free video editing software. It offers some cool templates which allow you to create a channel trailer easily and quickly.
Features
It supports import video, photo and audio in various formats such as .flv, .mov, .mkv, .bmp, .gif, .mp3, .wav and more.
It provides many stunning transitions and effects.
It allows you to trim and split video quickly.
It offers you wonderful trailer templates.
You can add caption, title and credit to your video.
If you want to caption your YouTube video, you may interest in How to Add Subtitles to YouTube Video Easily and Quickly.
To create a channel trailer, don't forget to add suitable background music to enhance your video.
If you find the audio quality is bad, you'd better replace the track. This post may help you a lot: How to Edit Videos with YouTube Video Editor – 3 Tips.
When you're all done, you need to upload the channel trailer to YouTube.
Step 1: Go to Your channel page and click on CUSTOMIZE CHANNEL to access its main interface.
Step 2: Tap on For new visitors, click on Channel trailer to select the desired trailer or enter your YouTube video URL and click the Save button.
Tip: Before adding a channel trailer, you need to upload the trailer you've made before to YouTube.
This post helps me start a YouTube channel successfully! Thanks MiniTool!Click to Tweet
Do SEO on Your YouTube Videos
You want more YouTube users to find your channel, watch your videos and subscribe to your channel, but you just start a YouTube channel. So how to get more exposure for videos? There are some tips for you to optimize your videos.
Title
You need to search for keywords which are searched more frequently. Then find a suitable one perfect match your video content. The video title should be eye-catchy and convey the basic information about the video briefly.
Tags
Adding tags also can help users find your videos. For example, when users want to find some videos about "learn English", they would enter the keywords "learn English" in the search bar. So if you create a video about "Spanish", then you need to add some tags such as "Spanish learning", "language learning" and more.
If you don't know how to add tags to your video, follow the steps below.
Step 1: Click on your profile picture and select YouTube Studio (beta) option from the drop-down list.
Step 2: Select Videos in the left panel, you will see all your YouTube videos are listed here. Click on the video you'd like to add tags.
Step 3: Then find the Tag frame and input a tag and hit the enter key. Then tap on SAVE in the top right of the page.
Description
Writing a description is important for optimizing a YouTube video. If you think just write serval sentences to introduce this video, then you're totally wrong. You need to add some social media links as well as your website link in the description to get more exposure.
Thumbnail
A thumbnail image often attracts users to click the video. You need to create an appealing thumbnail to tempt more visitors. To create a good thumbnail image, you need to do:
Text your title on thumbnail.
Use a high-quality.
No frame.
If you want to learn more about YouTube thumbnail, see this post: The Best YouTube Thumbnail Size: 6 Things You Need to Know.
Create Playlists for YouTube Videos
You may create a different series of videos, so organizing YouTube videos is essential. By creating various playlists, it's convenient for visitors to browse your YouTube content. Moreover, viewers can add playlists quickly and watch YouTube videos without distraction.
It's very easy to create new playlists for organizing your YouTube videos.
Step 1: Log in to YouTube account to access its homepage, tap on your avatar and choose Your channel option.
Step 2: Click the CUSTOMIZE CHANNEL button and choose the Playlists tab.
Step 3: On this page, all your playlists will be displayed here, click on New playlists to create a playlist.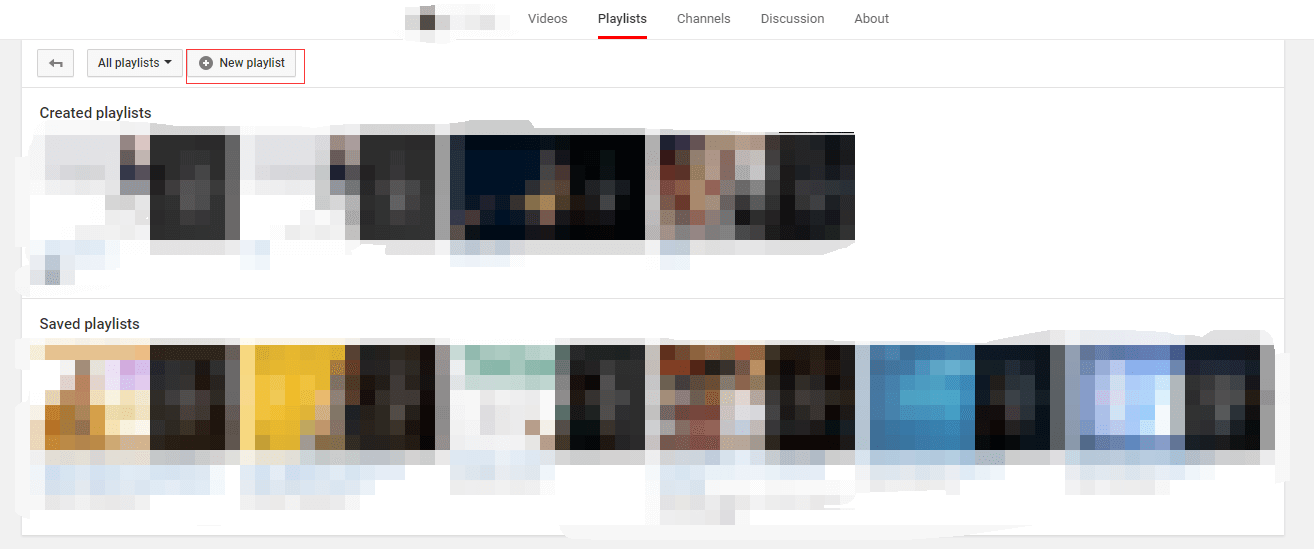 Step 4: Enter the playlist title in the box. If you want to hide a part of your YouTube videos, tap on Public to choose Unlisted or Private option from the drop-down list and click the Create button.
Step 5: After that, it will automatically bring you to the playlist page. You can click EDIT to edit this playlist.
Step 6: Choose Add videos and enter the video title in the box to find the video you'd like to add. You can also switch to tab URL and paste the video link to add videos, or click on Your YouTube videos to select the uploaded video you want to add.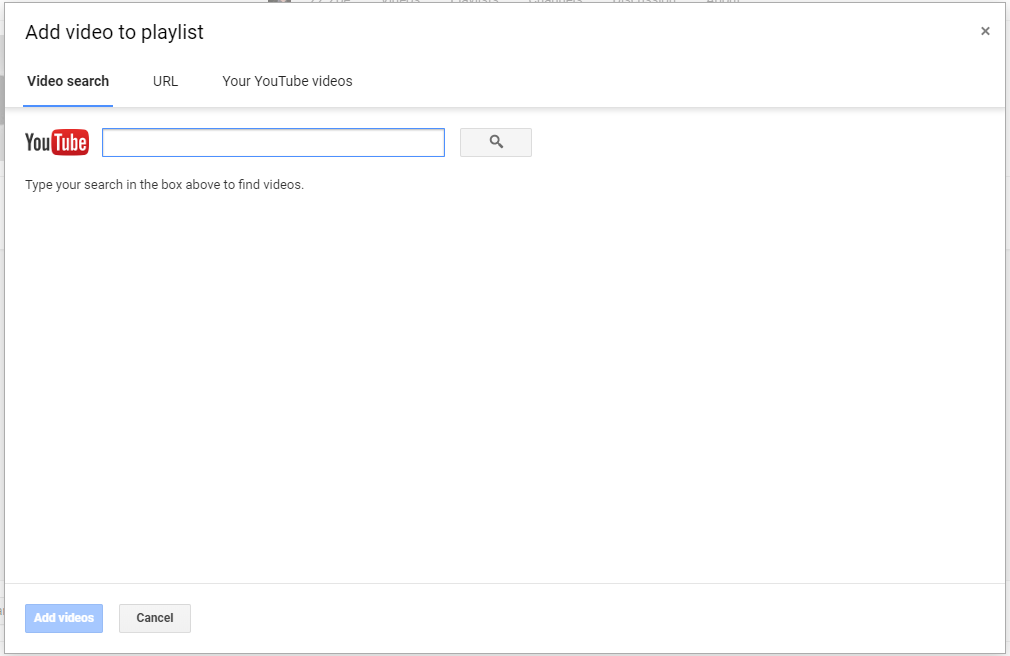 Step 7: In the end, click the Add videos button to execute the operation in the lower-left corner of the pop-up window.
Conclusion
All in all, to start a YouTube channel is not easy. You need to spend much time on it, such as picking a suitable topic for YouTube video, customizing YouTube channel and so on. After reading this post, have you learned how to start a YouTube channel?
If you have any question about this post, please feel free to contact us [email protected] or leave a comment below.