If you are looking for weird YouTube videos, you are in the right place. Weird YouTube videos could be boring, creepy or strange. This post introduces 10 YouTube channels where you can get weird videos. All of them are creative and brilliant. You can get more details from MiniTool right now.
Go to YouTube, you can find many kinds of videos like science videos and funny videos. The weird videos you're looking for are sure to be there, too. You can find almost everything you want here. However, sometimes you may encounter issues while using YouTube and then you can't watch videos normally.
Here is a good suggestion for you to deal with this situation – download these videos easily via MiniTool software in advance. After that, you can enjoy the videos anywhere and anytime without any issue.
Related article: How to Watch YouTube Offline: Download YouTube Videos Free
How to Download Weird YouTube Videos?
Then, how to download weird YouTube videos? A YouTube downloader can help you. This part will introduce 2 ways to do this: you can choose to download the video via an app or download it online.
Best YouTube Downloader App – MiniTool uTube Downloader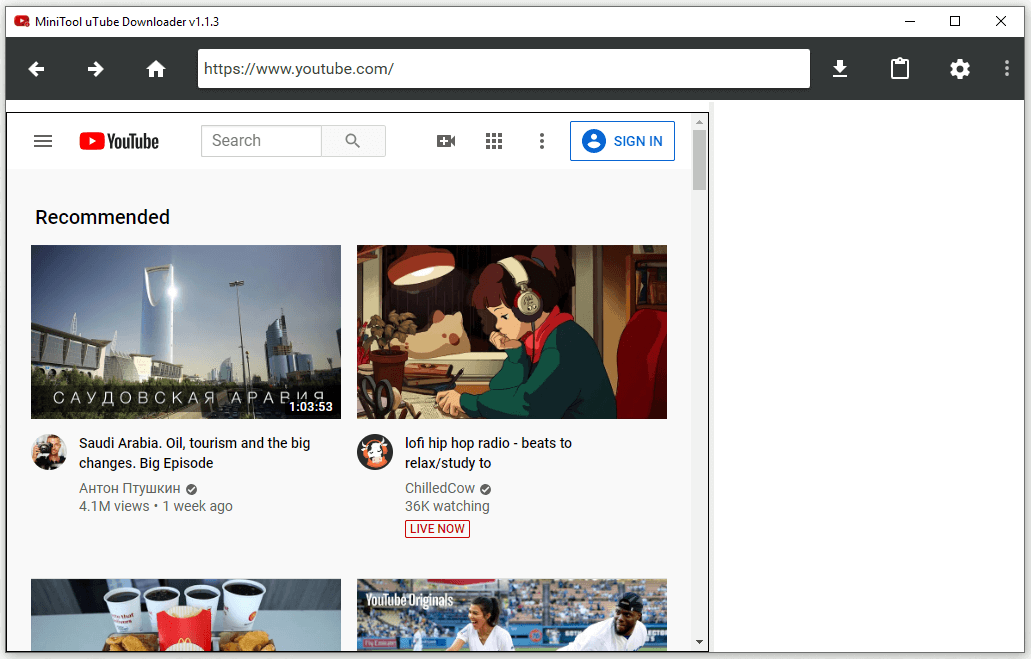 Here are so many YouTube downloaders in the market. Do you know which one is good for you?
I'm sure MiniTool uTube Downloader is a very useful YouTube downloader app you can find. It is totally free of charge. You can download YouTube videos as many as you want with no limitations. In addition, there is no bundle, no ads and no virus to bother you while using it.
It is a great 4K YouTube downloader and it supports downloading YouTube playlist to MP3/MP4 easily. You can free download audio from YouTube, which you can listen to on the road or you can download subtitles from YouTube videos and save them as .rst files.
It offers high-speed downloads and superior quality conversions. Download this great YouTube downloader and have a try right now.
MiniTool uTube DownloaderClick to Download100%Clean & Safe
The following part will show how to download weird YouTube videos via MiniTool uTube Downloader.
Step 1: Open MiniTool uTube Downloader.
Download and install MiniTool uTube Downloader.
Launch this free YouTube video downloader and go to its main interface.
Step 2: Download Weird YouTube Videos.
Search for the weird video you want via MiniTool uTube Downloader or just copy and paste the URL link of this video in the address bar of MiniTool uTube Downloader.
Click the Download icon at the top right corner.
A new window will pop up. Select the output format for this video. Here are 4 available output formats for you: You can choose to convert YouTube to MP4, convert YouTube to MP3, convert YouTube to WAV and convert YouTube to WEBM. You can also choose whether or not to download subtitles here.
Finally, click DOWNLOAD to start to download the video immediately.
After MiniTool uTube Downloader finishes downloading your video, you can choose to click Navigate to file next to the downloaded video to get the location of this video or you can choose to click the Play button to watch this video immediately.
Online YouTube Downloader – Keepvid.ch

Keepvid.ch is one of the online downloaders for YouTube to MP3 & YouTube to MP4. It supports downloading video and music files from over 1000 online websites including YouTube, Facebook, Instagram, Vimeo and more.
Like MiniTool uTube Downloader, keepvid.ch is totally free of charge. It is protected by fully-covered tech support and you can download video and music files as many as you want.
However, you can only download video quality up to 1080p and download audio quality up to 128kbps using its online service. You can't download YouTube playlist and download multiple videos simultaneously. If you need more functions, you have to purchase its desktop client.
If you only want to download videos and music from YouTube without too many advanced options, KeepVid.Pro is enough for you. Then, let's see how to use this online YouTube downloader to download weird YouTube videos.
Step 1: Find the video you want and copy its URL link.
Step 2: Then you need to enter the online service page of keepvid.ch. Paste the video link into the top text box.
Step 3: Click the Download button to start the download.
Step 4: Wait for keepvid.ch to finish analyzing the video link. Under the Download to MP4: part, choose a video quality you want. Then click the download icon button.
Step 5: The video will be playing in a new pop-up window. Click the 3 dots button in the lower right corner and choose Download.
After keepvid.ch finishes downloading your video, you can view your downloaded videos in the Downloads folder in Windows.
If you want to learn more YouTube video downloaders, this post can help you: How to Easily and Quickly Download YouTube Videos for Free.
I want to download some YouTube videos. I find MiniTool uTube Downloader is a quite useful YouTube downloader app. It's totally free and very easy to use. Click to Tweet
10 YouTube Channels for Weird YouTube Videos
HowToBasic
You Suck At Cooking
Don't Hug Me I'm Scared
The Report of the Week
MrCreepyPasta
Cyriak
British Pathé
David Firth
Insane Cherry
Memory Hole
Get Weird YouTube Videos from These Channels
The following part will introduce 10 weird YouTube channels for you. Hope you can find some videos from these channels.
#1: HowToBasic

HowToBasic already has more than 14 million subscribers, even though people never see the person behind the camera. One thing that all the videos have in common is that there are lots of eggs.
This channel masquerades as a video tutorial. It is attractive and its videos are full of completely stupid stuff around the subject, but it never shows exactly how to do what its title does.
HowToBasic disguises their videos with innocuous thumbnails and gives them generic names like "How to Twerk Like Miley Cyrus" and "How To Stop Snoring". HowToBasic does this to trick you into clicking on their videos.
However, when you open the video, you will see a panting, faceless man panting into a microphone as he breaks things, slaps his thighs with raw fish, breaks dozens of eggs, and all sorts of other unspeakable horrors.
Honestly, the best reason to pay attention to the channel is that you can use the videos to prank your friends.
#2: You Suck At Cooking

Need some weird videos on YouTube? How about some useless, comedic food tutorials? If you say yes, then You Suck At Cooking is a perfect channel. The concept of this channel is to do satirical cooking videos, but they are full of drama and less cooking. With more than 2 million subscribers, the channel is a huge success.
It's unique, ironic and charming. If you are interested in this type, browse You Suck At Cooking right now.
#3: Don't Hug Me .I'm Scared

A few years ago, Don't Hug Me. I'm Scared became an Internet sensation because of a short film of the same name. These clips trick you into thinking they're a normal segment from a children's show, only to slowly plunge you into a dissonant nightmare of raw meat, sequined glue and screaming.
They made a sequel to their first short film and continue to update their channel regularly with cryptic sequels, such as this one, featuring the same characters.
#4: TheReportOfTheWeek

The creator of TheReportOfTheWeek is Jurasek. He reviews frozen food, fast food and energy drinks on this channel. Although he is young, his channel is one of the most subscribed food review channels on the site, surpassing 1.8 million subscribers and 160 million views.
He started TheReportOfTheWeek in 2011. His initial focus was a series of energy drink reviews known as Energy Crisis. Since then, he has diversified into a food review series called Running On Empty that focuses On fast food and ready-to-eat foods. If you are interested in this topic, watch his videos right now.
#5: MrCreepyPasta

If you're the kind of person who likes to listen to some of the scariest things on the Internet, this channel is a good choice. It is one of the creepy YouTube channels. MrCreepyPasta brings horror stories to life, and when he reads some of them, he makes you shudder.
MrCreepyPasta already has over 1.5 million subscribers and 263 million overall views and will definitely come more. This channel is a great place for horror lovers.
#6: Cyriak

Looking for some strange videos? Cyriak is a good choice. The creator of Cyriak is a surrealist British animator. In his videos, you can see the repeating macabre, inexplicable objects like monsters made out of human and their heads come out of their mouths in an endless loop.
These animations are scary, but they're also brilliant and very detailed from a technical point of view. Besides, they're a good way to scare or upset your friends.
#7: British Pathé

British Pathé has a comprehensive archive of their past newsreels, some of which are, of course, fairly mundane. But if you dig a little deeper, you'll find a plethora of bizarre, human-interest movies about everything from alternative education to spiritualism to dog grooming.
British Pathé has organised its archive into detailed sub-categories, so if you're looking for a video on a topic, go to its playlist and you'll get what you want. I'm sure that you can get weird YouTube videos here.
#8: David Firth

David Firth is a professional animator and a number of his works have been featured by the BBC in the UK, and the BBC has hired him on several occasions.
One of his most famous works is the bizarre "Salad Fingers", which made him famous and brought him a million subscribers in the process. Salad Fingers gives people one of the most uncomfortable feeling they've ever experienced. If you can appreciate the nuances of the show, you'll love the rest of it.
He still posts other strange and horrifying content from time to time. If you prefer the weird but professional animations, his video is still worth waiting for.
#9: Insane Cherry

The main concept of the channel is simple: replace the singer in your favorite song with a group of animals. You'll get some of the most interesting combinations
The editing is pretty good, turning some of the most viral and hilarious animal clips into the music instruments used in the song. The channel still managed to attract 433 thousand subscribers and 52 million overall views. You can definitely get some weird YouTube videos here.
#10: Memory Hole

Memory Hole, culled from mysterious, secretly obtained VHS home videos, is a project managed by the same people who run Everything is Terrible. All the videos are short, but they are one of the most disturbing and confusing things you will ever see on the Internet.
You may be interested in this post: Top 10 Best YouTube Channels of 2020
I want to get some weird videos on YouTube. This post helps me a lot. It offers 10 weird YouTube channels. Then I can quickly get some weird videos because of its introduction. Click to Tweet
Conclusion
Right now, you should have gotten some weird videos on YouTube from the channels mentioned in this post. Besides, it also introduces how to download these videos with the YouTube downloader. MiniTool uTube Downloader is the best assistant to help you get the job done.
MiniTool uTube DownloaderClick to Download100%Clean & Safe
If you have any questions or you know any good YouTube downloader app, please share them with us and we will reply to you as soon as possible.
Weird YouTube Videos FAQ
???? What is the funniest video on YouTube?
10 of the funniest YouTube videos:
Nice, Ron
White Bear on Ice
Guy Falls Asleep Playing EVE Online
Dog Imitating a Siren
Cat Jump Fail
How is prangent formed
Chris Pratt's Blooper Reel from Parks & Rec
Liam Neeson Doing Improv
My Waffle Wedded Wife
You Wanna Play a Little Game?
???? What videos are most popular on YouTube?
Top 10 most popular types of videos on YouTube:
Product Review Videos
How-To Videos
Vlogs
Gaming Videos
Comedy/Skit Videos
Haul Videos
Tag or Challenge Videos
Favorites/Best of Videos
Educational Videos
Unboxing Videos
???? Who are the best YouTubers to watch?
Thrillist's Best (and the Rest)
PewDiePie
Dude Perfect
HolaSoyGerman
Like Nastya Vlog
Kids Diana Show
Whinderssonnunes
JuegaGerman
elrubiusOMG
???? How do you act like a weirdo?
Be a weirdo, then you can embrace your silly side and be your true self.
No regular activities, no clubs.
Do things just because you want to do.
Laugh with your whole self.
Come up with 10 ideas every day.
Find other weirdos.
Learn from the people you admire.