YouTube is an incredible tool for everyone to find everything. What are the best YouTube channels? This article introduces the top 10 best channels that deserve your attention. If you want to download videos from these channels, try MiniTool software.
The best way to use YouTube as an entertainment platform is by subscribing to channels you enjoy. Check out the best YouTube channels below, and all of them are most-subscribed-to YouTube channels in 2020.
Related article: Manage YouTube Channels
1. Best YouTube Channels – Education
#SmarterEveryday
SmarterEveryday is one of the best educational YouTube channels. This channel was created by an engineer with the purpose of exploring the world through scientific presentations, and then explaining its processes and discoveries on the channel to educate people.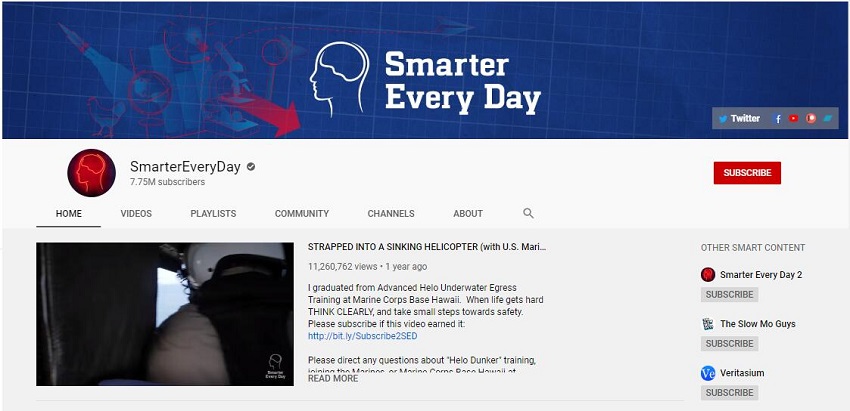 #BBC Earth
BBC Earth is another educational YouTube channel, which is dedicated to promoting different education programs and connecting people to the natural world. Video content on this channel includes research, nature and natural history.
You might be interested in: Start a YouTube Channel
2. Best YouTube Channels – Cooking
#How To Cake It
How To Cake It is a one-stop shop with simple cake recipes, cake decorating supplies, baking tools and all other items. If you want to know how to make cakes, or you are talented in cooking, then this is the place for you.
#First We Feast
First We Feast is one of the best cooking YouTube channels. It is where food meets pop culture. With themes like "The Burger Show" and "Truth or Dab", you can watch celebrities eat huge foods, answer absurd questions, and consume varieties of spicy things.
You might be interested in: Promote Your YouTube Channel
3. Best YouTube Channels – History
#HISTORY
HISTORY, as one of the best history YouTube channels, is the premier destination for historical storytelling. It connects viewers with history in an informative, immersive, and entertaining manner across all platforms.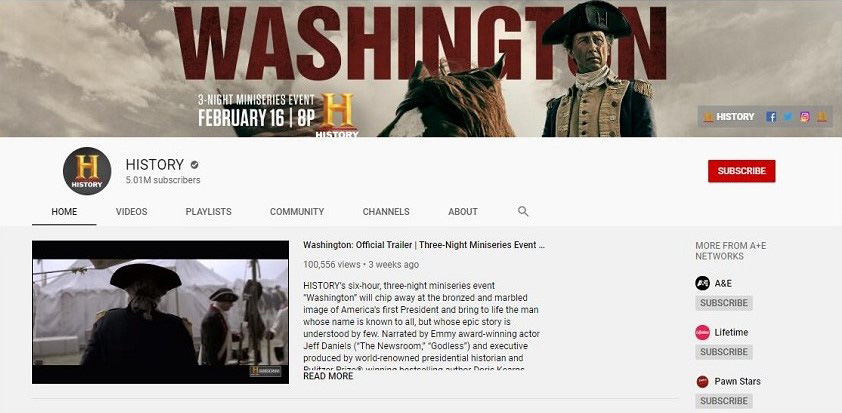 #Simply History
Another best history channel is Simple History. It visualizes the past and brings history to life through animation. The animation style is simple yet effective, and the videos are to-the-point and interesting.
4. Best YouTube Channels – Kids
#The Brain Scoop
As one of the best YouTube channels for kids, this channel shows a look behind the scenes of the operations of the museum. This is a perfect way to get kids excited about science, animals, and the environment.
#Super Simple Songs
What makes Super Simple Songs so popular? Because here is a collection of favorite nursery rhymes, original children's songs and children's performances. These animated videos are intended to perfectly help children stay busy.
5. Best YouTube Channels – Comedy
#The Ellen Show
Ellen has been making audiences laugh all over the world with her signature brand of humor and her powerful message of kindness. There's nobody better at making you laugh and brightening your life.
#Funny Or Die
Funny or Die is a comedy video website founded by Will Ferrell, Adam McKay, Mark Kvamme, and Chris Henchy. Meanwhile, it is a popular YouTube channel. Funny Or Die features your favorite comedians and celebrities in comedy videos.
Related article: Increase YouTube Subscribers
Conclusion
The above are 10 best YouTube channels to subscribe to in 2020, which can make your homepage a nicer place to visit. If you have any questions or suggestions, please leave a comment below or contact us via [email protected].