If you want to find some science videos for kids on YouTube, this post will help you a lot. It introduces 10 YouTube science channels to you: National Geographic, NASA, Minutephysics, etc. All of them are popular. To download these science videos for kids, you can try MiniTool software, a free, no ads, no bundle YouTube downloader.
If you are looking for some helpful and educational videos for your kids, science videos are the good options for you. However, there might be some harmful or meaningless videos on YouTube. To make YouTube safe for kids, you can download these science videos in advance and let them watch YouTube offline.
Download Science Videos for Kids
YouTube offers a number of fun, cool and educational science videos and you can download these science videos with a YouTube video downloader. After that, your kids won't be disturbed by other videos or annoying ads.
Since there are a lot of YouTube downloaders in the market, which one is best for you? If you want to choose a great YouTube downloader, just keep reading to find out.
A Great YouTube Video Downloader – MiniTool uTube Downloader
To download YouTube videos, I highly recommended you use MiniTool uTube Downloader.
It is 100% free and easy to use. There is no spyware, no malware, no ads, no popups, no bundle and no registration to bother you. What's more, it provides you with high-speed downloads and superior quality conversions.
It offers user-friend interfaces for downloading and converting YouTube videos into MP4, WEBM, MP3 and WAV. It supports downloading 8K, 5K, 4K, 1080P, 720P videos from YouTube.
You are also allowed to download up to 10 videos at once. Of course, you can change the number of maximum every time you download science videos for kids and concurrent downloads. In addition, it can automatically download the original subtitles for you.
To protect your kids' eyes, let their eyes rest for a while, or for whatever reason, maybe you want your kids to experience these science videos as MP3s, try to convert YouTube to MP3.
It is a really useful YouTube downloader you can find! If you have a need, you can download it by clicking the following link and have a try.
MiniTool uTube DownloaderClick to Download100%Clean & Safe
How to Download the Science Videos for Kids with MiniTool uTube Downloader
The following part will show you how to do this job in detail.
If you want to learn how to use MiniTool uTube Downloader to download science videos for kids, the following instructions will help you.
Step 1: Open MiniTool YouTube Downloader.
Download and install MiniTool uTube Downloader on your computer.
Launch this YouTube downloader and go to its main interface.
Step 2: Download the Science Videos for Kids on YouTube.
Search for the science videos you or your kids like.
You can search for the videos in this YouTube converter directly and open this video.
Alternatively, you can go to the YouTube site and search for videos. If you choose this method, you need to:
Right-click the video thumbnail or its title on YouTube and then select Copy link address.
Then, go to the MiniTool uTube Downloader homepage. Paste the video link to the address bar.
Right now, click the Download button at the top right-hand side to continue.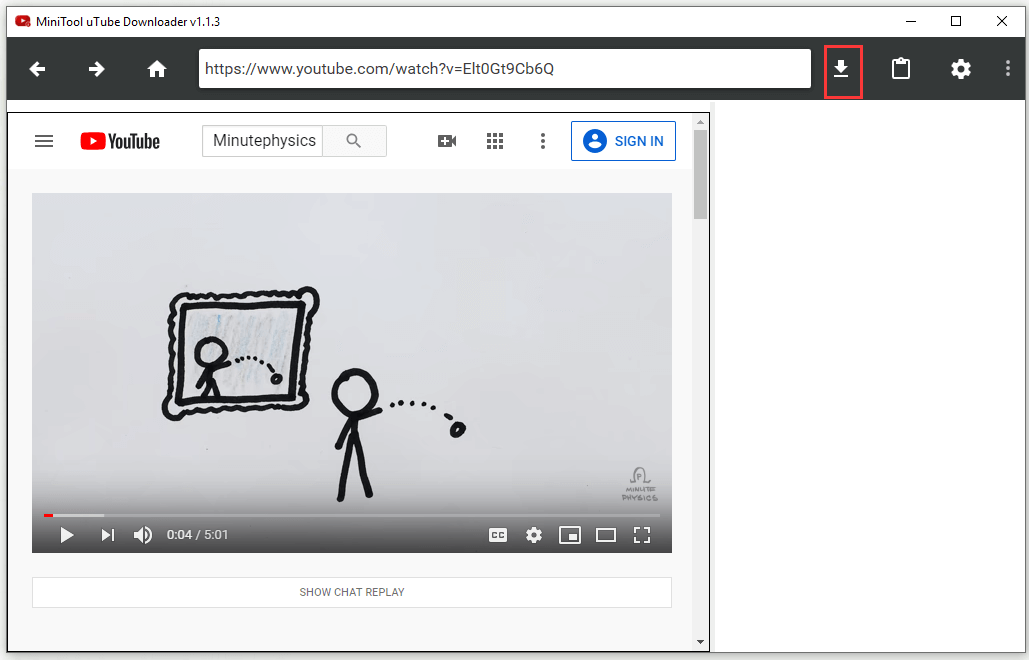 Step 3: Save the Science Videos to Your Computer.
Since you've chosen which video to download, now select an output format of this video. Here are 4 available formats for you: MP3, MP4, WAV, or WEBM. You can choose to download the video subtitle or not here. Further reading: How to Download YouTube Subtitles – 2 Solutions.
Now, simply click the DOWNLOAD button at the bottom of the current page to start the download process immediately.
After you finish all the steps above, now you just need to wait until MiniTool uTube Downloader finishes downloading the video.
Right now, you should be able to see the video in the selected folder on your computer. There are 2 available options next to the downloaded videos in this page. You can click the Navigate to file icon to check the videos. You can also choose to click the Play button to see the video right now.
The tutorial on how to download science videos for kids with MiniTool uTube Downloader comes to an end. Now, you should have known how to download YouTube videos with MiniTool uTube Downloader.
If you have kids and you want to let them watch YouTube videos safely, downloading these videos with a useful YouTube downloader – MiniTool uTube Downloader is a good idea. Click to Tweet
Then, where do you get the great science videos for kids? Don't worry. The following part will provide you with 10 great YouTube channels including a lot of science videos for kids. Hope your kids will like them.
10 YouTube Channels to Get the Science Videos for Kids
National Geographic
The Slow Mo Guys
CrazyRussianHacker
Mark Rober
AsapSCIENCE
SmarterEveryDay
Veritasium
SciShow
NASA
Minutephysics
Get Some Science Videos for Kids from These YouTube Channels!
#1. National Geographic

National Geographic aims to inspire people to care about the planet. Through their world-class photographers, journalists, filmmakers and scientists, National Geographic brings videos about planet Earth. Your kids can receive professional scientific knowledge from these professional and well-made videos.
There is a weekly YouTube schedule. Thursday features Science, so you can let your kids watch science videos on Thursday. It also has many educational videos on other topics: History & Culture on Sunday, Nature on Monday, Environment on Tuesday, Exploration on Wednesday, Fun Facts on Friday and Travel & Adventure on Saturday.
Until now, National Geographic has posted over 9,000 videos and it has more than 13 million subscribers. It's enough to say that the channel is very attractive and its videos are very popular.
#2. The Slow Mo Guys

The creators of The Slow Mo Guys, Gav and Dan, take on the world in slow motion. Remember to watch these videos at the highest possible resolution for some offensively crisp slow-motion footage. Sometimes you need to add some entertainment to your kids' education, and The Slow Mo Guys is a good choice.
It's fun to watch as the science video slows down, and kids can take a closer look at the explosions of glass and paint, the bursting of foam, the shooting of watermelons, and a bunch of crazy dumb things like doing backflips with flamethrowers.
Warning: Your child will want to try some of the things they see in these videos. Help them do this and keep them safe.
#3. CrazyRussianHacker

CrazyRussianHacker is all about scientific life tips, food tips and some gadget tests. Here are lots of DIY experiments on this channel such as making duct tape that glows in the dark, making potato chips in the microwave, exploding watermelons with rubber bands, restoring foggy headlights and making magnetic mucus.
What's more, he also has a set of practical zombie apocalypse survival techniques. All of these interesting science videos are sure to make your kids happier and more interested in science.
#4. Mark Rober

Mark Rober is a former NASA engineer and worked for NASA JPL for 9 years. He is a current YouTuber and friend of science. This is enough to show that these videos are professional and rigorous.
Think of it as a discovery channel, but with an MTV attitude, and no sign of Dan Cortese. These videos focus on topics that are too cool for schools, such as cheat codes, making a snowball machine gun and testing the world's largest Nerf blaster.
Your children will have a lot of fun watching these videos, and they are really eye-opening.
#5. AsapSCIENCE

This channel is created by Mitchell Moffit and Gregory Brown in 2012. The channel has now uploaded more than 300 videos and has over 9 million subscribers. Mitchell Moffit and Gregory Brown aim to make science make sense through AsapSCIENCE.
AsapSCIENCE offers fun and informational videos. On a wide range of subjects, these videos investigate science-related questions entertainingly. Kids will love this channel.
#6. SmarterEveryDay

The creator explores the world using science, so that's pretty much all there is to it. What this channel can do is provide your kids with videos explaining how Houdini died, how to milk the world's most venomous fish and the physics of cats always landing on their feet.
Pick a few videos at random and show them to your kids to see if they're interested. Maybe they can learn something awesome.
#7. Veritasium

According to the description of this channel, it offers an element of truth videos about science, education, and anything else the creator thinks interesting.
Veritasium addresses scientific questions big and small, such as "What exactly is the present?", "Can we go the speed of light?", "What is a candle flame made out of?" and "Is glass a liquid?". These are the things that kids often want to know.
While looking for answers, the child can watch a close-up demonstration of the experiment through the videos.
#8. SciShow

This channel answers every scientific question you can think of, like "Why do cats purr?" and "Why do bruises change color?". The "Quick Questions" videos are a great start for kids.
The videos on this channel are more suitable for older kids, but many of these videos are also useful and interesting for younger kids. Some homeschools also use these videos almost every day and they work well in a classroom environment.
If you're looking for more kid-friendly videos, check out its sister-channel SciShow Kids!
#9. NASA

NASA's mission is to pioneer the future of space exploration, scientific discovery and aeronautics research. The channel has almost 5,000 videos on everything. If your kids are interested in exploring space and discovering Earth, help them join NASA for this exciting and important journey.
It includes everything related to space exploration. It's a fascinating look at life on the space station. Kids will see the launch and the briefing about the launch. The channel took a closer look at some planets, such as the Juno's flyby past Jupiter. Every week brings new NASA news, so kids feel like they're keeping up with the pace of space exploration.
#10. Minutephysics

There are tons of science videos on topics like space and gravity, and you're bound to find one for kids. The speed and bullet points of these videos are great. When kids have a short time or kids' attention span is limited, the science videos for kids on Minute Physics are your best choices.
A quick look at its list of videos reveals that almost all of them are short. This gives kids the opportunity to develop a general idea of some scientific knowledge in a very short time.
Further reading:7 Useful Tips about How to Manage YouTube Channels.
This post introduces 10 YouTube channels that offer the science videos for kids. I have browsed these channels and got some interesting science videos. Click to Tweet
Conclusion
This article has shown 10 useful YouTube channels that offer the science videos for kids. If your kids are very interested in science or you want to them know more about science, showing them the videos on these channels is a great idea. To make sure they watch the video safely, you should download YouTube videos with MiniTool uTube Downloader.
MiniTool uTube DownloaderClick to Download100%Clean & Safe
If you have any questions while using MiniTool uTube Downloader or you know any better science channels/videos for kids, please let us know. We'll reply as soon as possible.
Science Videos for Kids FAQ
????What is science?
Science is the study of the world around us. Scientists learn about their subjects by observing, describing, and experimenting. Science has many subjects and branches. Some study life (biology) or the earth (geology). Other sciences study outer space, such as astronomy, and matter and energy (physics).
????How do you build a volcano?
Combine the white vinegar (400 ml), cold water (100 ml), dish soap (10ml) and 2 drops of food coloring into the empty soda bottle (2L).
Use a spoon to mix the baking soda slurry (fill a cup about 1/2 with baking soda, then fill the rest of the way with water) until it is all a liquid.
Pour the baking soda slurry into the soda bottle quickly and step back. Then, the volcano will erupt.
????Who is father of science?
Galileo Galilei (15 February 1564 – 8 January 1642) was an Italian astronomer, physicist, mathematician and philosopher. His contributions played an important role in the scientific revolution.
????How is science important?
Science is valued in society. Why is science important? That's because the application of scientific knowledge can meet many basic human needs and help improve human living standards. Cancer treatments and clean energy are the best examples of how science can help people.