YouTube is the king of online video. To make sure your video is well displayed, you need to know the correct YouTube video size before making videos via MiniTool software. The correct YouTube video dimensions can capture the attention and stimulate the interest of visitors, which encourages them to push play on your videos.
If you want to get more views on your video to make more money on YouTube, you should know the best YouTube video size. Before making and uploading YouTube videos, it's very important to know the correct size of video to capture the attention and increase YouTube watch time.
Now, I guess you might have the following questions:
What is the standard video size?
What is the best size for a YouTube video?
What size video should I upload to YouTube?
In this post, we'll go over the perfect YouTube video dimensions for 2019, and we will share some useful YouTube tips to promote your best video content.
What Is The Best Size for a YouTube Video?
How Your Video Will Display
The standard aspect ratio for PC YouTube is 16:9.
If your video has a different aspect ratio, you can also upload it. Then, YouTube player will automatically change to the ideal YouTube video size to match your video and the viewer's device. In a word, this video will end up having black bars on the sides.
Related article: how to remove black bars.
The Perfect YouTube Video Size for 2019
If you want the best quality to avoid issues (like video cropping), you need to make sure to use the following seven dimensions when uploading videos to YouTube.
| | | |
| --- | --- | --- |
| Resolution | Name | Quality |
| 3840 x 2160 | 2160p | 4K |
| 2560 x 1440 | 1440p | 2K |
| 1920 x 1080 | 1080p | Maxmumu YouTube video solution for HD |
| 1280 X 720 | 720P | Minimum YouTube video resolution for HD |
| 854 X 480 | 480p | Standard definition |
| 640 X 360 | 360P | Traditional website resolution |
| 426 X 240 | 240P | Minimum YouTube video size |
There are seven dimensions for YouTube video. You can choose a suitable one according to your situation.
In general, the ideal YouTube video dimensions for a standard video are 1080p or 1280 x 720.
1080p dimensions give you the professional look. On the other hand, no one wants to run out data. Uploading a 1080p video into YouTube doesn't need as much of your phone's data.
If you are still experimenting with the YouTube channel and want to maximize storage space on your device, you can consider 720P. Even if you are watching YouTube videos on large devices such as LCD displays, 720p will still give your viewers that High Definition experience they crave.
Regardless of whatever you do, you should always adhere to the truth – upload YouTube videos that are "as close to the original, high-quality source format as possible."
How to Adjust Video Quality on YouTube Manually
When you play YouTube videos from desktop or mobile devices, YouTube will adjust the screen resolution automatically depending on the device used and the broadband internet speed. However, you can change YouTube video size easily if you want to watch at a higher or lower resolution.
Step 1. Go to your YouTube video and then click on the YouTube settings wheel.
Step 2. Choose Quality.
Step 3. Choose your YouTube video resolution.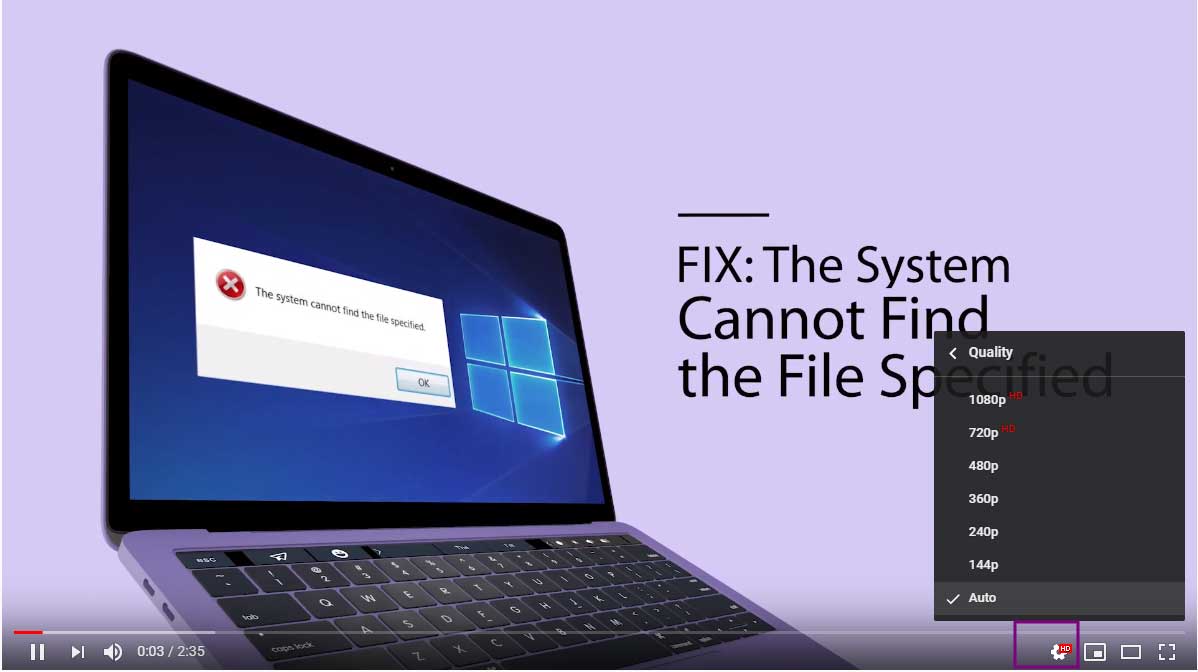 That's it! You're done. You can play YouTube in a lower resolution to save your data while on the go, or, alternatively, view in a higher resolution for an enhanced viewing experience.
Related article: change video resolution.
YouTube Guidelines: Resolutions and Proportions for Uploaded YouTube Videos
Besides YouTube video dimensions, you need to know the following guidelines.
Basic Information about YouTube Video Size
Recommended YouTube video dimensions: 240p (426 x 240), 360p (640 x 360), 480p (854 x 480), 720p (1280 x 720), 1080p (1920 x 1080), 1440p (2560 x 1440), 2160p (380 x 2160)
Maximum YouTube video size: 3840 x 2160p
Minimum YouTube video size: 426 x 420p
The correct aspect ratio for YouTube: 16:9
Maximum file size for YouTube upload: 128GB
Maximum video length: 12 hours
Supported YouTube file formats: MOV, MPEG, MP4, AVI, WMV, FLV, WebM and 3GP.
Note:
If you're uploading a file format that's not listed above, you need a video converter to
change video format
.
Recommended Encoding Settings for YouTube Videos
Content should be encoded and uploaded at the recorded frame rate.
Six most common frame rates include 24, 25, 30, 48, 50, 60 frames per second, and other frame rates are also acceptable.
Name
Features
MP4 containers

No Edit Lists
Moov atom at the front of the file (Fast Start)
Audio codec: AAC-LC

AAC-LC audio codec

Channels: Stereo or Stereo + 5.1
Sample rate 96khz or 48khz

H.264 video codec

Progressive scan (no interlacing)
High Profile
2 consecutive B frames
Closed GOP. GOP of half the frame rate
CABAC
Variable bitrate. No bitrate limit required
Chroma subsampling: 4:2:0

Frame rate

Common frame rates include 24, 25, 30, 48, 50, 60 frames per second

Interlaced content should be deinterlaced before uploading
Share the best YouTube video size with all of you. Click to Tweet
Top 9 Tips for  YouTube Video Size
To help you better understand the best YouTube video size, you can view the following frequently asked questions.
How Many MB Is a YouTube Video?
According to our test, we find a 5 minutes of a 1080p video will use approximately 170MB or more data and a 5 minutes of a 720p video will use approximately 75MB of data.
What Is The Aspect Ratio for YouTube Videos?
As we know, the correct aspect for a YouTube video is 16:9. What will happen if you upload a YouTube video that is not 16:9?
For a 4:3 video, a vertical ratio, YouTube used to add black bars on either side of the small video. Recently, YouTube removes black bars and replaces them with white space or an expanded video, if applicable.
What Does Video Aspect Ratio Mean?
The aspect ratio is the proportion of your video. The three most common aspect ratios are 16:9, 4:3 and 1:1. And, 16:9 is the correct YouTube aspect ratio.
1:1 aspect ratio is a perfect square.
4:3 aspect ratio is the standard for love watching old-school sitcoms from the 90s.
16:9 aspect ratio is the new standard for watching videos. Whether it's YouTube, big screen TV or movie theatre, professional video content is now made at 16:9.
Will My Phone Automatically Record In the Correct YouTube Video Size?
The answer is positive.
New phone will record in the correct YouTube video dimensions. For instance, Samsung Galaxy Note 8 users can film in the highest recommended size for YouTube videos – 3840×2160.
If you find there is not enough space on your phone, it is recommended to record in lower size.
Related article: 7 Methods to Increase Internal Storage Space of Android
How Can I Upload a Video Longer Than 15 Minutes?
According to YouTube, you can upload videos that are up to 15 minutes long. To upload a video longer than 15 minutes to YouTube, you need to verify your Google Account:
Go to https://www.YouTube.com/verify on your computer.
Select your country, and select a way to receive the verification code.
Next, follow steps to verify your Google Account.
To upload files greater than 20GB, please make sure you are using an up-to-date version of your browser to upload.
Can You Upload Video Larger Than 128GB?
If your video is larger than 128GB, try compressing them before uploading.
MiniTool Movie Maker, a free video editor without watermark, offers 3 solutions to help reduce the video file size.
Trim/split video: you can trim video to remove some unwanted parts or split a large video into small parts.
Change video resolution: you can change the video into a smaller video resolution.
Change video format: you can convert this large video file to small size formats like WMV, FLV, etc.
To know more solutions, please read this post: reduce the video file size.
The Best Size for YouTube Images?
YouTube thumbnail size
YouTube thumbnails are the book covers of the online video world. For YouTube SEO, the ideal YouTube thumbnail dimensions in 2019 have a resolution of 1280 x 720 (with a minimum width of 640 pixels).
When deciding the thumbnail size for YouTube, you need to consider the following tips:
1280 × 720 resolution (with a minimum width of 640 pixels).
JPG, GIF, BMP, or PNG image formats.
Under 2MB.
16:9 aspect ratio.
Related article: The Best YouTube Thumbnail Size
YouTube banner size
The image for a YouTube banner has to be at least 2048 pixels wide by 1152 pixels tall.
Some guidelines about YouTube banner size:
Ideal dimension for upload: 2560 x 1440 pixels.
Minimum dimension for upload: 2048 x 1152 pixels.
Minimum safe area for text and logos: 1546 x 423 pixels.
Maximum width: 2560 x 423 pixels.
Maximum file size: 6 MB.
How to Make a YouTube Video?
After learning the basic information about the best YouTube video size, let's look at how to make a YouTube video easily.
Video editors can make a YouTube video. MiniTool Movie Maker offers simple operations and powerful functions to help you easily create a video.
Step 1. Download and install free MiniTool Movie Maker on PC. Launch it to get its main interface.
Step 2. Import your media files including pictures, videos and music files. Drag and drop these files to the timeline.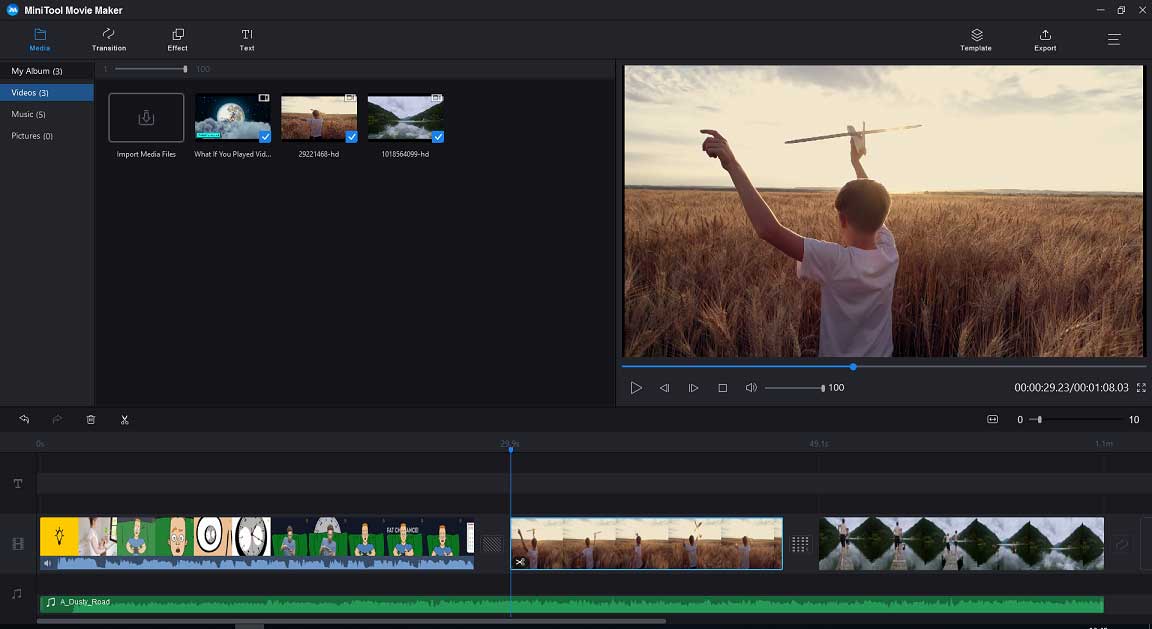 Step 3. Edit your YouTube video.
Add effects to pictures or videos.
Add animated texts to video.
Mute the background noise from your video.
Add music to video and fade in/out the music.
Change the color of the video.
Step 4. Export YouTube video, MP4, 1920 x 1080.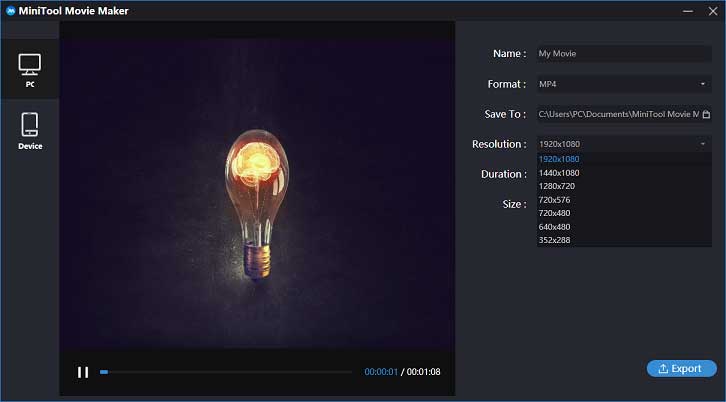 This free video editing software not only can help you make YouTube videos but also can make a Facebook Slideshow.
How to Post a Video to YouTube
Now, you know the best YouTube video size, as well as how to make a video with the best YouTube video dimensions. But, how to upload a video to YouTube? Try the following steps:
Log in to your YouTube account.
Select the upload button and click Upload video.
Select the file to upload.
Enter the title, description, tags, and privacy information.
Share the video to social media.
Bottom Line
YouTube is a great space to promote, educate and share video content around your brand. If you want to make your channel stand out from the crowd, stay relevant and capture your audience's attention, you need to upload YouTube content with the correct YouTube video size and dimension.
Once you know the best YouTube video size, read these articles to learn how to maximize your presence on YouTube:
How to increase YouTube traffic?
How to increase YouTube subscribers?
YouTube Video Size FAQ
What Is The Best Video Format for YouTube?
The
best YouTube video format
is MP4 with H.264 video codec and AAC audio codec. Of course, YouTube supports other video formats including MOV, MPEG4, AVI, WMV, MPEG PS, FLV, 3GP and WebM.
What is the standard size of a YouTube video?
Although you can upload video with different size including, 2160p, 1440p, 1080p, 720p, 480p, 360p, the ideal dimensions for a standard YouTube video are 1080p, or 1920 x 1080.
Are YouTube videos 16:9?
The standard aspect ratio for YouTube on a computer is 16:9. If you upload a video with a different aspect ratio, YouTube will change the ideal size to match your video and the viewer's device.
What aspect ratio should I use for video?
Aspect ratio is a number that displays the proportional relationship between a video's width and height. The most common aspect ratios are 16:9 or 9:16, 4:3, 1:1, and 2.4:1. And, 16:9 is the standard widescreen aspect ratio.