YouTube is the largest online video platform in the world with around 400 hours of content are uploaded every minute. I am also a contributor of these hours - uploading my videos made by 
MiniTool
 software. However, I have encountered several YouTube errors when I was using it. How to fix them?
Google does a great job of keeping YouTube up and running, but there have been occasional times when the service goes down. How to fix YouTube errors? Here's a chance for you to learn how to fix YouTube error messages. In this post, helpful tips will be displayed to solve the top 8 YouTube errors.
Tips:
Tired of searching for a video downloader, converter, and screen recorder separately? MiniTool Video Converter combines them all - give it a shot now!
MiniTool Video ConverterClick to Download100%Clean & Safe
#1.YouTube Black Screen Error
You wanted to watch a video on YouTube. You clicked the video on YouTube and then a video player popped up. You were waiting for the video to load and play. But after a while, you noticed that there was nothing playing on the screen and the YouTube video player was black. So sorry to tell you that you have encountered a YouTube error that may occur at any time – YouTube black screen error. And this error may be caused by many unrelated problems.
Top 4 Causes of YouTube Black Screen
Network issues – A weak and unstable internet connection will prevent your YouTube videos from loading properly and thoroughly. For this reason, YouTube videos will display a black screen with audio.
Extensions – You may have installed some mini software programs on your browser to customize the browser with rich features. However, some of these programs may prevent your browser from properly loading the complete video.
Browser issues – If your web browser is out of date or has a lot of cookies and cache, YouTube black screen may occur.
Computer issues – When a computer problem causes YouTube to display a black screen instead of the video itself, you can try restarting the PC.
Top 5 Methods of YouTube Black Screen
Clear the app cookies and cache.
Restart your device.
Delete the app and reinstall it.
Try to view the video using the mobile web player by navigating to youtube.com with a web browser on your phone.
Download YouTube videos.
Next, we'll explore one approach here – download YouTube videos.
MiniTool uTube Downloader, a totally free tool, helps you to download YouTube videos with a few clicks so you can watch them whenever you want.
Download YouTube videos might be the most direct and effective method. The detailed steps are as follows:
Step 1. Download and install MiniTool uTube Downloader on your computer and then launch it to get its main interface.
Step 2. Open YouTube and find out the video you would like to download. Copy its URL link, paste it to the blank box, and then tap on Download.
Sep 3. After selecting one output format as you need, click the Download button.
Then this free YouTube downloader begins to download the YouTube video you selected. After downloading, you can watch the downloaded YouTube video immediately or you can click the Navigate to file option to check the downloaded video and its subtitle file (.srt).
Note:
This free
YouTube downloader
will automatically download the original subtitles of the video.
Features:
Unlimited downloads.
Simple and clean interface.
High-speed video converter.
No registration required is more commonly used.
Convert YouTube to MP4, MP3, WAV, WEBM.
100% safe to download YouTube videos without virus.
MiniTool uTube Downloader is absolutely free, and No Ads.
MiniTool uTube Downloader allows you to download 10 videos at once. It supports you to download YouTube playlist, and YouTube subtitles. In addition, it is also an effective YouTube converter, which supports you to convert YouTube to WAV, MP4, MP3 and WEBM.
#2.YouTube Playback Error
"In the last few days, every video I click on gets a 'Video Playback Error Tap to Retry' on my iPhone and iPad YouTube app. No matter how many times I tap it, I get the same message. Anyone knows how to solve this?"
The same situation may have run into you that you couldn't have access to any YouTube video on any of your devices, even the videos you can watch minutes ago. Actually, a large number of users have met the same error, as this is the most common error that comes out with YouTube. Try the following solutions to check if they work perfectly for you.
Top 3 Causes of YouTube Playback Error
The Wi-Fi connected to your device is not good enough to load the contents on YouTube. Therefore, when you play a YouTube video, a YouTube playback error is displayed. If you are using mobile data, the reason is the same – weak and unstable network environment.
If you encounter a YouTube playback error while watching a YouTube video online in your browser, it's probably because you've installed some plugins that aren't compatible with the YouTube video streaming service. So the error shows up.
Loading a YouTube video will automatically store some cache data on your device. Therefore, a YouTube playback error occurs when your device does not have enough storage space to store the cache.
Top 7 Methods of YouTube Playback Error
Pause the video and change video resolution (360p, 480p, 720p) as indicated by the YouTube player.
Reset the router, and this can often solve the YouTube playback error.
Clear History, Cookies, and Cache on your browser.
Ensure that your plug-ins are updated to the latest version.
Disconnect graphics hardware acceleration. Make sure you save your data before you restart your browser.
Disconnect youtube.com in the HTTPS and watch YouTube videos in your browser profile.
Download YouTube Videos – MiniTool uTube Downloader.
#3.YouTube No Sound Error
You can play YouTube videos in any browser or mobile app, but can't hear the sound? It is rather torturous for YouTube users to view videos without sound. Let's check how to resolve no sound on YouTube error.
Top 4 Causes of YouTube No Sound Error
Your device speakers are muted or at the lowest volume setting.
Your browser is not updated to the latest version.
Other incompatible multimedia programs are open on your device.
The YouTube video is embedded with copyrighted music.
Top 4 Methods of YouTube No Sound Error
Check the volume on your PC, speaker and the YouTube video player.
Restart the browser.
Upgrade Flash Player to the latest edition.
Check if Antivirus and Firewall software blocks third-party content.
#4.YouTube Video Is Not Available in Your Country
You'd like to watch a recommended video on YouTube but then you get the message saying that "the video isn't available in your country" or "the uploader has not made this video available in your country". It must be frustrating. Therefore, how to watch blocked YouTube videos?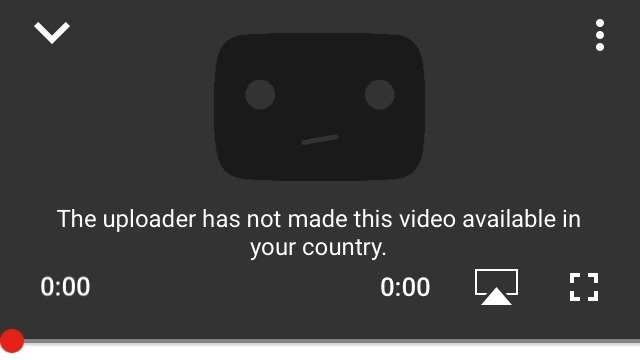 Top 2 Causes of YouTube Video Is Not Available
Video owners restrict their videos to specific countries or geographical locations.
YouTube will block specific video content to abide by local laws.
Top 5 Methods of YouTube Video Is Not Available
Using browser extension: Hola.
Bypass YouTube regional filter.
Use Proxy Server.
Use VPN to unblock YouTube videos instantly.
Download YouTube videos – MiniTool uTube Downloader.
Know more solutions, please refer to this post: Top 10 Solutions to YouTube Video Is Not Available in 2019.
#5.YouTube 500 Internal Server Error
When heading to YouTube.com, you are presented with a warning that there is a "500 Internal Server Error". Meanwhile, you will see a purple monkey holding a hammer. That's why it also is called YouTube monkey error. But the site doesn't appear to be broken for all users.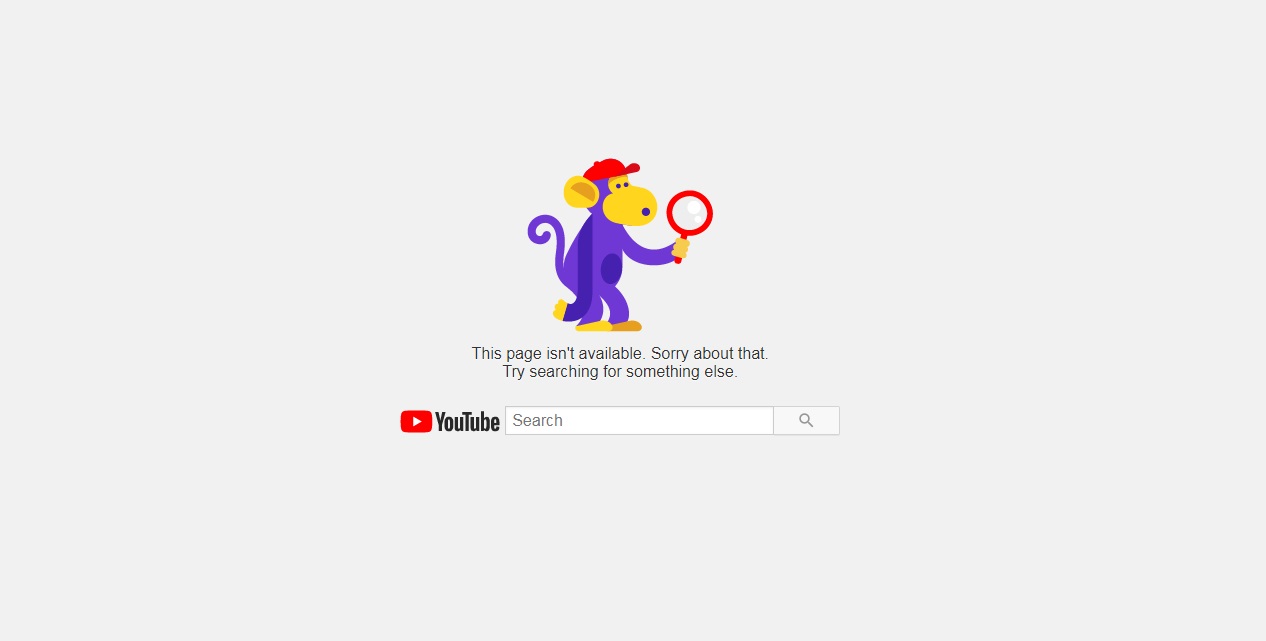 Top 1 Cause of YouTube 500 Internal Server Error
YouTube servers may be down for a while or hacked by others.
Top 3 Methods of YouTube 500 Internal Server Error
Try refreshing the YouTube video web page.
Clear History, Cookies, Temporary Internet Files and Cache in your browser and restart the browser and try again.
Load the video sometime later.
#6.YouTube Error 503
In 2018, YouTube stopped playing for more than an hour. Many users saw the message "Error 503" on the screen. Although YouTube does not explain the specific reasons to the public, error 503 typically occurs when a large number of website visitors attempt to access the website and the server on that site is overloaded to process the traffic.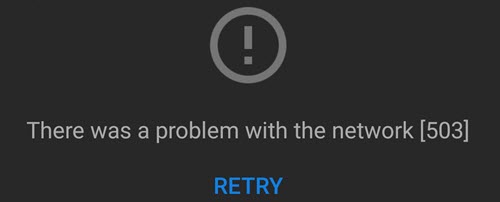 Top 1 Cause of YouTube Error 503
The site's server is simply not available when the server is overloaded and cannot handle the high volume of traffic.
Top 4 Methods of YouTube Error 503
Tap on the RETRY button to re-refresh the page.
Check your internet connection or restart your router and subsequently your computer or device, particularly if you see the error message "Service Unavailable – DNS Failure".
Load the video after a while since this is a common error message on highly popular websites such as YouTube when a huge increase in traffic overwhelms the servers.
Turn to other websites.
#7. YouTube Error 400
"400. That's an error. Your client has issued a malformed or illegal request. That's all we know". You will see this phrase displayed when you get the YouTube error 400. YouTube error 400 is nothing but a bad request problem. This post summarizes the best effective solutions to help you solve the YouTube error 400.
Top 1 Cause of YouTube Error 400
The request you sent to the website server, like a request to load a web page, was somehow incorrect or corrupted and the server couldn't understand it.
Top 6 Methods of YouTube Error 400
Check for errors in the URL.
Clear the Cache and Cookies from your browser.
Clear the Cookies for YouTube.
Try troubleshooting the problem as a 504 Gateway Timeout issue.
Switch to the Incognito Mode in your browser or try resetting the browser Settings.
Reinstall Chrome.
#8.YouTube Error 429
Quite recently, there have been many reports of an "HTTP Error 429: Too Many Requests" error while trying to access YouTube or while trying to access YouTube's Analytics. This YouTube error code would occur if you sent too many orders at once.

Top 2 Causes of YouTube Error 429
There are certain security protocols installed in servers which limit the number of requests that users can make to the server. If the number of requests made by users is more than the limit, users will be either banned temporarily or permanently.
There are certain ISPs that might have been banned by YouTube and their IP Addresses might have been blacklisted.
Top 3 Methods of YouTube Error 429
PowerCycling Internet Router.
Changing VPS Protocol.
Forcing IPV4 Use.
Admittedly, we always encounter different YouTube errors. Some can be fixed by the solutions above, but some not. If you discover some wonderful videos on YouTube, it is advisable to download them locally in case of unexpected YouTube errors while online watching.
Bottom Line
Is YouTube not working for you? Well, hope these solutions can solve your YouTube issues. If you have any questions or better suggestions about it, please let us know via [email protected] or share it in the comments section below.
YouTube Error FAQ
Why do errors occur on YouTube?
When YouTube doesn't work, an error message may appear on your device. There are many possible causes of error messages, many of which are out of YouTube's control, including network issues, extensions incompatibility, browser issues and computer issues.
How do I fix a YouTube error?
Restart YouTube.
Restart your device.
Turn off and on internet connection.
Clear caches on your browser or app.
Uninstall and reinstall the YouTube app.
Update the YouTube app.
Update your device.
How do I clear my YouTube cache?
Open Chrome on your device.
Click the 3-dot icon at the top right.
Click More tools and then select Clear browsing data.
Choose a time range.
Check all the boxes.
Click Clear data.
Can you update my YouTube?
Open the Google Play Store.
Tap on Menu and then My apps & games.
Apps with an update available are labeled Update.
Find the YouTube app and tap Update.