Have you ever encountered with no sound on YouTube problem? As a popular video-sharing website, YouTube has plenty of users. Try 
MiniTool
 software to make a cool YouTube video. And some YouTube videos no sound problem has always been one of the most common problems when users watching YouTube videos.
When you are playing a YouTube video but you can't hear any sound, the first thing is to open other videos to have a check. If other videos work normally, it means there is something wrong with the video itself. But if you still can't hear any sound, there might be other problems.
Tips:
Looking to save videos for offline enjoyment? MiniTool Video Converter makes downloading and converting a breeze!
MiniTool Video ConverterClick to Download100%Clean & Safe
How to Fix No Sound on YouTube?
Please make sure the speaker on your device is normally turned on. Then you can try the following methods one by one until you solve the problem.
On Desktops
If you have the YouTube no sound problem when watching videos online with your computer, please refer to the following approaches to solve your problem.
Method 1. Check the sound card
When the video you play has no sound, the first thing you need to do is check if the sound card on your computer is broken. You can play online videos on other websites or play local media files in Windows Media Player. If these videos or audio can play sound properly, which means your sound card is fine, you'd better check other settings on your computer.
Method 2. Clear caches and cookies on your browser
In general, browser caches and cookies can also affect the operation of YouTube. Therefore, deleting the cache and cookies on the browser is a viable way to solve the no sound problem. You can try pressing Shift + Control + Delete simultaneously to check for unwanted data from the pop-up window and click Clear Browsing Data to remove it.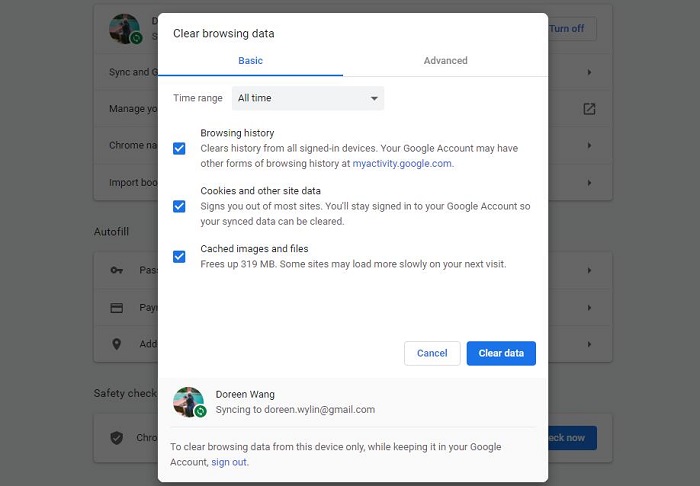 Method 3. Update Adobe Flash Player
To play videos on your website, Adobe Flash Player is an essential part. Any incompatibility with Adobe Flash Player might cause YouTube issues. Update Adobe Flash Player to the latest version and check if YouTube no sound problem solved.
Method 4. Uninstall incompatible extensions
A possible reason for no sound on YouTube issue is there are some incompatible extensions installed on your browser. You can enter incognito mode to see whether there are any error messages or not. If there are no errors, you may have an extension issue on your browser. Therefore, you need to remove the fault extension to fix the no sound problem.
On Mobile Phones
When your YouTube videos have no sound on your phone, try the following solutions.
Method 1. Clear application cache (Android only)
Every time you run YouTube app on your Android phone, there have many caches left on your device and if you don't clear timely, the increasingly useless caches will affect the normal working of the applications. Hence, clearing the cache to solve the YouTube no sound problem is very feasible.
Method 2. Upgrade or reinstall YouTube
Sometimes an outdated or improper YouTube version can cause the no sound on YouTube issue because a new version can fix some bugs on the old version. Or you can try to reinstall the program to see whether the sound on YouTube can play normally.
Above all, these are several methods for fixing no sound on YouTube issue and all of them are easy to do.
Bottom Line
Hope these methods will help you solve no sound on YouTube issue. If you have any question or suggestion about it, please let us know via [email protected] or share it in the comments section below.