YouTube is a great platform where you can watch lots of documentaries for free. In this post, I collect 9 best documentaries on YouTube, including nature, education, technology, food, crime, etc. If you want to watch them offline, you can try MiniTool Software to download them.
There are numerous videos on YouTube. In today's post, I would like to focus on the best documentaries of all time on this platform. What genres of documentary do you like? If you prefer documentaries related to nature, education, food, or crime, you can find the best documentary you prefer in this post.
In this post, I recommend nature documentary, education documentary, food documentary, and crime documentary for you and also show you how to download them to your devices if you want to see them offline.
What're the Best Documentaries on YouTube?
Watching documentaries can broaden our horizon, encourage critical thinking, and so on. According to the viewers' interests, I mainly focus on the following aspects.
Nature documentary.
Education documentary.
Food documentary.
Crime documentary.
Nature Documentary
"Our planet, the Earth, is, as far as we know, unique in the universe. It contains life. Even in its most barren stretches, there are animals. Around the equator, where those two essentials for life, sunshine and moisture, are most abundant, great forests grow. And here plants and animals proliferate in such numbers that we still have not even named all the different species. Here, animals and plants, insects and birds, mammals and man live together in intimate and complex communities, each dependent on one another…"David Attenborough's opening narration
Honestly, I am a fan of nature documentaries. I like to explore our planet through a documentary as it seems that I break the space and time limitation and go everywhere with the narrator in the documentary, standing at the foot of high mountains, waking on the snow-covered grasslands, going throng jungles…
Do you also like this genre? Here, I mainly introduce three top documentaries of nature on YouTube. They unveil in mysteries of our living planet and you can learn more about it.
Frozen Planet
If you care about polar penguins and polar bears, you can have a look at Frozen Plant. This nature documentary is a 2011 British nature documentary series, co-produced by the BBC and The Open University. In May of the next year, the documentary won in three categories at the British Academy Television Craft Awards.
It focuses on the Arctic and Antarctic and it reveals the two regions at the greatest risk from global warming by the following 7 episodes.
To the Ends of the Earth;
Spring;
Summer;
Autumn;
Winter;
The Last Frontier;
On Thin Ice.
Nature's Great Race
The documentary was released by PBS (Public Broadcasting Service) in 2016 and it promises epic footage following the world's most significant land migration. This PBS documentary consists of three episodes and each episode focuses on one animal–elephant, caribou, and zebra.
In the documentary, a scientific team tracked individual animal journeys precisely by using the latest tagging technology in that time to capture all of the actions, the close calls, the success, and the failures.
As we know, every decision in migration could decide life or death. Now, through the lens of the scientist team, let's see what compels these animals to risk everything and why they must win these great and dangerous races.
Wonderful Earth
Nature is the greatest magician and this has proved in Wonderful Earth. Through interactive elements, this documentary shows us the entire beauty of our earth. Lots of viewers are shocked by the planet.
Some viewers commented:
God's nature is amazing … A finest good job.
Beautiful collection! God is glorified by his creation.
One of the best documentaries I have ever seen. Truly amazing and wonderful. The most beautiful planet in the universe.
Tip:
Do you know that YouTube allows your comment to be Bold, Italic, and strikethrough? Read
YouTube comment formatting
to learn about that.
It is also perfect for little guys as it is a good teacher who guides them to explore our planet and they will learn how to take care of the wonderful earth.
Education Documentary
Education documentary can broaden kids' horizon and encourage critical thinking. Especially, if a teacher plays it in the class, students are guaranteed to spark a great discussion.
Here two documentaries are introduced and you can play them for your kids or students.
Am Not Your Negro
I Am Not Your Negro released in 2017 is based on James Baldwin's unfinished manuscript Remember This House. The documentary explores the history of racism in the United States through Baldwin's reminiscence of civil rights leaders–Medgar Evers, Malcolm, and Martin Luther King Jr. and Samuel L. Jackson's observations of American history.
He Named Me Malala
To encourage your daughter or schoolgirl be braver, you can play He Named Me Malala for her. The documentary presents a young Pakistani female activist named Malala Yousafzai who has spoken out for the rights of girls, especially the right to education, since the girl was very young.
Food Documentary
Food documentary puts complex information together in a more interesting and active way, especially for visual learners. As our society's interest in food grows, so there are lots of food documentaries . In this part, I recommend two best food documentaries on YouTube.
H.O.P.E. What You Eat Matters
As a Chinese probe goes, food is the paramount necessity of the people. Nowadays, for most people in the world, there is no need to worry about food scarcity, but what tastes good and how to eat healthily are concerned about more. In terms of wellness, I recommend H.O.P.E. What You Eat Matters.
H.O.P.E. What You Eat Matters that was launched in Austria, 2016 tackles subjects, including obesity, food insecurity, and natural resource depletion.
Nowadays, terrible diseases like heart attack, diabetes, cancer, and more can be blamed on what we are eating and this is revealed in the documentary. It also exposes the relationship between our modern's eating lifestyle and environment destruction.
This documentary also points out a solution–plant-based nutrition. Switching the meat-based diet to the plant-based diet will rebalance not just our health but our planet itself.
The highest form of living, the highest value–is compassion. And when there is compassion. we maximize well-being. Well-being does not mean money in the hands of a few, it means being shared across life's spectrum.Dr. Vandana Shiva
Super Size Me
How often you go to McDonald's for French chips or hamburgers? Twice a week, less or more? A guy named Morgan Spurlock (an American independent filmmaker) went to this fast food restaurant for three meals in a month in 2003 and this was recorded in Super Size Me.
The documentary witnessed the drastic effect of Suprlock's lifestyle on his physical and psychological well-being and explored the fast food industry's corporate influence, including how it encourages poor nutrition for its own profit.
Crime Documentary
Although crime documentary is based on cold hard facts, it is quite fascinating and exciting to follow the clues in documentaries to clear away the miasma and get the truth. In this part, I list two best crime documentaries on YouTube. What are them? Keep reading.
West of Memphis
If you have watched Paradise Lost: The Child Murders at Robin Hood Hills, West of Memphis is another true crime documentary you won't want to miss. The documentary focuses on the crime that happened in 1993–three boys were cruelly killed in Memphis.
The director of the documentary reconstructed everything in that year and showed us a series of unexposed materials such as investigations and lawsuits.
A Murder In The Family
If you are interested in crime and drama, A Murder In The Family is highly recommended. It narrates that a British businessman was killed in his sleep and his mother tried to prove her daughter-in-law was responsible for her son's death.
Are you searching for the best documentaries on YouTube? Read the post that lists documentaries about different fields, including nature, food, education, and crime.Click to Tweet
Download Best Documentaries on YouTube
Can you download YouTube videos? You can do that but there is a premise that the videos you want to download are just for yourself and not for dissemination.
How to download YouTube videos? Although there is no downloadable button, you can take advantage of some software to save them. Here I would like to introduce an easy-to-use tool for YouTube video downloading that is MiniTool uTube Downloader.
This tool is free and 100% clean and it is available for Windows users. With it, you can finish the following items with ease.
How to down the nest documentaries on YouTube via this tool? Here is the tutorial.
Step 1: Download MiniTool uTube Downloader by clicking the following button. Install it and then launch it on your computer.
MiniTool uTube DownloaderClick to Download100%Clean & Safe
Step 2: Search for the documentary you want to watch and then click the downloadable icon.
You can input the documentary name in the search bar.
Or you can copy the link of a documentary from YouTube and past it in the search bar.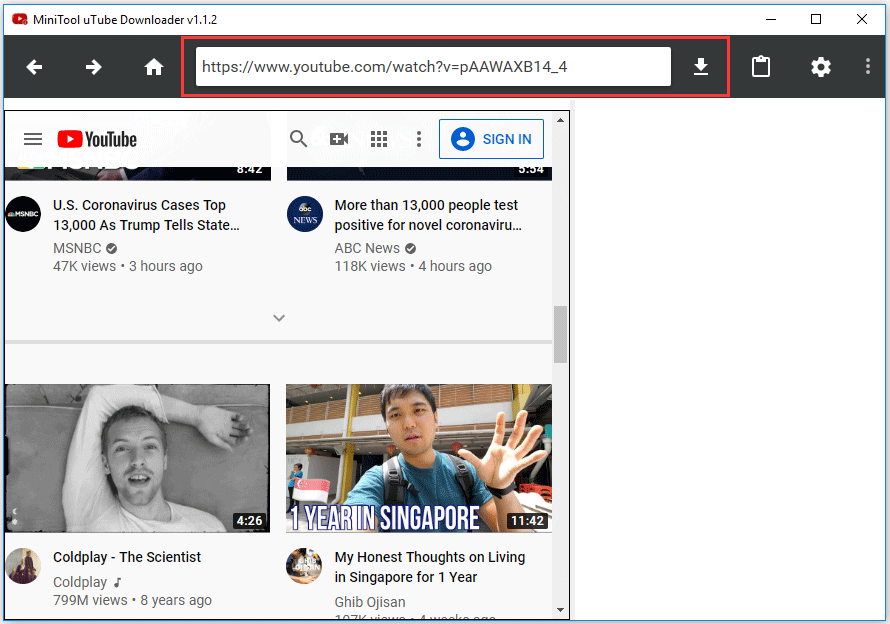 Step 3: Save the YouTube video to your computer.
Choose the video format.
Keep the Subtitle box ticked if you need the subtitles.
Click the DOWNLOAD button to save this video.
That's quite easy, right? If you want to save YouTube documentary to other devices, like phones, you can refer to the methods mentioned in this post.
How to download the best documentaries from YouTube? Read the post right now.Click to Tweet
I Want Your Voice
Documentary guides us to explore the world and enlighten us and it is worth watching one in the free time. In today's article, I have introduced different genres of documentary and hope they meet your taste.
As a fan of documentary, you might have watched numerous documentaries. Please feel free to share your most-liked ones with us in the following comment zone.
If you have some questions when downloading YouTube videos with MiniTool uTube Downloader, please contact us via [email protected].
Best Documentaries on YouTube FAQ
???? What are the 6 types of documentaries?
Poetic Documentaries;
Expository Documentaries;
Observational Documentaries;
Participatory Documentaries;
Reflexive Documentaries;
Performative Documentaries.
???? What is a good documentary to watch on YouTube?
Here are 9 best documentaries on YouTube:
Frozen Planet;
Nature's Great Race;
Wonderful Earth;
I Am Not Your Negro;
He Named Me Malala;
H.O.P.E. What You Eat Matters;
Super Size Me;
West of Memphis;
A Murder In The Family.
???? How can I download a documentary from YouTube?
To download a documentary from YouTube, you can try MiniTool uTube Downloader. This tool is free and 100% clean and you just need three steps to save it on your computer.
Get MiniTool uTube Downloader.
Search for the documentary you want to watch and then click the downloadable icon.
Select what you want to download from the list. Click DOWNLOAD and then choose a location to save it.