MiniTool offers you some ideas to make excellent YouTube trailers for your YouTube channel. A great YouTube trailer can be a powerful way to turn channel page viewers into the subscribers of your channel. Thus, you can get more fans. If you are interested in this topic, refer to this article right now.
What Is YouTube Trailers?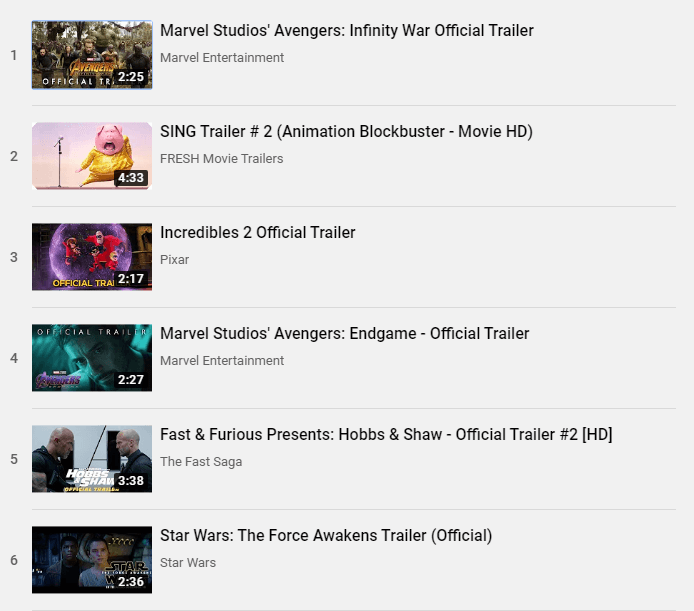 YouTube trailers are videos designed to help people quickly learn about YouTube channels. When enabled, the trailer will automatically appear at the top of the YouTube channel page for non-subscribed visitors.
Why are YouTube trailers important? Your YouTube trailers can be a powerful way to turn channel page visitors into subscribers. After people see your channel art and icon, your channel trailer is usually the next thing that catches their eye. Through the trailer, viewers will learn more about your channels and subscriptions.
Thus, if you want to get more views on YouTube, you will need to make a trailer for your channel. Creating a trailer that catches viewers' attention is key to increasing your audience and the number of channel subscribers.
There are a lot of channels on YouTube right now, so it's increasingly important that your trailers have a very positive effect on new viewers. Sometimes a trailer alone gets more than a million views. Isn't that cool? So, you can see what I mean.
Top YouTube Trailers & Download YouTube Trailers
5 Great YouTube Trailers
Here are top 5 most viewed YouTube trailers of all time for you:
Marvel Studios' Avengers: Infinity War Official Trailer: 236.8 million views
SING Trailer # 2 (Animation Blockbuster – Movie HD): 164.9 million views
Incredibles 2 Official Trailer: 135.9 million views
Marvel Studios' Avengers: Endgame – Official Trailer: 134.3 million views
Fast & Furious Presents: Hobbs & Shaw – Official Trailer #2 [HD]: 112.9 million views
All of these trailers are from the famous movies. Not only can you see highlights from the movie, but you can also learn some tricks for making a compelling trailer by yourself. If you are interested in these trailers, go to watch them on YouTube right now.
Further reading: How to Watch YouTube Free Movies (Desktop & Mobile).
How to Download YouTube Trailers?
You see many trailers on YouTube every day. Most of them are YouTube movie trailers and of course there are many other types. You may want to download them on your computer and then save and collect these wonderful trailers.
A YouTube downloader can be a great assistant to help you do so. Since there are a lot of YouTube downloaders in the market, which one should you choose?
MiniTool uTube Downloader is the best YouTube video downloader you can find. It's totally free and clean with no ads and no bundle to bother you. As a great YouTube downloader, it provides high-speed downloads and superior quality conversions.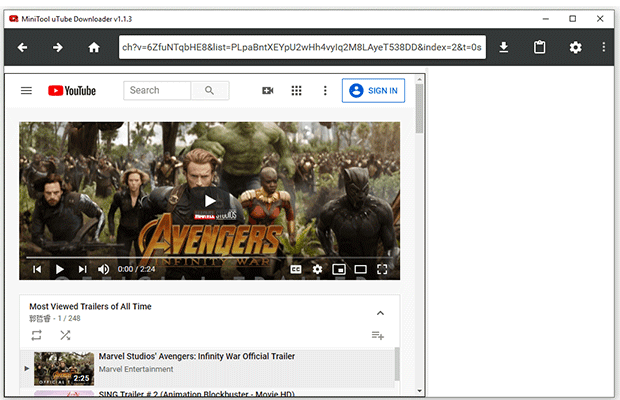 With the quite useful and easy-to-use YouTube downloader, you can do:
download music from YouTube
Right now, you can click the following button to download MiniTool uTube Downloader. Then you can start to download as many YouTube trailers as you want.
MiniTool uTube DownloaderClick to Download100%Clean & Safe
Here are the steps to download YouTube trailers by using MiniTool uTube Downloader.
Step 1: Open MiniTool YouTube Downloader.
Download MiniTool uTube Downloader.
Install it on your computer.
Launch this free YouTube trailers downloader and go to its main interface.
Step 2: Download YouTube Trailers.
Search for the trailer you want directly in MiniTool uTube Downloader or just type the URL link of it, and then open this trailer.
Click the Download button at the top side.
Step 3: Save YouTube Trailers.
Right now, select the output format of the trailer. Here are 4 formats available for you. You can choose to convert YouTube to MP4, convert YouTube to MP3, convert YouTube to WAV and convert YouTube to WEBM.
Finally, click DOWNLOAD to start to download the video immediately.
After that, all you need to do is to wait until MiniTool uTube Downloader finishes downloading the trailers. Then, you can watch them anytime and anywhere.
MiniTool uTube Downloader is a really useful YouTube downloader that I've ever used. It's very convenient and easy-to-use. Get it and have a try. Click to Tweet
That's all the information about how to download YouTube videos with MiniTool uTube Downloader. What if you want to make your own YouTube trailers?
Firstly, you should learn about what YouTube trailers are and get some useful tips for making a good YouTube trailer before you start. Then, you can start to make YouTube trailers by following the instructions given below.
6 Tips for Making Good YouTube Trailers
With a few simple steps, you can create engaging YouTube trailers that will get people to click the subscribe button before they finish watching your videos. How to do this? There are some tricks for you.
#1: Assume Your Viewers Are New
There are many YouTube subscribers and the number is growing, and chances are those who have seen the trailer on your channel have never seen you before.
Your trailer needs to give these viewers a warm welcome and show them what your channel is about in a short, engaging way. If you're going to appear in your trailer, remember to smile. You need to be approachable, charming and likeable, just like you were when you first met someone.
#2: Keep Your Trailers Short
There is no perfect video length in YouTube trailers, but YouTube still recommends keeping trailers short. It's a good idea to keep your trailers between 30 seconds and one minute long, for maximum audience engagement.
Like movie trailers, you don't want to reveal everything in the trailer. So you need to find the right balance between sharing all the necessary information and making your viewers crave more.
#3: Create an Attractive Point
The first few seconds are crucial to getting viewers to linger during the trailer on your YouTube channel. So, you need to make sure your introduction is bold and engaging, with enough interesting information to keep people interested in the rest of the trailer.
If you have a logo or slogan, it's best to include it early on to help your brand awareness and attract potential subscribers.
#4: Use the Power of Storytelling
To make a captivating trailer, you need to know a golden rule: you only need to show, not tell. Using video as a medium, you can show your viewers what your channel is about, rather than boring your viewers with words or conversation.
You capture your mood and personality through movement, color and animation. To create a good feeling for who you are and how you can entertain or help your viewers, you can bring your own personal style into the mix.
#5: Have Your Own Strong Branding Features
Personal branding features are very powerful in a video. You can use consistent colors, free music, logos, fonts, and themes. When visitors see your videos in their feeds, they will recognize your videos immediately.
Your channel trailers may be the first time viewers have seen you, so it's important to make a strong first impression.
#6: Use a call to action
Your viewers may leave after they finish watching your YouTube trailer, but that's not what you want. You can get your new fans involved with your brand. Adding a call to action in your trailer allows your new fans to perform a single action that makes them feel interactive.
Here are some good call to actions for you:
If you like this channel, don't forget to tell your friends.
Click Subscribe to be the first to get the news and updates.
Check out my videos to learn more.
If you want your viewers to click the Subscribe button and keep following you, you need to tell them do so. That way, you'll have a good interaction, and maybe your audience will do what you tell them to do.
You might be interested in this article: 8 Simple Ways to Increase YouTube Subscribers in 2020 (Guide).
How to Make YouTube Trailers?
Much like a movie trailer, which will tell you some of the stories in the movie, YouTube trailers will tell all the viewers about the rest of the content on your channel.
If you want to start a YouTube channel, you need to know that there are around 30 million other competing channels on YouTube.
YouTube trailers are absolutely the key to standing out from the crowd and winning over new viewers, because YouTube channel trailers can help viewers determine if they're interested in your content and then decide whether to follow your channel.
There have been a number of successful cases using YouTube channel trailers. After YouTube trailers for the channels were published, some channels gained thousands of followers, which is a significant increase. So what are you waiting for? Now start making a YouTube trailer for your channel.
How to Make & Set up YouTube Trailers?
You don't need to have thousands of dollars to make a hot YouTube channel trailer. There are many useful tools online such as FlexClip. With this free YouTube channel trailer maker, you can create a special YouTube trailer easily and efficiently.
Make a YouTube Trailer
Step 1: Go to FlexClip. Click the Make a Free Video button.
Step 2: Here you'll see all video templates. Pick any template or start with an empty project.
Step 3: Click the + button to add video clips, photos to the storyboard. You can also use the videos, photos offered by FlexClip's media library.
Step 4: Choose the dynamic text animations you like and add to your video.
Step 5: Depending on your needs, you can make duets or add background music to the video. You can also change the video aspect ratio.
Step 6: After you make a complete video, preview and export. FlexClip will download your video in MP4 format.
If you're in a rush and want to create a perfect YouTube channel trailer right now, Biteable can also help you like FlexClip.
It offers video templates for each occasion. Its template library has hundreds of styles and ideas suitable for every industry, so it's easy to get started. Its trailer templates are free and fully customizable. I should remind you that you need to download your trailer with a Premium membership.
Set up the Video as Your YouTube Trailer
Step 1: Go to YouTube and log in to your account.
Step 2: Click the camera icon button and choose Upload video to upload the trailer you just made.
Step 3: Then, click your profile picture in the upper right-hand corner and choose Your channel.
Step 4: Click CUSTOMIZE CHANNEL > For new visitors > Channel trailer.
Step 5: Select your channel trailer from the uploads or enter your YouTube video URL.
Step 6: Click Save to save changes.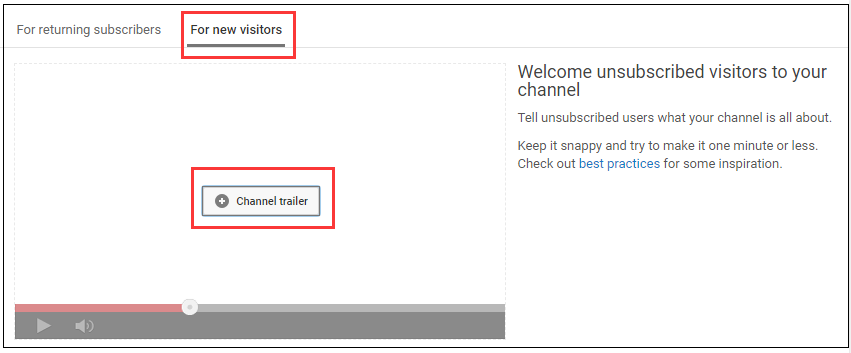 After you've done everything given above, your new YouTube channel trailer is ready to attract more viewers and turn them into the subscribers of your channel.
I want to make a trailer for my new YouTube channel to get more viewers and subscribers. Then, I learn much information about YouTube channel trailer and how to make it in this article. Click to Tweet
Conclusion
That's all for how to make a YouTube channel trailer. By now, you've probably created a good one. If you find this article helpful, share it with others. Last but not least, MiniTool uTube Downloader can help you download trailers on YouTube. Do remember to give this excellent YouTube video downloader a try.
MiniTool uTube DownloaderClick to Download100%Clean & Safe
If you have any questions or you know any good trailer makers or YouTube downloaders, please share them with us and we will update this post quickly. Thanks in advance!
YouTube Trailer FAQ
Can you use movie trailers in YouTube videos?
In short, they are used for a permitted purpose. Add substantial changes to the original to create a transformative use. There will be no economic loss to the owners of the original trailer because it was shown for free. Whether they conform to the principle of minimal use will vary from video to video.
Is it legal to upload trailers on YouTube?
You can't upload movie trailers and get paid. The reason is that movie trailers are copyrighted and you can't make money on them or advertise on them. However, you can upload them to your channel and get views.
Why are movie trailers called trailers?
These clips came to be known as trailers, because projectionists initially tended to add them to the end of the reels of the B-movie. They trailed after the supporting movie and came before the main feature.
Which Indian movie trailer has the most views?
Kabali is the most viewed trailer in India on YouTube. It released the teasers in three languages: Tamil, Telugu, and Hindi. YouTube calculated the total views of the three teasers, which ended up topping the list of most viewed Indian trailers on YouTube.