Are you looking for something free to watch? Try YouTube, an online video-sharing platform. It not only supports me to upload cool videos made by MiniTool software, but supports me to watch some classic movies for free.
Everyone is looking for a way to watch YouTube movies for free instead of buying and renting. Fortunately, there are indeed many YouTube movies that you can watch for free, but keep in mind that these movies are advertised throughout the video.
Want to watching those chargeable YouTube movies, please refer to this post: How to Buy YouTube Movies on a Web Or Mobile App.
How to Watch Free Movies on YouTube
Watch YouTube Free Movies on a Computer
1. Go to YouTube Website and sign into your YouTube account.
2. In the left menu bar, scroll down to the More from YouTube section and select Movies & Shows.
3. Under the Movies option, scroll down to the Free to watch section.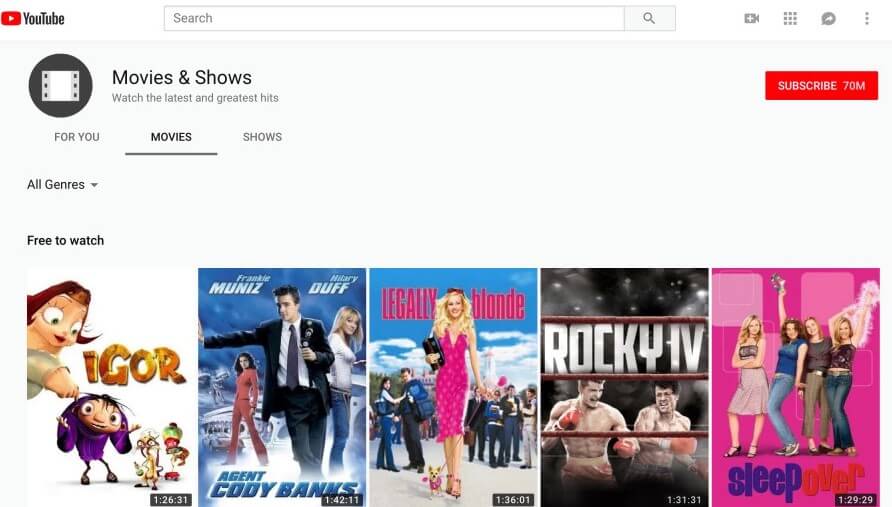 4. Click View All located to the right of the Free to watch section.
5. Look through the movies and tap on the one you want to watch.
Watch YouTube Free Movies on a Mobile
Unfortunately, due to the overall simplicity of the mobile app, there is no Movies and Shows section. Therefore, the method of watching YouTube free movies on a mobile is a little bit different from watching on a computer.
Open the YouTube mobile app on your mobile device.
Tap on the search bar and type in Free Movies.
Scroll down to the Free to Watch section, located below the YouTube Movies heading.
Scroll through the movies and select the one you want to watch.
Alternatively, you can save those free videos to the Watch later section of your account. Then you can easily locate individual free movies by going into the Library tab and selecting the Watch Later playlist.
Also see: How to Make a Playlist on YouTube – Just Several Steps
There are many classic documentaries, horror or action movies on YouTube, and old-fashion movies in the golden age of Hollywood. It's tough to choose which one to watch. To help you save some search time, this post introduces the top 3 best YouTube full length free movies.
The Best YouTube Full Length Free Movies
Top 3. All Dogs Go to Heaven – 1989
A canine angel, Charlie, sneaks back to earth from heaven but ends up befriending an orphan girl who can speak to animals. In the process, Charlie learns that friendship is the most heavenly gift of all.
Top 2. Dances with Wolves - 1990
Dances with Wolves tells the story of Union Army lieutenant John J. Dunbar who travels to the American frontier to find a military post and of his dealings with a group of Lakota.
Top 1. The Terminator - 1984
A seemingly indestructible robot is sent from 2029 to 1984 to assassinate a young waitress, whose unborn son will become a savior against machines, while a human soldier from the future is sent back to protect her at all costs.
Bottom Line
With the guidance of this post, it's easier for you to enjoy more wonderful YouTube free movies. If you have any questions or suggestions about it, please let us know via [email protected] or share it in the comments section below.