YouTube is a popular website for sharing videos, but it has become a community for people to upload music onto. However, YouTube does not allow users to upload MP3 files separately. So how did they upload MP3 to YouTube? Here is the answer.
How to upload audio (.mp3, .wav) DIRECTLY TO YOUTUBE? PLEASE! I'm tired of getting my sound distorted or poor audio quality.

YouTube Help
Have you ever encountered this problem? It's a pity to tell this person there is no direct way to upload audio to YouTube. However, fortunately, this post put forward two indirect solutions. One is to upload the MP3 file with an image via online programs, like Audioship; the other is to convert the MP3 file to a video format by free converters, such as MiniTool Video Converter.
Can I Upload MP3 to YouTube?
Can I upload MP3 to YouTube? No.
Are there any YouTube upload limits? Yes.
Being an exclusive video hosting website, YouTube doesn't accept or recognize common audio files such as MP3, WMA, AAC, and others.
Besides, YouTube is very strict with copyright protection. This means you can't add any of your favorite but copyrighted tracks to YouTube. Most of the tracks you listen to are protected. If you upload such a track to YouTube, it will be muted and will receive a warning from the YouTube team.
Many users want to know how to legally upload music to YouTube. For those special singers and actors, they want to upload their own original songs, cover albums, their version of popular songs to increase their visibility. For those ordinary users, they upload MP3 to YouTube to share their favorite songs with more people.
However, nothing is impossible. Although YouTube does not allow users to upload audio files, there are two effective methods to upload MP3 to YouTube. Let's learn them one by one. Please bear in mind that uploading audio files is much harder than uploading videos.
Method 1. Convert MP3 to Video
Since YouTube cannot recognize audio files, why not convert them to video formats and then upload them to YouTube? There are 2 free and easy-to-use video converters – one for Mac users, the other for Windows users.
MiniTool Video Converter (Windows)
MiniTool Video Converter, a free video converting program that supports inputting various file types: audio (MP3, WAV, WMA, AAC, M4R, etc.) and video (MP4, MKV, 3GP, MOV, VOB, WMV, AVI, etc.). It supports lossless quality conversion at super-fast speed.
How to convert an MP3 file to a video format with MiniTool Video Converter?
It's pretty easy. All you need is to input your MP3 file and convert it to a YouTube acceptable video format. Now, let's learn the detailed steps of converting an MP3 file to a video.
MiniTool Video ConverterClick to Download100%Clean & Safe
1. Free download, install and launch MiniTool Video Converter on your PC. (It supports Windows 7, Windows 8, and Windows 10.)
2. In the default Converting subtab of the Video Convert main tab, click the Add or Drag files to start conversion option to upload your MP3 media file.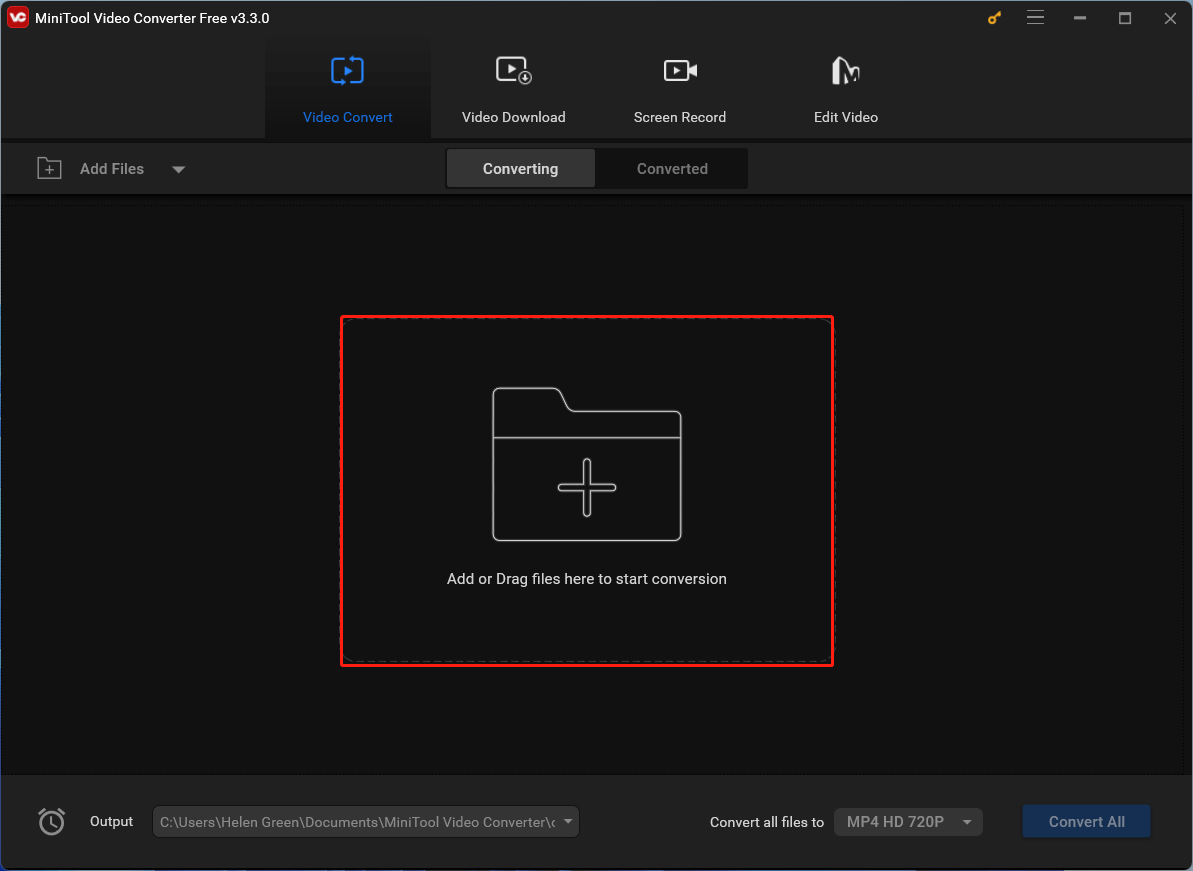 3. It will create a media file conversion task and recommend an output file format for you. If you are not satisfied with the recommended format, just click the settings icon in the Target section to customize yours.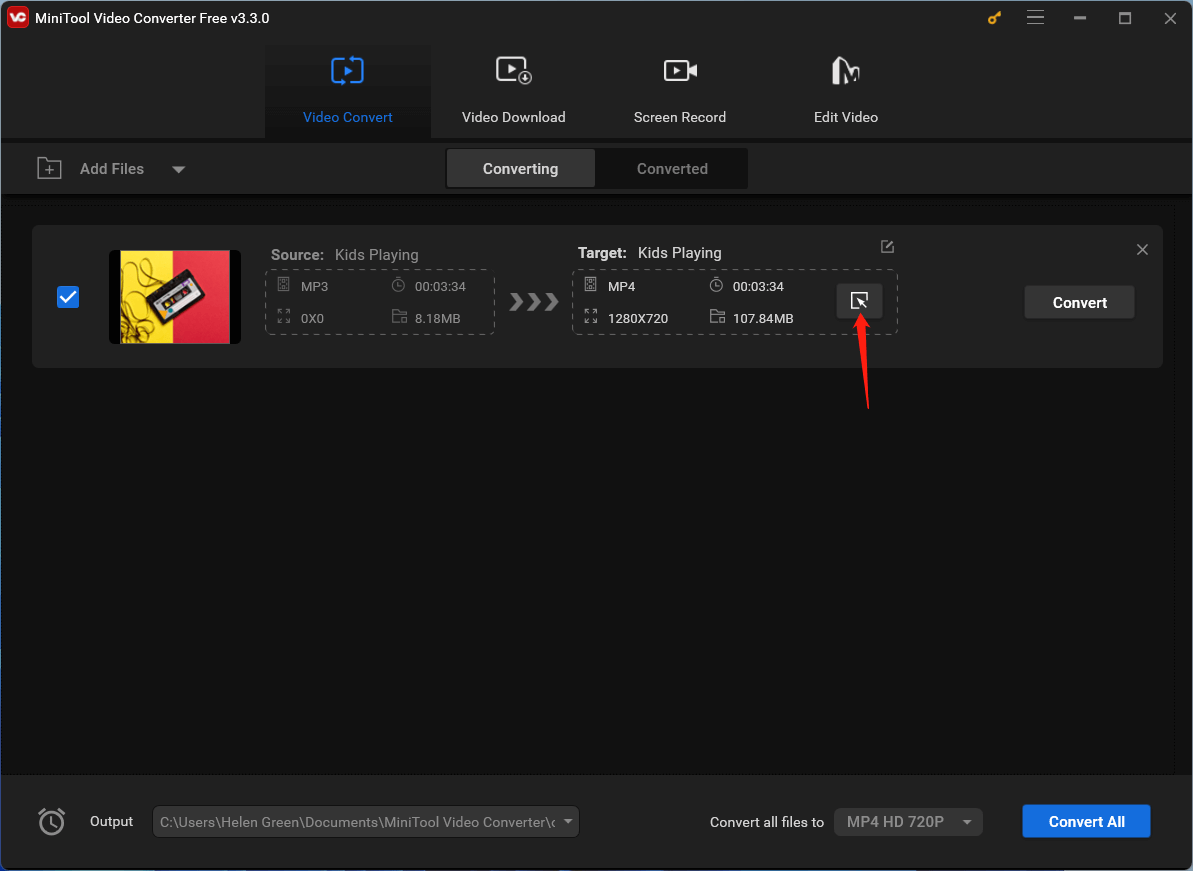 4. In the next pop-up window, switch to the Video tab from the top menu, choose a video format you prefer from the left panel, and pick up a video quality in the right area. You can further specify the detailed parameters of the selected video format either by clicking the settings icon behind the desired video quality option or by choosing the Create Custom option.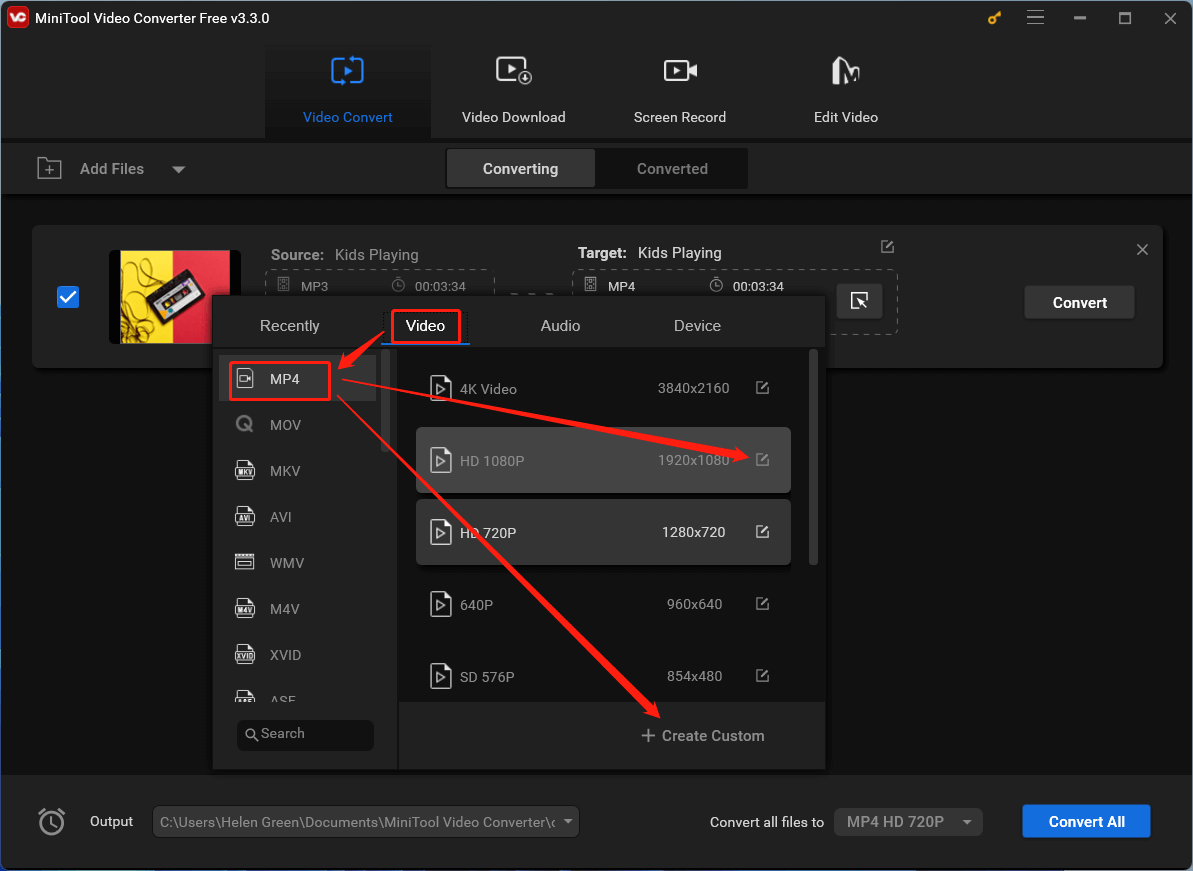 5. In the next popup, you are able to specify the encoder, resolution, frame rate, and bitrate of the target video as well as the encoder, sample rate, channel, and bitrate of the audio within the video. Click Create after all settings.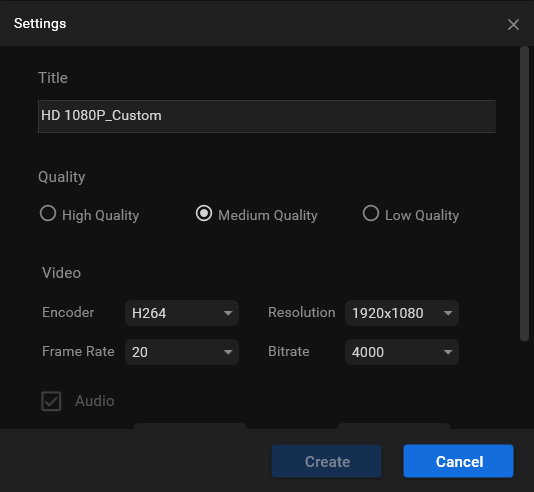 6. Then, select your customized video format and click the Convert button to start converting.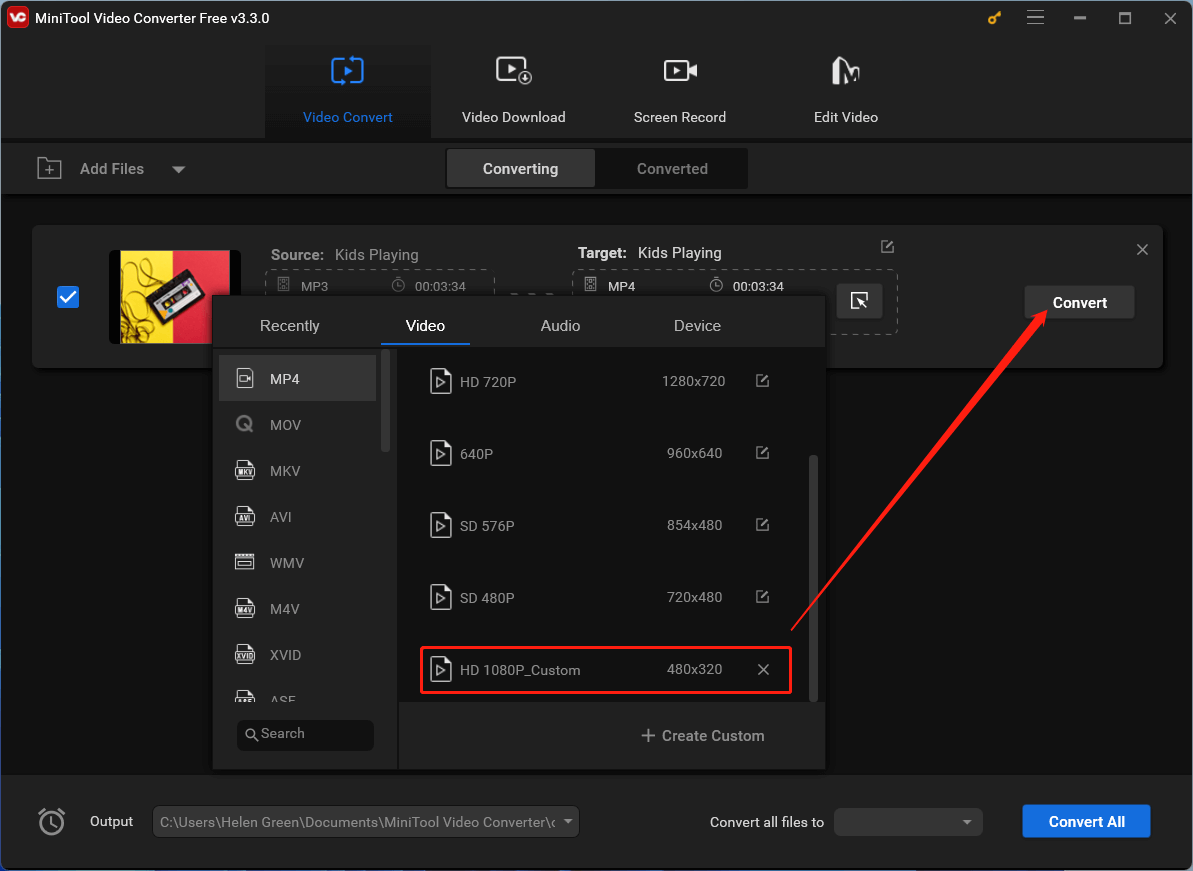 Wait until the process finishes.
In addition to video and audio files conversion, MiniTool Video Converter also supports downloading videos, songs, and subtitles from YouTube as well as recording your computer screen. Just get it to explore its wonderful features!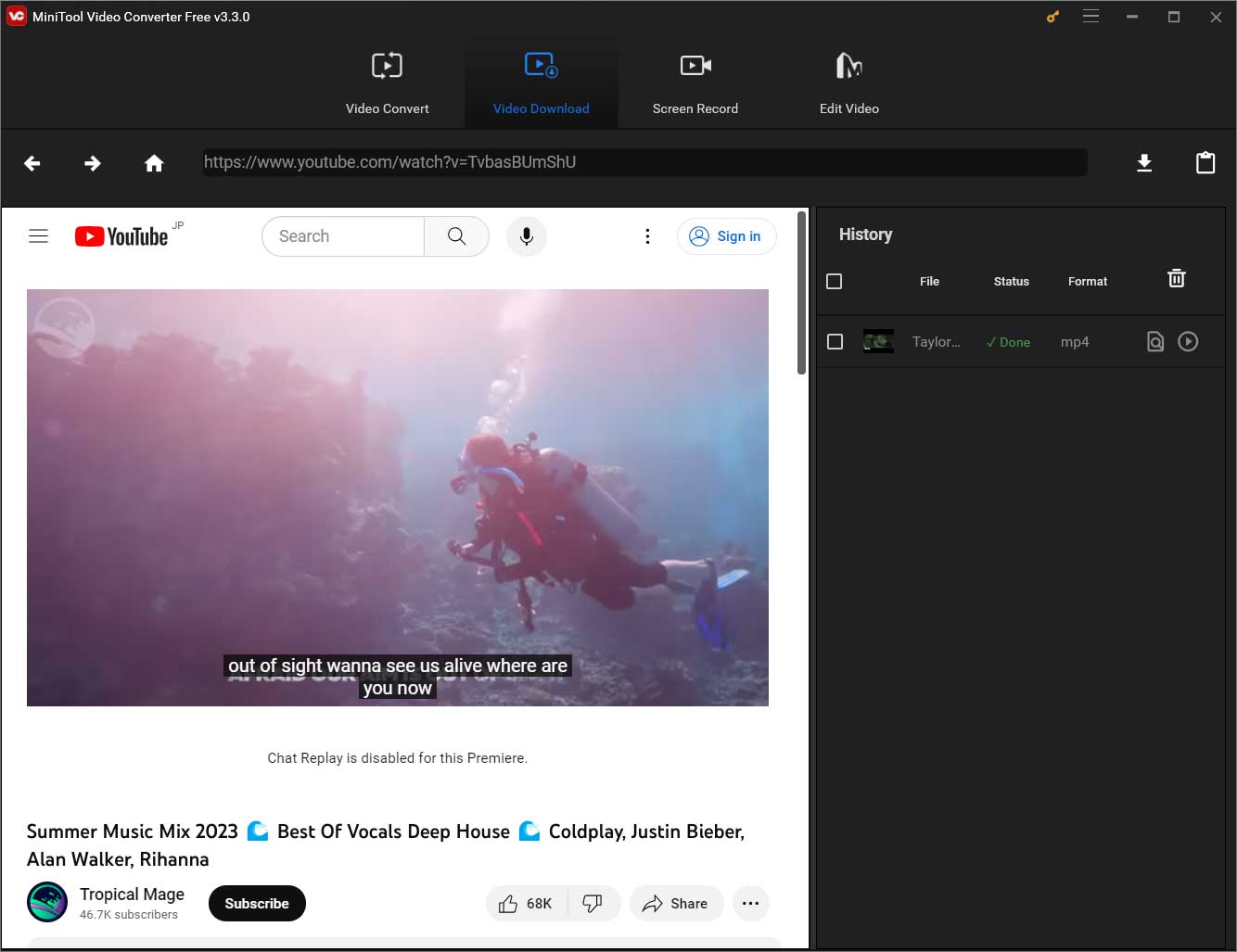 HandBrake (Mac)
HandBrake is a free and open-source transcoder for digital video files, originally developed in 2003.
It is an admirable choice when selecting an MP3 converter to convert MP3 to YouTube video, because it has many features that set it apart from the others, including high-quality conversion, batch scanning, queuing of encodes, video filters for file editing, live static and video preview, chapter markers, and others.
Features:
Support to convert various file formats.
Available for Mac OS X, Linux and Windows.
Convert a batch of video files at once.
Method 2. Upload MP3 with an Image Online
If you don't want to install software on your PC, try the second method – utilizing third-party services, which can help you upload your audio files to YouTube automatically. You just need to log into your Google account, pick an image as background, and upload your MP3 file.
For your convenience, this article details three best third-party YouTube uploaders. Please check them carefully and choose the one that suits you best.
Audioship.io
Audioship.io claims that it is the easiest way to upload audio, music albums and personal tracks to YouTube. Artists, music producers, DJs, podcasts, and radio stations all rely on Audioship.io to publish their audio to YouTube. It provides users with a reliable, fast and excellent audio-to-video migration service with no watermarks, unlimited file size and 24×7 customer support.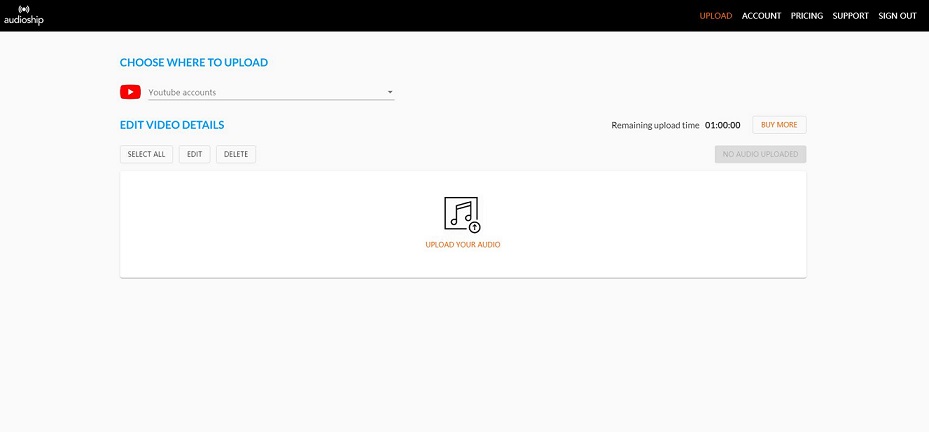 Features:
Select favorite background images for your MP3 files.
Save time by uploading multiple audio files at once.
Upload MP3 to YouTube with high quality.
TunesToTube
TunesToTube is an online application, which aims to help users upload audio to YouTube without editing or other preparations. The website is free to use but you need to link your YouTube account first to the site allowing them to access your YouTube channels. It is ideal for producers or musicians who want to promote their new music.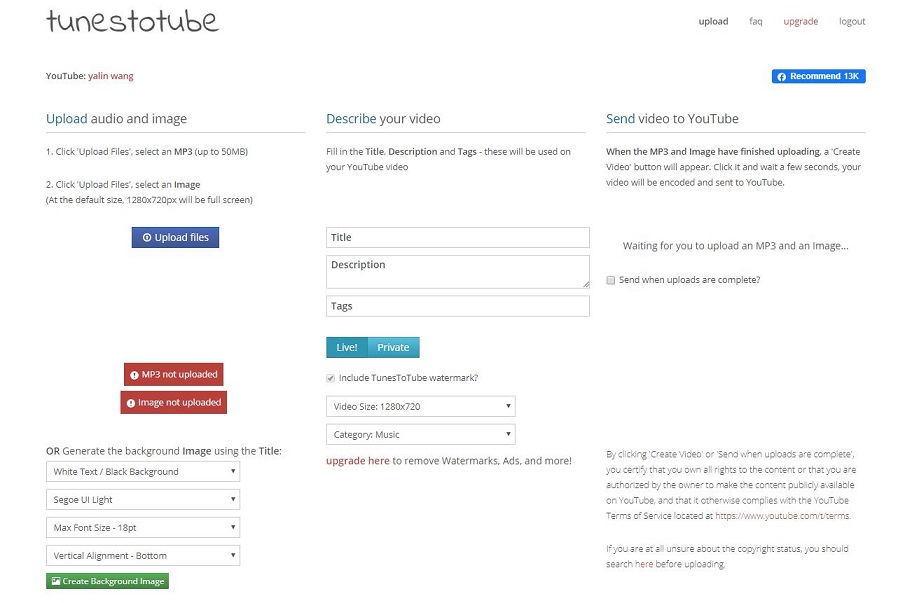 Features:
MP3 files you upload will not be re-encoded by this site, and additional steps are taken to ensure the best audio quality.
Upload MP3 files to your YouTube account via Google's OAuth API.
TOVID.IO
TOVID.IO is an online video creation service that allows users to upload an MP3 to YouTube combined with a cover image. With just a few simple steps, you can upload your MP3 and your chosen cover image to YouTube. Once completed, the site will render the video from the MP3 file and the image and upload it directly to YouTube on your behalf.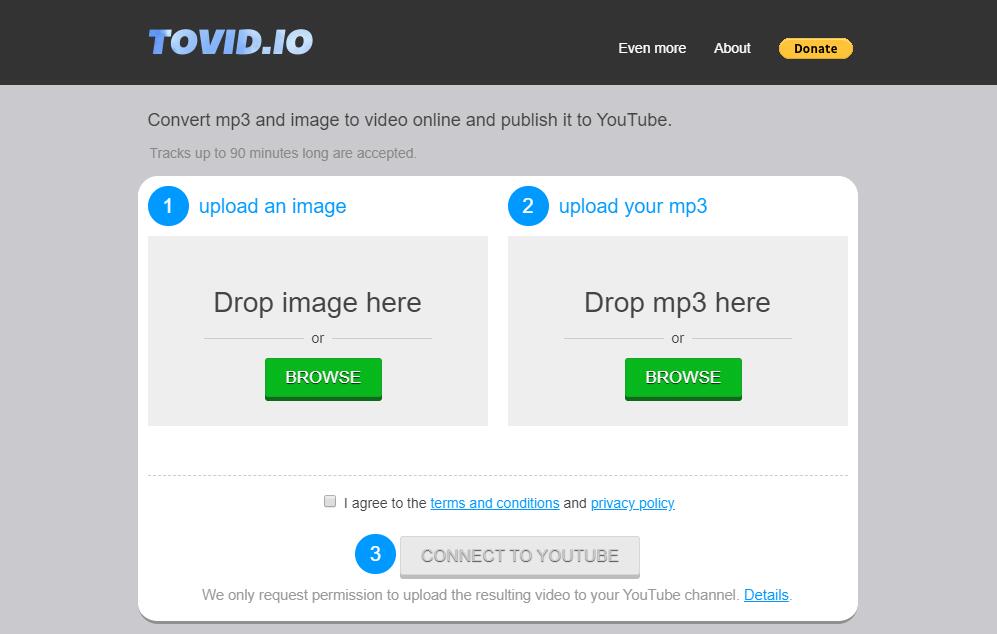 Features:
720p HD resolution of the final YouTube video.
No need to install and launch a heavy video editor.
Never access your login credentials.
Comparison Between Method 1 and Method 2
Pros
Cons
MiniTool Video Converter
· Support YouTube compatible video formats.
· Support batch conversion.
· Free conversion service.
· No ads or bundled software.
· No registration required.
· No watermark on converted files.
· A simple and user-friendly interface.
· No limit on the size of the MP3 files.
· High-speed conversions.
· Only support Windows 10/8/7
· Need to download and install
Handbrake
· Convert a large number of formats.
· Can be used to rip DVDs.
· Open source and free to download.
· Provide advanced controls such as setting the width, height, codec, framerate, etc.
· Difficult to master advanced settings.
· Offer a relatively complicated graphical user interface.
Audioship.io
· Upload multiple audio files at once.
· Unlimited audio file size
· Multiple channels support.
· Free to use 1-hour uploading time.
· Input MP3 files slowly.
TunesToTube
· Super-fast uploading speed.
· Enables you to upload image, title, description and tags.
· Do not access your YouTube password.
· Only support to upload up to 50MB of a file.
· The uploaded MP3 audio files with watermark.
TOVID.IO
· Support multiple uploads at the same time.
· Never access your login credentials.
· No signup required.
· Not accept tracks over 90 minutes.
· Request permission every time you upload to YouTube.
All in all, compared with the second method of using online services, the first method – converting audio files into video formats and then uploading them to YouTube is a little waste of time.
However, the first method has countless advantages – no ads, no viruses, no watermarks, no registration required and never access your YouTube account. The most important is you can directly download YouTube videos to watch offline with MiniTool Video Converter.
Bonus Tip – Best Time to Upload to YouTube
Social Media is all about timing. If you post a YouTube video at an inappropriate time, it could be a real waste and you will gain a little reward. In contrast, if you share videos at the right time, it would be completely different. So when is the best time to upload videos to YouTube?
The Best Time to Upload YouTube Videos
For most, the best time to upload YouTube videos is late afternoon. For most people, the best time to upload a video is in the evening. These times are the time most users are online. More specifically, it is advised to post between 2 p.m. and 4 p.m. on Monday, Tuesday and Wednesday, and between 12 p.m. and 3 p.m. on Thursday and Friday, which has the most Internet users and the largest market share.
The Best Day to Upload YouTube Videos
Of all the days of the week to post, Thursday and Friday are best to upload YouTube videos and the shared content will receive many views during the weekend. As most YouTube viewers are school-age children or young adults, viewership generally begins to ramp up on Thursday, peaks on Saturday and then tapers off on Sunday afternoon.
Bottom Line
Two completely different approaches have been discussed above. Which one do you prefer? Or you can try both. If you have any questions or suggestions about it, please let us know via [email protected] or share them in the comments section below.
Upload MP3 to YouTube FAQ
Can you upload mp3 to YouTube?
No. YouTube doesn't accept or recognize common audio files. However, there are two indirect ways to upload MP3 to YouTube – converting MP3 to video formats or uploading MP3 with an image online.
What's the best YouTube to mp3 converter?
·       MiniTool Video Converter
·       Convertio
·       Y2Mate
·       Online Video Converter
·       Convert2MP3
·       YTD Video Downloader
·       aTube Catcher
·       YoutubeMP3
How do I change mp3 to mp4?
1. Run MiniTool Movie Maker on your PC.
2. Import your MP3 file and an image as you like.
3. Select MP4 as the output format.
4. Click Export to save it on your device.
What is the best audio format?
·       FLAC
·       WAV
·       MP3
·       WMA
·       ALAC
·       OGG
·       AAC
·       AIFF