YouTube offers creators the chance to post their videos and get exposure. If you want to be a YouTube creator, the most important step is uploading YouTube video. So how to upload a video to YouTube? This post will walk you through the steps for publishing YouTube videos.
With the popularity of video-sharing platforms, people are increasingly uploading their videos to these platforms for making money, especially YouTube. But before promoting your business on YouTube, you need to create catchy YouTube videos first.
To create YouTube video, you can use the free video editor – MiniTool Movie Maker released by MiniTool.
Then you can upload the video to YouTube to attract a larger audience.
How to Upload a Video to YouTube from Computer
This part will teach you how to upload a video to YouTube from computer.
Step 1: Open the browser and sign in to your YouTube account.
Step 2: Click on the upload icon at the top right of the screen and select the first option Upload video from the drop-down list.
Step 3: Drag and drop the video you've created before into the box or select the video from your computer. Remember, YouTube supports almost all popular file formats, including MP4, MOV, M4V, WMV and AVI.
If YouTube doesn't support your video file format, you can change video format.
Besides, you will see privacy settings on this page. There are four options:
Public: This video can be seen by anyone. For subscribers, the video will show up in their feed.
Unlisted: The video can only be seen by those who have the video URL. Want to know how to share unlisted videos, refer to How to Share Unlisted Videos Privately.
Private: Only those who are approved can watch the video.
Schedule: You can choose a future date to publish your YouTube video.
Step 4: On this page, you need to fill out all the information here.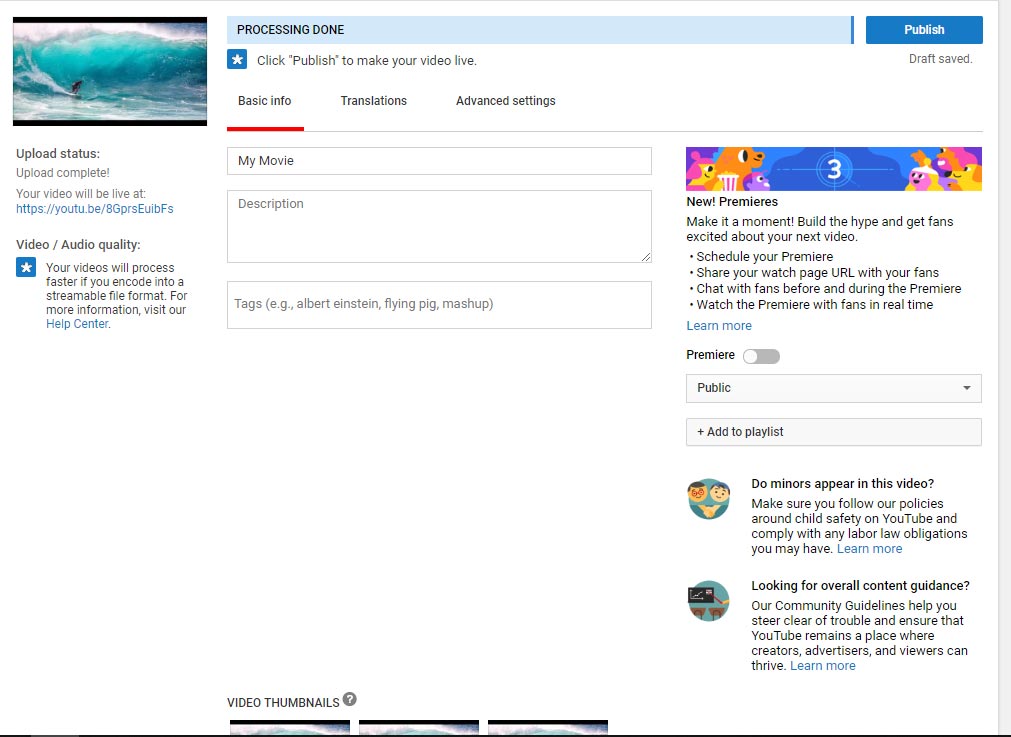 Title: Title should reflect the theme of the video.
Description: You can add the link of your social networks and website.
Tags: Adding relevant tags will help people find your video easily.
Thumbnail: An intriguing thumbnail will attract the audience to view the video content. YouTube will offer you three screenshots of your video. Or you can choose to upload a thumbnail you prepare in advance.
Refer to: The Best YouTube Thumbnail Size: 6 Things You Need to Know.
Privacy: If you forget to change privacy settings in the last step, you can click on the arrow icon to select Public, Private, Unlisted or Schedule.
Add to playlist: Playlist is a good way to organize a series of videos.
Step 5: Press the blue button Publish at the top right corner of the screen to apply changes. When the uploading is done, you can go to the YouTube channel to watch the video.
You may interest in How to Start a YouTube Channel – 4 Useful Tips.
How to Upload a Video to YouTube from Phone
If you want to upload a video to YouTube from phone, follow the steps below.
Step 1: Open the YouTube app and tap on the camcorder icon in the top right corner of the screen.
Step 2: Choose the desired video or click on Record to record a new video now.
Step 3: After that, it brings you to the editing tool page. You can trim the video, and add filters and add music to the video.
Step 4: Then, click on Next to fill in your video details.
Step 5: Tap on Upload at the top right.
Conclusion
You must have mastered how to upload a video to YouTube! Have a try and start your business on YouTube.
If you have any question about uploading YouTube video, please leave a comment below.