Create a YouTube account if you plan to upload videos, add comments, or make playlists. (MiniTool Movie Maker is a useful movie editor released by 
MiniTool
). Verify it if you want to upload videos that are longer than 15 minutes and change your video thumbnail to a custom image. And delete it if you get tired of it.
It would be much easier to create your own YouTube account if you already have a Google account, because you can watch, share and comment on YouTube after you use it to create an account.
Further reading: 2 Ways to Comment on a YouTube Video Quickly and Easily
How to Create YouTube Account?
Creating a YouTube account is free and quick. You just need to submit some your personal basic information and create a username and password. Here are the steps:
1. Go to www.youtube.com and click SIGN IN at the top-right of the page.
2. In the next sign in page, click the Create account option.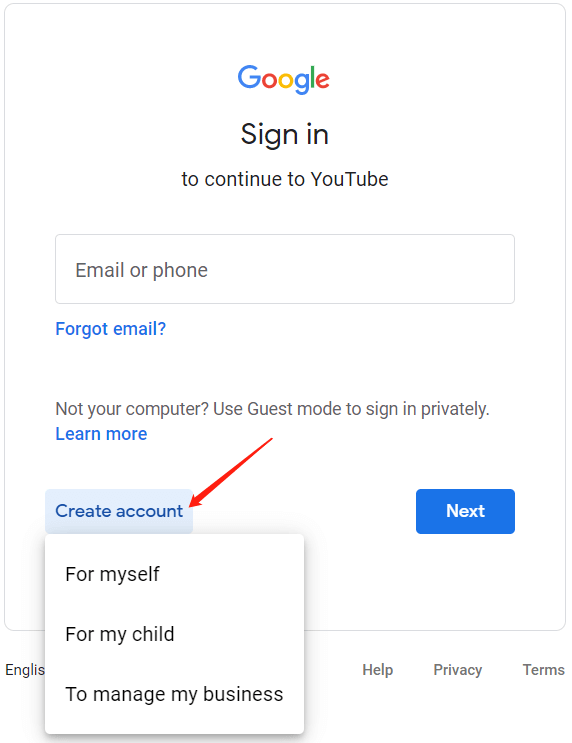 3. Next, it will bring you to the Create your Google Account page. There, input your first name, last name, email address, as well as password.
Note: It's a good idea to jot down your username and password in case you forget it.
4. Verify your email address. Google will send a 6-digit verification code to the email you input in the former step. Just write the verification code in the blank. If you can't find the verification email, check your spam folder.
5. Enter your phone number, birth date, and gender.
6. Verify your phone number by clicking the Send button.
7. Fill in the 6-digit verification code you received by your phone message.
8. If you like, you can add your phone number to your account for use across Google services. Or, you can just skip it.
9. Agree with the privacy and terms.
Finally, you will be redirect to the home page of YouTube with your new account signed in.
Tip: If you leave any fields empty or choose a username that's taken already, YouTube will remind you with red warning notes.
How to Verify YouTube Account?
It's easy to verify your YouTube account, which allows you to upload videos that are longer than 15 minutes and change your video thumbnail to a custom image. What you need to verify your YouTube account is only a phone number to prove your identity.
1. Go to www.youtube.com, sign in your YouTube account.
2. Go to https://www.youtube.com/verify.
3. There, choose in which way you'd like to verify your YouTube channel, by verification code or verification call/voice message.
4. Select your country and type your phone number.
5. Click GET CODE button.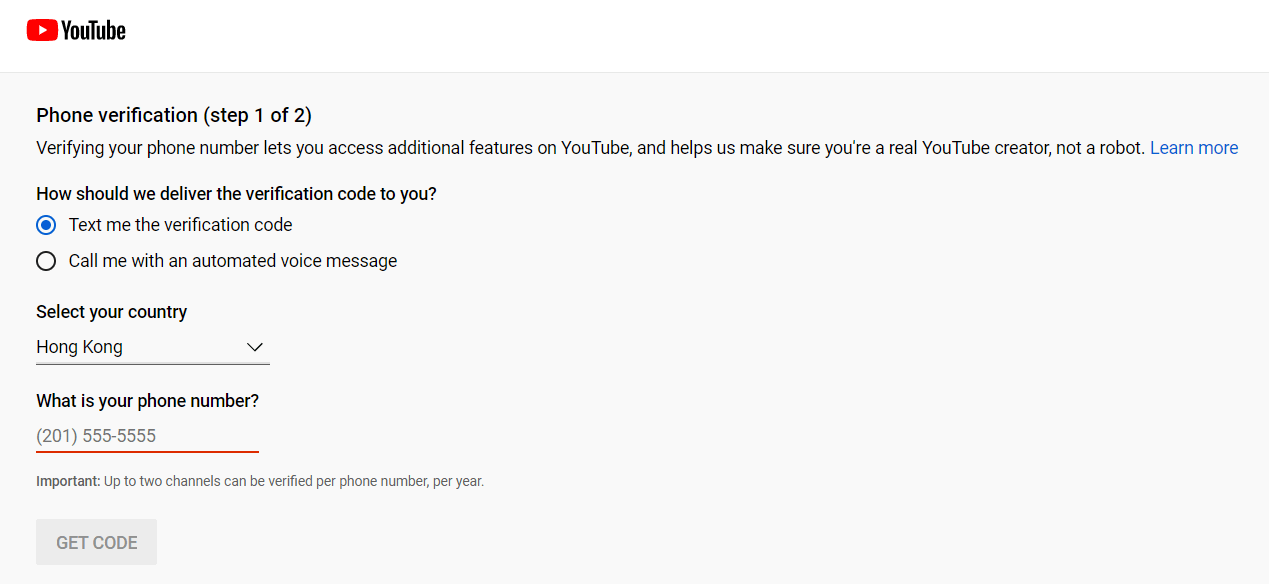 6. Next, enter the 6-digit verification code and click SUBMIT.
Finally, you will be notified that your phone number is verified.
How to Delete YouTube Account?
If you decide to delete or cancel your YouTube account for some reasons, follow the steps below.
1. Sign in to YouTube with the account you want to delete.
2. Click your profile at the upper right corner of screen.
3. Then click Settings.
4. Click Advanced settings in the left panel.
5. Click Delete channel option in the right section.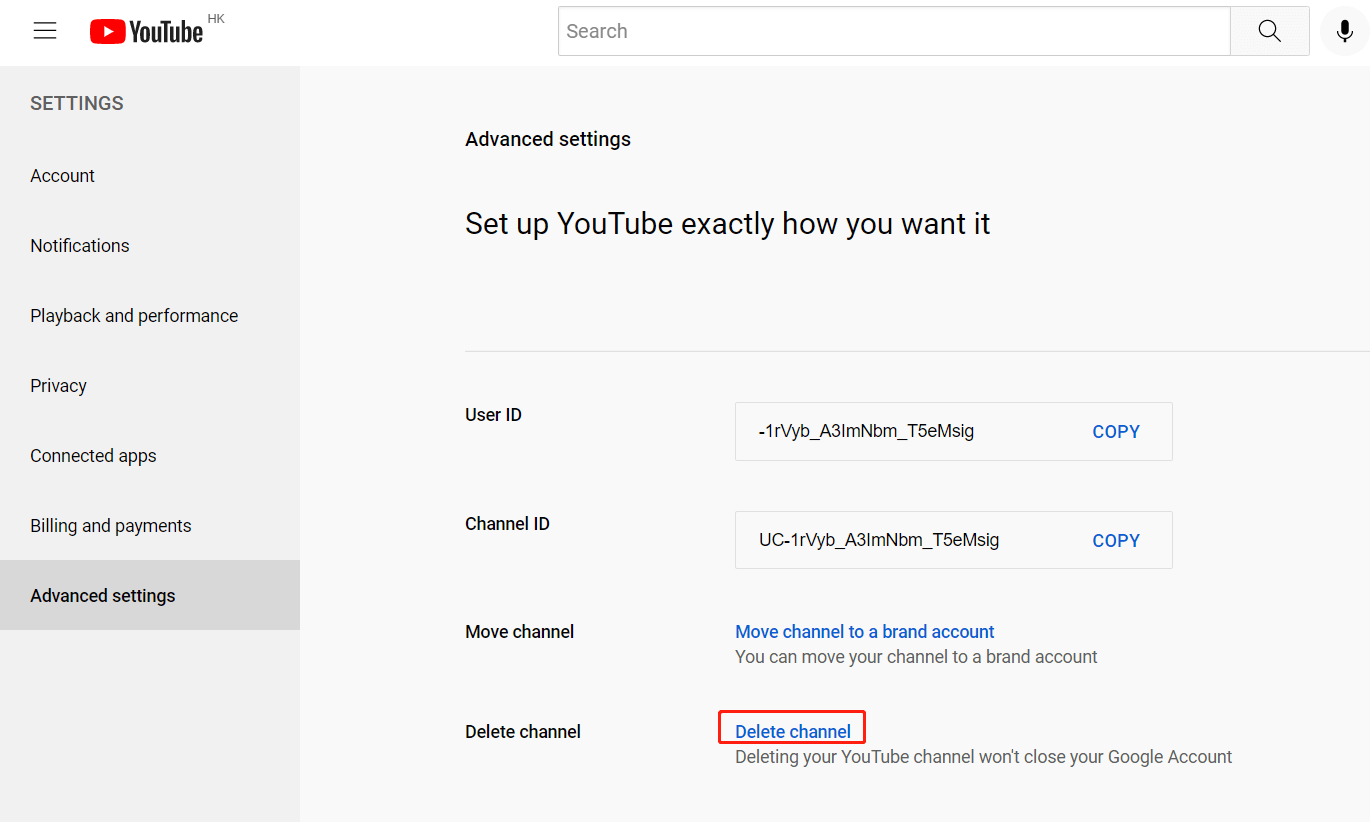 5. Enter your password to continue the process and click Next.
6. Select I want to permanently delete my content.
7. Check the box to confirm you want to delete your channel and select Delete my content.
8. Type in your e-mail address to confirm your operation and click Delete my content again.
Finally, it will inform you that your account is being deleted. Usually, this will take a few minutes, but can take up to a couple of days if you have a lot of content.
Note: These steps will only delete your YouTube account, not your Google account you use to sign in with.
Bottom Line
Hope you can enjoy YouTube after possessing your own account. If you have any question about your YouTube account, please let us know via [email protected] or share it in the comments section below.
Tips:
Need to record your screen or convert videos for a project? MiniTool Video Converter is the reliable software you need!