If you want to find some popular YouTubers, MiniTool can help you. It offers you 12 famous YouTubers. Meanwhile, this article also introduces how to download YouTube videos from these popular YouTubers via MiniTool uTube Downloader and how to become a YouTuber.
YouTube is the world's most popular video streaming platform, with more than 2 billion monthly viewers. No matter what your area of interest is, there is no shortage of good content on the platform. If you are looking for some of the best and most popular creators on YouTube, then you are in the right place.
You may be interested in this topic: Who Are Competing with YouTube? [Check the YouTube Rival List]
12 Popular YouTubers
Felix Arvid Ulf Kjellberg (PewDiePie)
Konrad Cunha Danta (Canal KondZilla)
Justin Bieber
Dude Perfect
Ed Sheeran
Christopher Comstock (Marshmello)
Eminem (EminemMusic)
Ariana Grande
Whindersson Nunes Batista (whinderssonnunes)
German Garmendia (JuegaGerman)
Ruben Doblas Gundersen (elrubiusOMG)
Felipe Neto
Top 12 Popular YouTubers
The following part will list some popular YouTubers you can follow. All of them are creative and create quality content for viewers. That's why they get so many subscribers and they have top YouTube channels. Now, you can check out their videos to see if you're interested in them.
#1. Felix Arvid Ulf Kjellberg (PewDiePie) – 104M Subscribers
Felix Arvid Ulf Kjellberg has long been the world's most popular YouTuber. He is a gamer who uses his own channel to stream live videos of himself playing different games. He also has a meme review series and does some vlogs.
To get more views of his videos, he often collaborates with other famous YouTubers. Almost all of his videos get millions of views, and some of these videos even get over 10 million views.
Read also: The Top 10 Most Viewed YouTube Videos in 2020.
# 2. Konrad Cunha Danta (Canal KondZilla) – 57.6M Subscribers
This is a music channel of Konrad. He is a music video producer who owns KondZilla Records. He releases music produced by his record label on his channel, usually including music videos and behind-the-scenes footage.
Music channels are usually the most popular channels on YouTube, and this is one of the most popular music channels. This music channel is managed by an individual, so he's on the list of most popular YouTubers.
#3. Justin Bieber – 54M Subscribers
Justin Bieber is a world-famous popular singer. In fact, he shot to fame after being discovered on YouTube. That's probably why he has so many subscribers, even more than other more popular artists.
He usually posts music videos, promotional material, interviews, and behind-the-scenes footage from video shoots.
#4. Dude Perfect – 51M Subscribers
The channel is not run by an individual, but by five different people from the United States. It's actually a sports channel where these people post their videos. They started by uploading videos of themselves playing basketball, which became very popular.
You can also find drones, lasers and other things on their channels.
#5. Christopher Comstock (Marshmello) – 45.1M Subscribers
Marshmello is another musician on the most popular YouTubers list. He is a famous DJ, originally from the United States, but famous all over the world. His YouTube channel focuses not only on music videos, but also on other random things like tutorials and cooking videos.
#6. Ed Sheeran – 44.4M Subscribers
Ed Sheeran is another popular pop star whose hit singles are loved around the world. He is from England and is very famous in the music industry.
This music channel also offers music videos and behind-the-scenes footage from video shoots like the other music channels in the list. In addition, he also posts videos of himself, and sometimes live streams. He may not be one of the most subscribed YouTubers on this list, but he certainly has more video views than most.
#7. Eminem (EminemMusic) – 42.6M Subscribers
Eminem is one of the most popular rappers in the world. His presence on this list proves that YouTube is a great music platform for musicians. A lot of people use YouTube just to listen to music, which is why you can find so many musicians on this list.
On this channel, he posts movie trailers, music videos, and interviews. While he's not number one on the list, the thumb up and views he gets on the video will dwarf those of most people on the list.
#8. Ariana Grande – 41.1M Subscribers
Ariana is also a popular pop singer in the world. This is reflected in her YouTube account. In recent years, she has released many hit singles, which have kept her going all the way. On her channel, she posts music videos, behind-the-scenes footage, media appearances and sometimes makeup tutorials.
#9. German Garmendia (JuegaGerman) – 39.5M Subscribers
He is a Chilean YouTuber. He shot to fame by posting his game videos on his channel. He often plays the popular video game, Minecraft. In addition to game videos, he also posts random funny stuff, some comedy videos and online shopping videos.
#10. Whindersson Nunes Batista (whinderssonnunes) – 39.4M Subscribers
He is Brazilian and his comedy videos have become quite popular. Comedy is another popular type of content that is widely watched on YouTube, which puts him on this list. In addition to comedy videos, he also publishes vlogs, film reviews, and some of his songs.
#11. Felipe Neto – 37.8M Subscribers
Felipe is a popular YouTuber. On his channel, he posts many different types of videos including comedy videos, memes reactions, vlogs, challenges, and more. His focus on entertaining the audience and making them laugh. That's the secret of his popularity.
#12. Ruben Doblas Gundersen (elrubiusOMG) – 37.7 M Subscribers
He is a Spanish social media star known for his gaming videos. He plays different video games and streams his performances live. On his channel, he also posts comedy videos and other funny videos.
These are some of the most popular YouTubers. All of their channels offer quality videos that won't let you down. So, what are you waiting for? Right now, check out these most subscribed YouTube channels and find the ones you like.
This article introduces 12 popular YouTubers. After going through this list, I've found some YouTubers I like and subscribed their YouTube channels. Click to Tweet
Download Videos from These YouTubers
If you want to download videos from these YouTubers, here is a good suggestion for you: do this via a YouTube downloader. It's useful for you to do so. After downloading videos on YouTube, you can watch them anytime and anywhere without any issues.
If you have no idea which YouTube downloader to choose, it's highly recommended that you choose MiniTool uTube Downloader, which is a great YouTube downloader app. The reasons for using it to download YouTube videos are as follows:
What a useful YouTube downloader it is! If you have a need, click the following button to download it and have a try right now.
MiniTool uTube DownloaderClick to Download100%Clean & Safe
Here is how to download videos from these popular YouTubers via MiniTool uTube Downloader.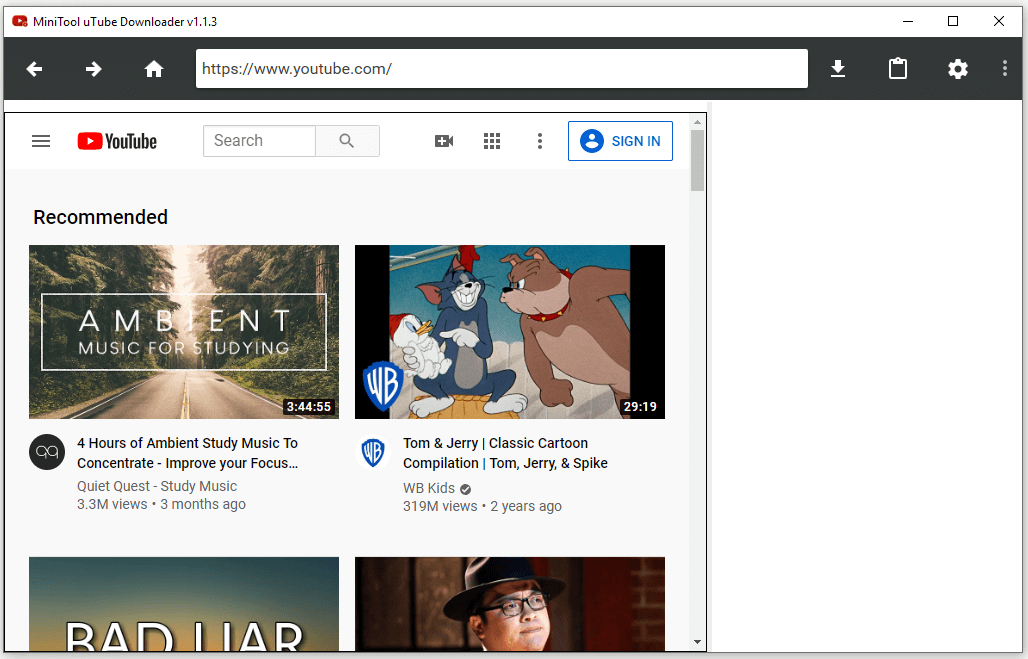 Step 1: Open MiniTool YouTube Downloader.
Download MiniTool uTube Downloader and install it on your computer.
Launch this free YouTube downloader and go to its main interface.
Step 2: Download Videos on YouTube.
Search for the video from these YouTubers you want or just type the URL link of it.
Open the video in MiniTool uTube Downloader.
Click the Download button at the top right corner.
Step 3: Save Videos.
Then, select the output format of the video. Here are 4 available formats for you to choose: MP3, MP4, WAV, and WEBM.
Finally, click DOWNLOAD to start to download the video immediately.
Step 4: Watch Videos You Just Downloaded.
After the video is downloaded successfully, you can choose to check it by clicking the Navigate to file button.
You can also watch it now by clicking the Play button next to the Navigate to file button.
Now you should have successfully downloaded and saved videos from these popular YouTubers you want. You can start to watch these great YouTube videos offered by them.
MiniTool uTube Downloader is a useful YouTube downloader app. I have used it to download many videos from YouTube. It's very convenient and easy to use. Click to Tweet
How to Become a YouTuber?
As YouTube's popularity continues to grow, so does the reputation of its content creators. Anyone can become a top YouTuber. It's not just a pipe dream to create your own YouTube channel from scratch and grow it into something special.
Many YouTubers have already done this, and more will follow in the future. If you want to be one of them, here is a brief guide can help you:
Follow your passion
Develop personal branding
Choose your target audience
Create a channel that stands out
Plan your content
Pick good camera angles
Practice good SEO
Post consistently
Invest in your recording equipment (Read also: Top 5 Best Cameras for YouTube in 2020.)
Communicate with your viewers
Learn from YouTube Analytics
Promote your channel on other platforms
Keep up to date with trends
Monetize your channel
That's how to become a YouTuber in 14 simple steps. Hope you have some ideas after going through this part.
Conclusion
To sum up, this article has shown you 12 popular YouTubers. If you are interested in them, go through their YouTube channel right now and get to know them. Besides, this article shows you how to download their videos via MiniTool uTube Downloader with ease. It also briefly shows you how to become a YouTuber in 14 simple steps.
MiniTool uTube DownloaderClick to Download100%Clean & Safe
If you have any questions or you know any better YouTube downloader, please share them with us and we will reply to you as soon as possible. Thanks in advance!
Popular YouTubers FAQ
Who is the first YouTuber?
Jawed Karim is the first YouTuber. In 2005, he posted the first-ever video to YouTube. This 18-second video, entitled "Me at the zoo" features Karim, a YouTube cofounder, at the San Diego Zoo standing in front of a bunch of elephants.
Who is the most famous kid YouTuber?
10 kid influencers achieving fame & fortune on YouTube:
EthanGamer
Babyteeth4
B2cuteCupcakes
Hulyan Maya
Hailey's Magical Playhouse
Naiah and Elli Toys Show
B2CUTECUPCAKES
HULYAN MAYA
HAILEY'S MAGICAL PLAYHOUSE
NAIAH AND ELLI TOYS SHOW
Do YouTubers get paid if you skip ads?
The percentage of people who skip ads has a significant impact on YouTubers' revenue. YouTube doesn't count skipped ads as a view and advertisers don't pay for skipped ads. If a YouTuber has the audience who always skips ads, they won't make that much money.
Is YouTube a career?
It is as real as any career. It requires discipline, passion, consistency, and hard work. YouTubers set strict deadlines for themselves so they can meet deadlines and meet the standards expected by their networks and audiences. When they create content worth watching and they know how to navigate the business and brand deals that best serve their content interests.