In this post, you can get top 10 YouTube channels for self-improvement, encouragement and motivation. You can watch these videos online and you can also choose to download them with a YouTube downloader. Get more details in MiniTool.
Do you feel a little blue or unmotivated? Then some motivational videos might help you. Before we get to that, you can learn to download the videos with a YouTube downloader. After that, you can watch these motivational videos offline. Further reading: How to Watch YouTube Offline: Download YouTube Videos Free.
2 Ways to Download the Motivational Videos on YouTube
You can find the motivational videos on YouTube easily. However, you may encounter some issues while watching YouTube videos online. For example, you can't watch videos normally when your Internet connection is slow.
Read also: The Top 8 Common YouTube Errors – How to Fix Them.
What should you do to deal with such an issue? Downloading the videos in advance is the best choice. Right now, here are 2 ways to download videos so you can watch the motivational videos offline.
Read also: How to Easily and Quickly Download YouTube Videos for Free.
Best YouTube Downloader – MiniTool uTube Downloader
If you are looking for a YouTube downloader, it is highly recommended that you choose this great YouTube downloader app – MiniTool uTube Downloader.
It is a free and easy-to-use YouTube downloader. You won't be bothered by virus attack, ads and bundle. It offers full speed download and superior quality conversions. With it, you can convert YouTube to MP4, convert YouTube to MP3, convert YouTube to WAV and convert YouTube to WEBM.
Besides, it can download YouTube playlist to video and audio and automatically download subtitles for your videos. You can download as many videos as you want. So, what are you hesitating about? Download MiniTool uTube Downloader right now by clicking the button given below.
MiniTool uTube DownloaderClick to Download100%Clean & Safe
The following part will show how to download the motivational videos by using MiniTool uTube Downloader.
Step 1: Open MiniTool YouTube Downloader.
Download MiniTool uTube Downloader.
Install it on your computer.
Launch this free YouTube downloader and enter its main interface.
Step 2: Download the Motivational Videos on YouTube.
1. Find the motivational video which you want to watch. Copy its URL and paste in the address bar.
2. Click the Download button at the top side.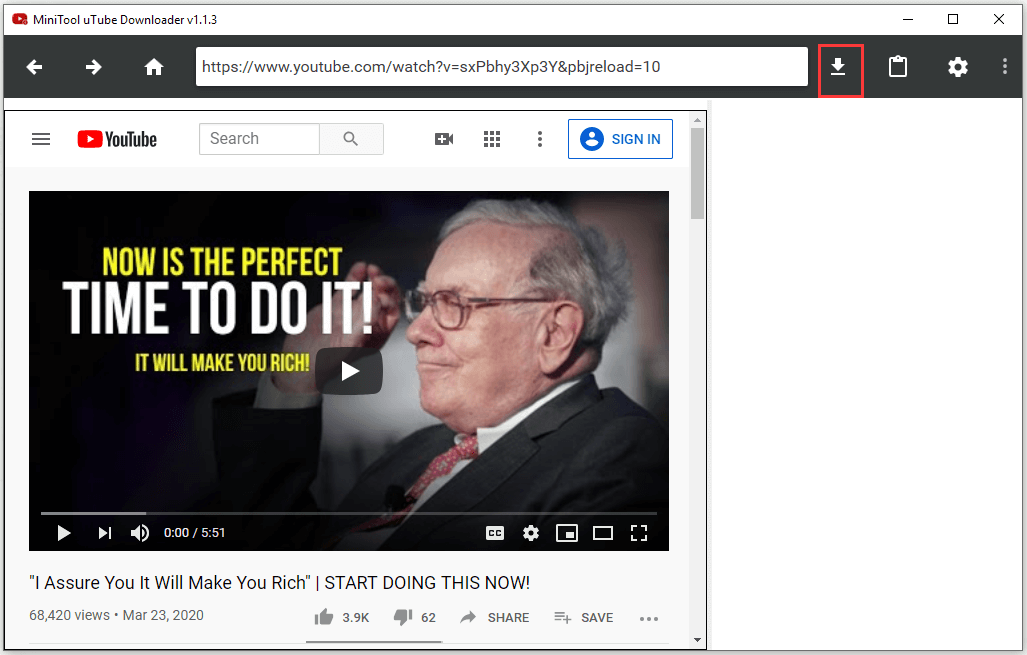 Tip: You can also click the Settings button at the top side to change the default download folder and maximum concurrent downloads.
3. Then, select the output format of your motivational video. There are 4 available formats: MP3, MP4, WAV, and WEBM.
4. Finally, click DOWNLOAD. MiniTool uTube Downloader now will begin to download the video immediately.
Wait until this free YouTube downloader finishes downloading your video. After downloading, you can directly play the downloaded motivational video or click the Navigate to file option to check it.
Online YouTube Video Downloader – YouTube Video Downloader
Youtube Video Downloader is one of the online YouTube video downloaders. The download process is very simple and 100% free without any limitations.

Step 1: Copy the Motivational Video's Link.
Go to YouTube and find the motivational video which you wish to download.
Copy its link.
Step 2: Paste Video's Link.
Paste the link into the search bar at the top of this page.
Then, click the Download button.
Step 3: Download Video.
After that, all the available download options will show up. Here you can choose to download video with/without sound.
Once you make the choice, just click the Download button.
The video will be playing. Click the 3 dots button and choose Download to start to download the video.
The downloaded video will be stored in your Downloads folder. You can directly open and watch it now.
You may be interested in this post: 7 Most Popular YouTube Audio Downloaders 2020 (Free).
 

Advantages

Disadvantages

MiniTool uTube Downloader

Have simple interface.
Can directly search the video in its homepage.
No ads.
100% free.
Support 4 output formats: MP3/MP4/WAV/WEBM.
No limitations. Download videos as much as you want.
Quickly download and convert with simple steps.
Download the subtitles.

Download and install it.

Youtube Video Downloader

Can download video with/without sound.
100% free.
No limitations. Download videos as much as you want.

Annoying pop-up ads.
Only support 2 output formats: MP4/WEBM.
MiniTool uTube Downloader is a really useful YouTube downloader app. I have downloaded many videos from YouTube with it. If you have a need, have a try now. Click to Tweet
Get the Great Motivational Videos from These 10 YouTube Channels
TEDx Talks
Be Inspired
School of Life
GaryVee
Team Fearless
Matt D'Avella
Evan Carmichael
Motivation2Study
Tom Bilyeu
Absolute Motivation
Top 10 YouTube Channels for Motivational Videos
The following part will show you 10 great YouTube channels for self-improvement, encouragement and motivation.
Read also: 7 Useful Tips about How to Manage YouTube Channels.
#1: TEDx Talks

TEDx Talks offers different talks from prominent people in different fields. It introduces you to people who are working to change the rules of the game. It's the people who aren't afraid to stand out that make you believe that being different is normal and give you boundless motivation.
TEDx Talks cover almost everything from social change to social media. You can find plenty of self-help videos on this international YouTube channel. The total number of its subscribers is already over 2 million, which means it's very popular. Don't hesitate and get started now.
Further reading: 2 Ways to Check YouTube Subscribers Quickly.
#2: Be Inspired

The channel's title says it all. It offers inspirational speeches one after the other that not only teaches you wisdom, but also lights up your soul. The aim to inspire you to take action.
Be Inspired distills the most inspiring talks of prominent people into 5-minute to 10-minute videos. These videos cover everything from perspective shifts and success to exercise and social media.
These short videos can quickly inspire you when you don't have time to listen to a long story or interview. These topics contain self-improvement, thinking skills, habits, success tips, and morning routines from the most motivational speakers and successful people.
#3: The School of Life

Education should not stop when you leave school. The School of Life is dedicated to providing continuous lessons on all the important parts of life, from which you can learn about self-help, social philosophy, relationships, etc.
This is not a typical motivational YouTube channel. At first glance, these topics seem rather gloomy: why we are anxious, how our childhood affects our adult lives and how to deal with criticism. However, after watching this channel, you'll find that the last thing you're likely to feel is melancholy.
The channel is practical, thought-provoking and ultimately optimistic and reassuring. It dedicates to exploring the big questions of psychological and emotional life. Seemingly complex everyday topics are cleverly developed in each video to help you understand yourself better and create the life you want.
#4: GaryVee

Someone will say that GaryVee is too intense but I think he is honest and said what we needed to hear at work. What he said was true advice and you'll find a lot of value in interviews and video logs.
He'll be the first to tell you that the entrepreneurship isn't all rainbows and butterflies. Not everyone is suited to this lifestyle because it's hard work.
#5: Team Fearless

This YouTube channel has some of the best inspirational videos. It offers videos from 3-minute to 20-minute motivational speeches. You can even find self-development music here. All the videos can take your life to the next level. You can download or stream these videos to any device.
#6: Matt D'Avella

Matt D'Avella is a minimalist and filmmaker. His YouTube channel is full of videos that can help you control and improve your life. Every video on his channel is beautifully shot and edited, so you'll find it a pleasure to watch Matt D'Avella at work.
You'll learn on this channel how to stop procrastinating, stick to your routine, or get up at the same time every day.
On his YouTube channel, he interviews people with varying degrees of success in different fields, and he shares his personal experiences and challenges and some of the advice he's received along the way that has helped him avoid making the same mistakes.
Thus, all the videos on this channel are well worth a watch.
#7: Evan Carmichael

Evan is one of the greatest motivational speakers. He shares 10 things he learned from Jay Z, Beyonce, Jay Shetty, Oprah, Obama, and other outstanding individuals.
He watches plenty of motivational videos about elite entrepreneurs and successful people and then he edits these videos into different style videos which offer life-changing advice and motivation. You can emulate the masters and reach your full potential. These tips are sure to guide and shape your journey to success.
#8: Motivation2Study

The mission of the Motivation2Study channel is to help, educate and inspire all students who lack motivation and mental health awareness. It works with many motivational speakers and creates a lot of life changing motivational videos to help you achieve this goal.
It offers motivational videos on success, study tips, mental health and more. If you are interested in these topics, this channel is your best choice.
#9: Tom Bilyeu

Tom Bilyeu's videos cover topics including self-improvement, relationships, mind-changing and optimizing health. This channel has two main series: Impact Theory on Tuesdays and Health Theory on Thursdays.
Impact Theory is all about the tips and habits of success to achieve your dreams and reach your full potential. These tips and motivations are given by interviewing athletes, elite entrepreneurs and other outstanding people.
You can learn about the health industry's latest findings from interviews with top health experts in Health Theory.
#10: Absolute Motivation

The mission of Absolute Motivations is to enhance human experience. It does this by creating thought-provoking but actionable content. This way can help stimulate, exercise and expand your mind and consciousness through practical techniques and wisdom that you can incorporate into your everyday life.
Not only will this channel teach you the basics of growth and success, but it will also make your workouts more motivated.
I want to get some great motivational videos on YouTube to keep me motivated. Luckily, this article helps me a lot. There are 10 YouTube channels and I get many motivational videos. Click to Tweet
Conclusion
There you have it, 10 great motivational YouTube channels. Hope you find at least one that you like and feel motivated by. In addition, this post also introduces how to download YouTube videos with 2 great YouTube downloaders. You can download these motivational videos and then watch them anytime and anywhere.
MiniTool uTube DownloaderClick to Download100%Clean & Safe
If you have any great motivational videos/channels or any useful YouTube downloaders that you would recommend for us, please share them in the comments. Thanks in advance!
Motivational Videos FAQ
????How do you explain motivation?
Motivation is the impulse to act. Motivation is an internal process that makes people move towards a goal. Motivation, like intelligence, cannot be directly observed. Instead, motivation can only be inferred by observing a person's behavior.
????What are the 4 types of motivation?
Extrinsic Motivation.
Intrinsic Motivation.
Introjected Motivation.
Identified Motivation.
????Why is motivation important for learning?
Motivation has many effects on students' learning and behavior. First, motivation leads people to act toward specific goals. Motivation increases the amount of time a student takes to complete a task, and is also an important factor affecting student learning and achievement. Meanwhile, motivation enhances cognitive processes.
????What are some inspiring words?
Accomplish.
Action.
Ambition.
Believe.
Clarity.
Challenge.
Commitment.
Confidence.