YouTube Music is an online video and music streaming service powered by YouTube. It covers numerous songs and music videos and offers users free and paid versions separately. However, many users have noticed that they can't use the saved YouTube Music song on Rekordbox, even after paying for it. So what do we do? No worries! This article from MiniTool Video Converter will enlighten you on how to save and import YouTube Music to Rekordbox with ease.
Rekordbox offers you the service to create playlists, organize the music library, and prepare tracks for export to a USB drive. Different from Virtual or Traktor DJ, Rekordbox does not have the same recognition, and it also allows you to make all the cool digital DJ things, such as making memory loops, setting hot cues, and acquiring song keys and tempo before you even step into the booth.
Today, we're going to guide you on how to transfer YouTube to Rekordbox. More specifically, there are the advantages and disadvantages of Rekordbox, the music streaming services supported by Rekordbox, and several useful tools that can help you easily save and add YouTube Music to Rekordbox.
Part 1: Advantages and Disadvantages of Rekordbox
Rekordbox has long been one of the leading DJ software in the field, making it a key tool in a lot of people's DJ arsenal. Obviously, not everything is ideal. The software isn't without its drawbacks. Here is a brief overview of the advantages and disadvantages of Rekordbox.
Advantages:
Simple to use and assists you in organizing your music.
Make specific playlists and folders for instant mixing.
Users have an option and Rekordbox's most basic version is available free of charge.
Great music analysis that enables you to know how the music works.
Features cloud synchronization.
Links to Ableton Live are available.
Works with all Pioneer CDJ and XDJ models, and possibly more.
Disadvantages:
With the core plan starting at $9.99 for each month, the subscription model can be costly.
The software can sometimes be slow, particularly in export mode.
Although working with iOS, integration with iOS or mobile devices is still not fully seamless.
Some additional accessories (Primarily USB and Ethernet cables) are necessary for connection to the program.
As a stand-alone DJ application with limited capability, it is better suited for connecting to one controller or media player.
Part 2: Music Streaming Services Supported by Rekordbox
DJs around the world like the robust Rekordbox DJ program. As streaming continues to grow in popularity, you can use Tidal, Beatport Link, Beatsource, and Soundcloud GO+ if you want to stream music with Rekordbox.
Every streaming service uses the file types listed below:
Tidal Premium: AAC 320 kbps
Tidal HiFi: AAC 320 kbps, FLAC 44.1 kHz 16 bit
Beatport Link: AAC
Beatsource: AAC
SoundCloud Go+: MP3 128 kbps, AAC 256kbps
SoundCloud DJ: MP3 128 kbps, AAC 256kbps
This means, besides supporting the track sources mentioned above, Rekordbox doesn't support any other music streaming services, including YouTube Music. Furthermore, streaming media is very limited when it comes to DJ mixing. There are too many uncontrollable things affecting access to streaming music, like licensing issues, regional limitations, and so on.
If a record label doesn't like the terms of the agreement, it's entitled to forcibly remove its collection from the platform whenever it wishes. If some of the songs you add to your playlist are removed from the library, it would be a disaster for a professional DJ.
So there's a best-of-both-worlds solution. It enables you to download YouTube Music songs and mix them locally. This way you can manage to get rid of the original platform's mercy on these songs. You can then import these songs (as local audio files) to Rekordbox. And the supported audio formats include MP3, WAV, AAC, AIFF, FLAC, and ALAC.
If you are looking to use YouTube Music on Rekordbox, don't skip the next section – it's crucial and will help you a lot!
Part 3: Download and Import YouTube Music to Rekordbox
As one of the biggest music streaming services, you can directly enjoy each new label and non-league song on YouTube. To transfer YouTube Music to Rekordbox, you can try using the following practical tools to help you do so.
MiniTool Video Converter
MiniTool Video Converter is an audio and video converter available for Windows users. This tool is easy-to-use and free that allows you to convert audio and video files to a variety of formats. Additionally, it can help you record your computer screen and download YouTube playlists, music, subtitles, and videos up to 4K in a short period of time.
Main Features:
The tool comes with a very simple user interface.
It is ad-free and very reliable.
You can save multiple videos at once with bulk download capability.
Supported download formats include MP4, WebM, MP3, and WAV.
You can download music without the need to sign up or log in to your YouTube account.
You can also preview the video content before downloading it.
Here's how to download and import YouTube Music to Rekordbox with MiniTool Video Converter.
Step 1: Click on the download button provided below to get the installation package of the tool. To install the tool on your computer, click on the downloaded installation package and follow the installation instructions.
MiniTool Video ConverterClick to Download100%Clean & Safe
Step 2: Launch MiniTool Video Converter to access its main interface. You will then see four sections at the top of the interface: Video Convert, Video Download, Screen Record, and Edit Video.
Step 3: Click on the Menu icon in the upper right corner of the interface and select the Settings option. Then, click on the Download tab from the pop-out window, you can choose where to save your favorite music and how many songs can be downloaded at the same time. To save the changes, click the OK button.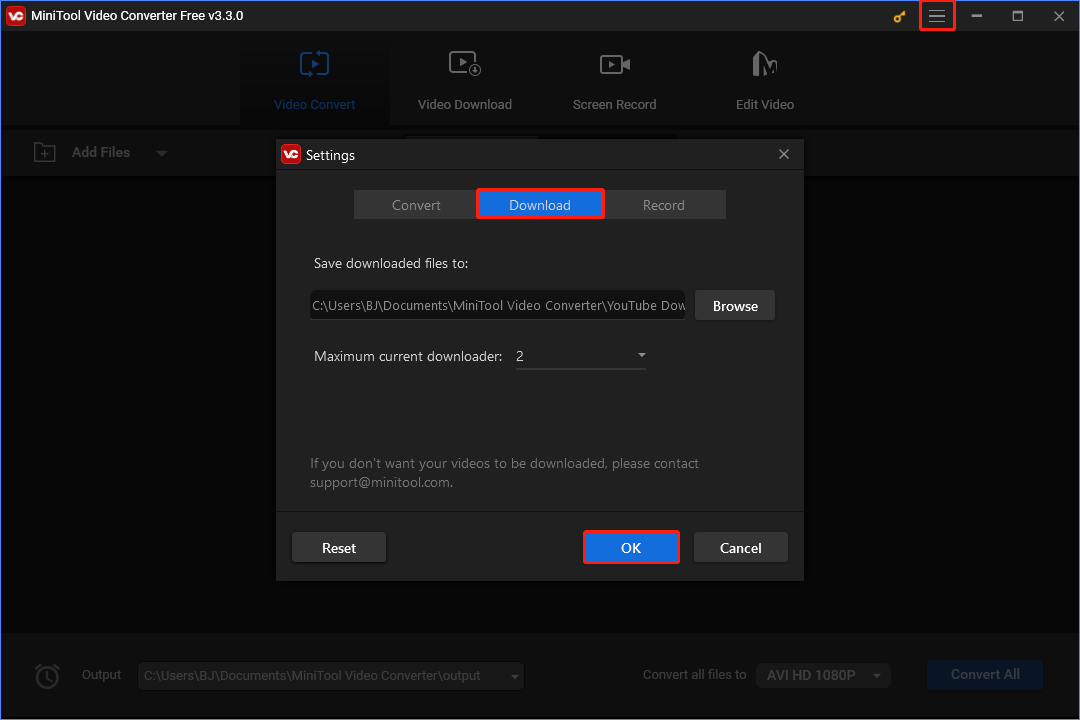 Step 4: Click the Video Download section. On the right side of the YouTube logo, you can type the keywords into the search box and press the Enter key to find the music you want to download. Or, you can copy and paste the link of the music you would like to download from YouTube Music into the search bar next to the Go Home icon. Once the link for the music you desire appears in the search bar, click on the Download button.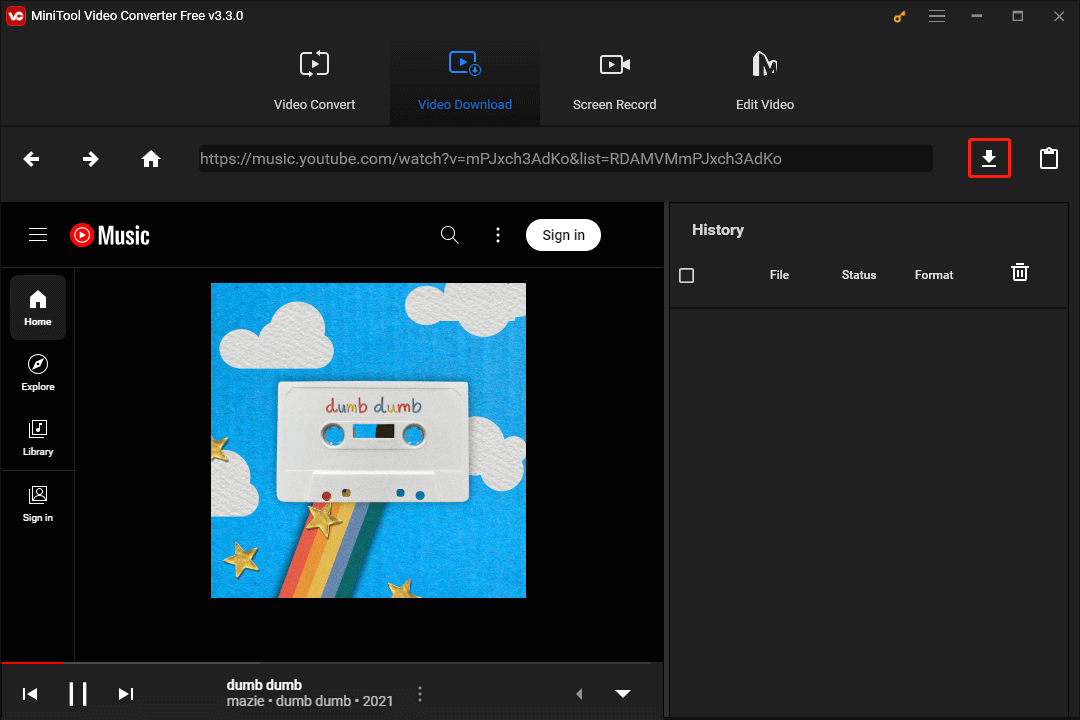 Tips:
If a prompt window appears asking if you want to download the clip only or download the whole playlist, you can click the Clip or Playlist button as appropriate.
Step 5: From the pop-out window, you can select MP3 or WAV as the output audio format and click on the DOWNLOAD button.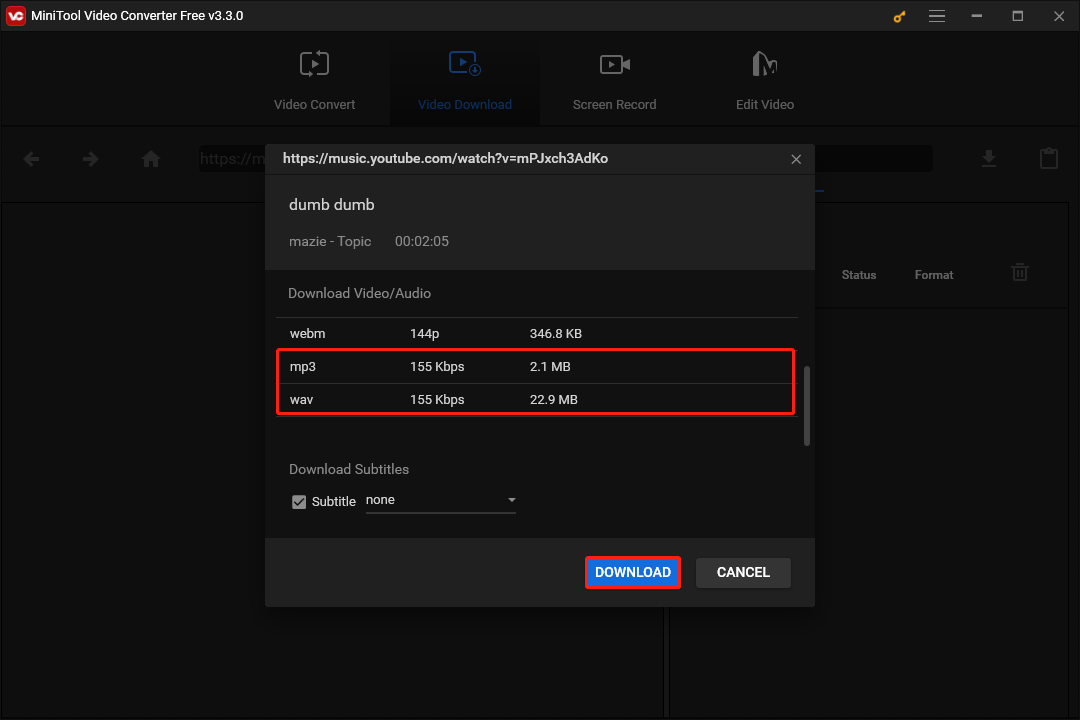 Step 6: The tool starts to download the music from YouTube Music. Once the download status changes to Done, you can click on the Navigate to file icon to see where the downloaded music is saved. And you can directly play the downloaded YouTube music by using the media player on your computer.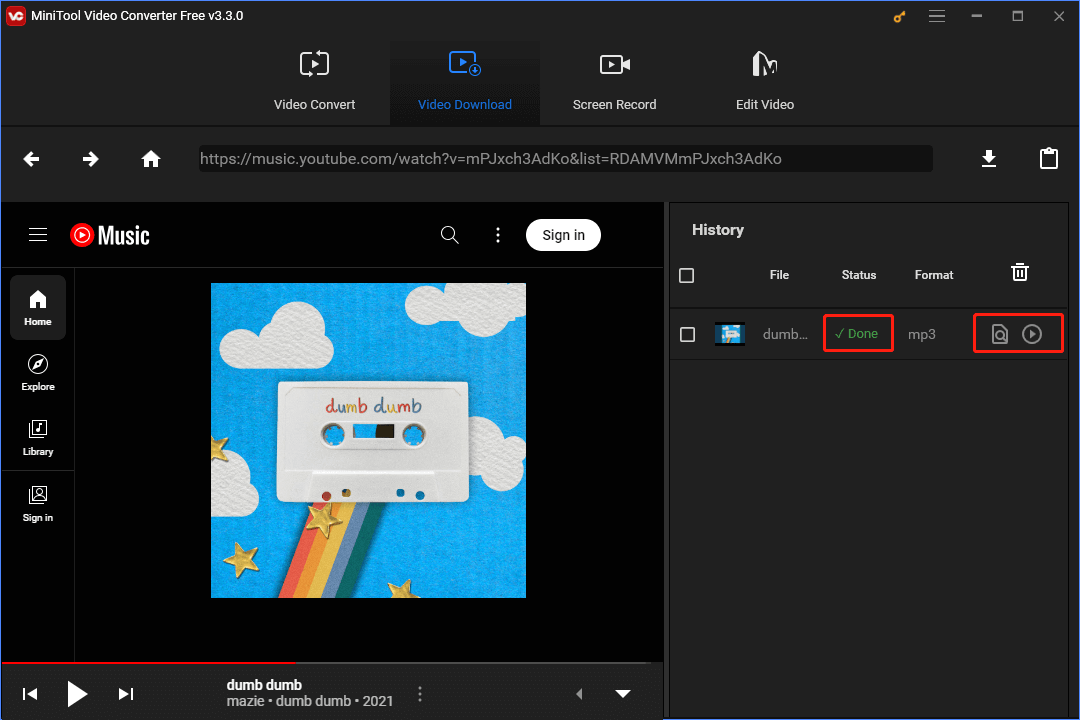 Step 7: Start Rekordbox on your computer. Once you have logged into your account, you will be able to access the main screen of the software.
Step 8: Click on File > Import > Import Track to locate the music saved by MiniTool Video Converter and import it to Rekordbox.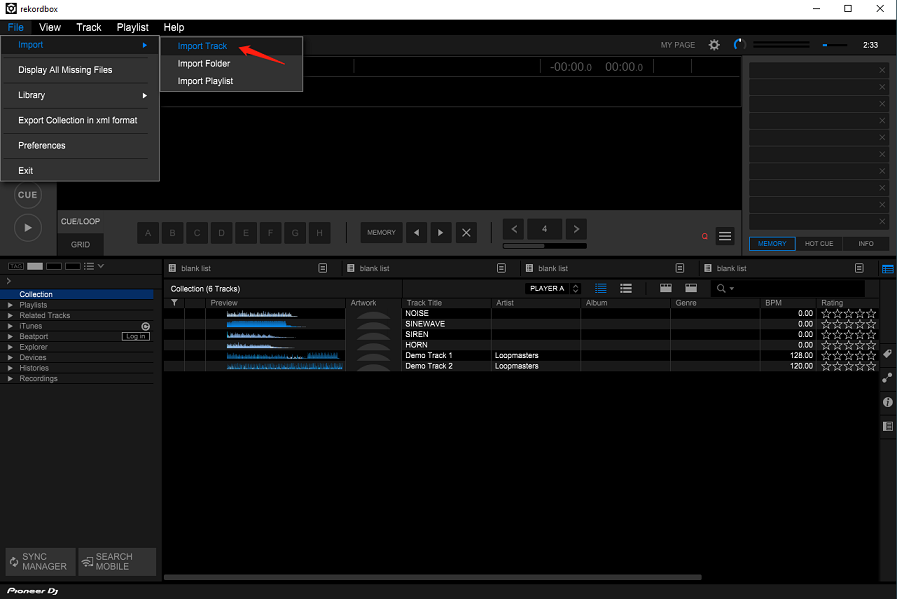 Step 9: Make sure the Collection option is highlighted on the left side of the interface, and you'll see the imported music here. Rekordbox will analyze the track as well as add track data like BPM, song keys, and waveforms.
If you are looking for a good way to transfer YouTube Music to Rekordbox, you can try MiniTool Video Converter to save songs from YouTube Music as MP3 or WAV.Click to Tweet
DRmare Audio Capture
DRmare Audio Capture is an audio converter and extractor and is compatible with Windows and Mac systems. This tool preserves the audio files' original quality, providing you with high-quality music files without noise and disturbance.
Within the tool, the smart technology allows for several conversions at once. It also lets you record music tracks and even improve the recorded audio by editing it after recording.
Using DRmare Audio Capture, the audio files recorded and converted support many popular file formats, such as MP3, WAV, FLAC, M4A, M4B, and AAC. Hence, people can transfer the recorded audio to different devices of their choice with ease.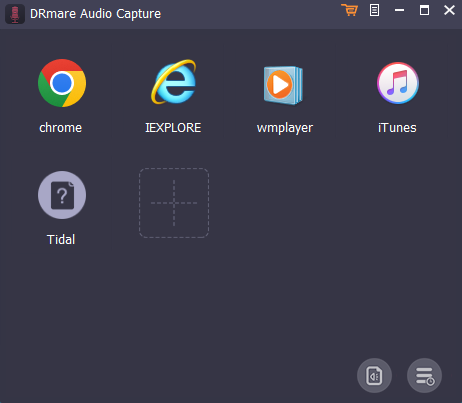 Main Features:
It has a user-friendly interface.
The tool supports batch conversion.
You can edit the recorded audio files based on your needs.
The output format of the music files can be easily transferred to multiple devices such as MP3 players.
Here's how to download and import YouTube Music to Rekordbox with DRmare Audio Capture.
Step 1: Download, install, and run the DRmare Audio Capture tool on your computer. By default, users can download music from the following options: chrome, IEXPLORE, wmplayer, iTunes, and Tidal. If you wish to get music from YouTube Music, click the + icon on the main screen and add the app to the audio converter.
Step 2: Click the Format icon at the bottom of the main screen to change your YouTube Music output format. The tool gives you the ability to convert YouTube Music to MP3, WAV, etc.
Step 3: Launch the YouTube Music app from the main screen of this tool and play the music you want to record. DRmare Audio Capture will detect the song and begin to record it. The tool will stop recording when the song ends. It also provides basic editing options, like trimming, cutting, and rearranging. For example, to create a ringtone, trim the start and end points.
Step 4: Click the Save button at the bottom to save the converted music to Rekordbox on your computer. Finally, click the Converted icon next to the Format icon, then mouse over the target song in the History list and click the Search icon to find out where the music is saved.
Step 5: Open Rekordbox on your computer and access its main screen.
Step 6: Navigate to File > Import > Import Track to find the music saved by DRmare Audio Capture and import it to Rekordbox.
Step 7: Make sure the Collection option is highlighted on the left side of the screen. From there, you will see the imported music.
TunesKit Audio Capture
TunesKit Audio Capture provides a broad collection of audio profiles, allowing you to save the recorded audio to multiple file types and formats as you like. The tool is suitable for both beginners and experienced users and is available for macOS and Windows devices.
Besides, it supports widely used output audio formats, covering MP3, WAV, FLAC, AAC, M4A, and M4B. Using its intelligent audio recording function, users can enjoy music on many popular devices without any limitations.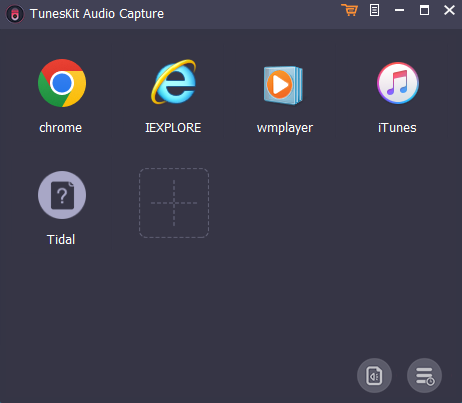 Main Features:
Its user interface is very intuitive.
It allows you to record any sound on a computer without loss.
This tool supports various customization features, including splitting, trimming, and merging audio recordings.
You can download and capture streaming music from other websites and programs.
Since the tool's interface is very similar to DRmare Audio Capture, we'll give you a quick overview of how to use TunesKit Audio Capture to download YouTube music and import it into Rekordbox. The steps are as follows:
Download, install, and run the TunesKit Audio Capture tool on your computer.
Add the YouTube Music app to this tool and set the output music parameters as required.
Download and record the desired track from YouTube Music with TunesKit Audio Capture.
Trim and merge the track and then save the edited track to your computer.
Fire up Rekordbox and import the saved track into it.
Make sure the Collection option is highlighted to view the imported track.
Conclusion
Rekordbox is usually a favorite option by DJs who would like to offer stunning music for their listeners. With the above feature-rich tools, you can successfully save and add YouTube Music to Rekordbox. Thankfully, these tools also allow you to transfer YouTube Music to other platforms, such as Spotify, iTunes, Apple Music, etc.
If you have any questions or suggestions regarding the use of the MiniTool Video Converter tool, please feel free to leave us a message or contact us at [email protected].