Currently, YouTube doesn't give the official desktop app, but you can still install the YouTube Music desktop app on PC. This post from
MiniTool
will teach you how to download and install the YouTube Music app for PC.
YouTube Music is a great music streaming service to enjoy songs. You can use it on a browser and install it on your phone to listen to music.
Unlike other music apps like Spotify or Amazon Music, YouTube Music doesn't have an official desktop app for Windows and Mac.
How to use the YouTube Music app on a PC? How to download the YouTube Music Windows app?
If you want to download and install the YouTube Music desktop app for your Windows 11/10 PC and Mac, just check the instructions below.
Install YouTube Music Desktop App for PC/Mac
At present, there's no official desktop application for YouTube Music. You need to open YouTube Music in a web browser to listen to songs and watch music videos.
Luckily, you can install YouTube Music as a desktop app for your PC from a browser.
Here's how to download and install the YouTube Music app for PC.
Step 1. Open Google Chrome or Microsoft Edge on your computer.
Step 2. Type https://music.youtube.com in the address bar and press Enter to open the YouTube Music web app.
Step 3. In Google Chrome, click the Install YouTube icon in the address bar and click Install from the pop-up to confirm.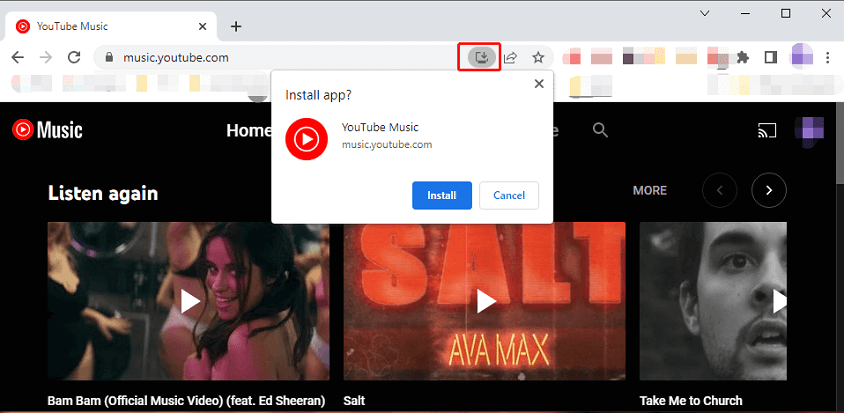 Then, you'll get the desktop version of YouTube Music and it will open as a desktop app.
Alternatively, click the three dots in the top right corner and choose Install YouTube Music… option. Next, click Install from the Install app pop-up window.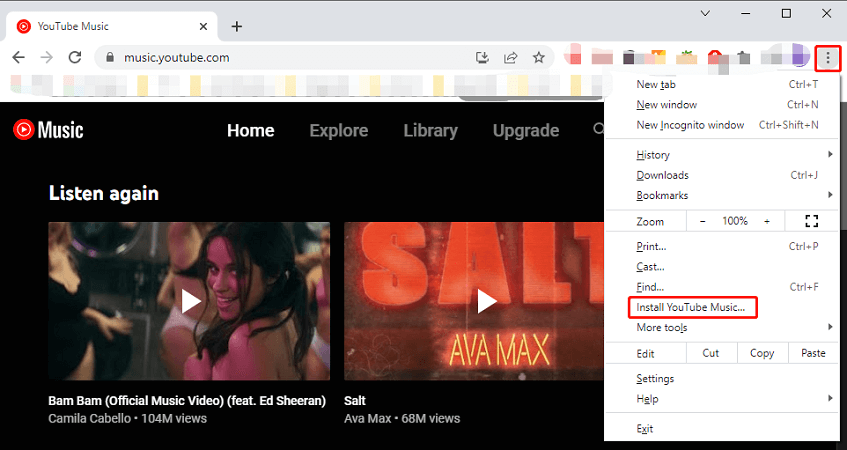 In Microsoft Edge, click the App available. Install YouTube Music button in the address bar. Next, choose Install from the Install YouTube Music app window.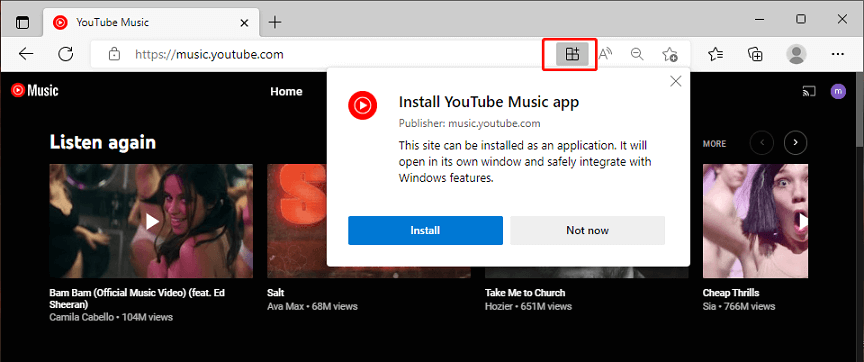 Once the YouTube Music app is installed on your desktop via Microsoft Edge, the App installed windows pops up. You can choose to create a desktop shortcut, pin to the taskbar, etc., and click Allow.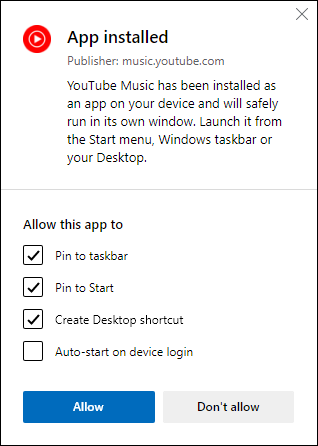 Now, you can access YouTube Music from your desktop, Windows Start menu, and taskbar. It has the same interface and features as the YouTube Music web app.
Also read: How to Download Amazon Music App for PC, Mac, Android or iOS.
Uninstall YouTube Music Desktop App on PC
If you don't want to use the YouTube Music desktop player, it's easy to uninstall it.
To uninstall the YouTube Music desktop app you get from Google Chrome, open it, click the three vertical dots in the top right corner, select Uninstall YouTube Music …, and click Remove to confirm.

To uninstall the YouTube Music desktop app you get from Microsoft Edge, open the Settings app, click Apps > Apps & features, scroll down to YouTube Music, click it and choose Uninstall, and click Uninstall again to remove it.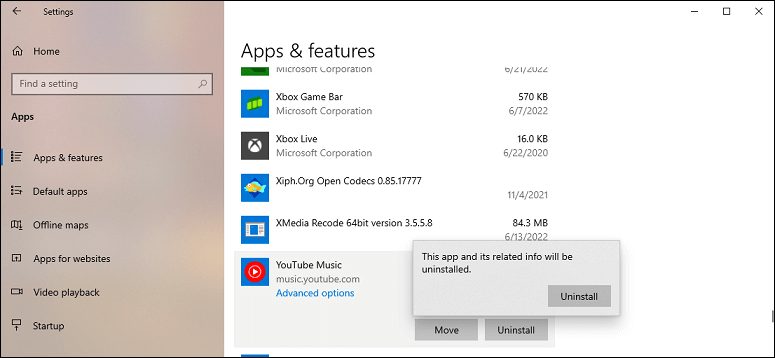 Install and Uninstall YouTube Music App on Android & iOS
You can download and install YouTube Music app on your Android device via the Google Play Store. If you want to remove it from your phone, press and hold the YouTube Music app, and click Uninstall and OK.
To get the YouTube Music app for your iPhone and iPad, go to App Store to download and install it. To uninstall it, touch and hold this app, choose the Remove App, click Delete App, and tap Delete to confirm.
Also read: Playlist Pictures Change: How to Add Album Art to YouTube Music
Is YouTube Music Free?
You can use YouTube Music for free to enjoy your favorite tracks, albums, and artists. It has a YouTube Music Premium membership that allows you to listen in the background, enjoy music without ads, download music and videos for offline listening, and listen to music on your Google Home or Chromecast Audio.
To download music from YouTube, try MiniTool Video Converter.
MiniTool Video ConverterClick to Download100%Clean & Safe
YouTube Music Premium membership offers several subscriptions. For individuals, it costs $9.99/month or $99.99/year. The Family plan costs $14.99/month and includes up to six accounts. The Student plan costs $4.99/month and has a 3-month free trial. The first two plans have a 1-month free trial.
Related: Download YouTube App for Windows 11/10, Mac, Android, iPhone
Conclusion
Currently, you can download and install the YouTube Music app for PC only via the web browser. The desktop version has the same content as the YouTube music web version.