Who is the richest YouTuber? If you have the same question, you can read on to find out the answer. This article can tell you the top 10 highest-earning YouTubers. At the same time, it also offers you a great YouTube downloader that can help you download YouTube videos as many as you want.
A lot of people are wondering, can YouTuber still make money? In fact, five billion videos are viewed on YouTube every day. With such numbers, serious YouTubers would be crazy not to try to make money from their passion.
Not everyone makes money on YouTube, but there are many successful YouTubers who prove that being a YouTuber pays off. While most beginners won't make money right away, it could be a solution to take them out of their 9-to-5 job and allow them to pursue something more interesting.
With 1.3 billion users a day, YouTube provides instant access to one of the Internet's largest audiences for all video content producers. Best of all, you can create your own channel for free and start uploading videos immediately.
It's worth noting, however, that success doesn't happen overnight, and that all top-earning YouTubers had to work hard to get to where they are today. Another interesting fact is that most of the people mentioned in these discussions are under 30. Let's take a look at the top 10 richest YouTubers of 2023.
Top 10 Richest YouTubers
Ryan's World
Dude Perfect
Nastya
Jeffree Star
DanTDM (Daniel Middleton)
PewDiePie (Felix Arvid Ulf Kjellberg)
VanossGaming (Evan Fong)
Logan Paul
Markiplier (Mark Edward Fischbach)
Jake Paul
Who Is the Richest YouTuber Look out for in 2023?
Now you can get some inspiration here. There are 10 of the richest YouTubers in the world and they are from every niche.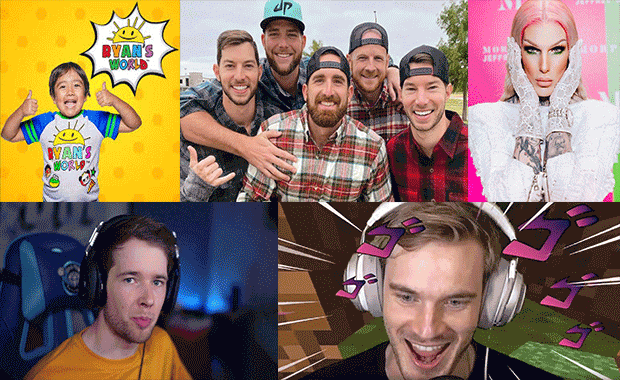 #1. Ryan's World – $26 Million Earnings
Who is the richest YouTuber? It's hard to believe that an eight-year-old is the highest paid YouTuber in the world.
Kaji got his start on the channel when he was just 3 years old. He started making videos purely of himself opening and playing with toys. Each of his videos has gained millions of views, especially his video "HUGE EGGS Surprise Toys Challenge with Inflatable water slide", which has garnered 1.9 billion views.
His videos had a huge impact on the toy industry, and toy company advertisers were willing to spend big on this young YouTuber. Now mature enough to conduct science experiments, he has branched out beyond YouTube, launching a line of more than 100 toys, clothing items and other products, broadcasting on Nickelodeon and striking a deal with Hulu.
#2. Dude Perfect – $20 Million Earnings
Dude Perfect is actually a group of 5 high school friends: the Cotton twins (Coby Cotton & Cory Cotton), Garret Hilbert, Cody Jones and Tyler Toney. Cory and Coby as the core of this team.
Dude Perfect mainly focuses on sports. They played sports together, performed stunts and broke Guinness World Records. Their fan base comes from their great sense of humor.
They have other sources of income, such as their mobile app called Dude Perfect and almost all of their YouTube videos are sponsored. However, most of their revenue still comes from YouTube advertising. Their videos, such as "Bowling Trick Shots" and "Bubble Wrap Battle" helped them get a TV contract to broadcast The Dude Perfect Show on Nickelodeon.
#3. Nastya – $18 Million Earnings
The Russian-born five-year-old has become one of the world's fastest growing creators. Nastya is the second highest earning children's YouTuber in the world. But unlike Ryan's World, Nastya's YouTube channel is about her own life, not toy reviews. Videos include day trips to the beach, birthday parties, Halloween costumes, and the like.
Her videos become a hit on YouTube thanks to her videos in seven languages and her humored Russian American father. She and her dad make the perfect YouTube vlog duo. Brands have taken note, with Legoland and Dannon paying six-figure fees to work with her.
#4. Jeffree Star – $17 Million Earnings
Jeffree Star started his career as a musician on MySpace before moving to YouTube, where he found a following for makeup tutorials. Jeffree's YouTube channel is all about makeup. There are tutorials, brand reviews and fun challenge videos. He is basically a beauty guru.
In this case, he even started his own cosmetics company, Jeffree Star Cosmetics. Now, he also touts his makeup line on the channel. Now he's also reaping a handsome income from his cosmetics company, thanks to its popular lipsticks, highlighters and eyeshadow palettes.
#5. DanTDM (Daniel Middleton) – $16.5 Million Earnings
Who says playing games is a waste of time? After all, a rich person on YouTube has made a lot of money from Minecraft videos.
Now that Daniel Middleton has his own establishment, and advertisers are willing to pay more to advertise on his videos. With an average of 4.84 million views per video, YouTube is more than a sideline. But DanTDM also has other sources of revenue, such as YouTube sponsorships and merchandise.
#6. PewDiePie (Felix Arvid Ulf Kjellberg) – $15.5 Million Earnings
PewDiePie is the most subscribed YouTube channel on this list and it has been the most popular YouTube channel in the world for the past five years. He is known for his vlogs of game commentary.
While YouTube is his main source of income, he also makes money from the publication of a book called "This Book Loves You" which has sold 112,000 copies.
He was once the highest-paid star on YouTube and has managed to shrug off many controversies including racist and anti-Semitic videos.
However, considering that his net worth in previous years was between $30 million and $50 million, his income has dropped quite a bit in the past few years.
#7. VanossGaming (Evan Fong) – $15.5 Million Earnings
Here's another example. Playing games is not a waste of time. VanossGaming YouTube channel also makes a lot of money for its creator. Unlike DanTDM's content, VanossGaming's videos don't necessarily cover a single genre of games, and he is highly praised for his unique video editing style.
#8. Logan Paul – $14.5 Million Earnings
Logan Paul, the notorious YouTuber we all love and hate, started out on Vine, but after the app was shut down, he went to YouTube, where his channel has 19 million subscribers. Logan is known for dangerous stunts and over-the-top pranks that have generated millions of dollars and controversy.
In 2017, he sparked one of the most notorious controversies when he posted a video on his vlog channel that included an image of a body that had committed suicide in a Japanese forest. Many viewers wanted him banned from the platform, but YouTube suspended his video ads.
#9. Markiplier (Mark Edward Fischbach) – $13 Million Earnings
Another gaming video producer has made it into the top 10 highest-paid YouTubers.
Mark Fischbach, who produces LetsPlay videos, is known for his top-notch comment style, which often involves yelling or cursing. Mark loves indie and scary video games, so most of the videos on his YouTube channel, Markiplier, are about games, like Amnesia: The Dark Descent or Slender: The Eight Pages.
#10. Jake Paul – $11.5 Million Earnings
Jack Paul, Logan Paul's younger brother, is an actor, musician, and YouTube video producer. He first gained recognition on Vine. He has been on YouTube since 2013, and over the next few years his videos have been viewed more than 4 billion times.
His song "It's Everyday Bro" was released on May 30. 2017, was viewed 70 million times in one month, but it has since become the third most disliked video on YouTube.
Jack is only 22 years old, and if he manages to avoid scandals and controversy, he may stay with the highest-paid YouTubers for years to come.
Young stars are being born every day, but it takes patience, hard work and, most of all, luck to make it to the top 10 highest-paid YouTubers. The world's largest video-sharing platform offers a huge opportunity for young people who want to share their skills, thoughts and ideas with the world, but it also requires a lot of creativity and dedication.
That's it! Now that you know you can make a lot of money on YouTube, what's your next step? If you think you have something interesting to offer, I suggest you try it. In the beginning, you have nothing to lose, and if you can attract followers, you can make a lot of money. Even if you're never as rich as these 10 highest-paid YouTubers, you can still earn a lot of pocket money.
How to Download Videos from These YouTubers?
What if you want to download videos from these highest-paid YouTubers? A YouTube video downloader is a good assistant to help you do this. You can watch these videos anytime and anywhere without any issues after downloading their videos on YouTube.
Then, which YouTube downloader is useful and convenient you can choose in the market? MiniTool Video Converter must be your first choice.
It is free and clean with no ads and no bundles. As a great YouTube downloader, it offers full speed download. Meanwhile, it supports multiple output formats. You can convert YouTube to MP4, YouTube to MP3, YouTube to WAV and YouTube to WEBM. It supports downloading 8K, 5K, 4K, 1080P, 720P videos from YouTube.
In addition, you can use it to download YouTube video subtitles, download music from YouTube and download the YouTube playlist.
If you have a need, click the following button to download it right now. Then, have a try.
MiniTool Video ConverterClick to Download100%Clean & Safe
The following will introduce how to download videos from those YouTubers through MiniTool Video Converter.
Step 1: Open MiniTool Video Converter.
1. Download and install MiniTool Video Converter on your computer.
2. Launch it, enter its main interface, and switch to the Video Download tab from the top menu.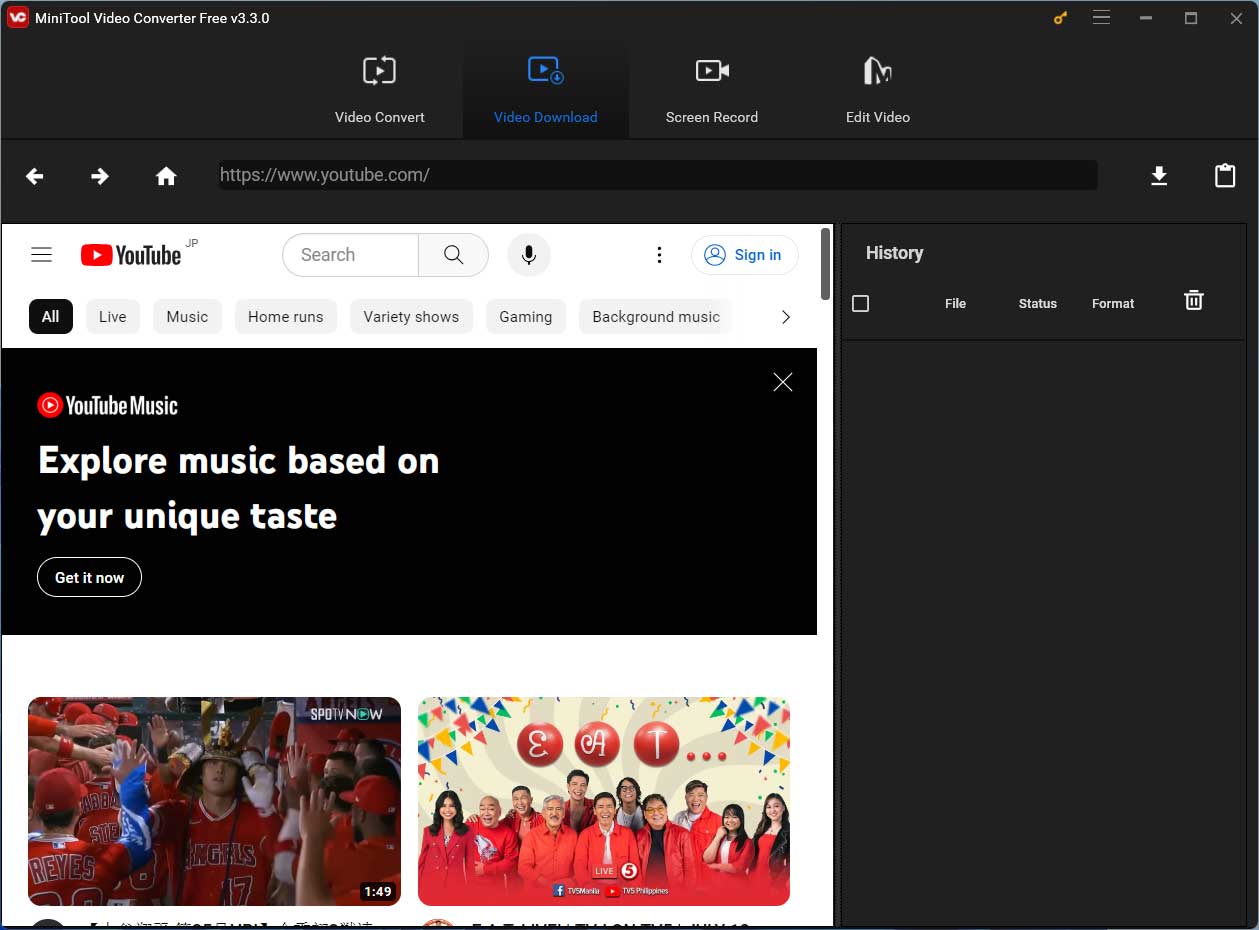 Step 2: Download Videos on YouTube.
1. Get the video from these YouTubers you like and copy the URL link of it.
2. Open this video in MiniTool Video Converter.
3. Click the Download icon in the upper right.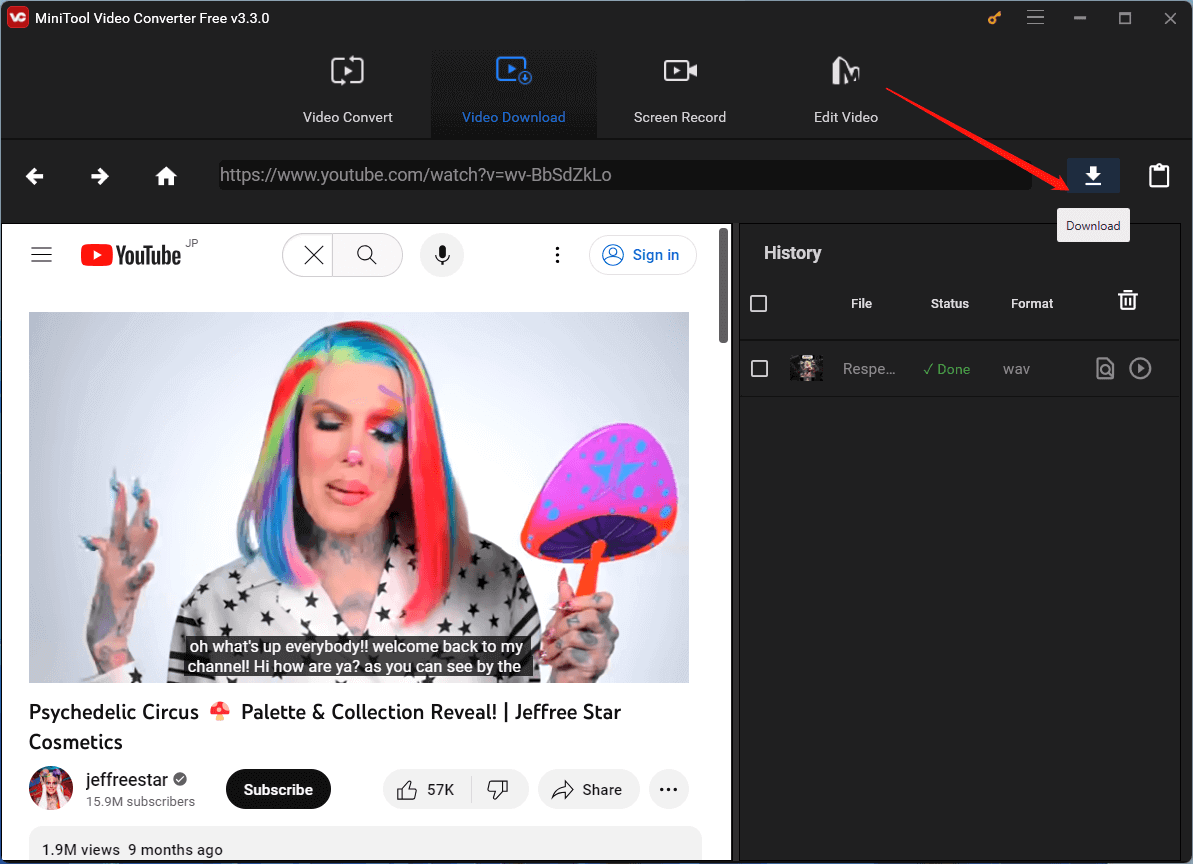 Step 3: Save Videos.
1. Then, choose an output format of the video: MP3, MP4, WAV, or WEBM.
2. Finally, click DOWNLOAD to start to download the video right now.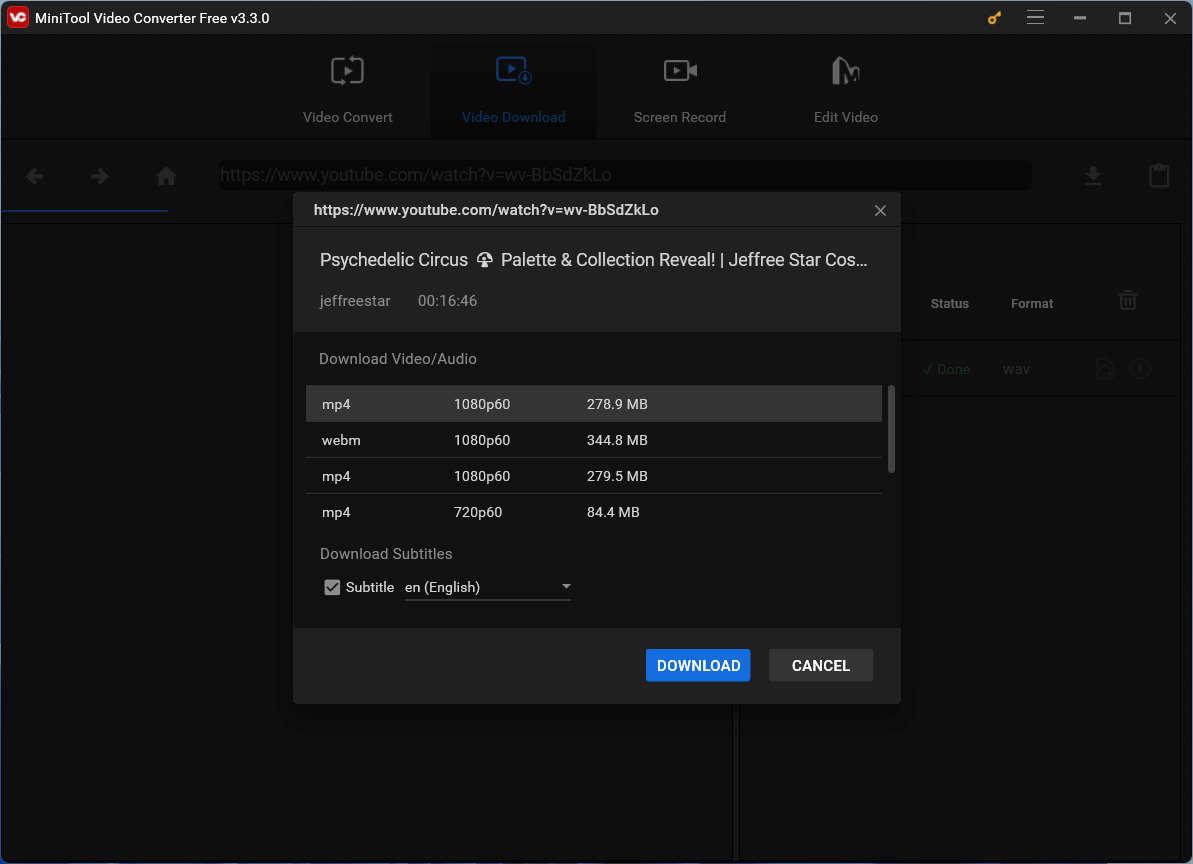 Step 4: Watch Videos You Just Downloaded.
Now, you can choose to check the video by clicking the Navigate to file icon after it is downloaded successfully.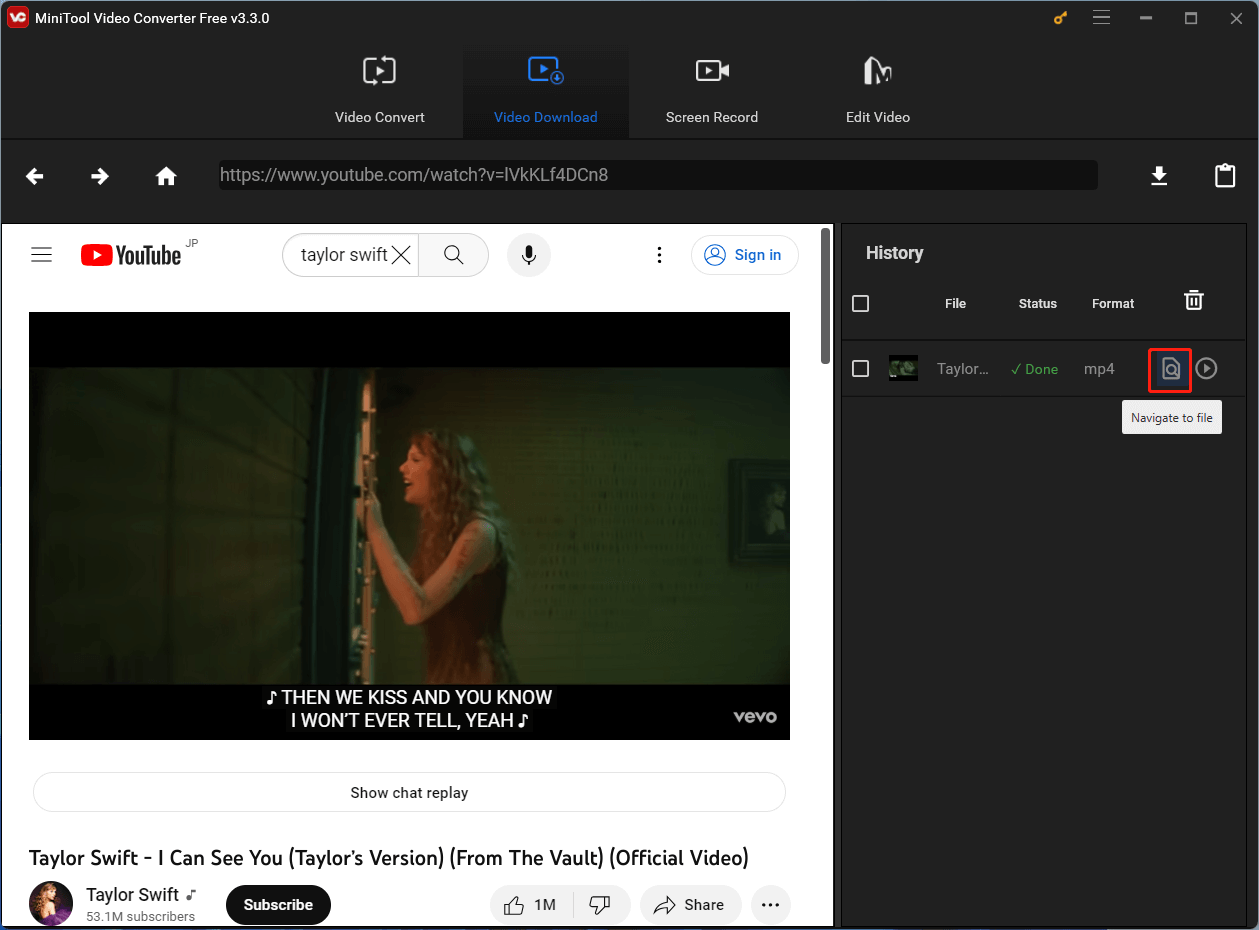 You can also watch it now by clicking the Play icon, which is next to the Navigate to file icon.
After you finish all the steps above, you should have successfully downloaded and saved videos of these YouTubers.
I want to download videos from the richest YouTubers. MiniTool Video Converter is a useful YouTube downloader that can help me do so. It can download as many YouTube videos as I want. Click to Tweet
Conclusion
This article has answered your question "who is the richest YouTuber". After a brief introduction, hope you have a better understanding of these top 10 highest-earning YouTubers. Check out their YouTube channels to see what you're interested in. In addition, you should also get a useful free YouTube downloader called MiniTool Video Converter.
If you know any other good and free YouTube downloader apps, please share them with us. If you want to get more information about YouTube, you can continue to browse our website.
Who Is the Richest YouTuber FAQ
Are YouTubers rich?
Top YouTubers can earn $10 million a year. When you add up ad revenue, sponsorships and endorsement deals, the numbers are even higher. But according to a German study, 96.5% of aspiring YouTubers don't make enough to even reach the poverty line in the United States.
Can YouTube be a career?
Whether you make money from it or not, YouTube is not a "job" per se. It is not a "career" per se, but a platform/venue. If you want to be successful on YouTube, you usually need to have certain skills, such as video editing, video production, social media, and so on.
How do YouTubers get paid?
Google pays 68% of the AdSense revenue, so for every $100 the advertiser pays, Google pays $68 to the publisher. What advertisers actually pay varies, typically between $0.1 and $0.30 per view, but the average is $0.18 per view. The YouTube channel generates an average of $18 per 1,000 ad views.
Can kid YouTubers get paid?
Yes. YouTubers get paid when someone clicks on an ad in a YouTube video or watches any video for more than 30 seconds. Creators can make more money from brand-sponsored videos. YouTube is considering moving all content that stars children to 
YouTube Kids
. However, YouTube Kids has fewer users, so it attracts fewer advertisers and generates less advertising revenue for creators than YouTube's main platform.