There are tons of video players available for different devices, so choosing the right one for your device isn't an easy task. Fortunately, this post from
MiniTool Video Converter
summarizes the 12 best video players for Windows, Mac, iPhone and Android.
In order to find out the best video player, four important factors should be taken into consideration.
The number of supported formats. Nowadays, with the appearance of MP4, MKV, AVI, MOV, and other advanced formats, not all video players are powerful enough. Therefore, the best media player should be up-to-date and capable of running the latest file types.
Additional features. The best media player should not only provide playback capabilities. Among the video players listed below, you can find apps that provide subtitle synchronization, video & audio filters, change playback speed, and other extra features.
User-friendly interface. Choosing the right video player is not only about the features it provides but also the user experience it creates. So, for video players, what really matters is the intuitive and user-friendly design.
Most of the video players listed below are free, while some with additional features are chargeable. Therefore, the best video player should provide users with the highest cost performance.
After a thorough evaluation, we list the 12 best video players for different devices below.
Best Video Player for Windows 10
#VLC Player
Developed by VideoLAN, VLC Player is a legendary cross-platform media player with more than 26 million downloads and has long been at the top of video player rankings. Meanwhile, it is an extremely popular YouTube video player. It's a simple yet powerful alternative to Windows default programs.
VLC can deal with almost all multimedia files you want to play including MKV, MPEG, and FLV. Its smooth interface can be quickly customized to your preferences. Besides, the software is available on almost all platforms.
Features:
Available on almost all platforms.
Convert audio or video files to any format.
Stream or download YouTube videos.
Record video or audio on your PC.
Set video as wallpaper.
Add watermarks on videos.
#Media Player Classic – Home Cinema
Media Player Classic is a classic video player, and this free video player can be used even on your old computer without any hassle. You might have heard rarely about MPC but it serves as the biggest threat to VLC with its incredible features and open-source design. It can also double up as a free DVD player for Windows 10 with subtitle download options, Skype integration, etc.
Features:
Support VCD, SVCD, and DVD playback.
Provide a better audio performance.
Come with a portable version.
Built-in codec support.
Allow customization through skins and toolbars.
#PotPlayer
Created by Kakao, PotPlayer is one of the most popular alternatives to Windows Media Player. The app stands out because of its intuitive interface and advanced feature set. It is available for free to all Windows users. Pot Player has earned itself a dedicated following as it can play almost all files, including 3D formats. Besides, it offers a huge range of options, such as downloading subtitles for video files and record screens.
Features:
Come with built-in keyboard shortcuts.
Excellent audio performance.
Offer tons of customization options.
Support all OS versions.
Offer a slew of 3D-centric features.
Best Video Player for Mac
#QuickTime Player
QuickTime Player is free and is bundled on every Mac as a system movie player by default. QuickTime is a powerful and free video player application that supports many popular video and movie file formats without adding any plugins or third-party tools. It also offers several options for editing your videos, including trim, split, cut, copy, paste, delete and rotate videos.
Features:
Simple design and easy-to-use controls.
Work with the most known formats.
Easily convert files to different formats.
Offer advanced video compression technology.
Record, play, edit, and share video and audio files.
#5K Player
5KPlayer is more than just a basic video player. It supports local playback, video & radio streaming, YouTube downloading and more. It is the perfect mixture of a free AirPlay Media Streamer, Music Player and HD video player. It can play videos with 4K, 5K as well as 1080P resolution.
It also can connect DVD and interactive radio in a highly evolved design. With it, you can enjoy MP3, FLAC, APE, AAC music files perfectly and get amazing videos from Vimeo, Dailymotion and YouTube, etc.
Features:
Play 5K/4K/1080p/360° HD videos, DVDs and radio.
Wirelessly stream video via AirPlay & DLNA with no quality loss.
Download online videos from YouTube, Dailymotion, Vimeo, etc.
Support almost all video formats.
#Cisdem Video Player
Cisdem Video Player is an open-source video player known for being able to play almost any media file. With this application, you won't need any conversion software to play MKV, FLV, WMV and AVCHD files. To further improve your viewing experience, Cisdem supports 1080P and 5K video.
It also provides subtitles support, which means that your subtitles will be automatically detected and displayed. The video player includes a variety of convenient buttons to help you manage your videos.
Features:
Completely free, no spyware, no ads and no user tracking.
Play video/audio files of more than 50 formats.
Load subtitles automatically and add subtitle files easily.
No buffering or crash while playing.
Convert videos for devices with optional in-app purchases.
Best Video Player for iPhone
#KMPlayer
If you are looking for a free video player for iPhone, then KMPlayer is definitely your best choice. Given its excellent features and well-designed interface, KMPlayer is one of the best 4K video players for iPhone. The app is available in more than 230 countries and is accessible in 36 languages.
It supports multiple video or audio formats. You can also play videos from cloud storage and web services. This player supports HD, UHD, 4K and even 8K playback, so you can enjoy the highest quality videos or movies on a large flat-screen TV. The player also lets you choose a mirror effect.
Features:
Speed up video playback and control volume through gesture functions.
Support network services such as Google Drive, FTP and Dropbox.
Support 3D, 4K and UHD video playback.
Support slow-motion playback.
Customize and control subtitles.
Play split videos and multiple videos seamlessly
#8Player
With over 500,000 users and a beautiful and smooth interface, 8Player is not just a video player app, it is a universal multimedia application for iPhone, iPad and Apple TV. It supports you to play media files from DLNA / UPnP, SMB, FTP, Google Drive and Dropbox servers, as well as local videos, music and photos. Therefore, no matter what kind of video or music you want to watch or listen to, this video player can provide you.
Features:
Handle multiple file formats.
Control playback of media files on Chromecast devices and DLNA players.
Allow creating and editing music playlists.
DLNA / UPnP servers can be accessed remotely through the 3G / 4G network.
Provide multiple personalized functions.
#PlayerXtreme
PlayerXtreme is able to play in more than 35 video formats and in HD audio quality. With this app, you can stream and watch almost any type of video, whether it's on your hard drive or in your cloud. This video player also supports Apple, Airplay, and GoodCast, so you can easily watch anything from your phone on your TV. In addition, it features easy-to-use navigation and excellent organizational skills with folders so you can easily access any of your movies.
Features:
Play videos from a wide range of network devices, including NAS devices, Wi-Fi hard drive, Mac, PC, DLNA/UPnP app without converting them.
Support casting through AirPlay and Google Chromecast.
Offer gesture controls for adjusting volume.
Download subtitles in real-time.
Best Video Player for Andriod
#MX Player
Created by J2 Interactive and owned by Times Internet, MX Player is one of the earliest Android video players to support multi-core decoding, supporting almost all video and audio file formats. In addition to having an intuitive and easy-to-use interface, MX Player includes many excellent features, such as advanced hardware acceleration, subtitle support, scrolling forward / backward, zooming in / out to change text size and gesture controls.
Features:
Play network streams.
Fast transfer files without mobile data usage.
Lock the app without any disturbance of the kids.
Easily zoom in and out by pinching and swiping across the screen.
Features like scroll forward/backward, change text size, gesture controls are available.
#XPlayer
XPlayer is the best online video player for tablets and phones. The application supports all video formats including 4K, hyper video files. It also supports Chrome and most video codecs. XPlayer Video Player is one of the highest-rated Android video players in the Play Store.
It can keep your videos safely in a private folder. In addition, the software provides subtitle download and adjustment. Video volume, brightness and playback are easy to control. Videos can be sorted by name, date, and size.
Features:
Support adjusting and download subtitles.
Play any video in a pop-up window, background, and split-screen.
Offer basic features like Quick Mute, Night Mode, Playback Speed.
Easily manage and share videos.
Provide a private folder to save videos.
#FX Player
FX Player is a famous video player which emphasizes more on user experience than other classic media players. It has many great features like supporting all video formats, subtitles, screen mirroring, navigating, and enlarging. It offers a fascinating, continuous, and smooth interface, so you can enjoy uninterrupted full HD and 4k videos.
Besides, you can simultaneously use other apps while watching videos. It allows you to resize the video playing screen and access or control the playback while using it as a floating window.
Features:
Support almost all video and audio formats.
Control the gesture, fast forward, fast backward with a double-tap.
Control speed, brightness, volume, playback, and resize the screen.
Offer multi playback functions like Repeat, Shuffle, Background, Auto, and, Mirror Mode.
Scan all of your video files and the SD Card automatically.
All of the above are the top-rated video players for different devices. There are a few video players that come in both free versions and paid versions, while most of them are available for free. Which video player is your favorite?
Best YouTube Converter – MiniTool Video Converter
MiniTool Video Converter is one of the best YouTube converters that allows you to convert YouTube videos or music to popular formats including MP4, WebM, WAV, and MP3. This application also offers different video resolutions for you to choose from. Apart from that, it gives you options to download subtitles.
MiniTool Video ConverterClick to Download100%Clean & Safe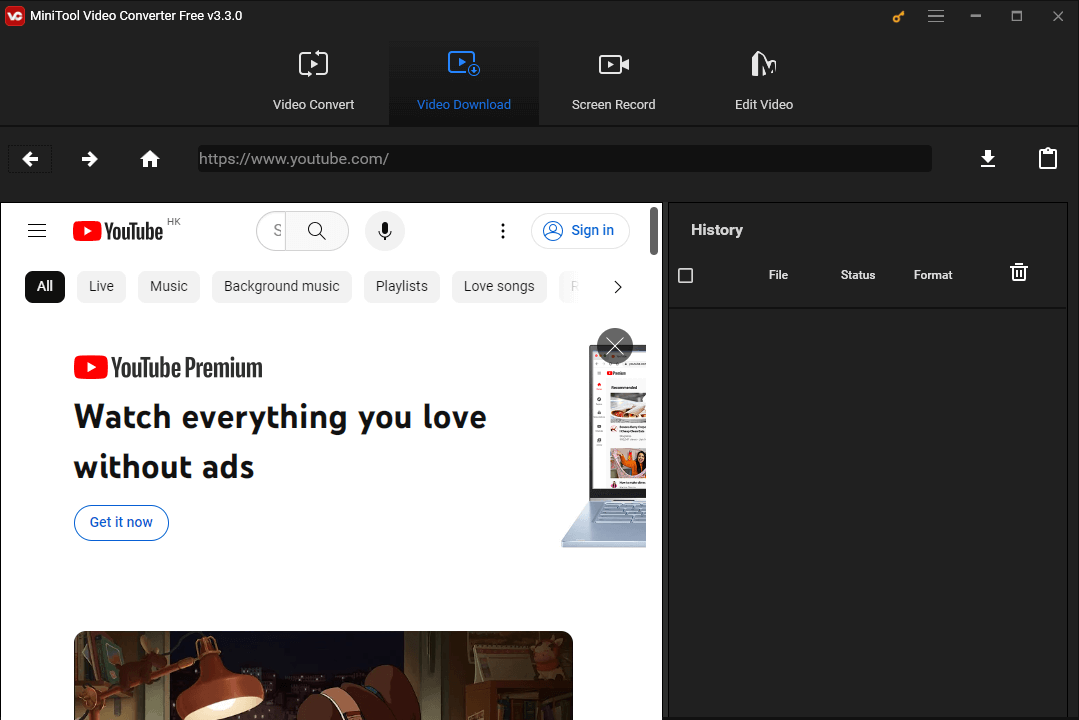 What's more, MiniTool Video Converter enables you to convert between a wide range of video and audio formats and record all activities on your computer screen.
Bottom Line
Some useful video players have been discussed above. Which one will you choose to enjoy movies? If you have any questions or suggestions about it, please let us know via [email protected] or share them in the comments section below.
Video Player FAQ
Which is best video player?
·         VLC Player
·         PotPlayer
·         Media Player Classic
·         QuickTime Player
·         5K Player
·         Cisdem Video Player
·         KMPlayer
·         8Player
·         MX Player
·         XPlayer
What is the best video player for Android?
·         MX Player
·         VLC for Android
·         FIPE Player
·         BS Player
·         PlayerXtreme Media Player
·         XPlayer
·         AC3 Player
·         KMPlayer
Which is best format for video?
·         MP4
·         MOV
·         WMV
·         FLV
·         AVI
·         AVCHD
Which is the best video compressor?
·         Hybrid
·         Handbrake
·         MeGUI
·         Freemake Video Converter
·         Any Video Converter Free Version
·         Format Factory