If you are looking for some influential female YouTubers, this article is what you need. It will list top 8 of them. All of them are creative and smart. Besides, this article shows you some tips on how to become successful on YouTube. Finally, you will get a useful YouTube video downloader- MiniTool uTube Downloader.
YouTube has become one of the biggest platforms for sharing video content. With many YouTubers gaining millions of views and subscriptions, they have now become influencers in their own right.
But when it comes to famous female YouTubers with millions of subscribers, the list isn't that long. These pretty, smart, and creative women share fashion and beauty tips, game reviews, educational content, recipes and more. So, who are the leading ladies on YouTube getting serious views with over a million subscribers? Below are some of them.
The Most Popular Female YouTubers
Yuya
Jenna Marbles
Liza Koshy
Lilly Singh
CaELiKe
RCLbeauty101
Zoella
Rosanna Pansino
The Best Female YouTubers Worth Subscribing to
#1. Yuya
This YouTuber is a Spanish content creator who joined YouTube at 16 after winning a make-up contest. Her videos focus on beauty, makeup techniques, fashion and styling. With over 24 million subscribers, now she is one of the most popular YouTubers.
As a beauty influencer, she is very successful and popular, which paves the way for the launch of her own products. In 2005, she launched a perfume called #True. Then, in 2017, she launched a line of cosmetics. She has also written two books: Las confesiones de Yuya (2016) and Los secretos de Yuya (2015).
#2. Jenna Marbles
The creator is Jenna Mourey. In 2010, her video "How to trick people into thinking you're good looking" went viral. The video was viewed more than 5 million times in the first week. Then she became famous. The 32-year-old YouTuber is also a comedian and actress.
Her YouTube channel, which has more than 20 million subscribers, is named after her own dog, "Mr. Marbles". You might see cute videos of her dog helping her choose makeup, or her boyfriend guiding her through makeup. As a dog lover, she also found a retail chain of toy dogs.
Her large subscriber base and strong engagement make her one of the top female YouTubers on the list.
#3. Liza Koshy
Lisa became an instant hit when she joined YouTube in 2015. She is a comedian, actress and TV host. In some of her videos, you can see her doing celebrity impressions, or having a hilarious bath. Her videos are entertaining and funny.
Lisa has already won two Streamy Awards with other recognitions. In 2018, she starred in the web TV series "Lisa on Demand". The episodes can be watched on YouTube.
#4. Lilly Singh
Lilly Singh is a Canadian content creator. She named her YouTube channel "Superwoman". Her satirical and humorous content about Indian and Punjabi culture has made her a favorite YouTube influencer of teenagers around the world.
In 2017, Forbes listed her as one of YouTube's highest-paid celebrities, earning more than $10 million a year. In March 2017, she published her first book, How to Be a Bawse: A Guide to Conquering Life.
You can find interesting sketches of her on her YouTube channel and on IGTV. By now, her YouTube channel already has 15 million subscribers.
#5. CaELiKe
This is a Mexican star. She posted her first video on YouTube in October 2010 and her channel now has more than 16 million subscribers. Her advice and comedy videos have attracted millions of viewers around the world.
#6. RCLbeauty101
Rachel Levin, the face behind RCLbeauty101, launched her YouTube career in 2010.
When she was 15, she uploaded her first video, How to Conceal Under Eye Dark Circles. Her beauty tips and DIY ideas went viral on YouTube. Later, she began to create interesting videos that were highly appreciated by her subscribers. As of June 2020, her YouTube channel had more than 14 million subscribers.
As a beauty influencer, she often shows off various cosmetics brands in videos.
#7. Zoella
Zoe Elizabeth Sugg joined YouTube when she was a teenager and now has her own beauty line. Her videos focus on beauty, makeup and fashion hauls. She also wrote several books. Her first novel, Girl Online, sold a record number of books in the first week and became the fastest-selling book of the year.
Her main channel on YouTube, Zoella, has more than 11 million subscribers and more than 1 billion views. Her other channel, Zoe Sugg, has over 4.8 million subscribers and 860 million views.
#8. Rosanna Pansino
The female YouTube influencer is a baker, author, and actress. She is known to entertain her audience with interesting recipes. She teaches people how to bake beautifully decorated cakes, cupcakes, cookies, donuts, and other delicious foods.
You can find movie-inspired desserts videos on her YouTube channel, such as The-Avengers-inspired cupcakes, Moana-inspired cakes, and even emoji-inspired pancakes.
Her video "How to Make a Frozen Princess Cake" has more than 1.8 million views and is the most popular cooking video on YouTube. As of June 2020, her channel had over 12 million subscribers and 3.1 billion views.
These are the most popular female YouTubers you can subscribe. Click to Tweet
Tips to Becoming a YouTube Influencer Like These Female YouTubers
Depending on your niche and content, you may also want to give yourself some flexibility to cover popular topics. If something big happens and you know other creators with similar channels are talking about it, don't hesitate to ride the wave. It's important to stay relevant. Even when it comes to the same topics as others, you have the opportunity to add value to the conversation.
#3: Post Frequently
Recent reports show that YouTube channels that post videos more than once a week perform much better than those that don't. So the importance of this factor cannot be overemphasized. They also receive more recommended views. Channels that post often not only allow viewers to engage at a deeper level, but also gain greater visibility and ratings on YouTube.
Creators are advised to post on YouTube three or more times a week. This is especially important if you're just starting out and trying to build a user base. A steady pace of multiple posts per week can quickly boost your channel's ratings with a stimulus algorithm.
Creating plenty of content for the topic at the beginning will help your channel perform well in the algorithm. It also creates a content library that basically escorts viewers from video to video, improves watch time, and gives viewers an incentive to subscribe.
#4. Bring Something New to the Table
When you pick a niche on YouTube, you need to understand that you can't easily build a channel just by being yourself on camera. There are too many personalities and the platform is too saturated to just show and start generating an audience.
You should always put the incentive for your viewers first. You need to draw attention to you, not to another well-known YouTuber in your niche. So, you should offer something new and unique, which is the ultimate factor in building momentum and gaining views.
#5. Build a Social Presence for Your YouTube Channel
You need to create social media pages and profiles for your YouTube channel on all social networks relevant to your audience. Facebook, Twitter and Instagram are certainly big players, and they certainly need to provide online support for YouTube.
But depending on your audience, that list may also include Snapchat, Periscope and other social platforms. Research your niche to find out which networks are best suited to growing your audience, and monitor other creators of your verticals to see where they are building their own social presence.
By focusing on interacting with your audience through your YouTube channel and social media accounts, you will be more successful in promoting your YouTube channel and attracting more viewers.
Further Reading: How to Download YouTube Videos?
Now you should find some popular female YouTubers and get some tips to being a successful YouTuber like them. What if you want to download some YouTube videos you like from them? Your best choice is a YouTube video downloader. It can help you download videos from YouTube.
Then, it is highly recommended that you use this useful YouTube downloader app – MiniTool uTube Downloader. This is the best free YouTube video downloader. You are also allowed to convert YouTube videos, including convert YouTube to MP4, convert YouTube to MP3, convert YouTube to WAV and convert YouTube to WEBM.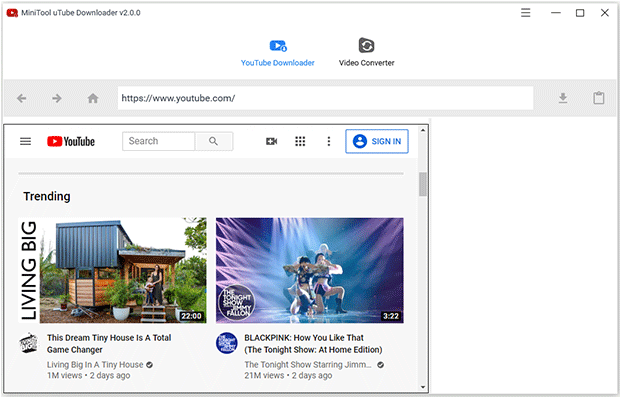 It's totally clean because these is no ads and no bundle. As a powerful downloader, it offers full speed downloads and support downloading 8k, 5k, 4k, 1080p, 720p videos from YouTube.
You can also download video subtitles, download music from YouTube and even download the YouTube playlist. If you have a need, click to download MiniTool uTube Downloader right now.
MiniTool uTube DownloaderClick to Download100%Clean & Safe
Read on. The following part will show how to download YouTube videos via MiniTool uTube Downloader.
Step 1: Open MiniTool YouTube Downloader.
Download MiniTool uTube Downloader and install it on the computer.
Launch this free YouTube downloader and enter its main interface.
Step 2: Download Videos on YouTube.
Search for the video you want to watch and then open this video. You can also type the URL link of it directly.
Click the Download button.
Then, choose an output format of the video: MP3, MP4, WAV, and WEBM.
Finally, click DOWNLOAD to start to download the video.
After that, wait until MiniTool uTube Downloader finishes downloading your videos.
MiniTool uTube Downloader a useful YouTube downloader. With it, you can download many videos and audios from YouTube. It's very convenient and easy-to-use. Click to Tweet
Final Words
To sum up, this article has shown you the top 8 female YouTubers. Browse their channels and choose the channels or their videos you like. In addition, this article also offers you some tips for being a successful YouTuber. Finally, you can also download as many YouTube videos as you like via MiniTool uTube Downloader.
MiniTool uTube DownloaderClick to Download100%Clean & Safe
If you have any questions or you know any good and free YouTube downloader, please let us know in the comments section.
Female YouTubers FAQ
Who is the prettiest YouTuber?
Top 10 Most Beautiful Women on YouTube:
Cutiepiemarzia
Zoella
RhaeaEstelle
Daily Grace
Jackie Wyers
Lia Marie Johnson
Bethany Mota
Lauren Curtis
Jenna Marbles
Chloe Morello
Who is the highest paid female YouTuber?
Is YouTube a good career?
Being a YouTuber is really good for career, which also gives you a lot of many. But the truth is more and more people want to make a career from YouTube, so the competition is rising. The most important thing is that your content should always be different with a bit twist because there are many videos.
Why do most YouTubers fail?
There are many reasons why video doesn't appeal to viewers. More common reasons include poor production quality and boring to watch. Video content is not original and not outstanding in the competition.