You just started a YouTube channel, but you can't come up with a good name for the channel. Since YouTube name is important to entice visitors to watch your YouTube videos, this post gives you some killer ideas to generate YouTube name and 5 best YouTube name generators.
A unique YouTube name will catch visitors' eyes and gain more views. So if you want to make a YouTube channel or create a brand account, a memorable YouTube name is indispensable.
If you're a beginner to create a YouTube channel, you may need to use good editing software to make a YouTube video like MiniTool Movie Maker developed by MiniTool.
Now, let's take a look at some suggestions for YouTube name.
Killer Ideas to come up with a YouTube Name
Choose the relevant words that relate to your channel.
Make a list of words that are relevant to your channel and the category of the channel. If the category of your channel is cooking, then the keywords are: kitchen, cooking, food, etc.
Capitalize the first letter in your YouTube name.
If the YouTube name contains more than one word, you need to capitalize the first letter of each word. Why? Because using a capital letter in the sentence or phrase makes it easier to understand your YouTube name. For example: Home Cooking Adventure / home cooking adventure. Which one is better?
To change YouTube name, you may like: Useful Tips on How to Change YouTube Name.
Make it easy to spell.
If your YouTube name is difficult to spell, fewer people will find your channel on YouTube. Want to create a new account for business? See this post: What Is YouTube Brand Account?
YouTube Name Generator
As a YouTube name is so important, the name generator for YouTube might be good option. Here's a list of YouTube name generators.
SpinXO YouTube Name Generator
This is a YouTube channel name generator that generates great ideas for your YouTube name in minutes. All these ideas are based on topics, niche, keywords, things you like, important words and numbers you put. If you are not satisfied with the results, SpinXO enables you to start a name contest online to get better name ideas.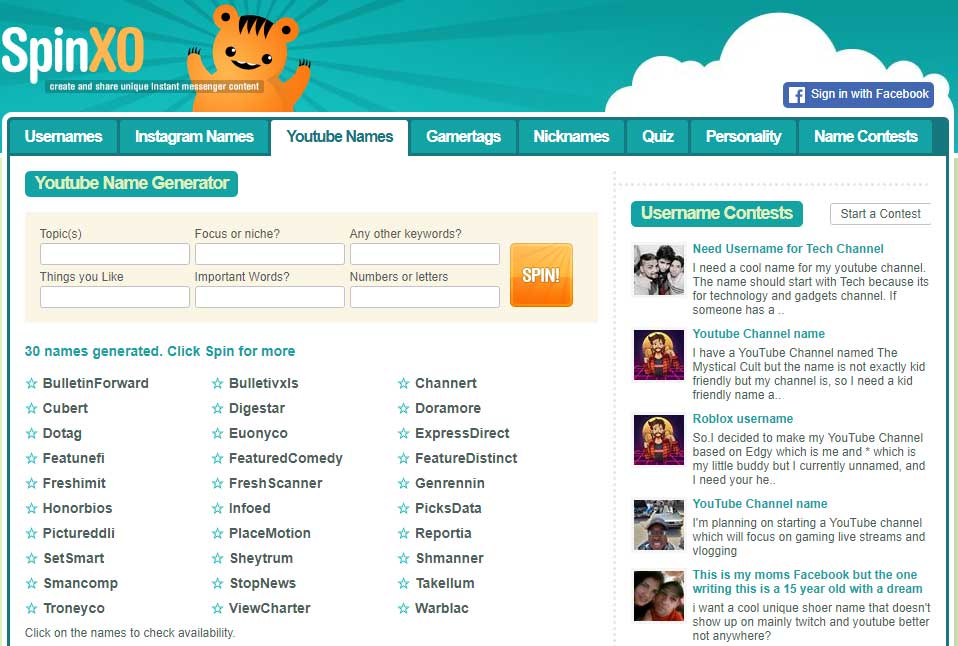 Best Username Generator
Best Username Generator comes with a plethora of personalized YouTube name ideas. You need to enter words or things you like that you want in the YouTube name, then you can get about 80 suggestions at a time. Aside from that, this tool also allows you to generate cool names for Instagram, Snapchat and so on.
Kparser
Unlike other YouTube name generators, Kparser is more like a keyword research tool. You need to input your favorite keywords, and this tool will generate a number of suggestions for YouTube channel name, username and video tags.
Related article: The Top 6 Best YouTube Keyword Tools in 2019.
Username Generator
This tool can help you make a unique YouTube name as you want. It's a free YouTube username generator that allows you to generate awesome name ideas for YouTube, Facebook, Twitter, Instagram and other social networks.
BNG – Business Name Generator
As a business name generator, BNG provides not only business name suggestions but YouTube name ideas. With its simple interface, just enter words in the search box, you will get thousands of name suggestions.
Conclusion
To make a YouTube channel name or search for video ideas, all you want to know is in this post!
If you have any ideas or suggestions, please leave a comment and let us know.