This article introduces the top 6 best YouTube keyword tools that can help you identify and optimize the most traffic-efficient keywords in your videos. You can rank higher on YouTube and attract more viewers by optimizing your video keywords, or creating cool video content via MiniTool software.
YouTube keyword research is the process of discovering which search terms users type into a video platform as they seek content. How many people search for your keywords – and similar keywords? Once you know what the target audience is searching for, you can add these keywords to the video's name, tags, descriptions, and subtitles to improve your search results and display higher rankings in the SERPs (Search Engine Results Pages).
Recommend article: Add Popular YouTube Tags to Attract More Viewers.
1. Ahrefs
Ahrefs is the best friend of market analysts. The tool has a lot of SEO, competitor analysis, keyword research and keyword recognition to help you optimize your digital content. The tool searches YouTube keywords in up to 171 countries. The tool is very easy to operate. Simply enter your keywords in the search bar and Ahrefs will get data from around the world to show you the total search volume for each term and the number of search phrase clicks you get.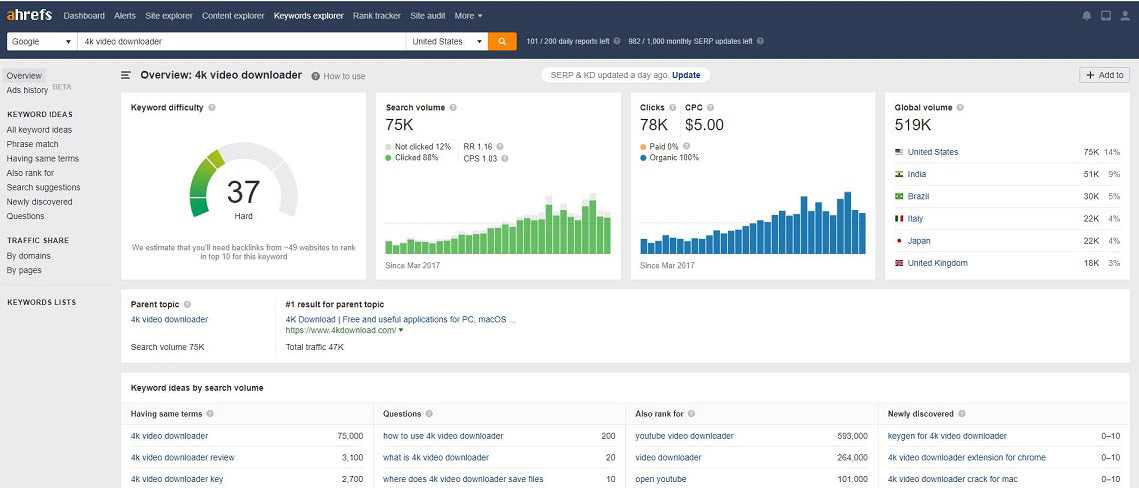 Ahrefs also extracts other interesting data points, including related keyword phrases using your keywords and other keywords or phrases related to your terms. Ahrefs offers four price levels, from $99 to $999 per month. You can try the 7-day trial ($7) of the tool before deciding whether to subscribe.
2. Keywordtool.io
Keywordtool.io is one of the most powerful YouTube keyword tools, ranking hundreds of keywords by popularity. It captures data from the YouTube Autofill feature and allows you to create a keyword list from that data. In addition to automatically competing for data, you can also search for questions people asked.
You have free access to the most basic features of the Keyword Tool, but there are many other features that are worth paying for, such as cost-per-click data and competitor keyword analysis. The monthly plan for the Keyword Tool ranges from $69 to $159 per month, depending on the number of keywords you plan to analyze.
Recommend article: 5 Powerful Secrets of YouTube SEO to Rank Video | Guide.
3. VidIQ
VidIQ is a YouTube certified partner that helps video content creators determine the best keywords for improving searchability. You can paste in the keywords you want to research, choose the country you wish to target, and it will return all the search volumes and amount of competition, and will score your keywords based on these figures.
VidIQ comes with dozens of other features designed for video creators, but the keyword research tool requires a subscription. However, at only $7.50 per month, it's pretty affordable for even small businesses on tight budgets.
4. Keyword Keg
Keyword Keg is definitely one of the most powerful YouTube keyword research tools out there. It offers lots of data, drawn from a variety of data sources including Wikipedia, Alibaba, Playstore and more.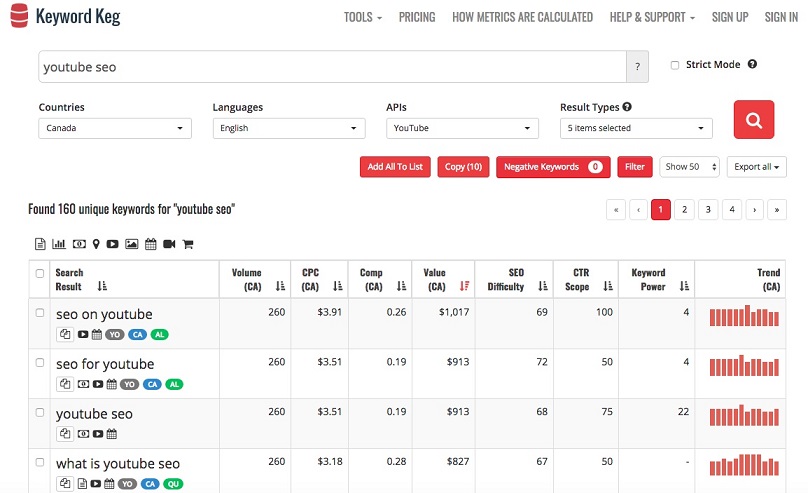 There are filters for country and language and you can drill down into issues like buyer intent and product information. However, like most free YouTube keyword tools, there is a strict limit on what you can do before you pay.
5. Keyword Tool Dominator
Keyword Tool Dominator is actually really easy to use and a great place to start if you're new to YouTube keyword research. Simply type a term into the search bar and the Dominator will produce a list of relevant keywords related to the term.
Keyword Tool Dominator is free for up to three keyword searches per day. If you want to search more terms more frequently, you can upgrade to the unlimited version with $69.99, which will give you unlimited search volumes.
6. Keyword Everywhere
Keywords Everywhere browser add-on can be easily installed on either Chrome or Firefox. Unlike the other tools on this list, Keywords Everywhere doesn't suggest new phrases or tags. Instead, it shows three very useful data points directly on YouTube's search engine: monthly search volume, cost per click and competition data of keywords on multiple websites.
This kind of research can be great when validating your keywords. This simple browser add-on isn't the only keyword research tool you'll need, but it's a great addition to add to your arsenal.
Recommend article: 8 Powerful Secrets of Increasing YouTube Traffic (100% Works).
Bottom Line
After knowing so many YouTube keyword tools, it would be easier to find keywords with high search volume for your YouTube videos. If you have any questions or suggestions about it, please let us know via [email protected] or share them in the comments section below.