Lots of users want to know how to create a private YouTube channel. Is it possible? Although there are some tutorials on how to create such a channel, I have tried them and found they are infeasible. However, there is a way to make the content on a channel private and MiniTool uTube Downloader introduces it in this post.
Can I create a YouTube channel for students from our school where only they can see the content on the channel by logging in with their assigned school email addresses? Can the videos uploaded on to the channel be secure and not downloadable or editable?support.google.com
Can You Make a Private YouTube Channel?
Generally, we upload a video to YouTube and hope it receives thousands of views. However, for some reason, you may expect your videos are not accessible to the public and therefore want to create a private YouTube channel. Is it possible?
YouTube channels are public, but you can set all the content on a channel to private. The tutorial on how to make all the content on a channel private is below. Scroll down to get it.
How to Set Channel Videos to Private?
There are two stages to set videos a channel to private:
Create a business account;
Make your channel videos private.
Stage One: Create a Business Account
Step 1: Go to YouTube.com.
If you have a google account, you just need to log in to your existing Google account.
If you do not have a google account, you select the option to "Create Account". Then, create a username under the signup screen and input your information including email address, location, postal code, date of birth, and gender.
Step 2: Click the three-line menu icon in the top left corner to open the navigation panel and then choose the Settings option from the menu.

Step 3: Look at the right section of the current page and find the Create a new channel option.

Step 4: Input the new channel name to open a Brand Account. You can name the channel in a way that reflects your business or content. Then, click the Create button.
Stage Two: Make Your YouTube Videos Private
Note that making your YouTube channel means only people you invite to the channel can watch your videos.
Step 1: Click the Create icon on the top right side of the YouTube interface and select Upload video.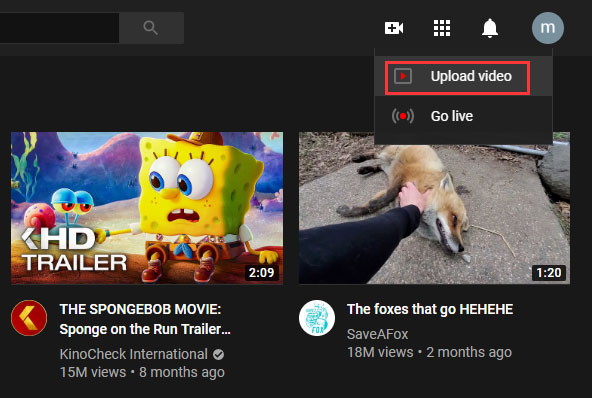 Step 2: Click the button under Select files to upload and switch to the Private option.
The video will now be saved as a private video and it cannot be accessible to the public. If you have uploaded some videos to YouTube but want to set them to private, you can follow the tutorial.
If you want to share the private videos with your friends, you should copy the URL for the video and share it via email or text message. Without the URL, no one can view your private video.