After
uploading a video to YouTube
, you have a choice to make YouTube video private or unlisted as needed. So what's the difference between private and unlisted? In this post, you will know everything about YouTube private VS unlisted.
YouTube is a great place to upload videos you made by MiniTool software – MiniTool Movie Maker or show your skills. However, there are some YouTube videos you may want to hide away. So how to change the privacy settings? To know more, see this post: Useful Tips on How to Make Your YouTube Videos Private.
In fact, there is more than one way to protect your privacy. Unlisted YouTube videos also are invisible to visitors who view your YouTube channel. Therefore, how to tell the difference between YouTube private and unlisted?
YouTube Private VS Unlisted
Before that, let's take a look at the three options YouTube provides.
Public
Public is the default setting and anybody can see your video. If you want to gain more views or build your business, do not make any changes.
Besides, you can also watch public YouTube videos together with your friends, even you are in different countries. See this post: How to Watch YouTube Videos Together in Real Time?
Private
Private means no one can see your video, except for those people who are invited. Private videos will not come up in Google results, YouTube results or your channel.
Unlisted
Unlisted means your video will not show in any search results or your channel. Only those who know the link can watch the video. You can share the link with anybody including those who are not YouTube registered users.
Now, let's see the difference between YouTube private and unlisted.
Private
Unlisted
1. You can't share the URL with those who are not invited.

2. Private videos will not show up in any search results, your channel or subscriber feed.

3. You can schedule private YouTube video if you want to publish it as public at a specific time. The video you scheduled is private before publishing.

1. You can share the URL with anybody. People who know the URL can view and share your video.

2. Unlisted videos are invisible in search results, your channel and subscriber feed.

3. You are not allowed to schedule the unlisted video.
All in all, both of them can hide videos from your channel list. So choose private or unlisted, it's up to you.
How to Share a Private YouTube Video
After knowing the difference between private video and unlisted video, you may want to know how to share them with others.
Follow the steps below to learn how to share a private YouTube video.
Step 1. Sign in to your YouTube account and click the profile picture in the right corner of the page.
Step 2. Choose YouTube Studio to get its interface and tap on Videos. Then you will see all the uploaded videos are listed here including private videos and unlisted videos.
Related article: How to Share Unlisted YouTube Videos Privately.
Step 3. After finding the target video, click its title to view details of the video.
Step 4. On this page, you need to choose the three dots next to the Save button. Then select Share Privately from the drop-down list.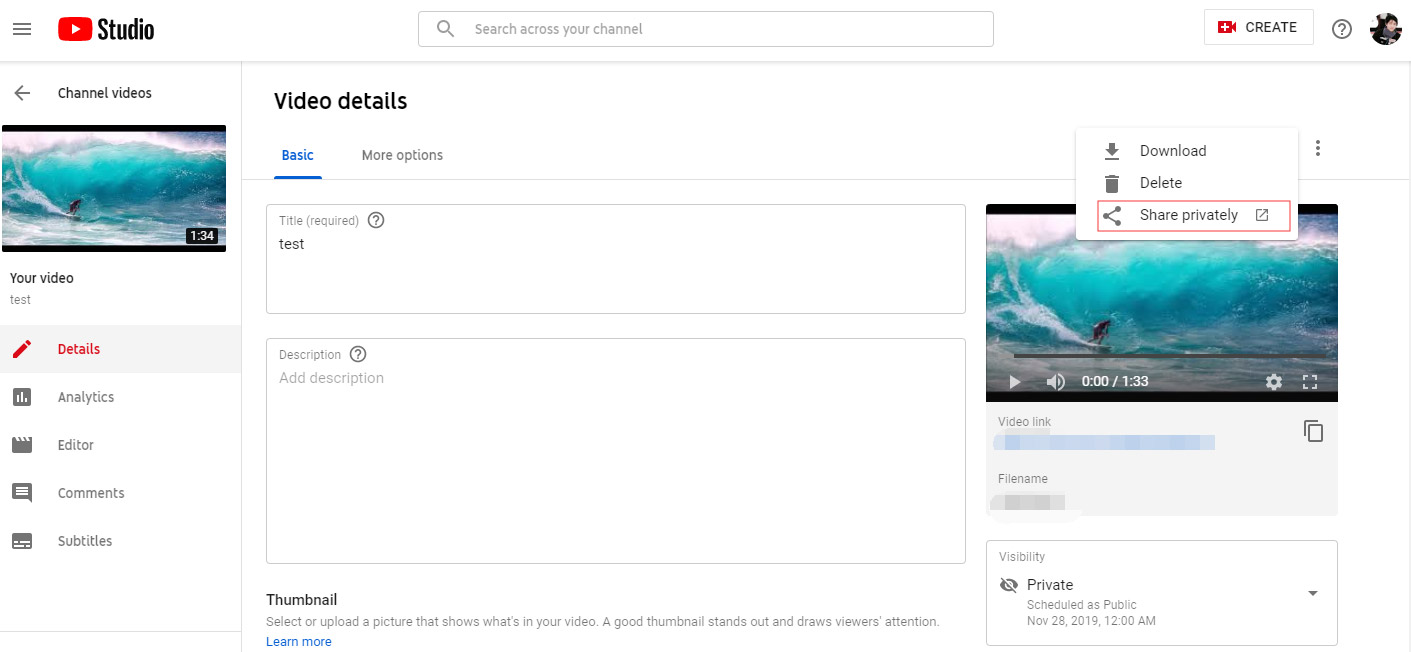 Step 4. In the end, enter the email addresses of those people you want to share and save changes to go back to YouTube Studio. Remember, you can enter email addresses up to 50.
Related article: How to Watch Private YouTube Videos – Solved.
Tips:
Ready to simplify your video tasks? Try MiniTool Video Converter today - your one-stop solution for video downloading, converting, and screen recording.
MiniTool Video ConverterClick to Download100%Clean & Safe
Conclusion
Making YouTube videos private or unlisted is definitely a good thing when you'd like to share it privately.
If you have any questions about YouTube private VS unlisted, share your ideas in the comments area!