For the convenience of movie lovers, this article compiles a list of the 15 best full movies on YouTube, check the list and watch the movies you are interested in. If you need to download movies for offline viewing, try using MiniTool software.
Part 1. Top 15 Full Movies on YouTube
1. Fist of Fury (1972) – Action & Drama & Romance
If you like action movies, Fists of Fury starring Bruce Lee is your first choice. In this movie, Lee plays Huo Yuanjia's student Chen Zhen, who struggles to defend the honor of the Chinese when facing foreign aggression. After its release, it became the highest box office movie in the history of Hong Kong at that time, and achieved real box office success in major theaters in the United States.
2. Rain Man (1988) – Comedy & Drama
Rain Man is an American comedy-drama film. The story tells of a rude, selfish young Wheeler dealer, Charlie Babbitt, who found that his estranged father had passed away all his multi-million dollar legacy to another autistic son. Charlie only left his father's favorite vintage cars and roses. Rain Man was the highest-grossing film of 1988 and it won four Oscars at the 61st Academy Awards.
3. Ronin (1998) – Action & Crime & Thriller
If you love action movies involving car chases, this is the one to watch. Because Ronin is noted for its realistic car chases in Nice and Paris. It was released in 1998. The movie is about a group of former Special Forces soldiers that are now working as mercenaries. They were hired to attack a heavily armed convoy with the purpose of stealing a metallic suitcase.
4. His Girl Friday (1940) – Comedy & Drama & Romance
As one of the best YouTube romantic movies, His Girl Friday is an American screwball comedy drama romance film directed by Howard Hawks and starring Cary Grant and Rosalind Russell. It was released by Columbia Pictures. As one of the best second-wave feminist films, His Girl Friday is a hilarious farce with electric chemistry between stars Cary Grant and Rosalind Russell. A newspaper editor uses every trick in the book to keep his ace reporter ex-wife from remarrying.
5. The Terminator (1984) – Action & Sci-Fi
This is a fantastic movie starring Arnold Schwarzenegger as a cyborg called The Terminator, who has been sent from the future to kill a young lady named Sarah Connor. A human soldier by the name of Kyle Reese has also been sent back from the future, but his mission is to protect Sarah from The Terminator. The movie is packed with action and will keep you on the edge of your seat. It's definitely one of the best full movies on YouTube you can watch.
Related article: 9 Best Free Movie Sites
6. Night of the Living Dead (1968) – Homor
George A. Romero's classic movie The Night of the Living Dead is a groundbreaking work in American horror movies. The story follows seven people who are trapped in a rural farmhouse in western Pennsylvania and attacked by a group of cannibalistic undead bodies. This movie was selected in 1999 by the Library of Congress for preservation in the National Film Registry as a film deemed "culturally, historically, or aesthetically significant".
7. The Graduate (1967) – Comedy & Drama & Romance
Released on December 22, 1967, The Graduate took on the challenging adult theme at a time when prestigious cinemas weren't quite comfortable talking about sex and taboo romance. However, it received rave reviews, with box office revenues in the US and Canada of $ 104.9 million. And the film won the Academy Award for Best Director.
8. Better Off Dead (1985) – Comedy & Romance
This movie is old but brilliant. Released in 1985, it tells the story of a high school student Ryan Meyer who tried to commit suicide after breaking up with his girlfriend. Although it was criticized when it first appeared in the cinema, it continues to be a sought-after classic because of its famous weird tones, blending traditional teen laughter with dark humor.
9. The World's Fastest Indian (2005) – Biography & Drama & Sport
The World's Fastest Indian is a true story based on the life of Bruce Munro. The film describes Burt Munro, who spent years rebuilding a 1920 Indian motorcycle, which helped him set the land speed world record at Utah's Bonneville Salt Flats in 1967. The film released on 7 December, 2005 in New Zealand and quickly became the highest grossing local film at the New Zealand box-office taking in NZ$7,043,000.
10. The General (1926) – Action & Adventure & Comedy
The General is a 1926 American silent comedy film released by United Artists. It was inspired by the Great Locomotive Chase, a true story of an event that occurred during the American Civil War. The film is now often ranked among the greatest American films ever made and was included in the first class of the Library of Congress National Film Registry in 1989. If you enjoy silent and more physically expressive comedy, this one should be your first choice.
11. Kung Fury (2015) – Short & Action & Comedy
A rare example of a successful Kickstarter film, Kung Fury is a 2015 English-language Swedish martial arts action comedy short film written and directed by David Sandberg. It pays homage to 1980s martial arts and police action films. It tells about Kung Fury, the toughest martial artist cop in Miami, goes back in time to kill the worst criminal of all time.
12. Dances With Wolve (1990) – Adventure & Drama & Western
Dances with Wolves is a 1990 American epic Western film. It is a film adaptation of the 1988 book of the same name by Michael Blake that tells the story of Union Army lieutenant John J. Dunbar who travels to the American frontier to find a military post and of his dealings with a group of Lakota. The film won Best Picture and Best Director for Costner and it also won the Golden Globe Award for Best Motion Picture – Drama.
13. The Incredibles (2004) – Animation & Action & Adventure
The Incredibles is an American computer-animated superhero movie. The film follows a family of undercover superheroes, while trying to live the quiet suburban life, are forced into action to save the world. The Incredibles won two Academy Awards and the Annie Award for Best Animated Feature. Besides, it was the first entirely animated film to win the prestigious Hugo Award for Best Dramatic Presentation.
14. The Sound of Music (1965) – Biography & Drama & Family
The Sound of Music is an American musical film produced and directed by Robert Wise. The film is about a young Austrian postulant, who is sent to the villa of a retired naval officer and takes care of his seven children. The film was the highest-grossing movie in 1965 and won five Academy Awards. In 1998, the American Film Institute ranked The Sound of Music as the 55th greatest film in the United States.
15. The Sixth Sense (1999) – Drama & Mystery & Thriller
The Sixth Sense is an American supernatural psychological thriller movie. The film tells the story of Cole Sear, a boy who is able to see and talk to the dead and Malcolm Crowe, a child psychologist who tries to help the boy. The film was well received by critics. People praised its performance, atmosphere and ending.
Part 2. Download Full Movies on YouTube
The above have listed 15 best full movies on YouTube. However, unfortunately, YouTube only allows streaming videos online. If your Internet connection is slow, you may experience stuttering issues during movie playback.
That's why some people are looking for ways to download full movies on YouTube. Now here are 2 solutions for downloading YouTube movies so you can watch your favorite movies even without the Internet.
Best YouTube Movie Downloader – MiniTool Video Converter
MiniTool Video Converter is a free and easy-to-use desktop 4K YouTube downloader. It doesn't include any bundled software. This free tool offers the fastest and easiest way to download YouTube full movies with a great choice of output formats – MP4, MP3, WAV and WEBM.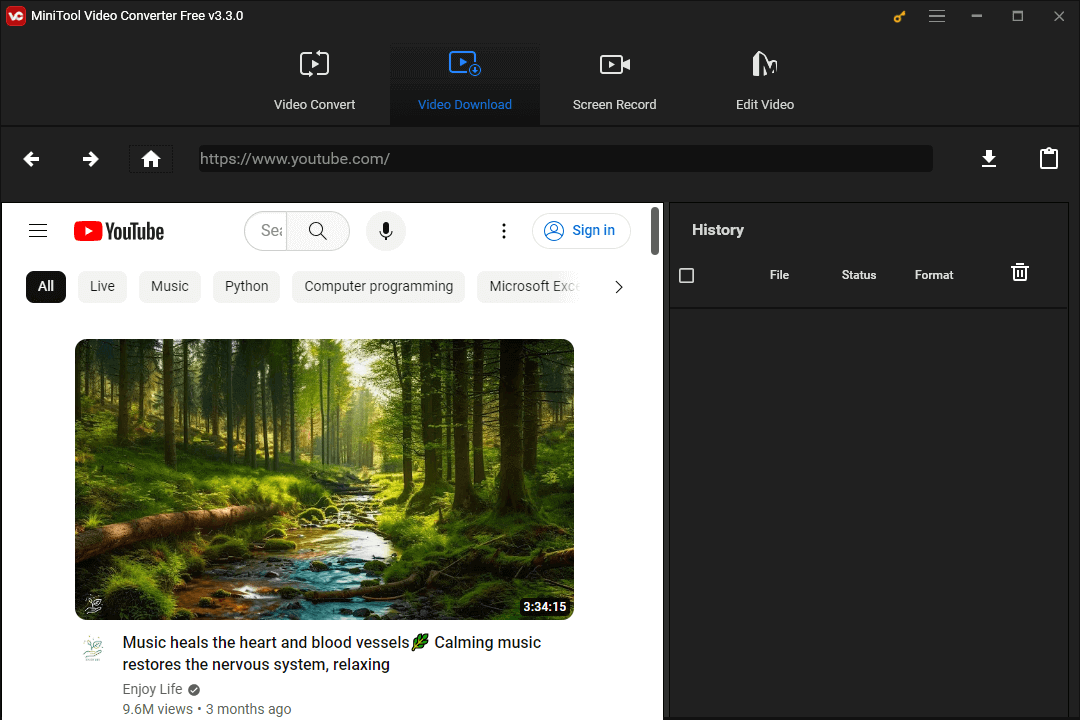 Related article: Convert YouTube to WebM
Aside from manually downloading free full movies on YouTube, it also allows users to download up to 10 movies at once. Of course, you can change the number of maximum concurrent downloads and every time you download YouTube full movies. Besides, this free YouTube downloader will automatically download the original subtitles.
MiniTool Video ConverterClick to Download100%Clean & Safe
Below are the detailed steps on how to download full movies on YouTube with MiniTool Video Converter.
Download, install and launch this free YouTube downloader on your PC.
After getting its main interface, click the Video Download tab, paste the YouTube movie URL in the search query box, and click the Download icon.
Select the output format, and then click DOWNLOAD.
Note:
If you want to change the default destination folder and the maximum number of concurrent downloads, click the More icon on the top right corner of the main interface, then click Settings > Download.
Then this free YouTube downloader begins to download the YouTube full movie. After downloading, you can directly play the downloaded YouTube movie or click the Navigate to file option to check the downloaded movie and its subtitle file (.srt).
Features:
No registration required.
No limits on download times and file size.
100% safe to download YouTube movies.
Download subtitles in .srt format automatically.
Download YouTube playlists to video or audio files.
Support batch downloading.
Full-speed downloads and conversions.
Download YouTube 4K movies.
Online YouTube Movie Downloaders
#KeepVid
KeepVid is an excellent online YouTube downloader. It's very simple to use and it also has a desktop version. You just need to paste the video link into the blank search box on the site and press the download button to get started. In addition, KeepVid not only supports downloading free full movies on YouTube, but also videos from Instagram, Dailymotion, Facebook, Photobucket, and many other sites.

#VideoGrabber
VideoGrabber is a powerful online tool for downloading full movies on YouTube. It has many excellent features and supports hundreds of different websites. Although it also has a desktop version, its online version can handle many different video formats, enough to meet your needs. The tool may be the best YouTube movie downloader online.

Conclusion
15 best full movies on YouTube and 3 excellent YouTube downloaders have been introduced above. Why not share with more friends? If you have any questions or suggestions, please leave a comment below or contact us via [email protected].
Full Movies on YouTube FAQ
What films are on YouTube?
1.         Dead or Alive
2.         Memories of Murder
3.         Fist of Fury
4.         Rain Man
5.         Ronin
6.         Lord of War
7.         The Terminator
8.         Night of the Living Dead
9.         The Graduate
10.     Better Off Dead
How do you watch free movies on YouTube?
1.         Download and install MiniTool Video Converter on your PC.
2.         Type in the name of the movie in the search box and locate the movie.
3.         Click the Download icon.
4.         Select the output format and then click DOWNLOAD.
Where can I watch free full movies?
1.         Popcornflix
2.         YouTube
3.         Amazon Video
4.         Sony Crackle
5.         Snagfilms
6.         Netflix
7.         Vimeo
8.         Kodi
9.         Viewster
10.     Tubi TV
Is popcornflix legal?
Owned by Screen Media, VenturesPopcornflix is a legal website that lets you watch full-length, free movies in both the U.S. and Canada. It offers a huge selection of free full length movies, trailers, clips and TV series.