Today, more and more people choose to pay video streaming services like Netflix, Hulu and HBO. But there are a number of people who choose to watch free movies on free movie streaming sites when they are on a tight budget. Here are 9 free movie sites for you.
Watching free movies does save a lot of money for you, but there is a great chance that you find a malicious movie site. If you want to watch free movies on the computer, the following websites might be helpful: YouTube, Snagfilms, Popcornflix, Tubi, Vudu, Vimeo and more.
Want to download YouTube videos? You can use MiniTool uTube Downloader developed by MiniTool.
MiniTool uTube DownloaderClick to Download100%Clean & Safe
Best Free Movie sites
This post lists 9 free movie sites. All of them safe and reliable. Now, take a look at these best free movie sites.
YouTube
As is known to all, YouTube is a huge hub for all kinds of videos including movies, shows and documentaries. For better visual experience, it also allows you to watch YouTube on TV. If you'd like to watch YouTube movies with friends online, read this post: Top 4 Ways to Watch Movies with Friends Online
Besides, if you're not a YouTube Premium subscriber, you can become easily distracted by YouTube ads when watching movies. So there're two methods for you: get a YouTube premium or learn how to block ads on YouTube.
SnagFilms
SnagFilms is safe and legit for you to watch free movies online. It offers over 2000 movies, shows and documentaries. Additionally, it works on most devices like computer, mobile phone and TV. Unlike other free movie streaming sites, you can watch free movies on SnagFilms with no sign up required.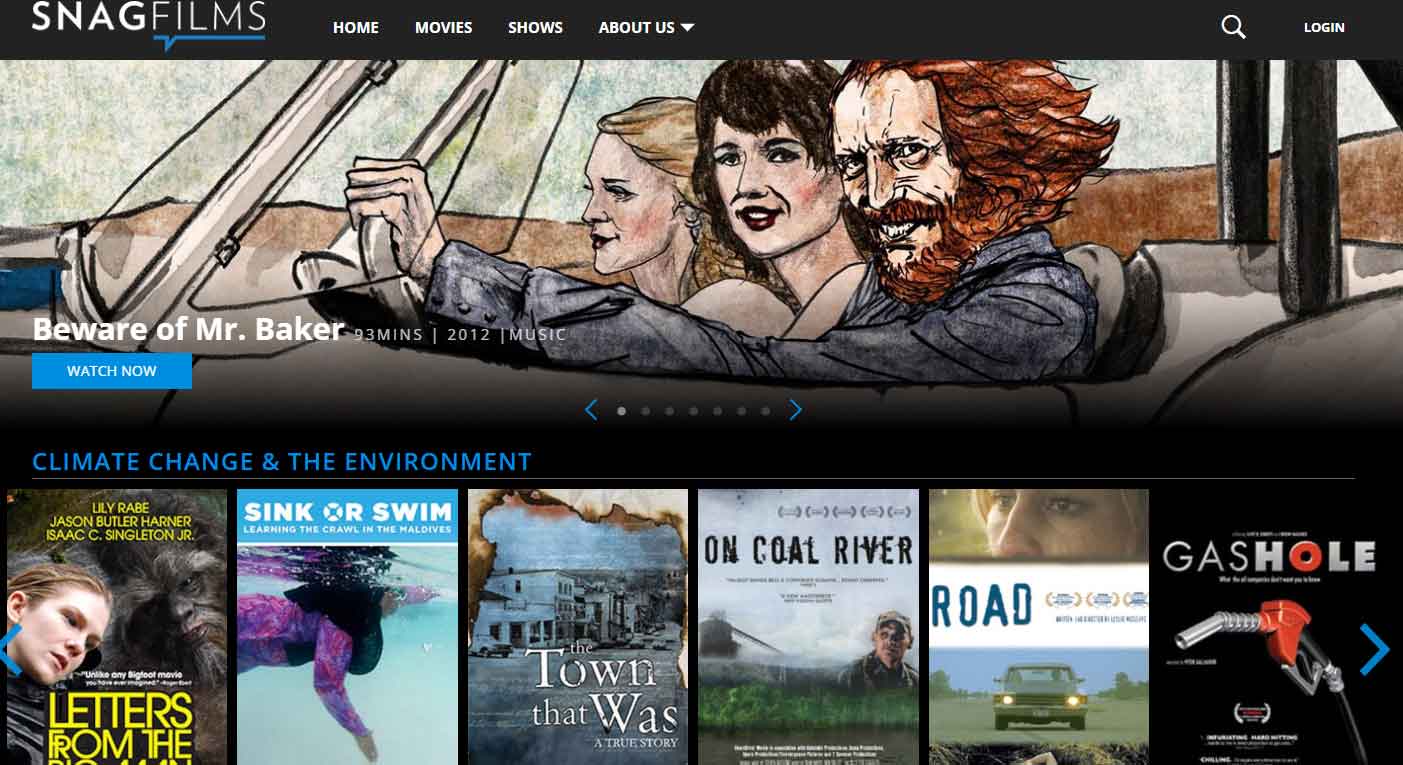 Popcornflix
Popcornfilx has over 1500 movies in various genres. It's compatible with Apple TV, iOS, Android and Xbox One. But it doesn't show movie subtitles. If you want to watch free movies with captions, you can go to Popcornflix channel on YouTube and watch movies online with subtitles.
Related article: Tips on How to Turn on Subtitles on YouTube.
Tubi
Tubi provides thousands of titles including movies and TV shows from studios such as Universal Pictures, Lionsgate and Paramount Pictures. It's available for free on Android, iOS, Apple TV, PlayStation and Roku. You can watch movies on Tubi anywhere. Although there's nothing new on Tubi, it's still a nice choice for you to watch free movies online.
Vudu
Vudu is known as a website to buy and rent digital movies, but there're also thousands of free movies available on the website. If you want to watch movies offline, Vudu allows you to download and watch movies on your devices. Besides, you need to create a Vudu account to watch free movies on Vudu.
You may also like: How to Watch Movies on Kodi (Step by Step Guide).
There are still four free movie sites, you can search for them on the web and watch free movies on their websites.
Vimeo.
Free Movie Cinema.
Vumoo.
Archive.org – It's a free movie download site that presents numerous movies and shows. You can download anything you want on this website without having to sign up.
Conclusion
This post provides the best 9 free movie sites for you. Choose a website and enjoy free movies anywhere!
Which one do you prefer? Please leave a comment below and let us know.