Are you feel anxious or nervous? If yes, you can watch some calming videos to relax. You can find some best calming videos on YouTube from this post. If you like these videos, you can download them by MiniTool uTube Downloader to watch them again and again.
Benefits of Watching Calming Videos
How to relax yourself when you are anxious? Do exercise? Chat with your friend? Soak in a warm bath? Today, this post introduces you another method to relax yourself — watch calming videos.
The calming videos usually feature a slow pace and comes with gentle piano or guitar music as well as rain or wind sounds.  So, the calming videos can reduce your stress and keep your inner peace.
What are the good calming videos on YouTube? This post list some. You can watch them when you are anxious or feel stressful.
Top Calming Videos
Here I divide the calming videos into three different types. The first type is calming video for anxiety, the second type is calming video for deep sleep, and the last type is for kids. Scroll down to learn about them.
Calming Video for Anxiety
Most of the calming video for anxiety is about nature and this kind of video lasts up to 3 hours. If you want to get rid of anxiety or kill the boring time, it's good to watch this kind of video.
Rainy Day
I am a Norwegian composer, and I started this channel with a simple vision: to create a place where you can sit and relax at any time. The music I composed can be marked as: sleep music, calm music, yoga music, study music, peace music, beautiful music and relaxation music.Peder B. Helland, composer for Soothing Relaxation
The video Rain Day is composed by Peder B. Helland. It lasts for about 10 hours. The camera keeps recording the moments the raindrops falling from the pine leaves. Sometimes, when the sound of thunder comes, the beautiful piano sounds.
Tropical Weightlessness
This calming ocean video is composed of Nature Relaxation collaborator Peter Schneider in HD.
Transform your screen into a meditative window to Tahiti with "Tropical Weightlessness", a looping scene designed to create a unique ambiance thanks to it being captured while floating weightlessly with a camera capable of filming both underwater and above it!
This version features soothing ambient guitar music by Dog Music, which is designed to not only relax humans but dogs and cats.
Northern Lights Relaxation
One of the most fascinating sights in the world, yet most elusive and hardest to capture on camera is the Aurora Borealis – otherwise known as the Northern Lights.
This 2-hour video is specifically designed to help relax and sleep. And it has amazing real-time footage captured in Alaska.
In the video, you will enjoy the calm music of the Yellow Brick Cinema and enjoy several different scenes. Please note that although most scenes are shot in real-time, some shorter movies are time-lapse shots by David von Turnau.
Calming Video for Deep Sleep
Have you ever seen something that makes your skin tingle and for some unknown reason provides you with a sense of unbridled peace and happiness?
Usually, these videos for deep sleep are not too long and they usually composed of a lot of video clips. These video clips are calm and comfortable. When you watch these video clips, your brain will feel relaxed and you will feel sleepy. It's useful to help you sleep deeper and better.
When facing insomnia, you can choose to watch this kind of calming videos or choose to listen to some "lullabies". There are some excellent "lullabies" on YouTube. You can listen to them and see if they could make you fall asleep.
Calming Video for Kids
Kids also face stress and anxiety. This part recommends some calming videos for kids. Different from the above calming videos, the calming videos for kids are cartoons.
Generally, these calming videos teach kids to take a deep breath, stay calm, and relax the body. Some great calming videos for kids are list below. When your kids are unhappy or anxious, you can play these videos for them.
Kids Mindfulness: Calm Compilation
In this video, strengthen kids' superpower of calm with four mindful games: "Bulldog Finds His Quiet Place", "Butterfly Body Scan", "Rock-a-bye", and "Imaginary Hugs & Peaceful Place".
These mindful games are a great way to support calm by guiding your kids to take big, slow breaths, relax different parts of their bodies, and imagine comforting scenes. Play them when your kids feel upset, overly excited, or want to wind down.
Calming Exercise for Kids
This video represents breathing in a new way by adding a blue ball in the bottom left-hand corner. As the ball gets bigger, breathe in, as the ball gets smaller, breathe out. As always, kids will be able to grasp the movements and breathing patterns quicker if parents perform the exercises with them. These exercises are excellent for adults as well!
Yoga for kids with animals
This video could be quite attractive to your kids. This video aims to help kids and their parents to relax in a different way. It guides kids on practicing different yoga poses and working on their breathing through an interesting story with animals.
Yoga is also a good way to relax the body. If you want to watch more Yoga videos on YouTube, you can read the following recommended article:
This post list some best calming videos on YouTube. If you want to relax, watching such videos is a good choice.Click to Tweet
How to Download Calming Videos from YouTube?
If you feel that these videos can really help you relax, you can download them and watch them anytime. Here it is highly recommended that you try MiniTool uTube Downloader.
It is a free and safe YouTube downloader and it has the following advantages:
100% safe to download YouTube videos without a virus.
Download YouTube videos while users are watching videos.
Quickly download YouTube as MP4, MP3, and more with high quality.
How to use this software to download calming videos from YouTube? The tutorial is below.
Step 1: Click the button below to download and install it on your Windows computer.
MiniTool uTube DownloaderClick to Download100%Clean & Safe
Step 2: Launch the software to access its main interface. You will see a quite simple interface.
Step 3: Type the name of the video that you want to watch in the search box and select the target video from the search results. Or copy the video link from YouTube and past it into the bar at the top of the main interface.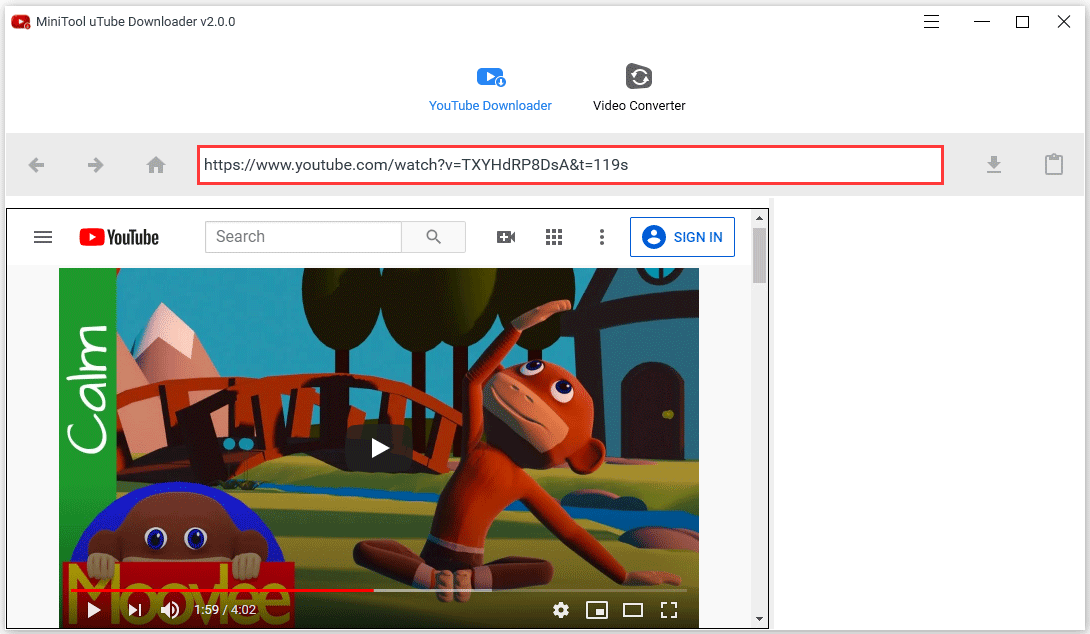 Step 3: Click the Download icon in the upper-right corner.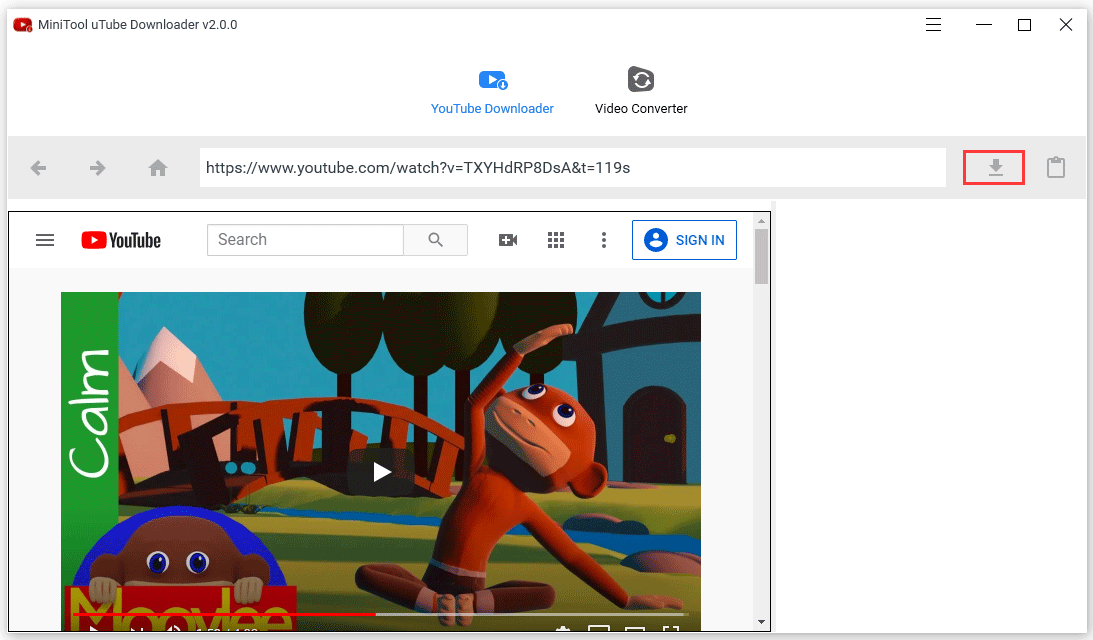 Step 4: When a new window pops up, you should select the video format you want and click Download. MiniTool uTube Downloader allows you to download a YouTube video as two video file formats (MP4 and WebM).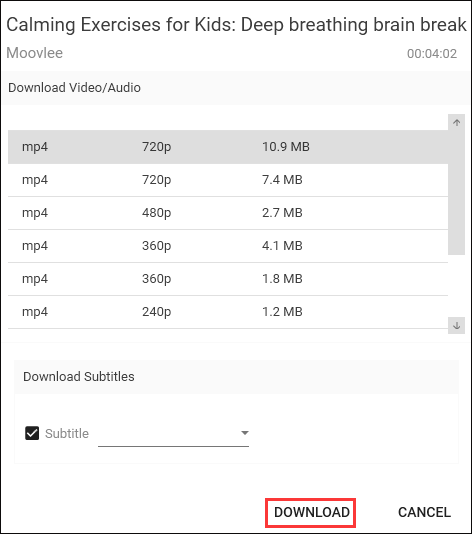 Step 5: After clicking the button, this software will automatically go back to its main interface and you will see the downloading process on the right side.
Step 6: When the download process comes to an end, you can click the Play icon to enjoy this video.
How to download calming videos from YouTube? You can try MiniTool uTube Downloader. With it, you can download YouTube videos in a few clicks.Click to Tweet
If you only want to download music from this video, MiniTool uTube Downloader can also be helpful and the detailed tutorial is displayed in Convert YouTube to MP3 Free in Seconds (Jan 2020).
Bottom Line
Have you watched the recommended calming videos? Have you relaxed after watching these videos? You can share your feelings in the following comment zone after watching these videos. If you have other ways to keep calm, you can share them with other readers.
If you have any questions when using MiniTool uTube Downloader, please contact us via [email protected] and we will reply to you as soon as possible.
Calming Video FAQ
What is the most calming video?
You can watch the following calming videos on YouTube:
Rainy Day;
Tropical Weightlessness;
Northern Lights Relaxation;
Kids Mindfulness: Calm Compilation;
Calming Exercise for Kids;
Yoga for kids with animals;
…
How to download calming videos free?
If you want to download calming videos from YouTube, you need to utilize a YouTube downloader. You can pick one such downloader from
the post
.