YouTube provides an amount of good quality video content. Most of YouTube videos are free to watch, but they also contain a variety of advertisements. You're tired of these annoying YouTube ads when watching YouTube videos. To solve this, this post will teach you how to block ads on YouTube.
Mostly, you can skip YouTube ads after five seconds, but sometimes you have to watch serval full video ads in the same video. It's really a disaster that these ads keep interfering with your attention. Luckily, YouTube offers you an option – YouTube Premium. With it, you don't have to worry about YouTube ads anymore.
To watch videos on YouTube without ads, you can also download YouTube videos with MiniTool uTube Downloader released by MiniTool.
If you don't want to subscribe to YouTube Premium, there is a way to help you watch YouTube without ads for free. Maybe you are wondering is blocking ads on YouTube legal? The answer is yes.
But you need to know that ads are the main revenue source for some YouTube creators. If you want to support a YouTube creator, you can choose to watch YouTube ads.
Want to watch your favorite music video? But those ads are very annoying, try downloading music from YouTube and listen to them offline.
In a word, to watch YouTube videos without distraction and get better view experience, continue to read to learn how to block ads on YouTube.
How to Block Ads on YouTube
For YouTube desktop users, a YouTube adblock extension just enough, but there are various ad blockers in the chrome web store, which one is best? Here offers you the most popular Chrome extension – AdBlock.
AdBlock has over 60 million users. It's not just a YouTube ad blocker, it also can help you block all ads displayed on the web. Besides that, AdBlock allows you to choose to keep unobtrusive ads or block all ads. Or whitelist your favorite sites for supporting them.
Some YouTube videos are not available in your country? See this post: How to Watch Blocked YouTube Videos – 4 Solutions.
Takes the following steps to learn how to block ads on YouTube desktop version. Also, the ad blocker also available for iPhone, Safari and Opera.
Step 1: Type "AdBlock" into the search box of the chrome web store, or click here "AdBlock".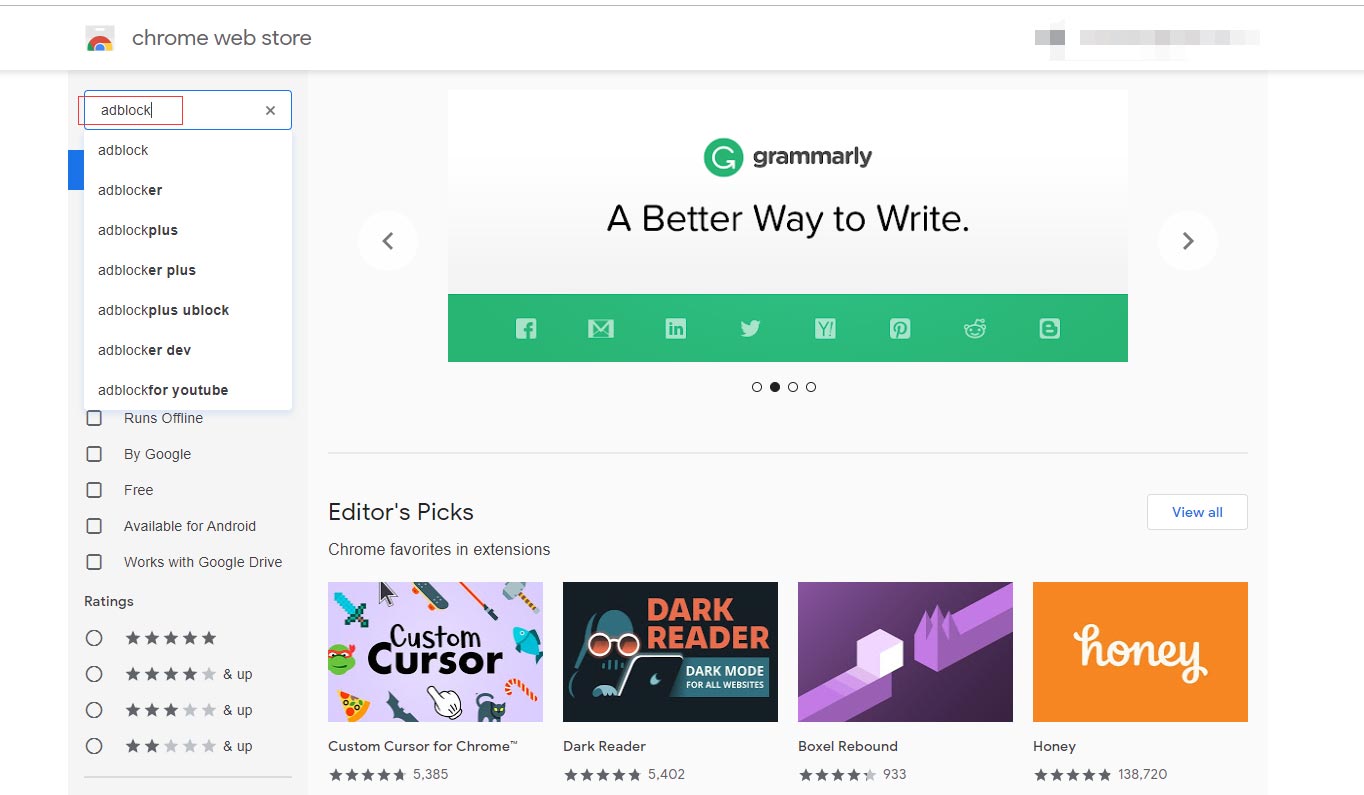 Step 2: Click on "Add to Chrome" when you find the extension you're looking for.
Step 3: AdBlock will automatically block YouTube ads on your browser. Then you can open the video that contains ads on YouTube and you'll find those un-skippable video ads are going away.
If you like watching YouTube videos in Firefox browser, you can go to Add-ons to search for YouTube ad blocker.
See also: How to Block Ads on Crunchyroll for Free 2020
How to Block YouTube Ads on Android
For Android users, the most convenient way is installing an adblock browser – Free Adblocker Browser.
Follow the steps below.
Step 1: Open Google Play and enter Free Adblocker Browser in the search bar to find the app.
Step 2: Click the first one and tap on Install to download and install this app on your phone.
Step 3: Launch Free Adblocker Browser and go to the YouTube official site. Then you can watch YouTube without ads.
If you find ad blocker doesn't work perfectly, then you need to try another method – download YouTube video.
Conclusion
This post tells you two solutions to block ads on YouTube. Have you learned the two methods? Go to YouTube website and have a try!
If you have any other tips on how to block ads on YouTube, please leave a comment and let us know.