Are you looking for a YouTube VPN? In this post, MiniTool will show you more details about the top 6 YouTube VPNs in 2020 including ExpressVPN, VyprVPN, IPVanish, CyberGhost, Speedify and PureVPN. Compare them and choose one that works for you.
What should you do if you can't watch YouTube videos properly? VPN can help you. Keep reading to get more information.
Why You Need YouTube VPN?
Is it necessary to use a VPN for the world's largest and most popular online video repository? Well, it may be true for some people, but there are many good reasons to use a VPN with YouTube.
First of all, this video-sharing site is not available in some countries. This is because online censorship blocks access to Google sites in these countries and many others.
Even if you are not subject to these strict measures, you will find that not all videos can be accessed by you. Sometimes it is due to copyright laws, but sometimes it is simply because of the preferences of the uploader.
Then there is the question of speed. While VPN services can increase your Internet connection overhead and slow down your speed, this is not always the case.
In some cases, a well-tuned network can improve your speed. It also helps you avoid restricting your ISP's ability to play videos on YouTube, as some Internet service providers are said to do.
Thus, you may need a YouTube VPN to improve your viewing experience. The following part will introduce 6 great YouTube VPNs in detail. Choose a suitable one according to your needs.
Top 6 YouTube VPNs
ExpressVPN
VyprVPN
IPVanish
CyberGhost
Speedify
PureVPN
6 Best YouTube VPNs in 2020
#1: ExpressVPN – The Best All-round YouTube VPN
ExpressVPN is the best all-round VPN for YouTube.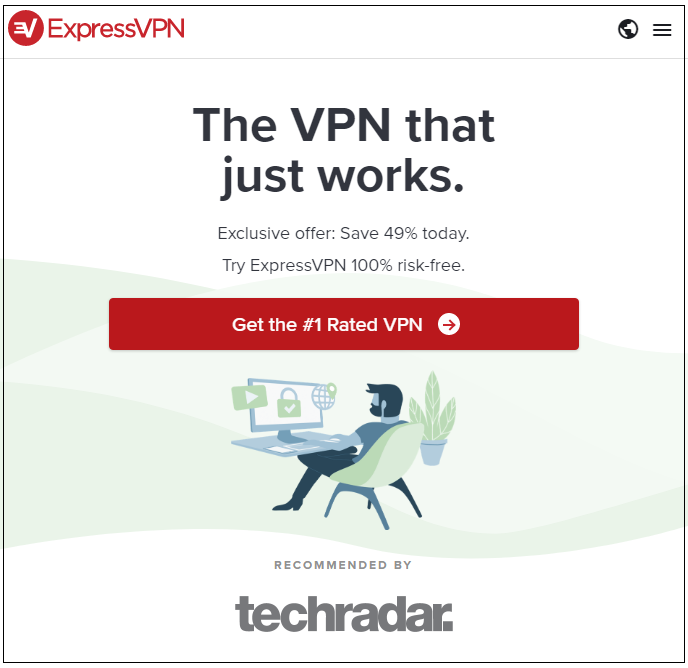 It has 160 locations in 94 countries and owns over 3,000 anonymous servers providing you with the perfect opportunity for fast and unrestricted connections. In tests, it was faster than average, and it was fairly usable even on the most remote servers.
Its custom client provides simple setup for Windows, Mac, iOS, Android and more. It also comes with some browser extensions and support for routers.
All this is to make it easy for you to use: the VPN is up and running with a single click. Please note that the P2P-friendly service only supports three simultaneous connections per user.
In terms of security, there is still much to be done. In addition to the usual protocol support, you can get DNS/IPv6 leak protection, a kill switch, and split tunneling. ExpressVPN, based in the British Virgin Islands, offers offshore privacy protection without activity logs or connection logs. The service collects very little information, and it can't be used against you.
There is no free trial plan, but it offers 30 days risk-free. If you are not satisfied, you can get your money back with no questions asked. It also commitments 24/7 customer support by live chat. If you have any problems while using it, you can get help at any time.
#2: VyprVPN –  The Fastest VPN
VyprVPN is one of the fastest VPN you can find.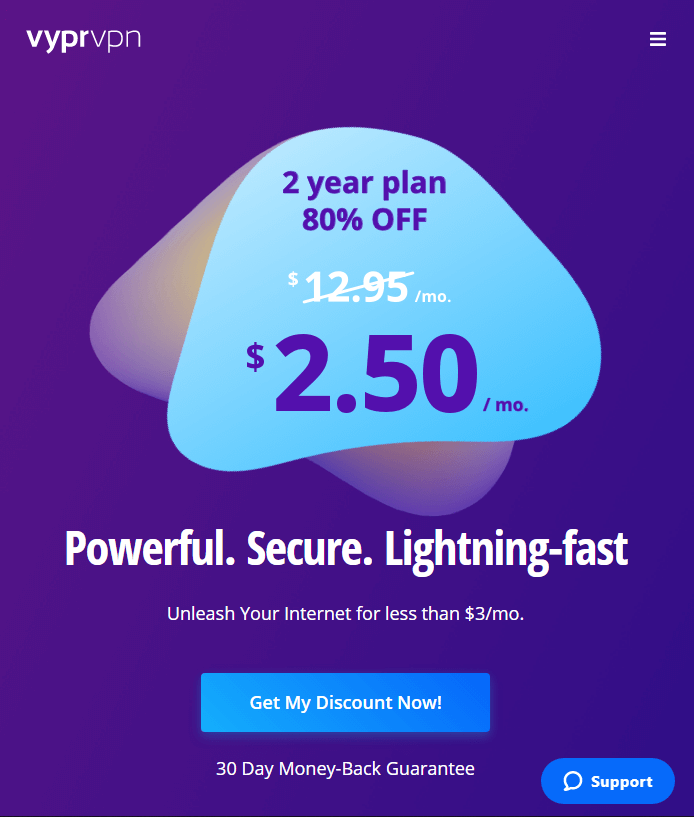 In tests, the performance level of VyprVPN was impressive. This provider provides consistent fast download speeds. This is because of an optimized service that it runs on the network and hardware. It also has more than 700 servers in over 70 locations, so you should be able to find the right connection.
Applications and manual settings for running the service are available on almost any platform and device, including Windows, Mac, Android, iOS, Linux, smart TVs, and some routers. These applications are simple and intuitive, allowing you to start with a one-click connection and server selection.
It is a secure service. It offers its own proprietary Chameleon protocol, which is designed to help defeat VPN blocking to bypass restrictive censorship, whether it comes from online services, ISPs, or actually authorities or governments.
However, there is some session logging going on. Hence, if you are looking for complete anonymity, whatever you are doing, this may not be the right VPN for you. If you need a fast YouTube VPN, it's your best choice.
It offers you a whole new way to stream shows online. You can connect from anywhere and everywhere. Besides, it also offers 30 days money-back guarantee like ExpressVPN. Get it right now and you will enjoy faster streaming experience.
Read also: Here Are the Best Video Streaming Services for 2020.
#3: IPVanish – Best Balance of Power and Performance
IPVanish is a great YouTube VPN that keeps the best balance of power and performance.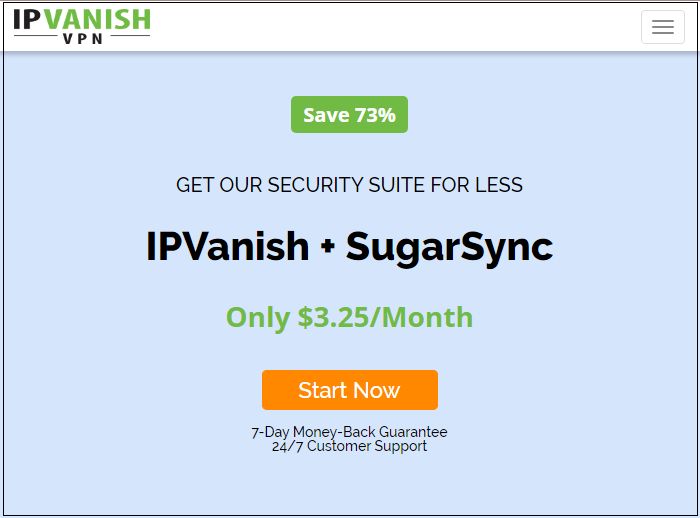 With more than 1,000 servers in more than 60 countries, it is one of the better options for finding a good connection when it comes to server choice. It also helps vendors provide high speed, especially if you're using a nearby server.
Its custom clients are available for Windows, Mac, Android, iOS, and Amazon Fire TV. Also, it provides setup instructions for Chromebook, Linux, routers, and many other devices.
The provider provides all the common security and privacy features: strong encryption, multiple protocols, and some additional features and the firm no-log policy.
There is no free plan or trial, but it offers you a 7-day money-back guarantee as well as 24/7 customer support.
#4: CyberGhost – Best for Security
If you need a YouTube VPN that is good for your security, CyberGhost is the one for you.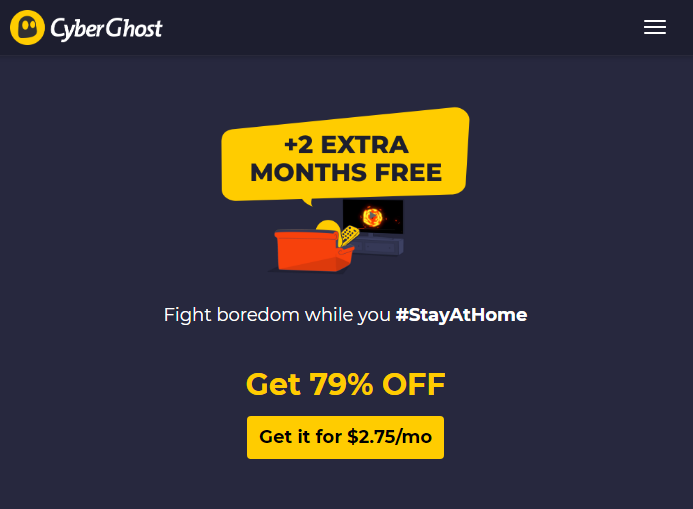 It has a robust network that provided steady and reliable speeds, and even very long-distance connections could still be used for basic browsing.
It offers a variety of feature-rich clients, including native software for main desktops and mobile platforms such as Windows, Mac, iOS, and Android. Its interface has some annoying aspects, like automatically launching when you launch a particular application. But it makes up for them with some nice options for users.
In terms of security, you'll get all the usual security protections, plus extras like advertising and malware blocking. For better performance, it also provides countermeasures for online tracking and data compression. You can comb through its privacy policy and you won't find anything to worry about.
It used to offer a free 7-day trial, but unfortunately, it's no longer available. However, it offers a 45-day money-back guarantee.
#5: Speedify – Best for Multiple Connections
If you want to choose a YouTube VPN that is good for multiple connections, Speedify VPN is your best choice.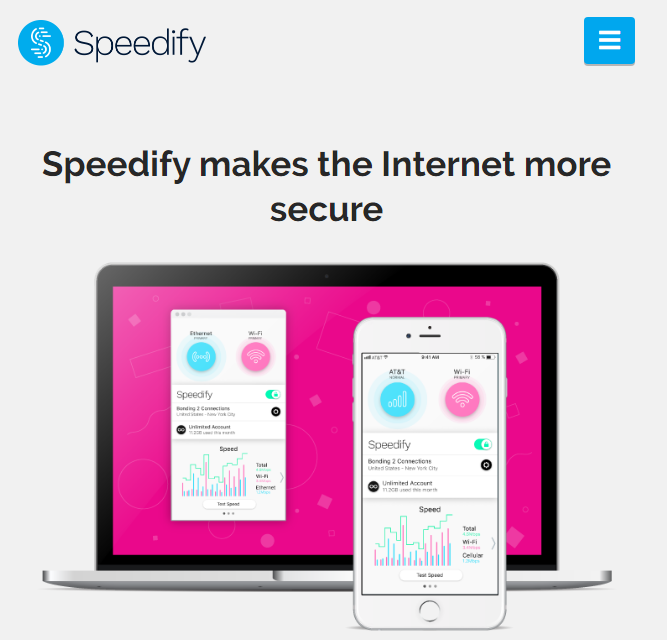 Speedify, a simple VPN, has a clever performance-enhancing mechanism. By connecting multiple connections together, Speedify creates a faster, more reliable connection. It is a great option for those who have multiple ways to get online.
However, the delivery of the service without acceleration is acceptable and the level of performance is acceptable. With more than 150 servers in 50 countries around the world, you have many options to take advantage of YouTube on screen.
Speedify works on all major platforms, minimizes user interface clutter, and liberates more application ambience than a full desktop application. What you end up with is very few settings with Redundant Mode, which is a noteworthy feature that sends all traffic over all available connections to improve reliability.
ChaCha encryption and multiple VPN protocol support can keep your data private. And the provider states that the IP address, website, or any data that you send or receive when you connect to the service will not be recorded.
Speedify offers a risk-free 30-day money-back guarantee. It also optimizes your first 1 GB of data usage every month for free, no account required. If you need more data for yourself, your family, or your team, you can upgrade for unlimited usage.
#6: PureVPN – Perfect Combination of Fastest Speed and Security
PureVPN is also a great VPN that works with YouTube and other streaming platforms. It offers you high-speed streaming, browsing, security, file sharing, or privacy. There are more than 2,000 servers and 300,000 IPs to ensure complete accessibility.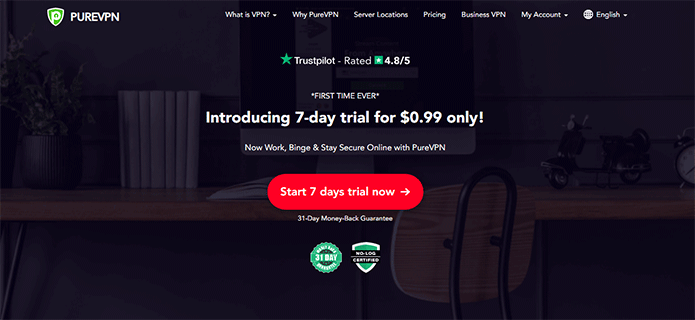 Even if the VPN connection is disconnected, PureVPN still controls your privacy, security, and anonymity. Besieds, you can launch PureVPN on your device and make any public Wi-Fi a secure Wi-Fi for your data.
The number of multiple logins per PureVPN account has increased from 5 to 10. They provide 24/7 technical support to help you when you run into an unexpected error.
If you are interested in this VPN, have a try. They offer 7-day trial for just $0.99 with all premium features and 31-day money-back guarantee.
You've learned about the best VPN services in 2020. By comparing these 6 VPNs, choose the best YouTube VPN for yourself.
I want to find the best YouTube VPN but I don't have a clue. After reading this post, I'm clear which one is suitable for me. It's a quite useful post. Click to Tweet
Bonus Tip: YouTube Blocked Video
What Caused Blocked Video?
If you've ever seen YouTube blocked in your country, you might wonder what caused the blocked videos. According to YouTube help, there are two reasons:
Video producers choose to offer their content only to certain countries (usually due to licensing).
YouTube may block certain content to comply with local laws.
How to Watch Block Videos?
In case you can't watch YouTube normally because of licensing rights or local laws, here is a very useful tip for you: download YouTube videos you like to watch.
Further reading: How to Easily and Quickly Download YouTube Videos for Free.
All you need to do is find a great YouTube downloader and then you can download YouTube videos without restriction. One such useful tool is MiniTool uTube Downloader. It enables you to download and convert YouTube videos into MP4, WEBM, MP3 and WAV.
You can get more details by reading the following posts:
It offers high-speed downloads and high-quality conversions. Besides, it's totally free. So what are you waiting for? Download it now.
MiniTool uTube DownloaderClick to Download100%Clean & Safe
Then, the following part will show you how to use this useful YouTube downloader.
Step 1: Open MiniTool YouTube Downloader.
Download and install MiniTool uTube Downloader.
Launch it and go to the main interface.
Step 2: Download Videos on YouTube.
Open the video you want to download and click the Download button in the upper right-hand corner.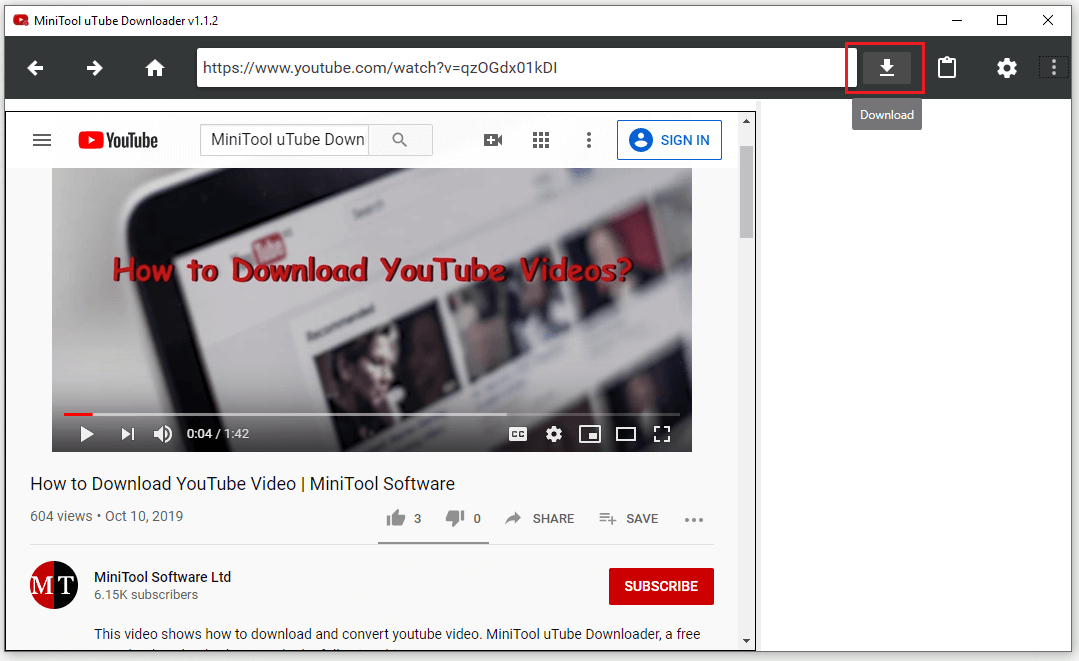 Choose one output format of the video. MP3, MP4, WAV, and WEBM are available.
Finally, click DOWNLOAD and wait for the download to complete.
Once you've downloaded your favorite YouTube videos, you can watch them anytime, anywhere, without having to worry about any problems happening on YouTube.
If you want to unblock YouTube, this post can help you: How to Unblock YouTube – 3 Methods.
MiniTool uTube Downloader is a really useful YouTube downloader. I've downloaded many YouTube videos with it. Now I can watch them very easily. Click to Tweet
Conclusion
This article covers information about the best YouTube VPNs in 2020. If you have a need, choose a YouTube VPN that works for you. Meanwhile, it also introduces you to a free YouTube downloader – MiniTool uTube Downloader. Downloading videos from YouTube with it is very easy and useful.
MiniTool uTube DownloaderClick to Download100%Clean & Safe
If you have any questions or you know any good YouTube VPN, please share them with us.
YouTube VPN FAQ
????Does VPN work for YouTube?
The answer is YES! The VPN can help encrypt your Internet connection. Besides, It also routes through the mediation server at the location of your choice. In this way, you'll be assigned a new IP address. Finally, YouTube will use this IP address to determine your location.
????Is a VPN legal?
VPNs are banned by a few countries including China, Russia, Iraq and North Korea. In most countries, VPNs are legal to use.
????Should I leave my VPN on all the time?
It isn't always necessary, but in some situations, it can be beneficial. If you are using VPN to get around geographical locks, you're worried about your online privacy, your Internet is slow or your ISP is limiting your bandwidth, then you should leave your VPN on all the time.
????Are VPN's worth it?
There are many free VPN services out there, but I highly recommend you not to use them. Free VPN providers do not pay for servers and bandwidth. It could be a data thief or hacker who sets up a VPN company and provides the service for free. While not all free VPNs are bad, it's worth buying from a reputable company if you really want to increase your privacy.