You open a video and find it say that this video is not available in your country. Or you travel abroad where blocks YouTube, but you want to watch your favorite YouTube video. So how to unblock YouTube? This post will guide you through the steps required for unblocking YouTube.
YouTube is the world's biggest video site. It's available in most countries. But in a few countries, it's still inaccessible. Besides, even you can visit the YouTube site, sometimes the video you want to watch may be blocked in your country. Try MiniTool software – MiniTool Video Converter to download YouTube videos.
Now, let's see how to unblock videos on YouTube.
Use a Proxy Website
The easiest way to unblock YouTube is using a proxy website. Here are three proxy websites. All of them can help you unblock YouTube successfully.
YouTube Unblocked
YouTube is often blocked in office or school. This web proxy allows you to unblock YouTube at school. Apart from that, it also supports unblocking videos from other websites including Twitch, Facebook, Instagram, Twitter, Dailymotion, etc. It's free and you can watch YouTube blocked videos without registration.
Here's how:
Step 1. Head to the YouTube website and find the blocked video you're looking for.
Step 2. Copy the video link and go to YouTube Unblocked.
Step 3. Paste the URL and click on the GO! button to unblock YouTube video. Then wait for a while and the blocked video will play automatically.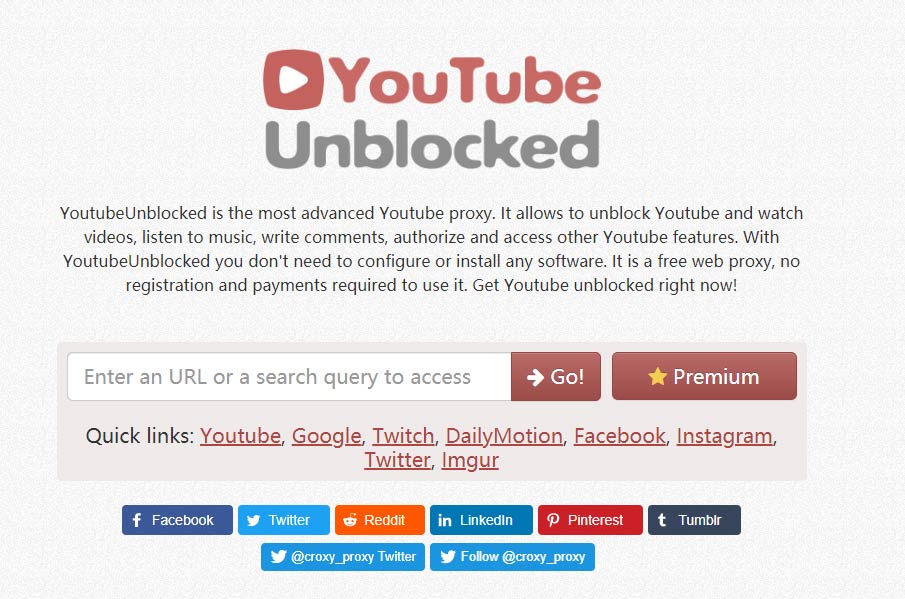 Unblock Tunnel
Unblock Tunnel is a free proxy that helps you bypass the regional restriction and unblocks YouTube videos. It comes with some features like Encrypt URL, Encrypt Page, Allow Cookies, Remove Script and Remove Objects. Encrypt URL and Allow Cookies are checked by default
To unblock YouTube, just enter the video link of the target video and hit the Enter key to go! After that, you will watch the video that is blocked in your country.
Related article: Top 10 Solutions to YouTube Video Is Not Available in 2019.
4everproxy
This web proxy is secure and anonymous. It has servers in different countries and offers a faster speed to you wherever you are. That means 4everproxy lets you change the location as needed. With this proxy, you can browse the blocked content on YouTube or Facebook anonymously and securely.
This tool is easy to use. Choose YOUTUBE PROXY to get its interface. Then enter the URL and press GO. If it doesn't work, click on Select Webserver box and change another server.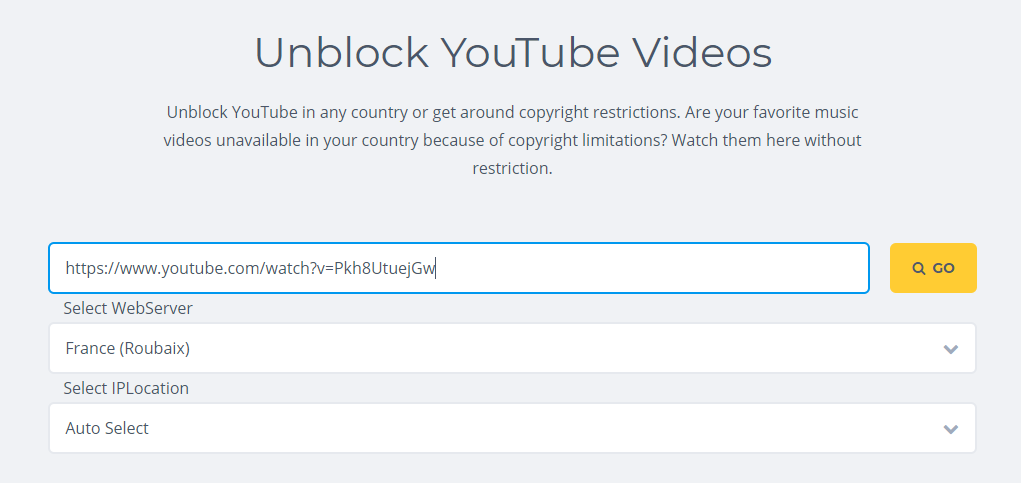 Use a VPN
VPN is the best way to unblock YouTube. It's more stable than any web proxy. There're some free VPNs on the market, but to protect your privacy, choosing a paid VPN would be better.
Here offer you serval best paid VPNs: NordVPN, ExpressVPN, TunnelBear, Windscribe and PrivateVPN.
Related article: VPN Slow? 10 Tricks to Speed up VPN Connection Speed.
Try Other Websites
The last but helpful methods to unblock YouTube is trying other websites. If a YouTube video is blocked, maybe you can find it on other websites like Twitter, Facebook, Vimeo, Dailymotion, etc.
Conclusion
This post lists three useful methods to help you unblock YouTube: use a web proxy, use a VPN and try other websites. Now, choose a method you like and have a try!
If there are any questions about how to unblock YouTube, please comment on this post and let us know.
Tips:
Ready to simplify your video tasks? Try MiniTool Video Converter today - your one-stop solution for video downloading, converting, and screen recording.