YouTube and Instagram are the most popular social media platforms today. If you want to post videos from YouTube to Instagram in order to promote your business or increase views, here're two solutions. One is downloading YouTube videos by MiniTool software – MiniTool uTube Downloader. The other is using Tube 2 Gram.
YouTube and Instagram are different video-sharing platforms. YouTube allows users to upload videos in various formats, while Instagram only supports a few video formats. Besides, the Instagram video length is shorter than the YouTube video length.
So before learning how to share YouTube to Instagram, let's take a look at the requirement of uploading Instagram video.
Video Length: From 3 seconds to 60 seconds.
Video Format: MOV and MP4.
The Maximum Video Resolution: 1920 x 1080.
The Maximum Dimension: 1080PX.
The Maximum Playback Length: 60 seconds.
Size Limit: No more than 15 MB. If you have a video larger than 15 MB, you should reduce the video size first.
Frame Rate: 30fps or less.
After knowing the requirements of Instagram video, let's dive into How to post a video from YouTube to Instagram.
How to Post a Video from YouTube to Instagram
There are two ways to share YouTube to Instagram – MiniTool uTube Downloader or Tube 2 Gram.
You can also upload Instagram videos to YouTube, read this post to download Instagram videos: How to Save Instagram Video on PC and Phone Conveniently.
MiniTool uTube Downloader
To share YouTube to Instagram, you can download the YouTube video and upload it to Instagram. If the video is too long, then you need to cut the YouTube video to meet the requirements of Instagram.
Here's how:
Step 1. Download and install MiniTool uTube Downloader.
MiniTool uTube DownloaderClick to Download100%Clean & Safe
Step 2. Launch this tool to access its main interface, get the URL from the target video on YouTube, and paste it in the address bar and go.
Step 3. Click on the download icon and choose the video format you want and choose Download.
Step 4. When it was done, you can click the search icon to locate the file. If you find the video is too long and you want to cut it, see this post: Top 5 Video Trimmers – Easily Trim Video for Free.
Step 5: Finally, post the video on Instagram. After that, you can also edit Instagram video after uploading it.
Tube 2 Gram
Tube 2 Gram is a YouTube to Instagram app that allows you to clip a YouTube video and to easily post it to Instagram and Vine. You can also download music from YouTube. It works on both iPhone and Android mobile devices.
Here's how:
Step 1. Open the website Tube 2 Gram, and click on Post YouTube To Instagram on this page.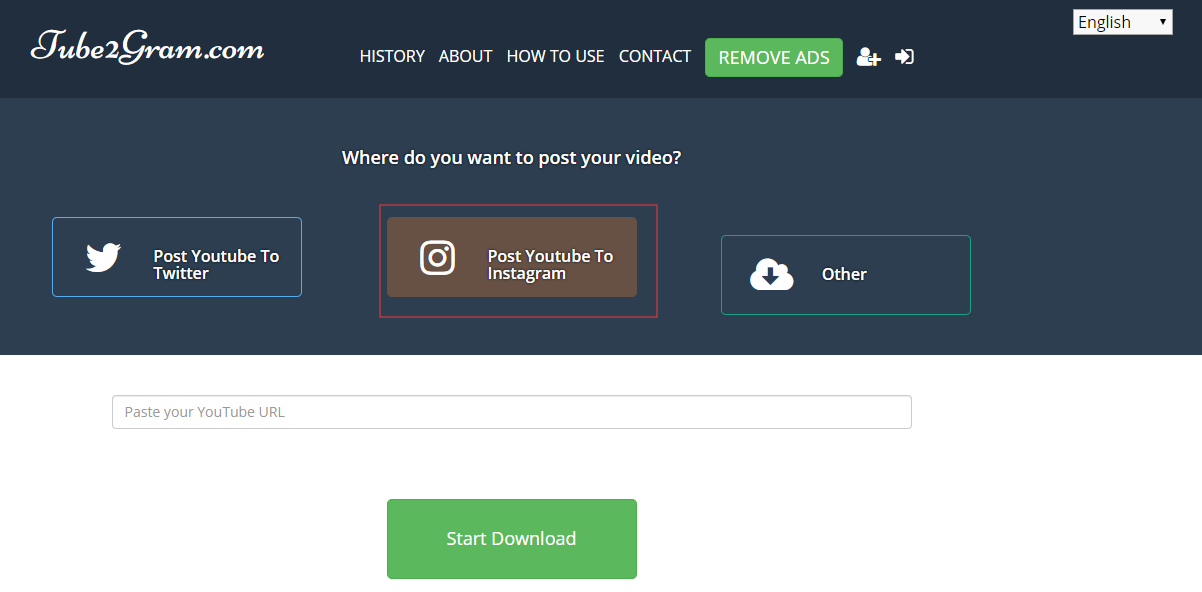 Step 2. Copy the video link of the YouTube video and paste it in the box. It will automatically load the YouTube video.
Step 3. You can drag the slider to create a clip you want to post. Remember, the clip length always should be 60 seconds or less. Then choose Start Download.
Step 4. When the process finishes, tap on Download video and you may get into the page like this. Right-click on this video clip and choose Save video as… to download the video clip.
Step 5. Now, you can directly upload the YouTube clip to Instagram.
You may like: How to Repost on Instagram – 3 Effective Methods.
Conclusion
This post offers two tips to share YouTube to Instagram. Now, it's your turn!
If there is any problem, please leave a comment and let us know.