Instagram, as one of the biggest photo and video sharing platforms, focuses on original content. So you may feel sad when you can't repost other's Instagram posts. Luckily, this post offers you 3 effective methods and it will walk you through the steps required for how to repost on Instagram.
Sharing is the most common thing in social networks. When you find some interesting content on Facebook or Twitter, you always repost and share them with friends. But things get difficult when you want to share some beautiful photos and awesome videos with your friends and followers.
You can make an Instagram video using MiniTool Movie Maker released by MiniTool.
Unlike Facebook and Twitter, Instagram won't allow you to repost other's videos and pictures.
So how to repost on Instagram? How to repost videos on Instagram?
Read this post to learn how to download Facebook videos: Free Online Facebook Video Downloader to Save Your FB Videos.
Take the Screenshot
You just want to repost a picture on Instagram, the simplest method is taking a screenshot of the picture you want to repost. Take the steps below to repost an Instagram photo.
Step 1. Launch Instagram to your feed, and find the picture you're looking for.
Step 2. Once you're here, capture the screen.
Step 3. Then use a photo editor to crop the screenshot or edit it as you like.
Step 4. When you're finished, you can publish the post by adding the picture and captions. Remember, you need to add the name of the original photographer in the caption. Or tag the user.
If you've forgotten to add the original photographer's name or tag the user, this post may help you: How to Edit Instagram Video after Uploading It - 3 Tips.
Use a Third-party App – InstaRepost
If you want to repost videos on Instagram, taking the screenshot is not proper. Therefore, using a third-party app may be the quickest way to repost videos on Instagram.
InstaRepost allows you to repost other's videos you like. Here's how to repost on Instagram.
Step 1. Download, install InstaRepost on your phone.
Step 2. Open the Instagram app and scroll down the page to find the video you want to repost.
Step 3. Tap the three dots in the top right corner of the post and select Copy Link from the drop-down list. Note that, the account you trying to repost must be public.
Step 4. It will bring you to the interface of InstaRepost app, choose Repost now to continue.
Step 5. Then you can preview the video you repost. Tap on Repost settings if you'd like to edit the video. Or directly choose the Repost option to repost the video.
If you find this tool doesn't work well, you can go to Google Play, search Repost for Instagram and choose the one you like.
Download Instagram Stories
You may wonder can I repost other's Instagram story. Of course, you can. Follow the steps below to learn how to repost Instagram story.
Step 1. Install the Chrome extension - Downloader for Instagram.
Step 2. Launch Instagram and find the account you want to repost Instagram story from.
Step 3. Tap the profile picture to watch his Instagram stories.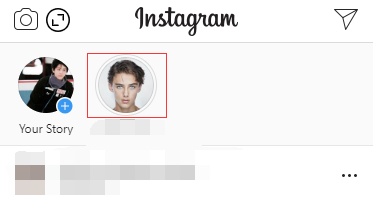 Step 4. Find the Instagram story you want to repost. Click on Download in the left top of the screen.
Step 5. Then just repeat the steps in the first part to repost Instagram story.
Related article: How to Save Instagram Video on PC and Phone Conveniently.
Conclusion
All in all, reposting videos and photos on Instagram is really a funny thing. But there is one thing you need to remember, you must let creators know you are reposting their content on Instagram.
If you have any questions about how to repost on Instagram, please leave a comment below.