YouTube Premium is a subscription-based service offered by YouTube that increases several features to the basic YouTube experience. However, many users complain that their YouTube Premium not working. You'll know why YouTube Premium is not working and how to fix this issue after seeing this post on MiniTool.
YouTube Premium (formerly known as YouTube Red) is a paid subscription service that allows you to watch YouTube videos without any ads, as well as download YouTube videos for offline viewing. YouTube Premium also offers the ability to listen to YouTube videos in the background, even while you're using other apps. Lastly, it includes access to YouTube Music Premium at no monetary cost.
However, sometimes, many users have encountered some issues after they pay for YouTube Premium. Why is my YouTube Premium not working? It's a commonly asked question. To resolve these issues, look through the following parts to discover more information.
YouTube Premium Not Working on iPhone
If you find that there's an error about your YouTube Premium on iPhone, you're in the perfect place. You can do the following if YouTube Premium is not working on your iPhone.
Restart the YouTube app. If the YouTube app has been running for a long time, it might cause an error on your phone.
Update the YouTube app. Background playback stopped, you may be using an older version of the YouTube app. Go to App Store or Google Play Store to update it.
Check the mobile data settings on your phone. Tap and hold the YouTube icon and go to App Info, then click Data Usage to check if background data is enabled for the app.
Check if YouTube Premium is available in your region. YouTube Premium is not available in all places in the world. Click here to check if your region can access YouTube Premium.
Restart your phone. This is the solution we try to solve almost every application problem.
YouTube Premium Background Play Not Working
Background play is available only if you own a YouTube Premium membership for mobile apps. With it, you can listen to YouTube videos without having the app on. Follow these steps to fix the YouTube Premium background play not working error:
Step 1. Open the YouTube app and log in to your account.
Step 2. Tap your profile picture and go to Settings.
Step 3. Choose Background Play under Background & Downloads.
Step 4. Check if this feature is on or not. If not, turn it on and you're ready to go.
YouTube Premium Family Plan Not Working
YouTube Premium family plan allows you to share your paid membership with up to five family members. If it's not working, you might have paused your YouTube membership. Here's how to resume your membership:
Step 1. After logging into your account, tap on your profile picture.
Step 2. Select Paid memberships and click Manage membership.
Step 3. Click on Resume, then click Resume again for confirmation.
YouTube Premium Downloading Videos Not Working
When you cannot download YouTube videos for offline viewing with a YouTube Premium membership, you may have enabled the option to download using Wi-Fi only. You need to allow downloading with mobile data. Here's how:
Step 1. Open the YouTube app and tap on the profile picture.
Step 2. Click on Settings and choose Background & Downloads.
Step 3. Turn off the toggle for Download over Wi-Fi only.
If this method doesn't work for you, try to use another platform to download YouTube videos. You can't miss MiniTool uTube Downloader, which allows you to download multiple YouTube videos at the same time for free.
MiniTool uTube DownloaderClick to Download100%Clean & Safe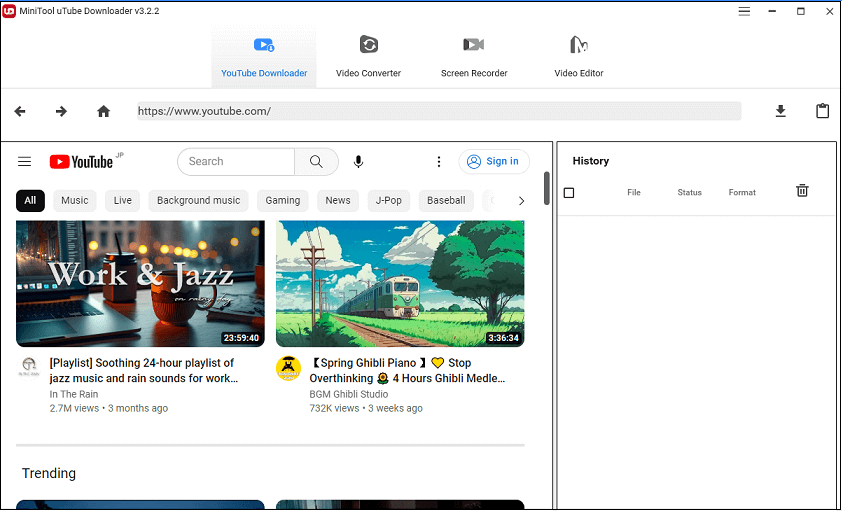 In addition to downloading YouTube videos, it can also be used to convert media file formats and record everything happening on your computer screen.
Conclusion
What can you do when your YouTube Premium is not working? How to fix YouTube Premium not working on iPhone? How to fix YouTube Premium background play not working? How to fix YouTube Premium downloading videos not working? Fortunately, this post contains all the fixes you'd like to know about these issues.