This post from MiniTool gives you some suggestions about making a YouTube profile picture. You can learn how to make and change your profile picture on YouTube.
Everything You Need to Know About YouTube Profile Picture
YouTube is one of the hottest social media platforms all over the world. There exists great competition among users, your account should be as eye-catching as you can. Your YouTube profile picture is the first thing you need to value.
A profile picture (also known as the channel icon or YouTube avatar) is a small image that represents you on social media platforms. It's important that the profile picture looks good, which can help leave a deep impression on others. Therefore, they are more likely to follow you and contact you.
On YouTube, your profile picture appears every time you upload a video or comment, and it must meet the following format: JPG, GIF, BMP, or PNG file (no animated GIFs). The ideal size for a YouTube profile picture is 800 x 800 pixels.
Tips:
To watch popular YouTube videos on your desktop, use MiniTool uTube Downloader.
MiniTool uTube DownloaderClick to Download100%Clean & Safe
How to Make a YouTube Profile Picture
Next, we offer some ideas that will help you know how to make a good profile picture for YouTube. Let's explore more!
Show your smiling face
You may find that some users often use their headshots or portrait shots as their profile pictures. In this way, you transfer who you are clearly, thus your viewers can easily recognize you whenever they see you.
Make sure your YouTube profile picture isn't too serious. If you don't want to be seen as serious or difficult to get along with, try opening your mouth to smile. Your smiles in profile pictures reflect your good social relationships.
Use a simple background
A fancy background can take the focus off of you. The focus of the profile picture should be your face. Using a simple or flat-colored background is the ideal choice.
Add elements of your brand to your profile picture
YouTube is a superb way to enhance brand awareness. If you have your own brand, you can add your brand elements to your social accounts surely. You can realize it by putting the brand color in the background and adding a mini-logo.
Be aware that don't use your brand logo as your profile picture directly. Users don't like this way. As we talked about above, faces are powerful profile pictures.
Consistent with all social media profiles
If users see you on one platform and want to search and follow you on other platforms, make it easy for them by using the same social media profile picture. It's a great way to increase your followers.
Choose a profile picture maker
You may wonder how to make a YouTube profile picture with profile picture tools. I recommend the following 3 YouTube profile picture makers.
1. Pixlr
Pixlr is a picture editing tool that allows you to customize and modify your pictures. It has a simple and user-friendly interface but is still feature-rich, which includes the homepage, editing history, popular photo templates, and image searching. If you are a beginner, maybe Pixlr is your best choice.
2. Photoshop
Photoshop is popular and very well-known for editing profile pictures on YouTube. It can be used with Windows and macOS.
Photoshop, a powerful and overall picture editing tool, has everything you'll need to edit a photo. You can create many gorgeous images, 3D graphics, and even paintings. It's suitable for experienced users.
3. Canva
Canva, a remarkably simple platform for graphic design, offers a wide range of templates for you to edit pictures effortlessly. It can be used either in a web browser or as an application for Mac, PC, iOS, and Android. You only need to take several simple steps. Let me use it in a web browser as an example.
Step 1. Go to canva.com and log in to your account.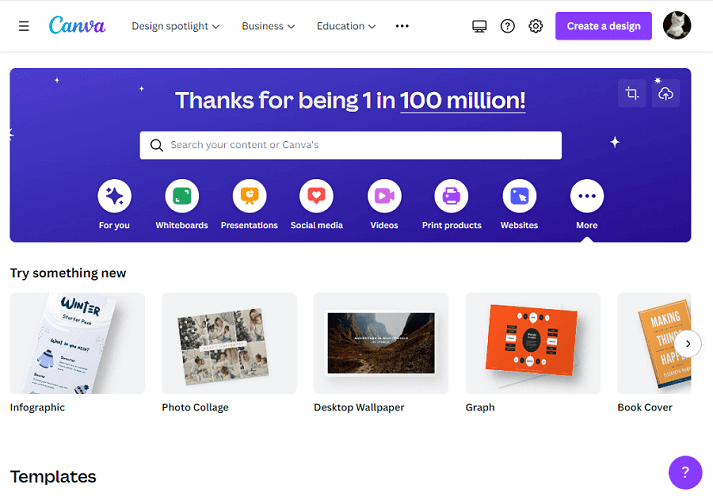 Step 2. Click on Create a design beside your account avatar.
Step 3. Tap on Edit photo and choose a picture from your computer to upload.
Step 4. You can edit the photo, such as removing the background, adding text, and filters, adjusting the white balance, light, and color, and cropping the picture.
Step 5. Click on Save to save and download the picture to your computer.
Here are some YouTube profile picture ideas and recommended tools, and you can choose one to make your YouTube profile picture.
How to Change a YouTube Profile Picture
After making your profile picture, you can use it on YouTube. In this part, we'll talk about how to change a YouTube profile picture.
Step 1. Sign in to YouTube in your computer browser and click on your current profile picture in the top right and select YouTube Studio.
Step 2. Select Branding under Channel Customization.
Step 3. Click CHANGE and select an image, then click DONE.
Step 4. Click PUBLISH. Then your profile picture changed successfully.
Conclusion
Seeing this post, you may have inspiration about how to make a YouTube profile picture. You can make and change your YouTube profile picture now.