YouTube has rolled out a new playback feature to its web player and mobile apps that let users find out the most replayed parts of a video they're watching. How does the YouTube most replayed feature work? How to find it anyway? Keep on reading to get more information about it.
The following parts will cover what YouTube most replayed feature is and how does this feature work. Besides, if you want to save some YouTube videos for offline watching, the free and safe tool is recommended to you - MiniTool uTube Downloader.
MiniTool Youtube DownloaderClick to Download100%Free & Clean
What Is YouTube Most Replayed Feature?
YouTube most replayed feature marks out the most popular parts of videos. YouTube most replayed graph will help people easily identify and locate parts of videos that have been replayed most. The feature was previously available as an experiment for YouTube Premium subscribers, but now it is available to anyone who uses YouTube from a browser or the official iOS and Android apps.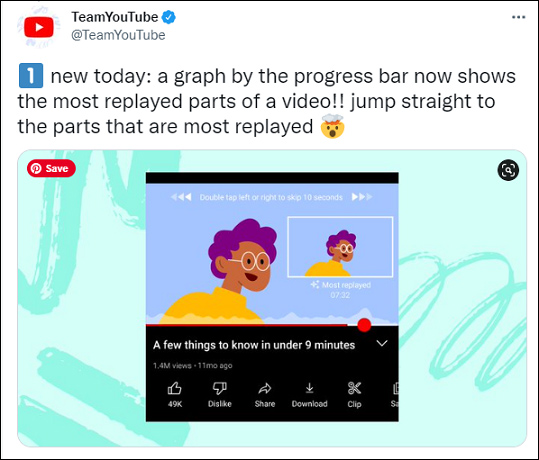 With this new feature, you'll be able to identify the most popular parts of a video from a graph that appears behind its progress bar.  As explained by Google: "If the graph is high, then that part of the video has been replayed often. You can use the graph to quickly find and watch those moments."
The feature is being pitched as particularly helpful for longer videos or those that haven't been broken down into sections using timestamps or chapters, allowing viewers to scrub through any YouTube video to find the most interesting parts or "seek to the exact moment in a video that you want to watch".
For example, the feature could be helpful to point users more to the useful parts of tutorial videos, or to the segment that has the most action, like the most-watched part of footage from a gaming video.
As for creators, this new feature is a way to steer the work, giving them another signal to identify exactly what viewers want to see (an aspect of the platform that some YouTubers say creates unwanted pressure).
How Does YouTube Most Replayed Feature Work?
The YouTube most replayed feature shows in the form of a subtle grey graph as one progresses through a video with the red playback progress bar. A high graph indicates that the particular segment has been replayed frequently.
Viewers can use the graph to know which parts of the video might have important content, and jump to those certain portions of the video and revisit it directly. There is also a video thumbnail that appears to indicate once you have hit the segment that has been replayed the most.
Previously, viewers had to manually navigate back to the point in the video when they wanted to replay it, but now these chapters could be created automatically.
As one of the largest video platforms, YouTube updates its apps and website with new features frequently. One such feature was hiding the dislike count on videos. According to YouTube, the hiding of the dislike count on all videos was designed to help tackle coordinated dislike campaigns.
If you want to return the YouTube video dislike counts, you can click How to See Dislikes on YouTube Again? Restore the Dislike Counts.
In addition to Most Replayed, YouTube also rolled out support for video chapters to smart TVs and gaming consoles, which allows viewers to easily jump forward to a particular section of a video. Another newly added feature is called Single Loop, which allows users to put any individual video on an endless loop.
Bottom Line
That's all set! We have learned the new YouTube Most Replayed feature in this article. Just check this new feature and find the YouTube most replayed parts of videos!