On September 17, 2019, Google announced the introduction of Key Moments in Google Search to provide a richer user experience, which means Google Search will provide links to key moments within videos based on YouTube timestamps provided by the content creators. To create excellent YouTube content, try MiniTool software.
Do you want to point out the specific moments of your videos for your subscribers? YouTube timestamp can do it for you. Now you might wonder what YouTube timestamp is. Don't worry. This article will explain its meaning and show you how to use it.
What Is YouTube Timestamp
YouTube Timestamp is important for YouTube videos, especially those long videos with funny moments. YouTube timestamp links make people quickly and easily find out and view the content they need when searching via Google or YouTube.
Recommend: How to Put Links to Your YouTube Description
The Importance of YouTube Timestamp
Enhance user experience: Traditionally, looking for a specific part of a video is a frustrating experience, especially for those long videos. Subscribers must look through the video content from beginning to end to find it. With YouTube timestamp, it's a piece of cake.
Maximize SEO opportunities: The timestamps appear below the video thumbnails in Google search results, making it easier for people to directly enter the specific video locations marked by content creators. Not only can you find video clips on YouTube, but also discover them through Google Search.
Related article: 5 Powerful Secrets of YouTube SEO to Rank Video in 2019 | Guide
How to Timestamp YouTube Videos
It's easy to timestamp your YouTube videos as long as you follow the guide below.
Step 1. Go to YouTube in your browser and log in to your YouTube account.
Step 2. Open the video you want to add timestamp on.
Step 3. Once you reach the exact moment, click Pause icon.
Step 4. Click the Share button, and the sharing window will pop up.
Step 5. Underneath the URL, check the small box in front of Start at. This action automatically adds the timestamp to the URL. By default, it shows the time you click SHARE button, but you can change it.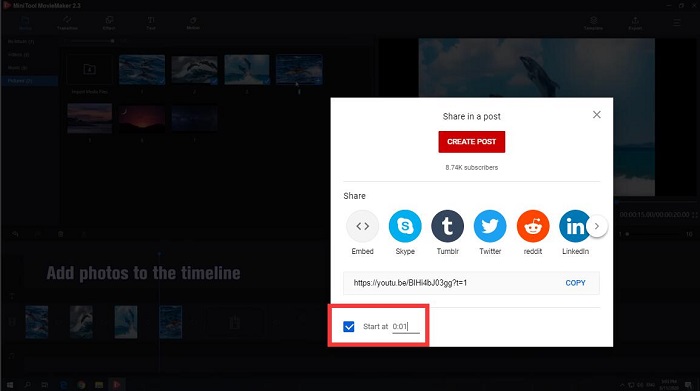 Then, you can share this link with others. When the link is clicked, the video will open on YouTube and start at the specific time.
How to Timestamp YouTube Comments (Desktop)
Step 1. Visit the YouTube website and sign into your account.
Step 2. Find out and play back the video you want to add timestamp on.
Step 3. Pause the video when you reach the specific moment. At the bottom left of this window, you will see the timestamp.
Step 4. Now scroll down and click the box – Add a public comment.
Recommend: 2 Ways to Comment on a YouTube Video Quickly and Easily
Step 5. In this box, type in the chosen timestamp exactly as it appeared on the video. Of course, you can add a description for this specific time.
Step 6. Last, click the Comment button. Your timestamp will turn blue and a unique link will be created.
Bottom Line
Now, it's your turn. Try adding YouTube timestamps to highlight golden information in your videos. If you have any questions or suggestions about it, please let us know via [email protected] or share them in the comments section below.