If you have a YouTube channel and want to bring traffic to your brand, products, or services, you can do this in your YouTube videos. You can add links to YouTube videos. Then, how do you add links to your YouTube videos? This post will offer you the methods.
Here, I will also recommend you a free and safe YouTube video downloader – MiniTool uTube Downloader. You can download your favorite YouTube videos for offline watching!
MiniTool uTube DownloaderClick to Download100%Clean & Safe
Firstly, let's make it clear what types of content you can link to your YouTube videos, as the safety of users is YouTube's number one priority. You can link your own verified and associate site (joining YouTube's Partner Program is needed), other related videos, approved crowdfunding, and eCommerce sites to your video.
There are two ways to add clickable links to YouTube videos directly: cards and end screens. In the following section, we will walk you through how do you add links to your YouTube video using those tools.
How to Add Links to YouTube Videos Using Cards?
YouTube cards appear during videos in the top right corner and can direct viewers to a specific website when watching your content. The playlists, videos, polls, and links to other websites are allowed to be added.
Note:
To access links to external websites in your YouTube cards, you need to join the YouTube Partner Program with a minimum of 4000 hours of watch time in the last 12 months and at least 1000 subscribers.
Read this post to increase your YouTube watch time: [Guide] 8 Tips to Increase YouTube Watch Time.
If you are eligible, adding links to YouTube video cards is very easy. Follow these steps to add links to YouTube videos with cards:
Step 1. Log in to your YouTube account and head to the YouTube Studio. Then select the Content option from the menu on the left.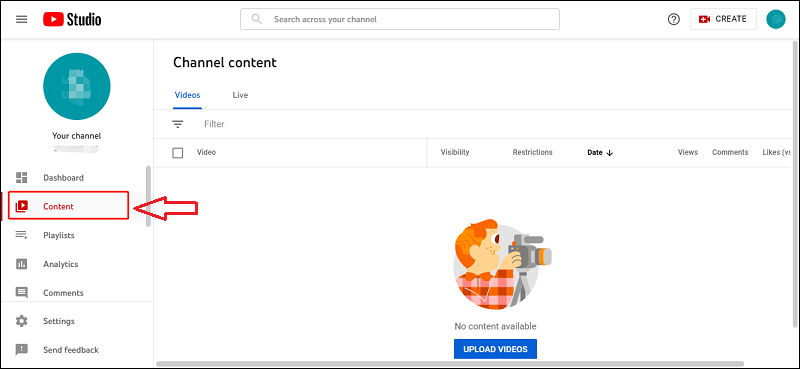 Step 2. Upload a video.
After uploading the video, fill out the required boxes. This includes adding a title, description, thumbnail, and mark if your video is suitable for kids or not. If you mark that your video is for kids, you cannot add clickable links or cards to your YouTube video.
Step 3. Add cards to the video.
Once you have uploaded it to your library, click on the pencil icon for the YouTube video you want to add a link to. Then, select Add cards in the Video elements screen.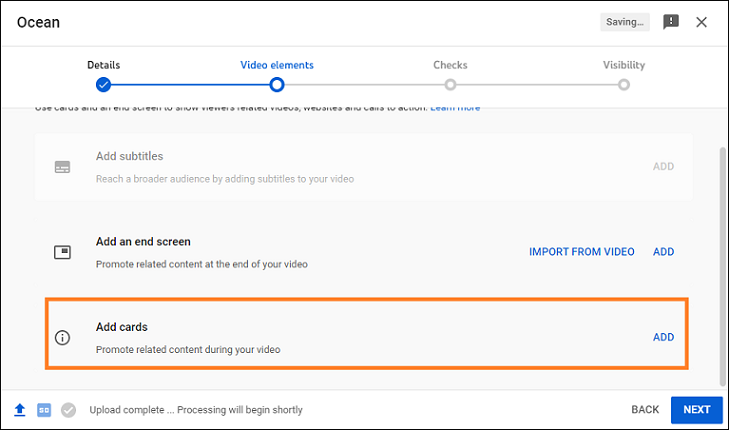 Step 4. Choose the type of card you want to add (video, playlist, channel).
Clicking the + button and choose if it will take the viewer to another video, playlist, or channel. After that, you can add an image that you want to show on the card, card title, teaser text, and call to action to prompt your audience to click on your link in the top right of your YouTube video.
Step 5. Adjust the timing of the YouTube card and click Save.
You can manually type in the frame or second or drag the marker to where the teaser should appear in your video on the timeline. Then, hit Save and you're all set!
How to Add Links to YouTube Videos Using End Screens?
The second option is using the end screens to add a clickable link to your YouTube video. The end screen is similar to the card but it can only be applied at the end of the YouTube video. The End Screen can be added while uploading or after uploading the video. Let's figure it out one by one.
How to add a link to a YouTube video while uploading?
Step 1. Open up the YouTube Studio dashboard and click on Upload Videos. Choose the video you want to upload.
Step 2. Fill in the details for your video and choose or upload a thumbnail for your YouTube video. Click Next to move forward and select Add an end screen in the Video Elements screen.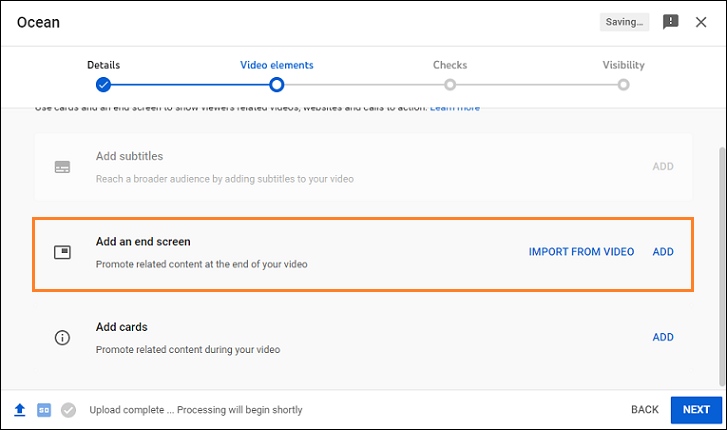 Step 3. Click + Element to add the link at the end of your video.
How to add a link to a YouTube video after uploading?
Adding a link to the already uploaded YouTube video is also quite easy.
Step 1. Go to the Content section from the menu on the left-hand side of the screen.
Step 2. Select your desired video and click the End screen.
Step 3. Click + Element to add a clickable link to the end of the video.
You may be interested in 8 Simple Ways to Increase YouTube Subscribers (Guide).
Conclusion
Now you must have known how to add click links to YouTube videos. Just add clickable link to video to reach new audiences and bring traffic to your business now!