Have you noticed the double ads on YouTube? In this post, MiniTool digs into YouTube Double Ads to help you gays figure them about, including the reasons for YouTube to introduce them, their influence on YouTube advertisers and viewers, and more.
What're YouTube Double Ads?
YouTube is a quite popular video-sharing platform where viewers watch all kinds of videos, including cooking, documentary, and more and the average account of video content watched daily is around 1 billion hours per day around the world.
Seeing the large number, marketers created ads on YouTube early in 2009 to attract customers. However, the ad format was annoying to the viewers: one ad appears at the beginning of one YouTube video and another one appears in the middle of the video.
Facing the annoying interruption, in between late 2017 and early 2019, YouTube upgraded its advertising format to Double Ads. Under the new ad format, the two adds appear at the beginning of one YouTube video and without interrupting the main video.
Owing to this, viewers can experience up to 40 percent fewer interruptions. But note that the Double Ads do not show up on every video you watch on YouTube. It appears on those YouTube videos that have a longer time duration (How long a YouTube video can be).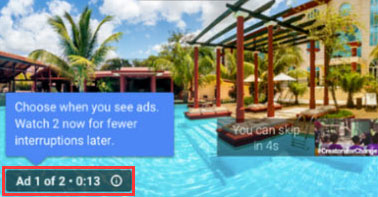 Aside from reducing advertisement interruption, the introduction of Double Ads on YouTube is also about generating money. The new advertising format benefits advertisers and YouTubers—their revenues are rising. The reason is that there are high chance viewers will watch the ads when there is a fewer annoying interruption.
The new advertising format is just the same as other running ads on YouTube and therefore there are no restrictions on business to use it. So, if you are a YouTube advertiser, you can take advantage of it to promote your business and make more money.
Before creating a video for the YouTube Double Ads, you should figure out who is your target audience as this does not only add revenue in your business and prevent money waste. The next step you should take is to create content for your ad video. You can engage the viewers through dialogs, video presentations, and a short story.
If you do not know how to make a video for your Double Ads on YouTube, you can refer to How to Make a Video.
Do Not Want to Watch Ads on YouTube
Although the introduction of YouTube Double Ads reduces the interruption, lots of us are reluctant to watch ads. If you want to watch YouTube videos without ads, you can use YouTube Premium that is a paid streaming subscription service. Besides the benefit, with YouTube Premium, you can also:
Watch YouTube videos offline;
Enjoy both YouTube Music Premium and Google Play Music;
Play YouTube videos in the background.
To know more details about the four benefits, please read Why You Need YouTube Premium. If you don't need the service, you can also cancel it.
Bottom Line
It is a wise move that YouTube introduces the new advertising format. The new ad format benefits viewers, advertisers as well as YouTubers. What I want to talk about YouTube Double Ads comes to an end. If you still have some doubts about it, please feel free to leave them in the following comment zone and we will reply to you as soon as possible.