What are YouTube annotations? How to add and remove annotations on YouTube? This post answers these questions one by one. By the way, if you want to learn YouTube more, you can visit MiniTool uTube Downloader.
What Are YouTube Annotations?
YouTube annotations are clickable images and text you can add to each of your videos that encourage views to take an action at specific time points in your videos.

Google Creators Academy
YouTube annotations are the tools that maximize the overall success of your YouTube videos, such as an increment in a video's value to the viewer, engagement, video views, subscribers, and so on. However, some people consider YouTube annotations as annoying click boxes.
This is about what YouTube annotations are, and now let's continue to see their types.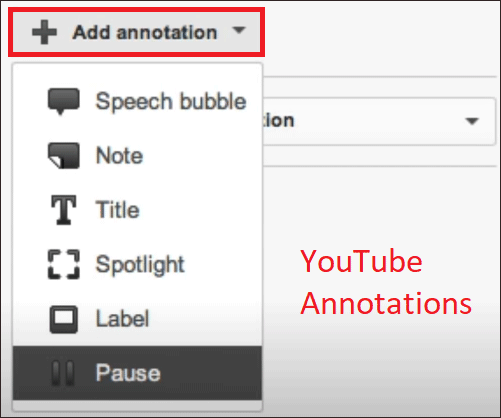 YouTube annotations can be divided into several different types:
Speech bubble annotations are cartoon-like and appear at the top of each YouTube video. They are used for conveying information or the thoughts of the video creator. And they can be linked directly to adjoining YouTube content.
Note annotations show up as basic black or white text over a colored background. They are linkable to other YouTube videos and pages, and changeable — the message, size, placement, and duration of the note can be changed.
Title annotations are neither linkable nor unlimited. However, they are useful branding tools and provide viewers an idea about a video's content.
Spotlight annotations display a custom message when the viewers scroll their mouse over a defined area. They are often used to create interactive end cards that link to other videos or websites.
Label annotations are similar to spotlight annotations — label annotations display a custom text when the viewers scroll their mouse over a defined area. The difference is that label annotations appear below the defined frame and have slightly different configurations.
Pause annotations can pause a video so that viewers can spend extra time doing some things.
How to Add and Remove Annotations on YouTube?
Lots of people have questions related to YouTube annotations, like "how to add annotations on YouTube" and "how to remove annotations on YouTube".
How to add annotations on YouTube? That can be completed through the annotations editor, but it was discontinued back in 2017. The reason is that YouTube annotations were outdated and out of place.
Annotations Editor launched in 2008 before the world went mobile. With 60 percent of YouTube's watchtime now on mobile, why go through the work of creating annotations that won't even reach the majority of your audience?

Muli Salem
Cheer up! YouTube launches mobile-friendly products like Cards and End Screens that can help you reach more fans and keep them engaged.
How to remove annotations on YouTube? YouTube allowed you to remove YouTube annotations through the following ways:
Hover over an individual annotation and click the X button.
Click the gear button in the menu bar along the bottom edge of the video player. Then, turn off the switch related to annotations.
Click your YouTube avatar and choose the Settings option. Then, click the Playback option on the left and then untick the checkbox for "Show annotations, channel promotions and interactive cards on videos".
Bottom Line
All in all, YouTube annotations are clickable images and text but they are unavailable since 2017.
Do you have any doubts about the topic? If yes, please leave them in the comment zone.