Most of the people have to rely on subtitles, when actors speak too fast for them to catch or people who suffered a hearing problem. If you want to increase viewers, you need to take these factors into account. This post illustrates the details about adding YouTube subtitles and a practical skill (add titles) to attract more viewers by using
MiniTool Software
.
Why Need to Add Subtitles to YouTube Video
In daily life, captions are everywhere to be seen as you watch drama series, movies, mv and YouTube videos. For most of us, captions help us understand video content better. But for some people, watching videos with subtitles become an essential part of their life.
Why subtitles become so important? Why need to add subtitles to YouTube video? Have a look at the following reasons.
According to World Health Organization, over 5% of the world's population (around 466 million) has disabling hearing loss. Subtitles can be the only way for them to grasp the detail of video and engage in video and enjoy it.
Living in the age of information explosion, people tend to quickly view videos without sound. Only when they find some interesting videos, they are tending to play videos with sound to learn more. So how to identify which video content is interesting? Of course, the importance of subtitles can't be ignored.
As a world-famous video-sharing website, YouTube has billions of users from all over the world. When you want to attract people to view your video, the language barrier would be a big problem. Therefore, add YouTube subtitles in multiple languages can't be better.
Especially for those people who want to learn languages through your YouTube video. Subtitles help them learn languages faster.
Sometimes, even if native speakers are watching their dramas, they may feel confused about some dialects in dramas or these actors speak too fast. With captions, they'll understand them better.
If you add subtitles to a video, your target audience will increase, such as people who have hearing loss or hard of hearing. Moreover, the captioned video will engage the attention of viewers.
How to Add Subtitles to YouTube Video
Now, you've seen the importance of adding subtitles. Let's take a look at how to add subtitles to a video. This post gives you three ways to caption your video.
Want to create YouTube captions with subtitle editor? Upload subtitle files to your YouTube video, or create new YouTube subtitles. It's up to you.
Way 1: Add Subtitles to YouTube Video by YouTube Editor
If you forgot to add YouTube subtitles and don't want to download any caption editing software. YouTube built-in caption editor would be your first choice.
Step 1: Log in to your YouTube account, then click your avatar and select YouTube Studio (beta) option from the drop-down list.
Step 2: Click on Transcriptions to manage your YouTube videos.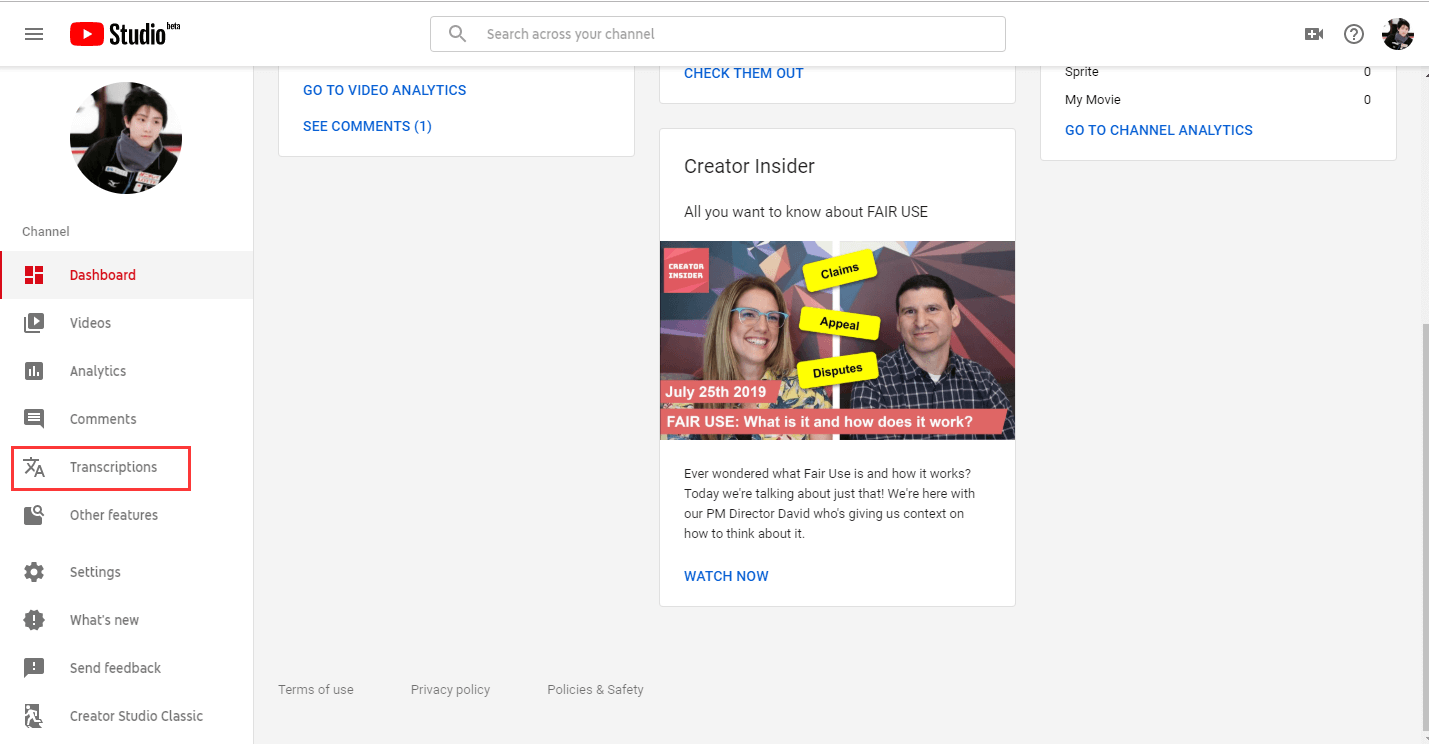 Step 3: Select the video you want to add captions. Click on this icon, then tap on ADD to start to caption your video.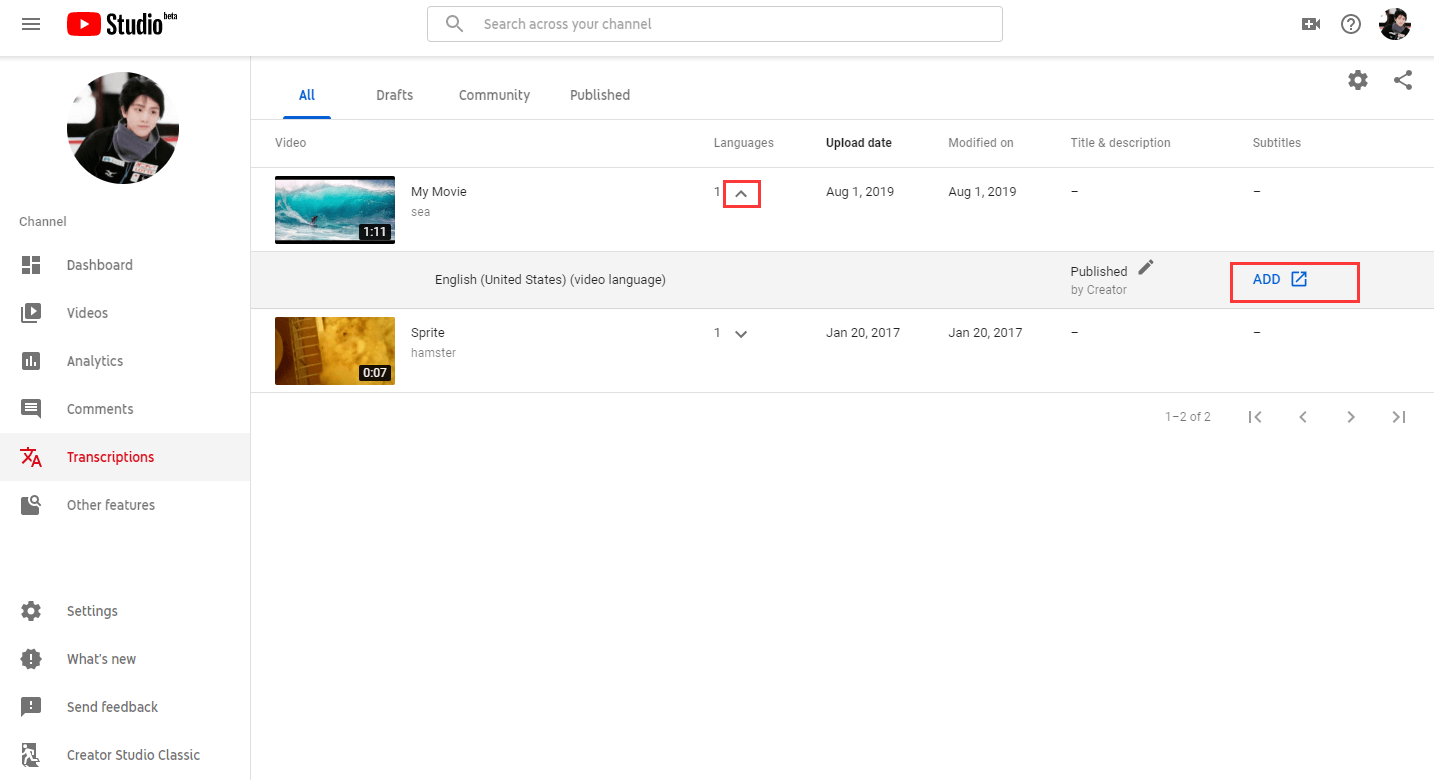 Step 4: You will see three options to add YouTube subtitles. Choose to Create new subtitles or CC option to caption the video.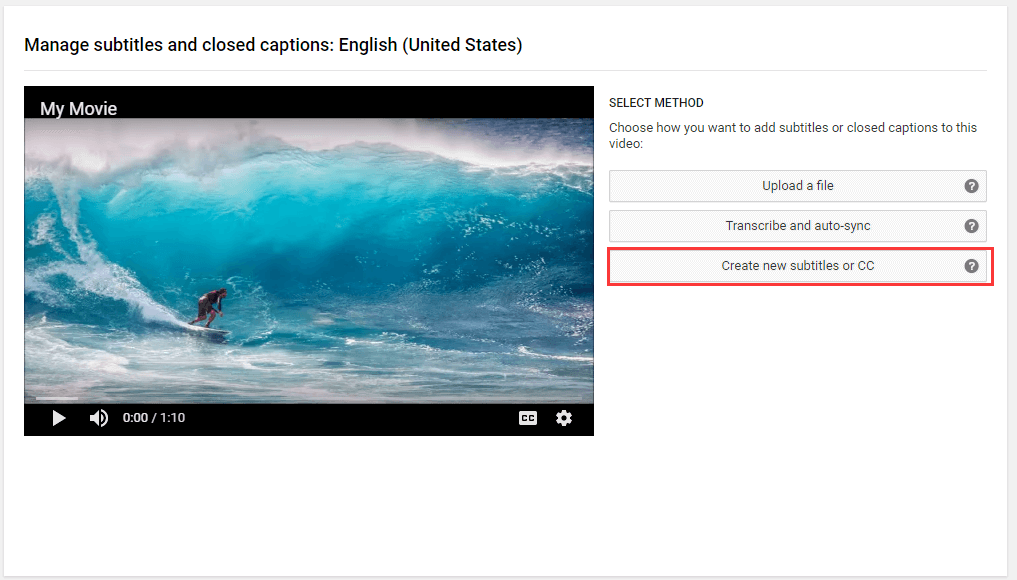 Tip:
1. Upload a file: If you already have a text transcript or timed subtitles file, you can directly upload it.
2. Transcribe and auto-sync: Type everything that's spoken in the video, then choose 'Set timings' automatically align your text with the speech in the video.
Step 5: Type captions in the box then hit the Enter key. If you find subtitle is not line up with the speech, you can move the blue slider bar to adjust it. Then click on Publish after confirming YouTube subtitles.
Step 6: After subtitles publish, click on CC to turn on your video subtitle. Then your audience can watch the video with caption.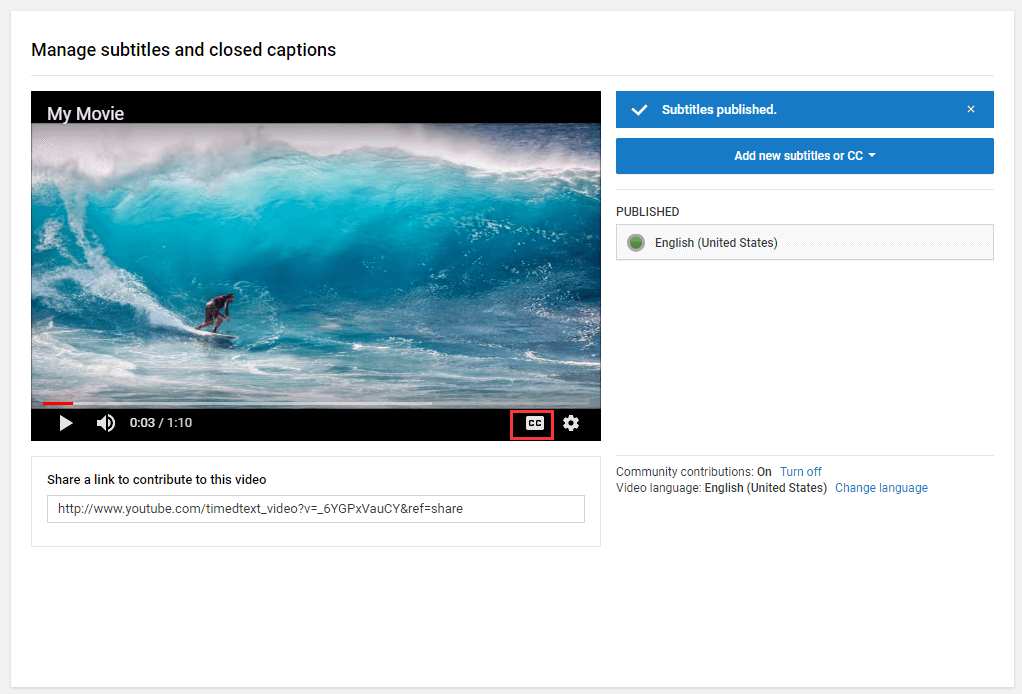 When you need to change the font size, style, or color of your YouTube video, this time YouTube editor is not helpful at all. You just want to caption your short video, there's no need to install a professional subtitle editor. Using Windows Movie Maker is just enough.
Windows Movie Maker is a simple tool to edit video. With it, you can not only add amazing subtitles to your video, but also add title, credit and narration to video.
Step 1: Download and install Windows Movie Maker, then launch it to the main interface.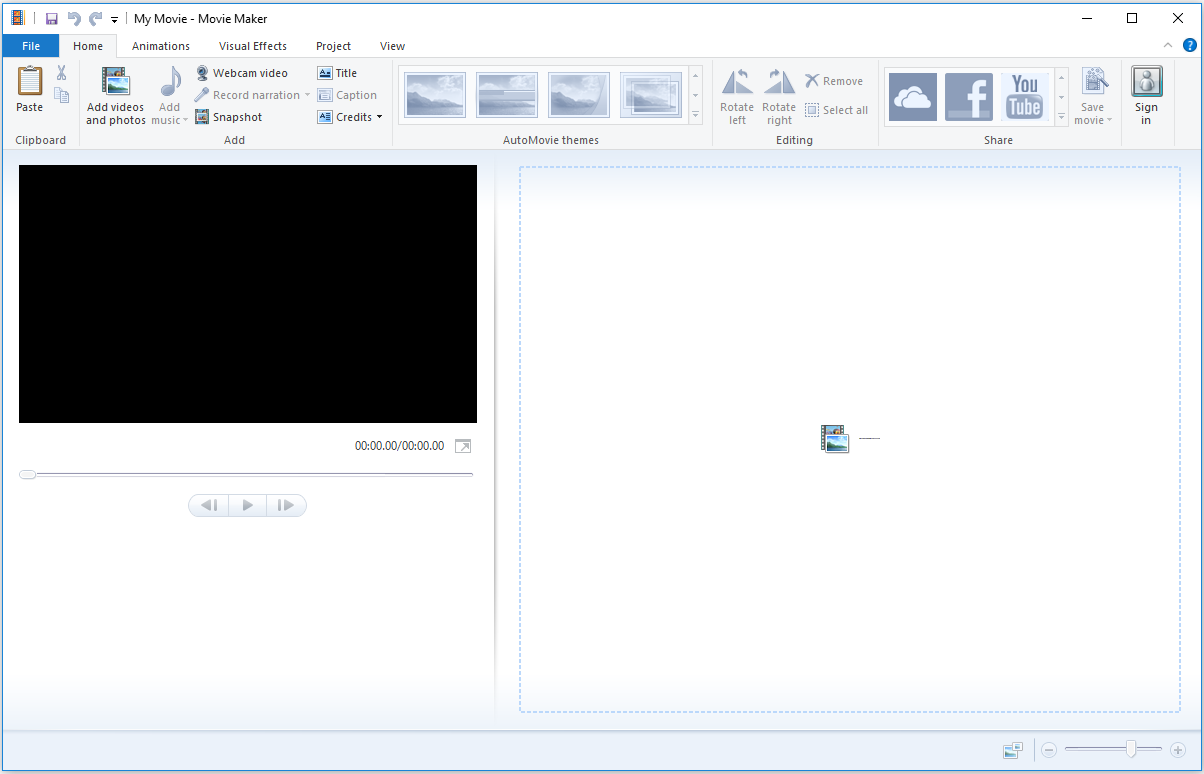 Step 2: Click on Add videos and photos in the toolbar, choose the video you want to add caption. Then select the clip and tap on Caption to text.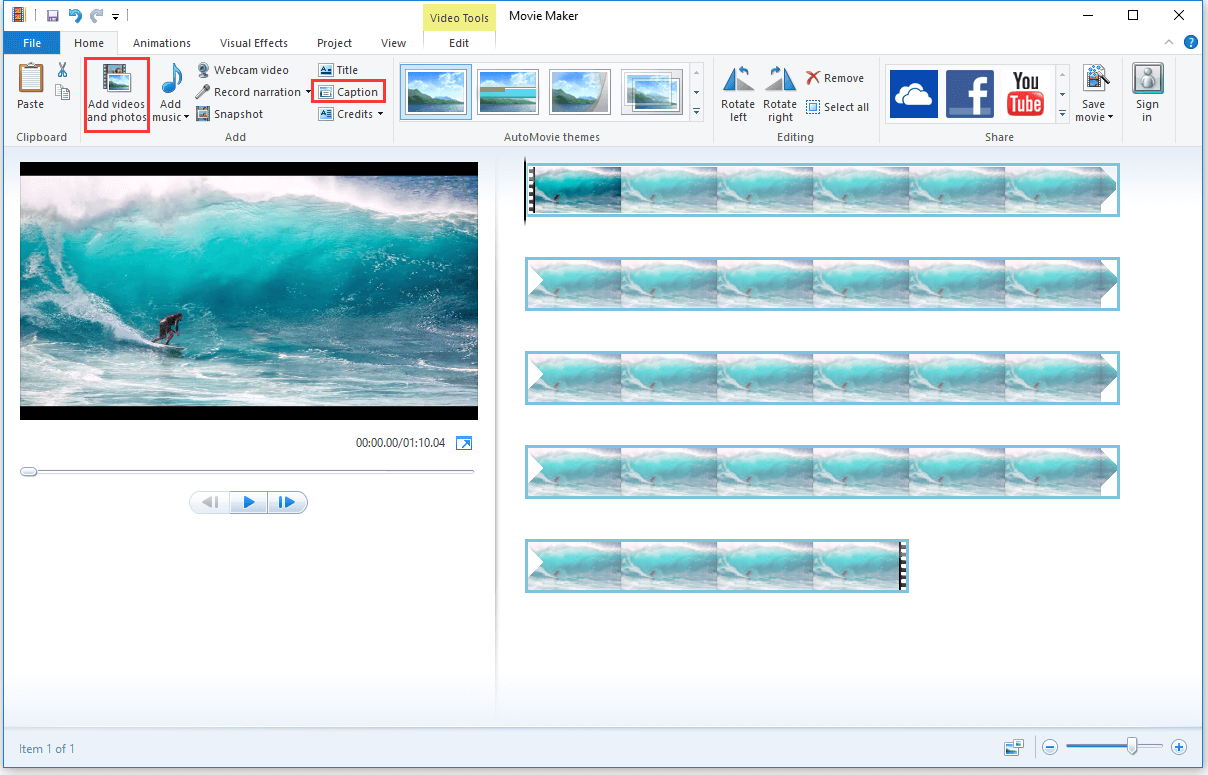 Step 3: On the Text Tools page, after captioning your video, you can adjust the time to ensure subtitles synchronize with the audio track. Then you can change the font style, size, and color in the Font tab. Besides, this tool also allows you to add effects to subtitles.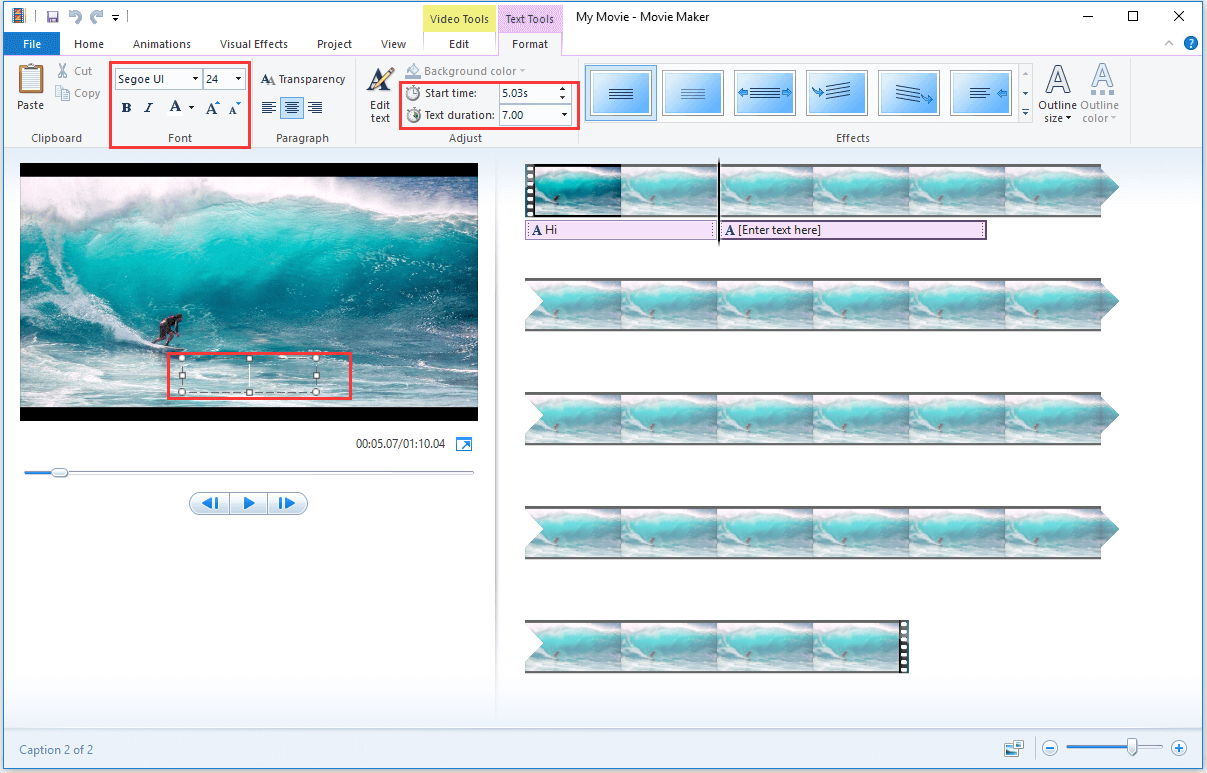 Step 4: Then click on Save movie in the toolbar, select the device you want to save for.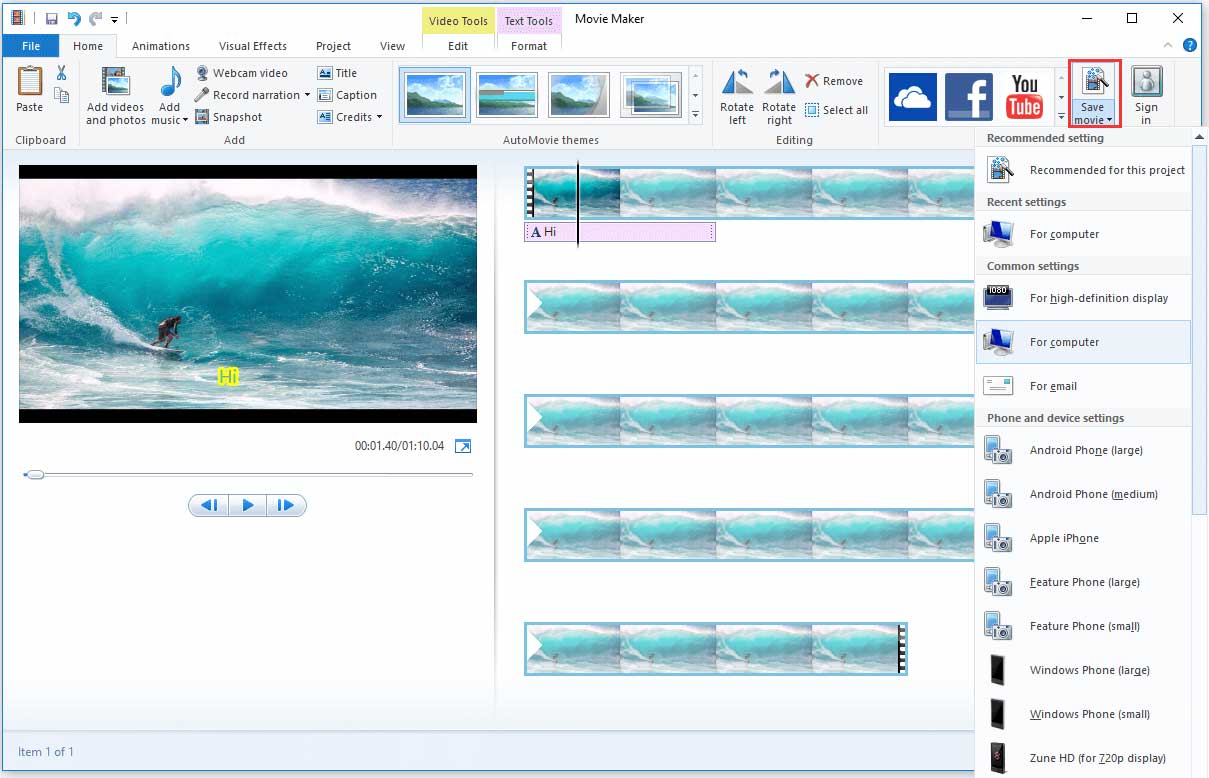 After exporting your captioned video, you need to upload it to YouTube again.
You may want to know more about Windows Movie Maker, see: 6 Things You Need to Know About Free Windows Movie Maker
Way 3: Add Subtitles to YouTube Video by Subtitle Editor
When you want to caption your movie or drama, it will take a long time to do it. If you want to add effects to your video captions, you may consider using professional subtitle editors.
Therefore, powerful subtitle editing software is essential. It can save you time and make some advanced settings for YouTube subtitles. Here recommend you two best subtitle software – Subtitle Edit and Aegisub.
Subtitle Edit
Subtitle Edit is a free editor for video subtitles, aimed at movie captions. It offers you several different ways to adjust subtitles if it is not synced with the video. This can help you create, adjust, sync, and translate captions.
Pros
It's free to use.
It supports 200+ different formats and numerous languages.
It can rip subtitles from a decrypted DVD.
It offers you an online version for subtitles editing.
Cons
It only offers online help.
Aegisub
Aegisub is a free cross-platform and highly customizable subtitle editing program. This tool also has a simple and intuitive interface for editing subtitles. With it, you can clip, drag or rotate captions on the video and add amazing effects to subtitles.
Pros
It's free.
It has a powerful interface for editing captions.
It supports many formats and multiple language subtitles.
It can open most common video formats.
It has a translation assistant, which lets you type translation without having to worry about choosing the original.
It helps users coordinate the time axis quickly.
Cons
Some functions are complex.
The two caption editing software are very helpful for you to add subtitles to movies or long videos. Choose a suitable YouTube subtitles editor to make your video popular.
You may interest in: How to Easily and Quickly Download YouTube Video Free
How to Add Subtitles to Someone Else's YouTube Videos
I would like to offer a translation to another user's video on YouTube. The original video is in Spanish and I would like to write a Hebrew translation that would be relevant to very few people. The easiest way to do it would be downloading the original video, re-upload it and add the subtitles. This can be a problem for the original author. Is there any other, more elegant way to do this?https://webapps.stackexchange.com
The answer is yes. Of course, there is a more elegant way to contribute subtitles to other's YouTube videos. You can upload your translation to the video. If your translation gets the author's approval, the translation would add to the video.
You need to know what subtitle file formats YouTube support:
Basic file formats: .srt, .sbv or .sub, .mpsub, .lrc, .cap.
Advanced file formats: .smi or .sami, .rt, .vtt, .ttml, .dfxp.
Broadcast file formats (TV and movies): .scc, .stl, .tds, .cin, .asc, .cap.
Besides, you can also add translation to the video online. This part will illustrate how to add your translation to other's YouTube videos in detail.
Step 1: Login your YouTube account and find the video you want to add translation.
Step 2: Click three dots, then select Add translation option from the pop-up list.
Step 3: On YOUR CONTRIBUTIONS page, input your translation in the box one by one. After that, click on Submit contribution to upload your translation.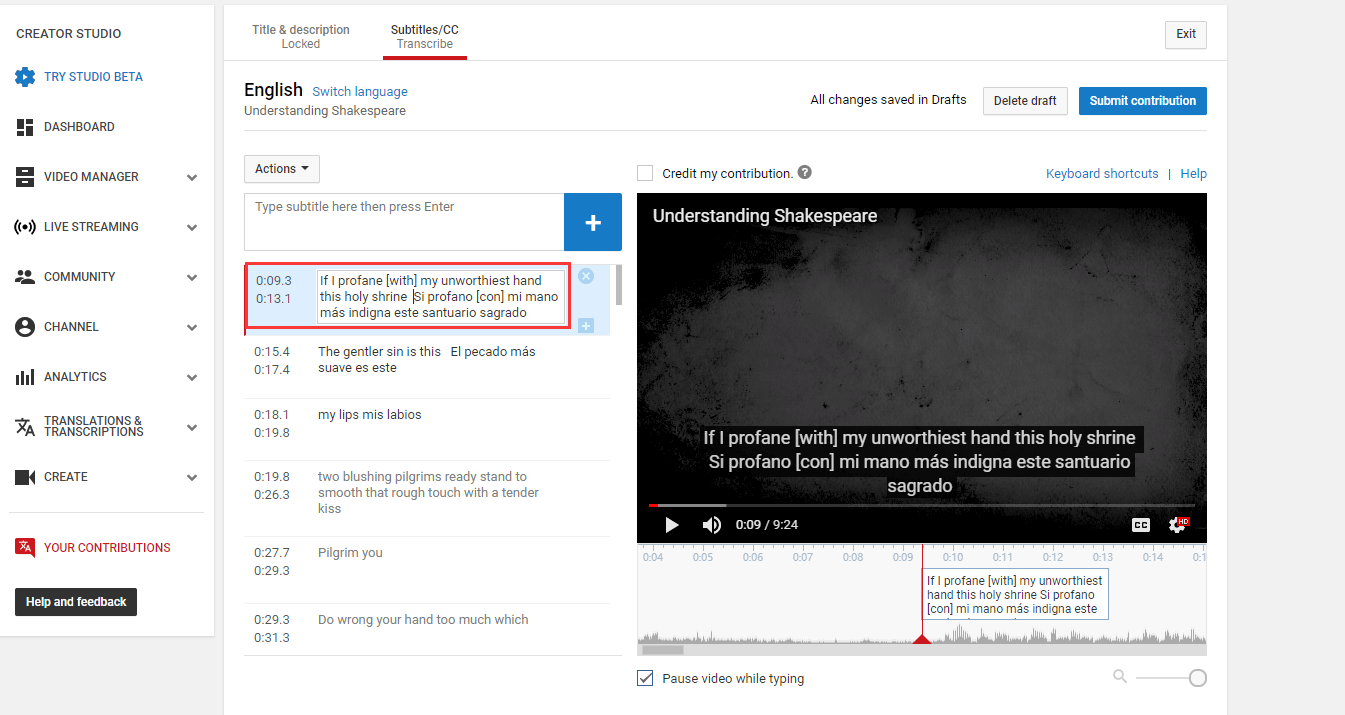 Tip:
Click the Action button, select Upload a file to load your translation.
You may also like: 5 Best Places to Download Game of Thrones Subtitles Free
After you learn how to add subtitles to your video or other's YouTube video. You may interest in how to add a title to video. If you want to learn more about it, continue to read this post.
Further Reading: How to Add a Title to YouTube Video
In YouTube videos or movies, the title is displayed at the very beginning and shown some important information, such as the theme and director of the video. And a good title concerns whether people choose to continue to watch your video or not.
So how to make a good title to attract more people to watch your video? Choosing a professional video editor is vital to make a title, such as Adobe Premiere Pro, Final Cut Pro, etc. If you find it's difficult to make a title by these video editors. MiniTool Movie Maker is a good option.
MiniTool Movie Maker has an intuitive interface. It's a video editor without watermark. This tool also offers you some titles, captions, and credits templates. Not only that, but you can also add some amazing effects and transitions to your video.
With it, you can trim and split the video to save the clip you like and add music to your video. It also supports many different video formats: .rmvb, .3gp, .mov, .avi, .flv, .mkv, .mp4, .mpg, .vob, and .wmv. Click here to download this powerful software.
This part will tell you how to add a title to a YouTube video step by step.
Step 1: Download and install MiniTool Movie Maker, launch it and click Full-Feature Mode or close the pop-up window to access its main interface.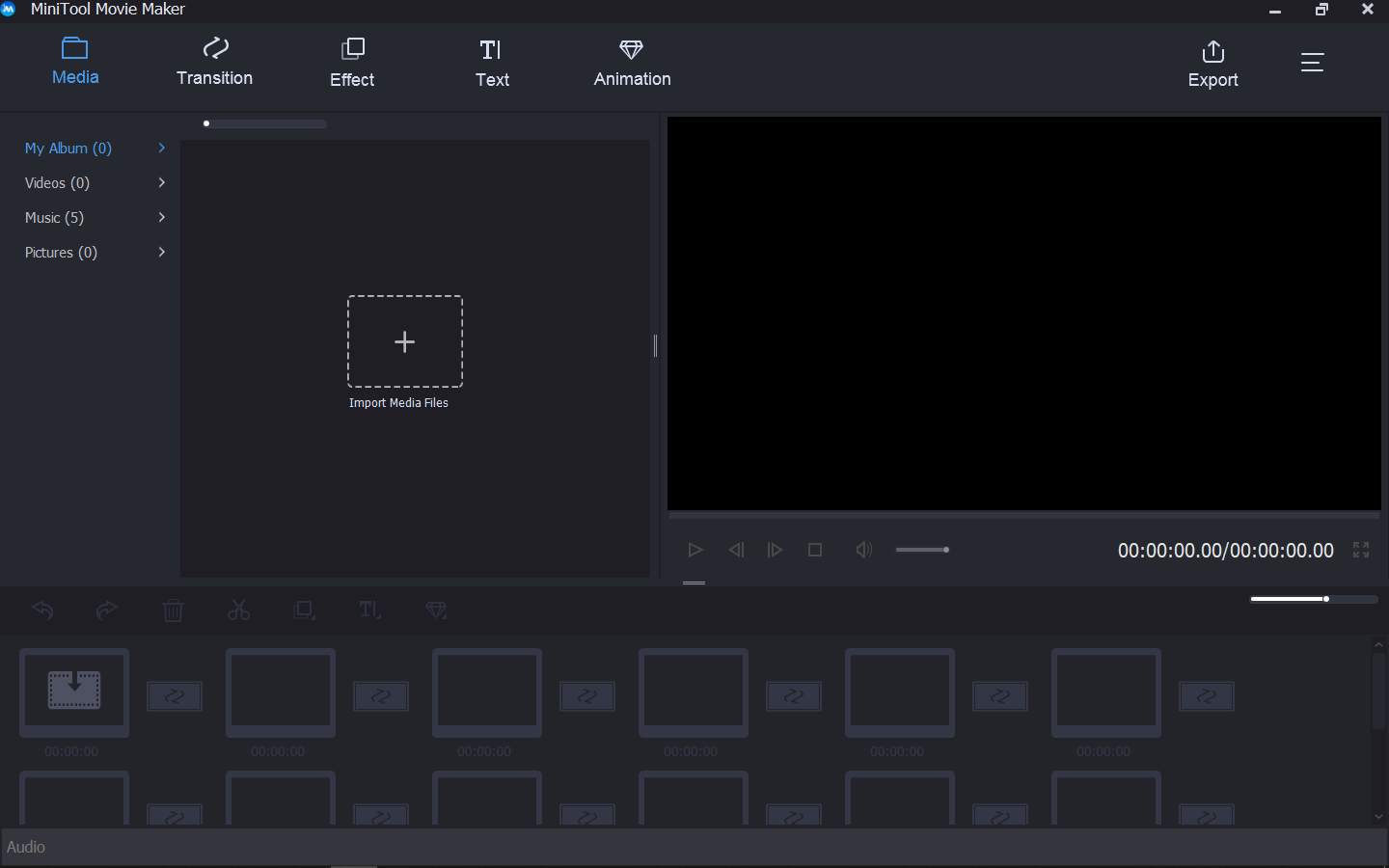 Step 2: Tap on Import Media Files to choose the video you'd like to add title. Then drag and drop the video into the storyboard.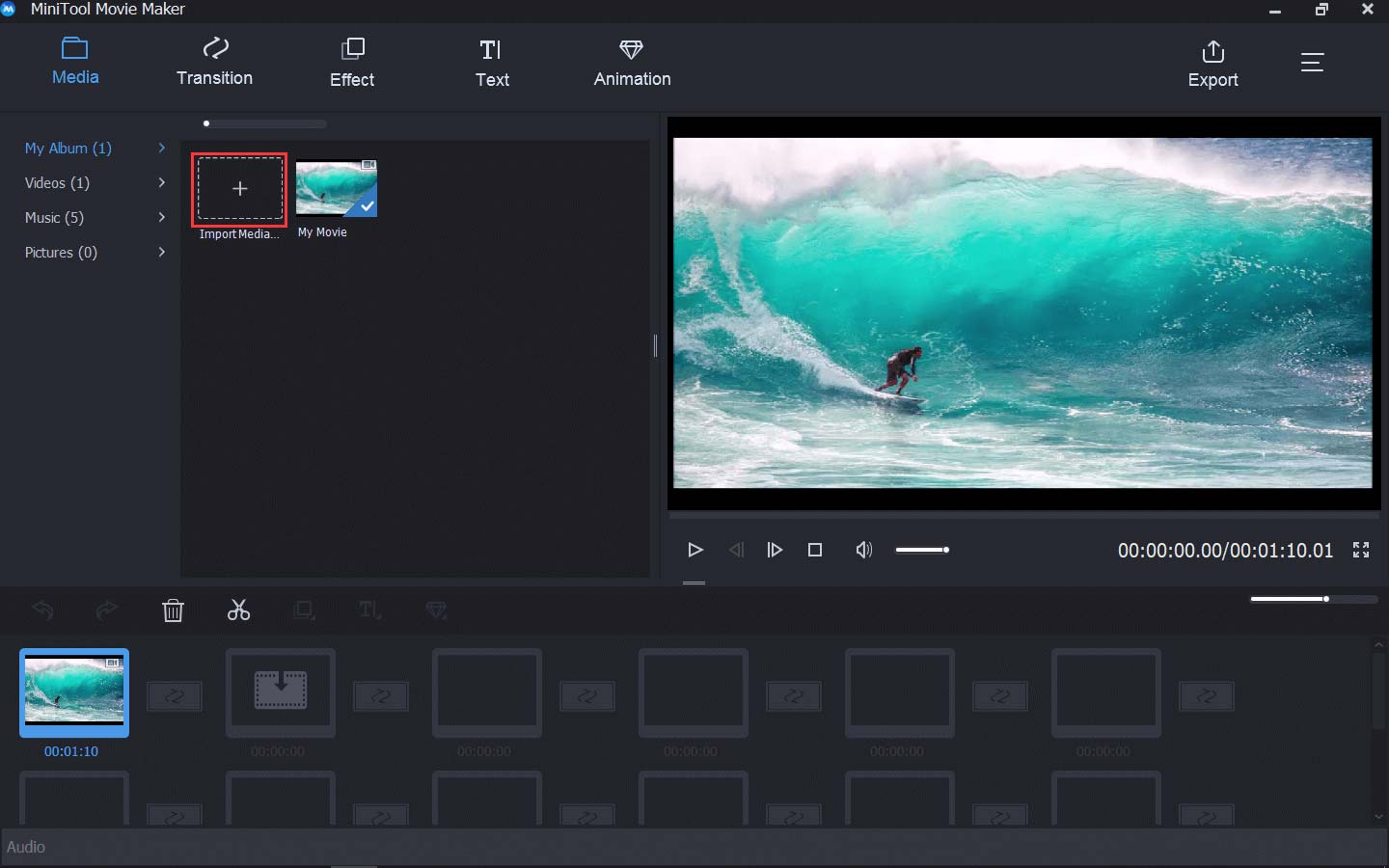 Step 3: Click on Text in the toolbar and select Title option to choose a title you like.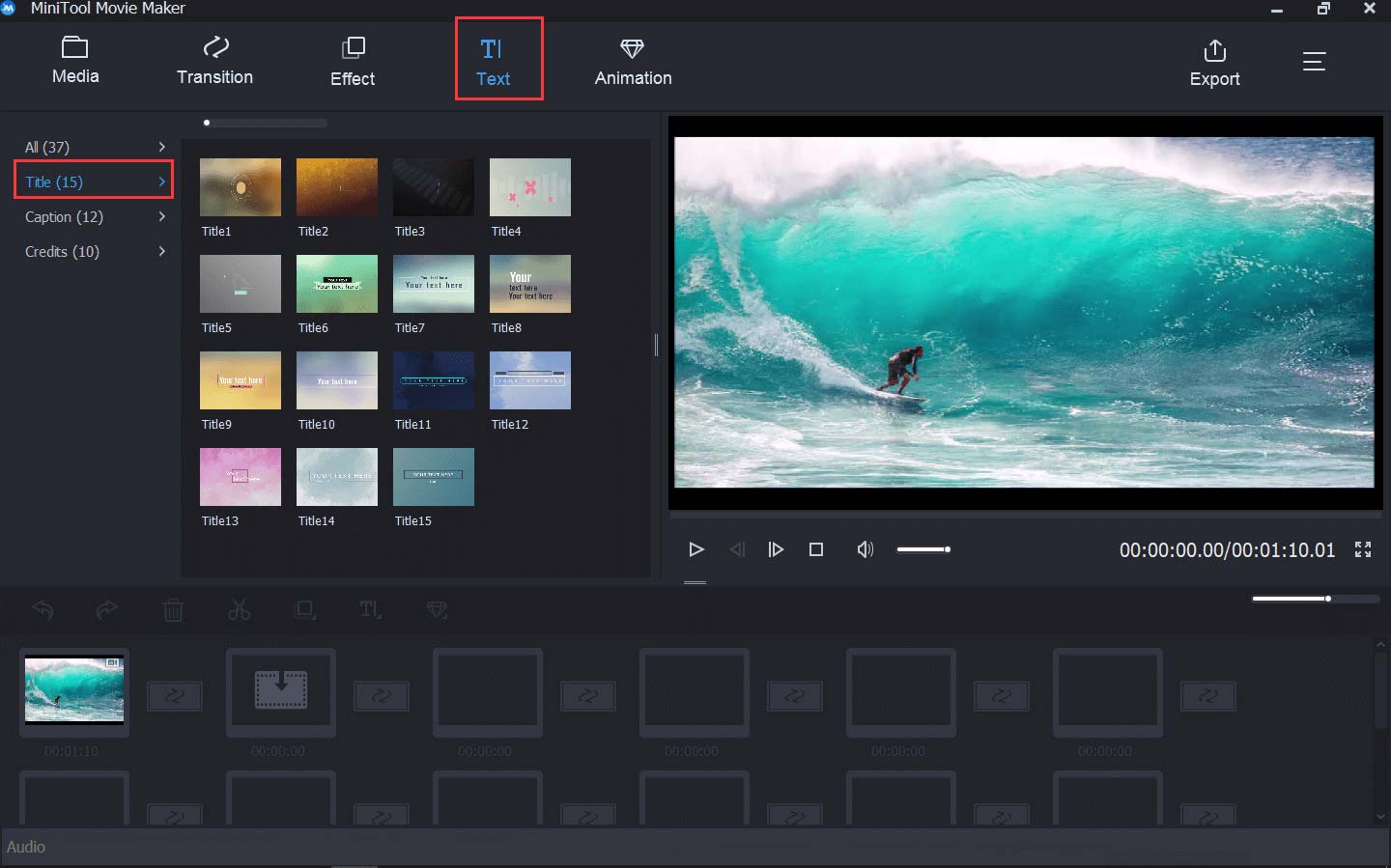 Step 4: Drag the chosen title to the video on the storyboard. Then type words in the dotted box and adjust title text to the right place. You can also change the font style, size and color. Later on, click on OK to apply these changes.
Step 5: When your video title completes, tap on Export in the toolbar. In the pop-up window, select the export format you like, then click on Export to confirm the operation.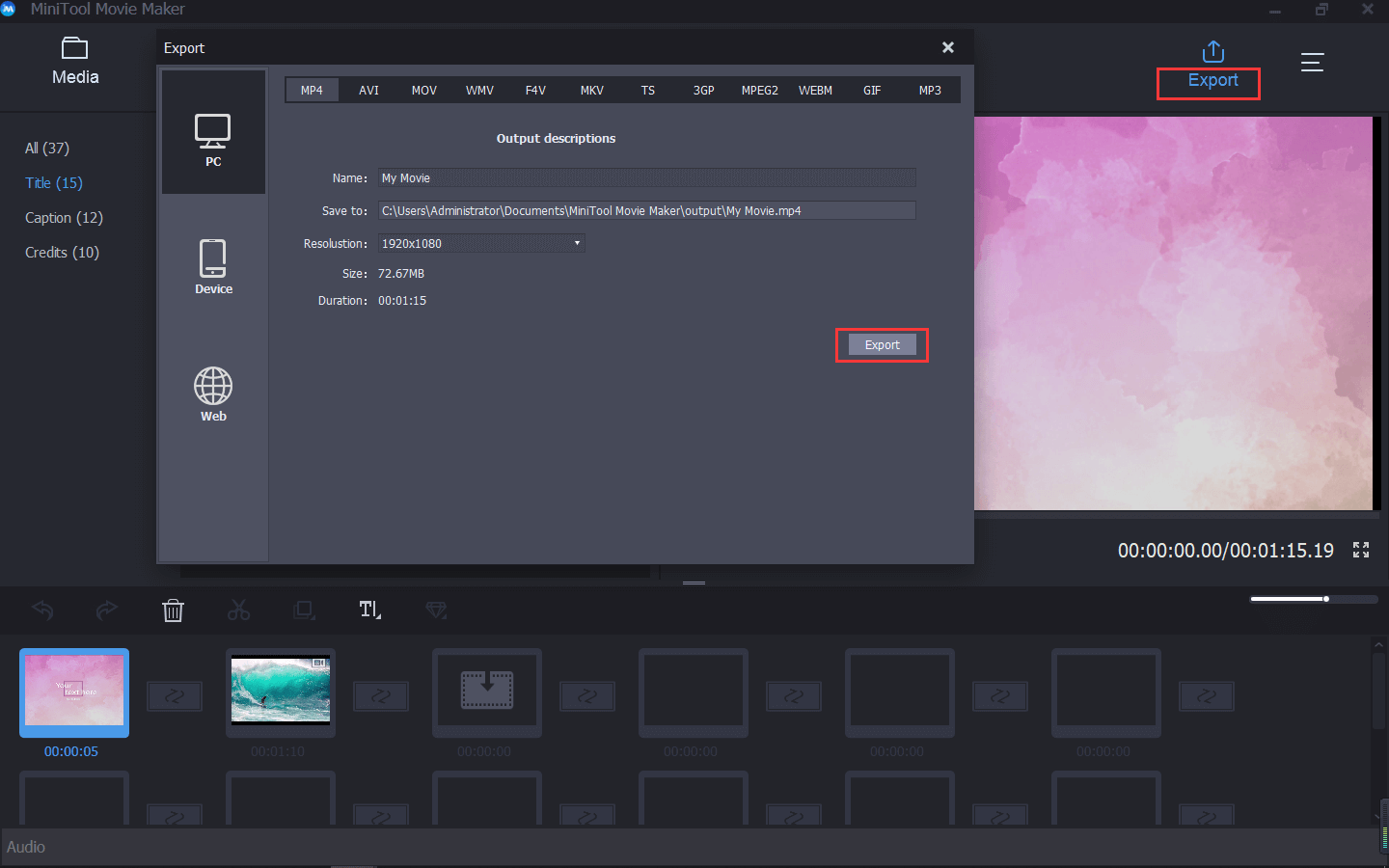 See! It's very simple to make a title for your video.
Do you want to add a title to your video? MiniTool helps you add titles at ease.Click to Tweet
Conclusion
To attract more people to watch your video, especially those who are deaf and those who are hard of hearing, you'd better add YouTube subtitles. In this way, your YouTube video views will be increased. Besides, to improve your video quality, adding a title is also important.
Now, you've mastered how to add subtitles to youtube video. Choose the desired way to increase video views and enhance your video.
If you have questions about how to add subtitles and titles, please feel free to contact us [email protected] or share it with us in the comment box below.