If you are searching for an alternative to SaveFrom, you came to the right place. This post from MiniTool uTube Downloader explains why you need a SaveFrom alternative and lists the top 7 SaveFrom alternatives.
Why You Need a SaveFrom Alternative
SaveFrom.net is a totally free online service to download videos from various platforms such as YouTube, Vimeo, Facebook, TikTok, etc. With it, you can download videos easily.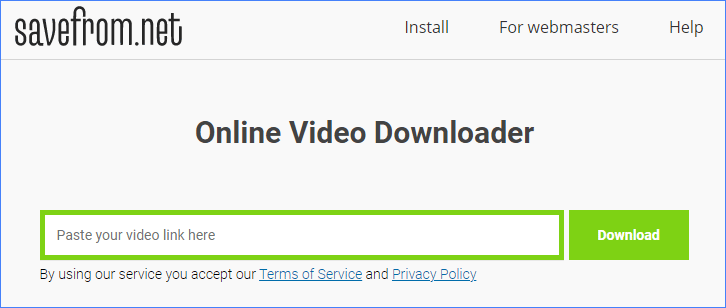 However, lots of people are seeking SaveFrom Alternative. Some people are stuck in the annoying issue SaveFrom not working when downloading YouTube videos through the service.
Other people are worried about the service security. Although the service claims that it is 100% safe, the service security is still questionable.
Some users voiced their opinions on SaveFrom on safeweb.norton.com. Most of them are negative:
Opinion 1: Trojan Warning! At this site, my admin Anti Malware software says: Trojan blocked on port 52896. I double-checked, it only happens on this site.
Opinion 2: Probably malware.
Opinion 3: Attention! The site offers to download a program that has a virus threat Suspicious.Cloud.9…
Opinion 4: Safe BUT has an unwanted app. This download includes PUA.
…
I have also tried SaveFrom to download a YouTube video and had a not good experience. The download was successful and the downloaded video played well. However, one thing was suspicious that I was taken to a suspicious page after I clicked the Download button on SaveFrom.net. Then, I tried to download another YouTube video and I was taken to the page again. The page is related to the extension called StreamSearchWizard as the following snapshot shows.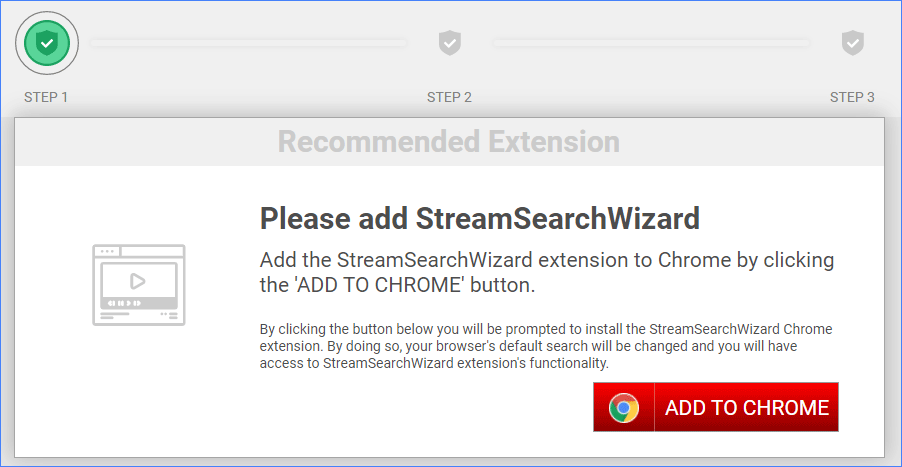 What is StreamSearchWizard extension? Searching on the Internet, I found that it is a browser hijacker that operates by altering browser settings to promote streamsearchwizard.com – an illegitimate search engine. Moreover, the browser hijacker may track data as most browser hijackers can gather browser-related information.
The experience just proves one of the above opinions that SaveFrom can bring PUAs (Potentially Unwanted Application).
Aside from the SaveFrom security worries, there was another issue when I downloaded YouTube videos via SaveFrom. There was no audio file format like MP3 but video formats like WebM and MP4. In addition, the highest video resolution is 720p. Have you ever had the same experience?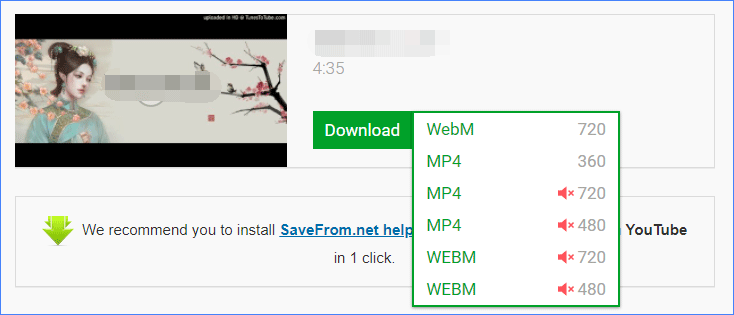 Why do you need a SaveFrom alternative? You can share with us in the comment zone below.
Now scroll down to see what the top 7 SaveFrom alternatives are.
Top 7 SaveFrom Alternatives
Here we would like to recommend desktop downloaders as online downloaders always have some security risks.
MiniTool uTube Downloader
4K Video Downloader
Freemake YouTube Video Downloader
SnapDownloader
WinX YouTube Downloader
VideoProc
iTubeGo YouTube Downloader
Top 1: MiniTool uTube Downloader
MiniTool uTube Downloader is an excellent SaveFrom alternative. Designed and developed by MiniTool, it is a completely free and 100% safe and clean YouTube downloader, video converter as well as screen recorder.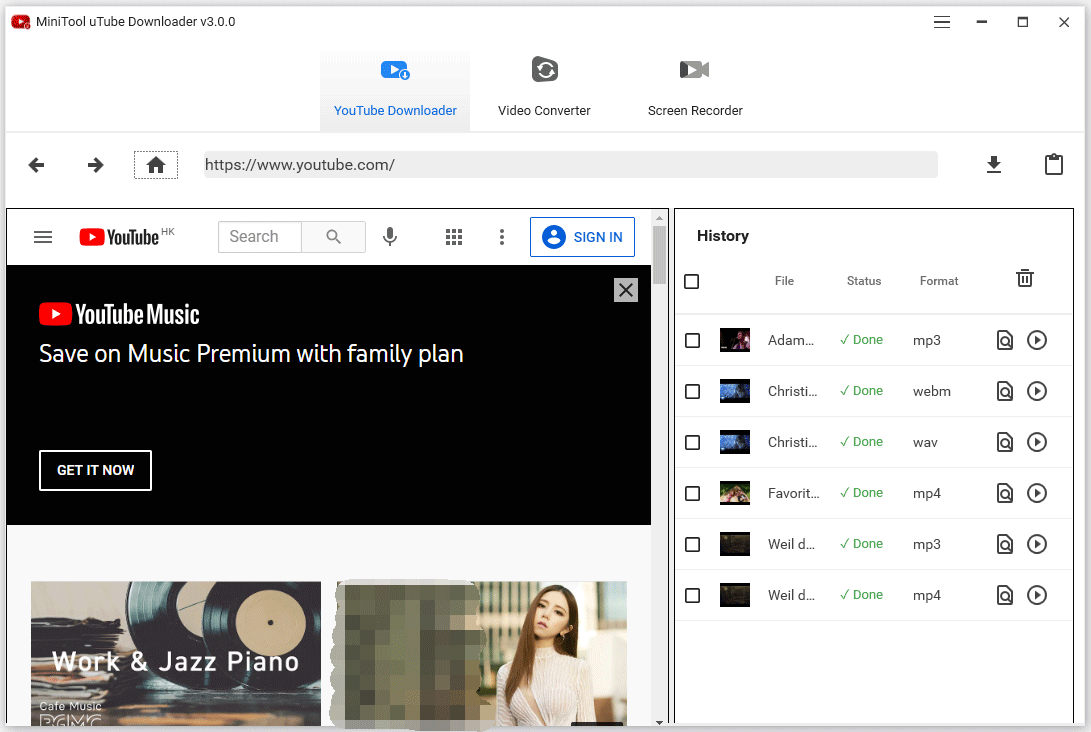 As a YouTube downloader, it can help you:
More features of MiniTool uTube Downloader:
A Windows-based program;
Simple interface;
No registration required;
Easy to operate;
No limits on download times and file size;
Multiple resolution support like 720p, 1080p, 4K, 5K, and 8K;
Download YouTube video or audio files in original quality without re-encoding.
Give it a try.
MiniTool uTube DownloaderClick to Download100%Clean & Safe
Top 2: 4K Video Downloader
4K Video Downloader is another safe and powerful alternative to SaveFrom. It can help you download videos from YouTube and other platforms like TikTok, Dailymotion, Flicker, and more.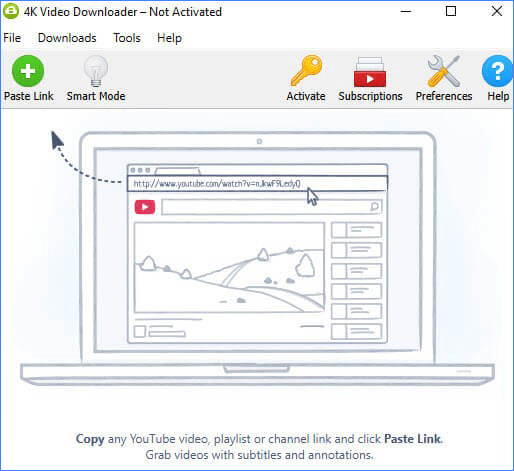 More features of 4K Video Downloader:
Operating system compatibility: Windows, Mac, and Ubuntu.
Multiple file formats support MP4, FLV, MKV, 3GP, MP3, M4A, and OGG.
Multiple resolutions support: 408p, 720p, 1080p, 4K, and 8K.
But note that it is not a totally free SaveFrom alternative. The free version has ads and the maximum number of downloads is 30 per day. If you want to download more videos, you need to pay US$14.37 or €12 for the personal version.
Top 3: Freemake Video Downloader
Freemake Video Downloader is also a Windows-based SaveFrom alternative.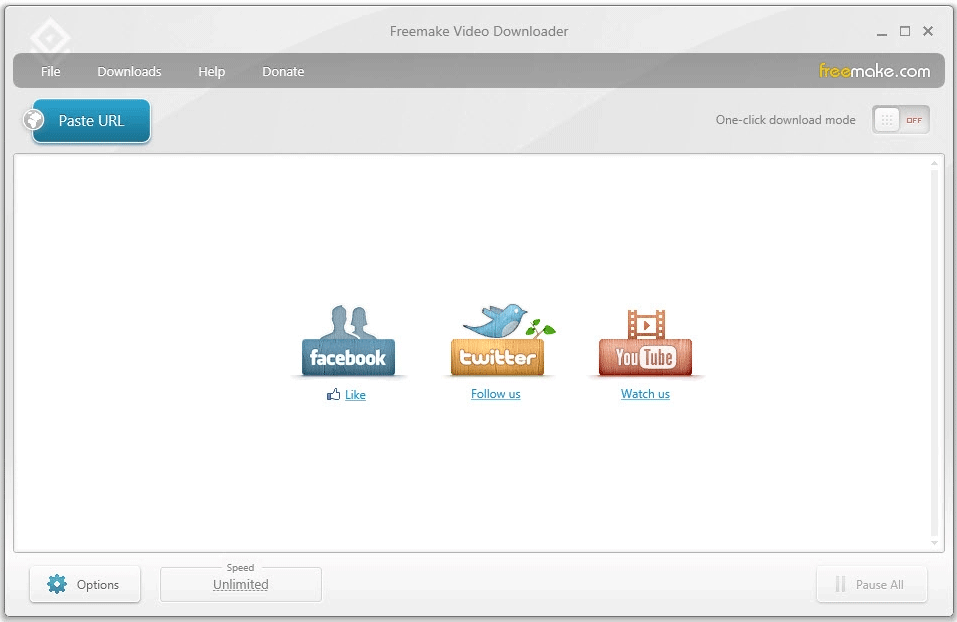 The SaveFrom alternative can:
Download videos from 1,000 sites like YouTube, Facebook, Vimeo, Dailymotion, Twitch, LiveLeak, Veoh, and more;
Supports more than 500 audio formats including MP4, MP3, AVI, 3GP, FLV, etc.;
Support various resolutions like 4K, 1440p, 1080p, 720p, 480p, 360p, and 240p
Transfer YouTube movies, clips, and MP3s to the cloud.
However, the SaveFrom alternative has some drawbacks.
The free version can't download videos that are over 3 minutes. To download long videos, you need to upgrade to a Freemake Premium Pack asking for US$9 for one year or US$19 for a lifetime.
Another frustrating thing is that it will add a branded splash to the beginning and end of your downloaded video.
Top 4: SnapDownloader
SnapDownloader is the 4th recommended SaveFrom alternative. It can run on Windows and Mac to download videos directly from about 900 platforms such as YouTube, TikTok, Facebook, and so on.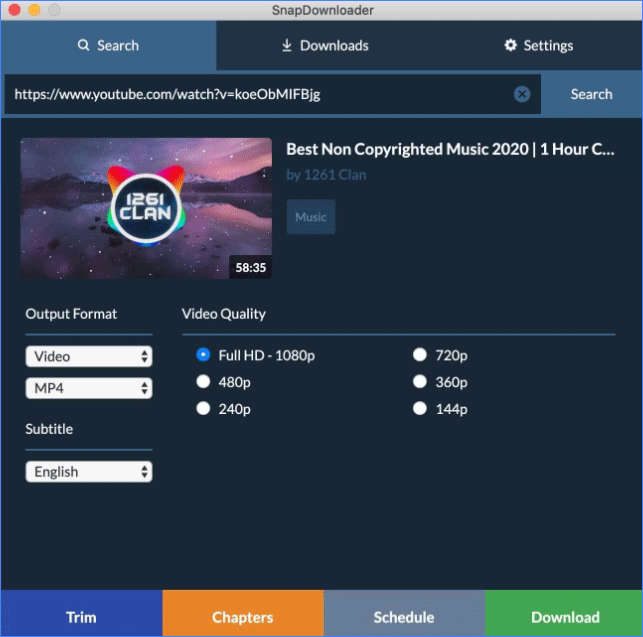 Moreover, it can:
Download videos in bulk;
Seamlessly download file size;
Schedule video download time and date;
Download and convert videos to MP4, MP3, AVI, WMA, AAC;
Download videos in 8k, 4k, QHD, 1080p, 720p, and more.
However, it is not free — it offers a one-day free trial only. When the trial period is over, you have to pay $19.99 for a lifetime license if you want to enjoy all the features of the software.
Top 5: WinX YouTube Downloader
TheSaveFrom alternative WinX YouTube Downloader is also a good choice. You can use this YouTube downloader on a Windows or macOS computer.
With it, you can:
Download videos from various platforms like YouTube, Instagram, Facebook, and more;
Download videos in batch;
Save 4K movies, live streams, music, etc. in MP4, MP3, FLV, or WebM;
Download MP4 video in resolution of 4096×2160, 3840×2160, 1920×1080 or 1080×720.
However, this SaveFrom does not support 3D and 360-degree video.
Top 6: VideoProc
VideoProc is another choice. It can easily download videos, music, playlist, channels from over 1,000 websites such as Facebook, Dailymotion, Twitch, and so on.
More features of VideoProc:
Batch download videos;
Search matched subtitles texts online from movies and TV series;
Enable the proxy server to download videos and music anywhere.
Top 7: iTubeGo YouTube Downloader
When SaveFrom.net can't download YouTube videos, you can also try iTubeGo YouTube Downloader. This SaveFrom alternative is available for free and can run Windows and macOS.
As a YouTube downloader, it supports multiple input and output file formats including MP4, M4V, 3GP, MPEG, DAT, AVI, ASF, etc.
More features of iTubeGo YouTube Downloader:
Download videos from YouTube, Facebook, Instagram, Dailymotion, Vimeo, TikTok, and other websites;
Choose different video resolution like 480p, 720, 1080p, 2K, 4K and 8K;
Download multiple videos in bulk.
But note that the YouTube downloader is not completely free.
Note: No matter which software you will choose, please go to the official website to get it.
Are you seeking SaveFrom alternatives? Here are the top 7 SaveFrom alternatives. Top 1 is the best!Click to Tweet
How to Download YouTube Videos via SaveFrom Alternatives?
The seven SaveFrom alternatives have been displayed. Which one do you want to try? This part shows you how to download YouTube videos.
The steps to download a video on different SaveFrom alternatives are similar: paste the video link in the search bar of the SaveFrom alternatives, choose the video format or audio format, and click the Download button to download the video.
Here takes the top 1 SaveFrom alternative – MiniTool uTube Downloader for example to show how to download a YouTube video in detail.
Steps to download a YouTube video with MiniTool uTube Downloader:
Step 1: Get MiniTool uTube Downloader by clicking the above button.
MiniTool uTube DownloaderClick to Download100%Clean & Safe
Step 2: Launch the YouTube downloader. Then, under the YouTube Downloader tab, paste the YouTube video link in the search bar and hit the download icon next to the search bar.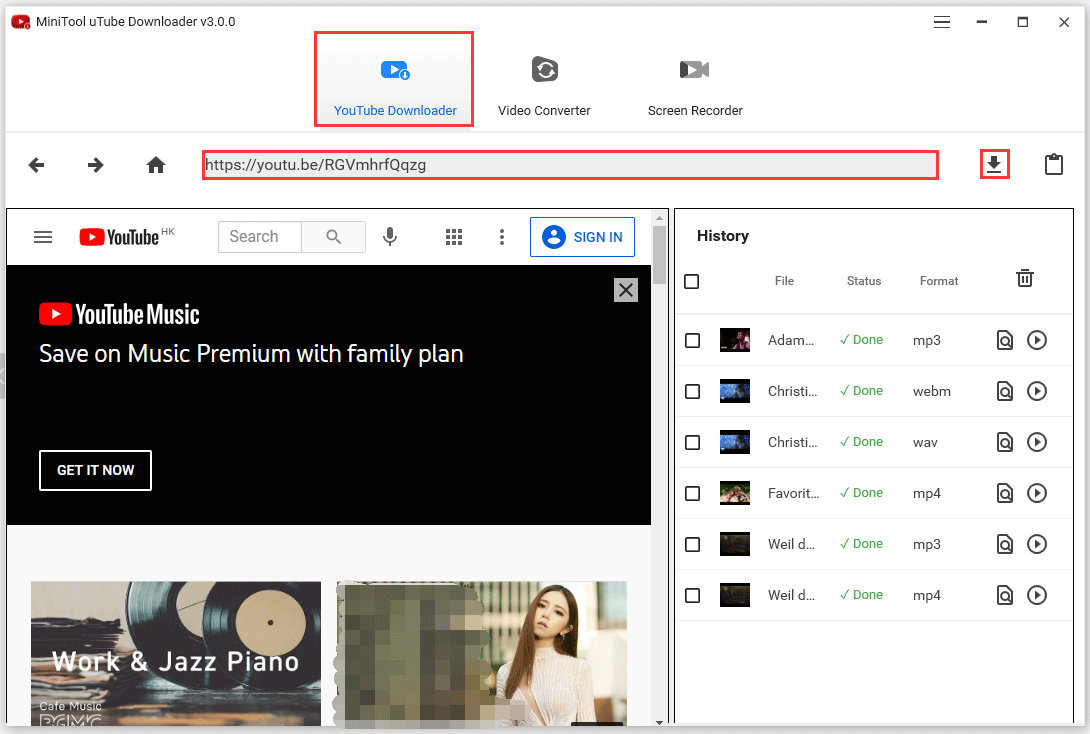 Step 3: Wait for the software to parse the video link. Once you get a mini window, choose the file format and resolution you prefer, and then click the DOWNLOAD option.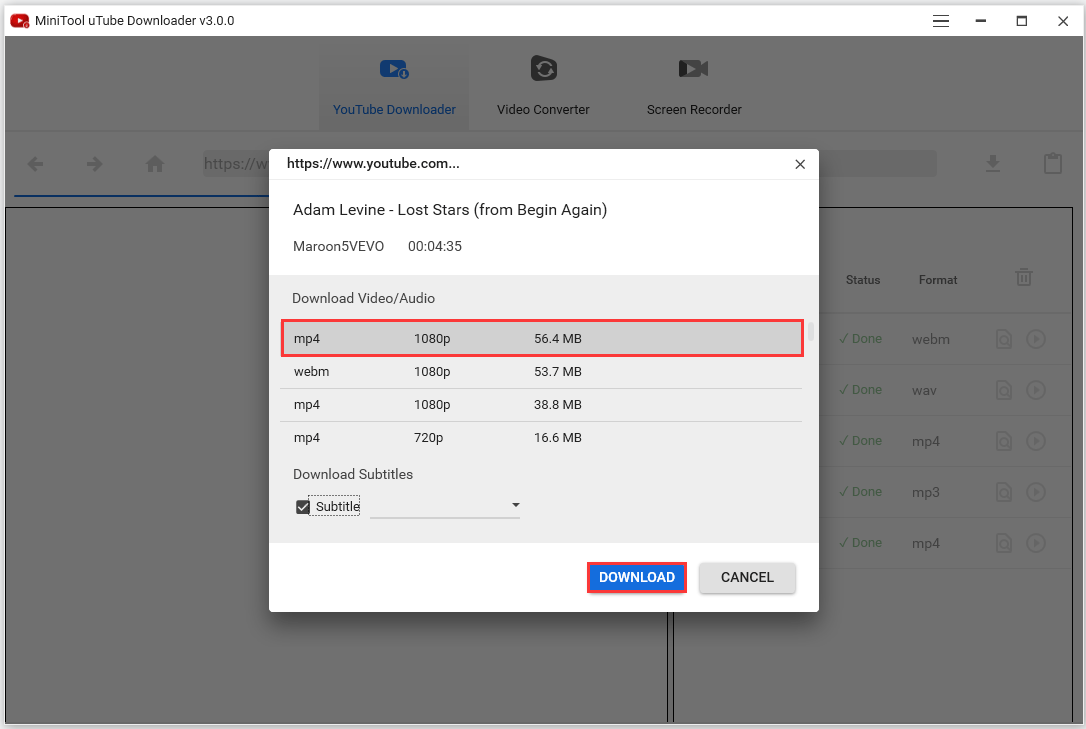 Step 4: The YouTube downloader will start downloading the video. Once the download ends, you can click the Play button to watch the video.
MiniTool uTube Downloader is a great SaveFrom alternative. It helped me download YouTube videos quickly.Click to Tweet
Verdict: Which SaveFrom Alternative You Have Picked
Which SaveFrom alternative have you picked? Pick one based on your needs.
If there is something unclear in the post, please tell us through the comment zone and we will make it clear as soon as possible.
If you pick MiniTool uTube Downloader and have some doubts about or suggestions for the SaveFrom alternative, please feel free to contact us via [email protected] and we will reply to you as soon as possible.
SaveFrom Alternative FAQ
Is SaveFrom legal?
SaveFrom is legal. However, it is not 100% safe to download videos from YouTube with it.
Does Y2Mate give viruses?
Can you download YouTube videos for free?
How can I safely download videos from YouTube?
To download videos from YouTube, you can use an online or desktop YouTube downloader. But for security, it is not recommended to use online YouTube downloaders because they will take you to suspicious websites that misguide you to install PUAs.
Therefore, try a desktop YouTube downloader to safely download videos from YouTube.