If you are looking for some Roblox videos, this article is what you need. It will introduce the top 10 Roblox YouTubers. They offer Roblox gameplay videos, child-friendly videos and interesting Roblox videos. Meanwhile, it also offers you a great YouTube downloader - MiniTool uTube Downloader. It can help download these YouTube videos.
What Is Roblox?
Technically, Roblox is not a game. This is a gaming environment for children. Roblox users can download Roblox application to their computers, game consoles, phones or tablets and then choose a Roblox game to play every time they open the application.
Maybe you are interested in this: Activate YouTube on Game Consoles.
You might be surprised to learn that Roblox has been around since 2006. This even predates Minecraft. There are now over 50 million games in this environment. Your children certainly can't complain that they can't find what they want on the platform.
Roblox developers provide tools and gaming environments. They left it to the Roblox community to use their imagination and create games. Roblox is also a mini-social platform that allows users to add friends and chat. It allows players to imagine, play, create, socialize, chat, interact and connect with others in a variety of ways.
Is Roblox Popular?
Roblox is popular with kids. Kids Data, a research firm, collected data on Roblox usage in the UK. In the UK alone, at least 1.5 million children play the game, with 24% of British children aged 10-12 playing on Roblox. That's ahead of TikTok (13%) and Snapchat (20%). British children aged 10-12 also spend more time on Roblox than they do watching traditional television.
While Roblox isn't as popular with young people as YouTube, the game company recognizes the importance of Roblox for building fans. Like Twitch influencers, Roblox gamers also record their games and share them on YouTube.
How Does Roblox Work?
Roblox is a game environment. This is not the game itself. Roblox has millions of different games. They all exist in the same graphical environment, so they have a similar look and feel, but they don't coexist in the same gaming world. Each game Roblox creates is a different, separate game.
Users can download all the games in the Roblox environment and do not need any additional software unless they want to create a game. You can play Roblox versions of almost every type of game you can think of: action games, racing games, role-playing games, shooting games, etc.
Is Roblox Kid Friendly?
Like many websites and apps that interest children, Roblox's web security issues have always been an issue. Many media reports have questioned whether Roblox is safe for young players and some claim that Roblox offers a platform for adults trying to groom children.
The media has even raised concerns about inappropriate role-playing opportunities in the games on Roblox. Sometimes when you allow children to express their imagination, someone will do so in an inappropriate way.
Roblox is aware of the concerns expressed by parents of young children. They alter the environment and make inappropriate activities more difficult. The site also has a section called "For Parents" that explains Roblox's security tools including: customizable parental controls, chat filters, a reporting system, and avatar clothing detection. 
Many Roblox gamers record their games and share them on YouTube, so there are a lot of Roblox channels on YouTube that every Roblox fan should follow. Whether you are interested in Roblox game development, gaming strategy or tutorials, it's good for you to subscribe to the following channels. You can take your game skills to the next level.
You Can Download These Roblox Videos from YouTube
Right now, you can download these Roblox videos from YouTube. How to do that? A useful YouTube downloader can help you. After finishing download videos, you can watch these videos anytime and anywhere.
Here are many downloaders in the market. Which one should you choose? MiniTool uTube Downloader is the best one you can find.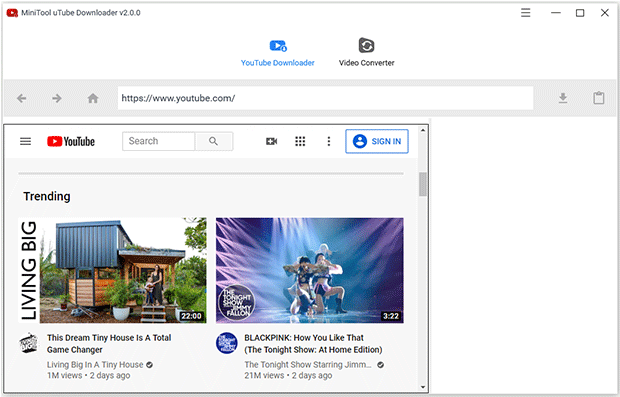 Why Choose MiniTool uTube Downloader?
Here are some persuasive reasons:
It's totally free and clean.
There is no ads and no bundle.
It supports full speed download.
It supports unlimited downloads. You can download as many videos as you want.
It offers superior quality conversions. You can convert YouTube videos into MP4, WEBM, MP3 and WAV.
You can download audio from YouTube.
You can download YouTube subtitles.
You can download YouTube playlist to MP3/MP4.
In a word, MiniTool uTube Downloader is a quite useful tool!
MiniTool Youtube DownloaderClick to Download100%Free & Clean
If you have a need, keep reading. Here is how to use MiniTool uTube Downloader.
3 Steps to Download YouTube Videos
Step 1: Open MiniTool uTube Downloader.
Download and install MiniTool uTube Downloader on your computer.
Launch this free downloader.
Step 2: Download the Video on YouTube.
After entering its main interface, you can search for the video you want in its search bar or just type the URL link of the video in its address box. Then open this video.
Click the Download button at the top right corner.
Step 3: Save the Video.
Choose an output format of the video: MP3, MP4, WAV, and WEBM. Here you can choose whether to download YouTube subtitle or not.
Click DOWNLOAD to start to download the video.
Once you finish all the steps above, you should have successfully downloaded the video you want via MiniTool uTube Downloader. Then, you can check your video by clicking Navigate to file. You can also watch the video by clicking Play.
MiniTool also provides you Video Converter which is a pwerful tool that can help convert the original video and audio format into proper format. Only in this way can normally open your files.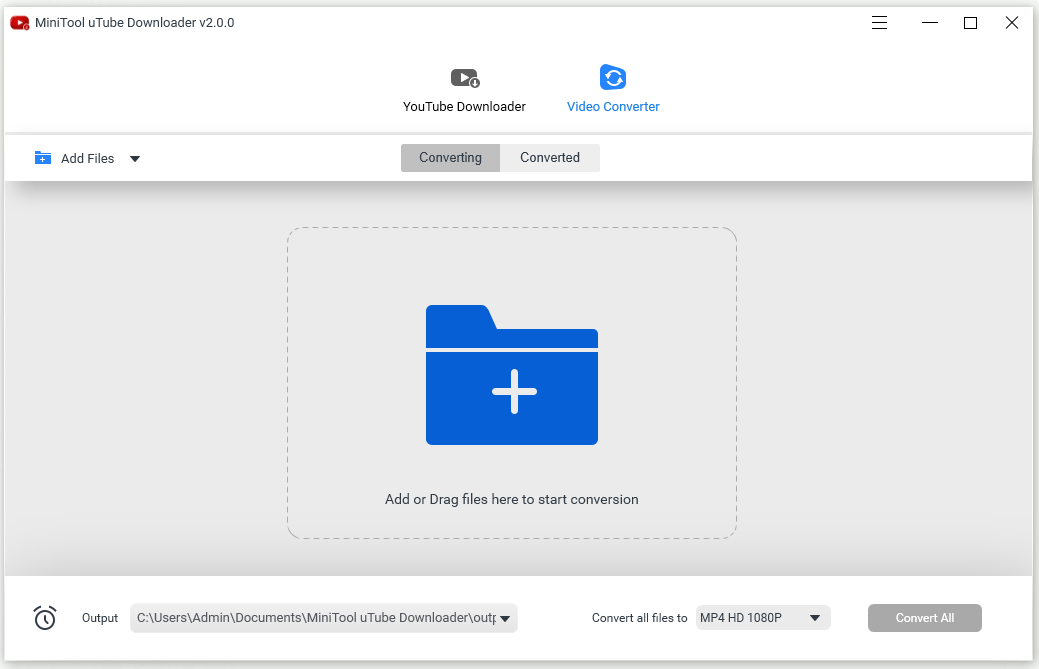 Video Converter supports converting files to multiple formats. You can convert video to MP4, MOV, MKV, AVI, WMV, M4V, ASF, etc. You can also convert audio to MP3, WAV, M4A, AAC, AC3, AIFF and more. It supports 4 kind of devices: Apple, Huawei, Samsung and Android.
The operation is quite simple. Just add or drag your files to its specified operation, then you can start conversion. Before that, you can choose the output path. Download this tool and have a try right now!
MiniTool Youtube DownloaderClick to Download100%Free & Clean
MiniTool uTube Downloader is the best YouTube downloader app. You can use it to download videos and audios from YouTube easily. Click to Tweet 
Top 10 Roblox Video Channels on YouTube in 2020
Denis
Flamingo
GamingWithKev
Poke
Tofuu
Sketch
Roblox - Topic
Hyper
RadioJH Games
MooseCraft Roblox
Roblox Videos from Top 10 Roblox YouTube Channels in 2020
If you want to watch some Roblox videos on YouTube, there are the top 10 Roblox channels for you.
1. Denis

Subscriber Count: 8.65M
Videos Count: 2,267
Views Count: 3.48B
Denis is a Roblox YouTube channel where you can find kid-friendly videos. If you're looking for a channel for your kids, Denis is your best choice. It gains 8.65 million subscribers and more than 3 billion views. Denis posts 5 videos a week, mainly for children.
2. Flamingo

Subscriber Count: 6.42M
Videos Count: 1,460
Views Count: 3.59B
Flamingo is a gaming channel run by Albert. You'll see a lot of Roblox focused games on Flamingo. The channel has 6.42 million subscribers and gets more than 3 billion views. One of the best things about Flamingo is that it regularly releases two videos a day. If you're interested in watching new video games every day, you should subscribe Flamingo.
3. GamingWithKev

Subscriber Count: 6.29M
Videos Count: 3.48B
Views Count: 1,968
If you're looking for a fun, comedy-based, exciting Roblox channel, you should follow GamingWithKev. You'll find hilarious Roblox reviews, pranks, and other types of exciting videos. A new video is released every day to recharge your day.
4. Poke

Subscriber Count: 4.48M
Videos Count:
Views Count: 2,538
Poke is a snazzy Roblox channel where Zack posts a variety of videos for kids of all ages. These videos are story-based and can keep the audience hooked for a few minutes. Zack posts one video a day, so you always have something new to watch.
5. Tofuu

Subscriber Count: 3.59M
Videos Count: 1.03B
Views Count: 2,502
Tofuu, Roblox's other YouTube children's channel, posts three videos a week. The creator also goes out of his way to tell the viewers what kind of equipment he is using. He uses OBS to record, uses Vegas 12 to edit and Render to edit the videos and uses the AT2035 Studio Condenser microphone. He also uses a Line6 UX2 for audio compression and condensing. If you're a fan of Minecraft and Roblox, you'll love this channel.
6. Sketch

Subscriber Count: 3.24M
Videos Count: 883M
Views Count: 1,232
Sketch is a YouTube channel for Hello Neighbor and PalsCraft fans. If you play either of these games, you must follow it. This channel is popular for its funny commentaries. The channel posts up to four videos a week, enough to keep you hooked. These videos are very funny and suitable for children.
7. Roblox - Topic

Subscriber Count: 2.07M
It is Roblox's official channel on YouTube, with 1.99 million subscribers. Its subscriber base continues to grow at a rapid rate. It was started in 2006 to connect players. It publishes live streams, best games, game trailers, gameplay, tutorials, events, awards, and more.
If you're looking for the latest Roblox tutorials, updates, and live broadcasts, subscribe to this official YouTube channel. New videos won't be uploaded often, but it's a good place to look for details about championships and other events.
8. Hyper

Subscriber Count: 2.01M
Videos Count: 469M
Views Count: 2,524
The Roblox channel is run by Dylan. He uploads daily kid friendly Roblox videos to this channel. Most of these videos are also based on stories that children like to watch. If your children also love to watch story-based Roblox videos, Hyper is a good choice.
9. RadioJH Games

Subscriber Count: 1.2M
Videos Count: 610M
Views Count: 1,892
RadioJH Games is a child-friendly Roblox channel where you can find all kinds of games and interesting reviews. These videos were uploaded by a young girl named Audrey, so it's the perfect channel for girls. Audrey posts five videos a week for her followers.
10. MooseCraft Roblox

Subscriber Count: 862K
Videos Count: 133M
Views Count: 954
MooseCraft Roblox is a children's entertainment channel. The idea behind the Roblox YouTube channel is to make viewers laugh. These videos are based on stories and recorded specifically for children. Release frequency is very low. That means you'll only see a few new videos a month or none at all.
These 10 Roblox channels will keep you busy for hours. You don't have to follow all of them, but can choose those that suit your gaming preferences. It all depends on your preferences, the games you like, and the gaming influencers you like.
If you are interested in Roblox gameplay videos, you should follow a channel that focuses on gameplay. If you're looking for channels that post content that's appropriate for your kids.
These articles may also be appropriate for your kids:
Best YouTube Cooking Videos for Adults and Kids
This article offers 10 popular Roblox YouTube channels where you can find kid-friendly videos or some Roblox gameplay videos. Click to Tweet 
Final Words
To sum up, this article has introduced you the top 10 Roblox channels. Whether you are looking for Roblox gameplay videos or child-friendly videos, these channels can meet your needs. In addition, this article also offers you a great downloader app - MiniTool uTube Downloader. It can help download YouTube videos.
MiniTool Youtube DownloaderClick to Download100%Free & Clean
If you have any questions or you know any good downloader for YouTube, please share them with us in the comments section. Thanks in advance!
Roblox Videos FAQ
Is Roblox really shutting down in 2020?
No, Roblox is not shutting down in 2020. The official Roblox Twitter account has also clarified that Roblox will not be shut down. Such rumors are the same scams, but the details change, and they happen every year or two. Best not to believe everything you read online!
Is Roblox OK for a 5-year-old?
Many rumors, fake horror stories, and incorrect advice about Roblox have demonized the game on social media and even in newspapers. However, children can play it safely and happily with a little supervision and understanding.
Can Roblox be inappropriate?
Roblox itself filters and inspects the game being created, including inappropriate images and profanity. However, games are still allowed to have themes of horror, murder or bloodshed. Note, however, that keeping your child under the age of 13 does not limit the number of games they can play.
What is Roblox virus?
Roblox virus is Trojan type malware that claims to be a cheating application for a game called Roblox. Some players thought the malicious app would greatly ease gameplay, but they ended up infecting their own computers.