If you produce videos and
upload them to YouTube
, you may share your content across social media and wait for the views to roll in. Sometimes, however, you're stuck wondering why your video has no views on YouTube. Well, here are some reasons and tips on how you can fix it!
The content below covers the reasons and fixes of the issue why your video has no views on YouTube. Additionally, if you want to download YouTube videos for offline watching, you can try the free and safe YouTube video downloader – MiniTool Video Converter.
MiniTool Video ConverterClick to Download100%Clean & Safe
Why Do I Have No Views on YouTube and How to Fix It?
Your Video Thumbnail Is Not Attractive.
The first thing that the potential viewer sees when your video appears on their page is your video thumbnail. If your thumbnail doesn't catch their attention with an accurate image or graphic showing what your video is about, the viewer will not click on it and you won't get any views either.
How to fix it:
Create relevant, clickable, and engaging thumbnails.
To make your thumbnails as engaging as possible, you should use custom thumbnails that would best represent your video content. Your thumbnails need to be eye-catching and attract the attention of potential viewers. You can use bright colors, interesting images, and easy-to-read text in your thumbnails.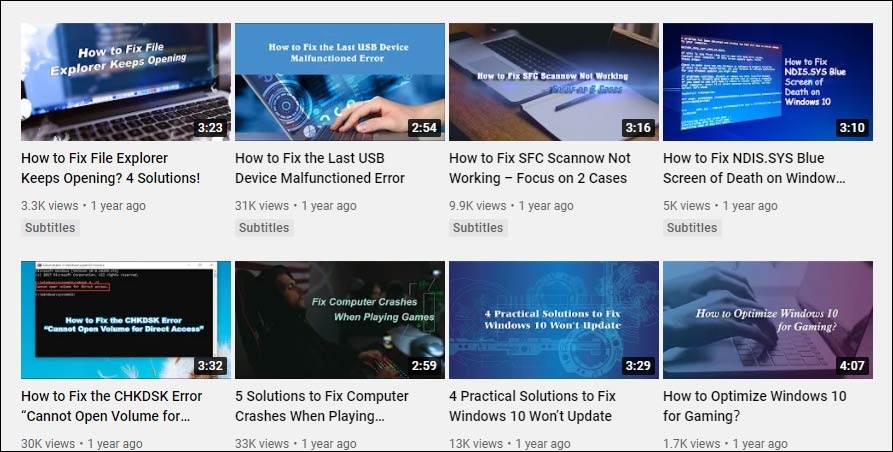 Read this post to know more about the tools to make attractive thumbnails: YouTube Thumbnail Maker App – Here Are 6 of the Best for You.
Your Video Is Not Optimized.
Just like Google, YouTube is also a search engine and works the same way. Viewers enter the keyword for the video that they are looking for, and YouTube will list down the videos that match the keyword the best. The more relevant the search engine thinks your video is, the higher it will rank.
Failure to optimize your video properly will lead to fewer gained views on your video. So, you need to make sure that your video is well optimized.
How to fix it:
Prioritize video SEO.
Optimizing your video and following YouTube search engine optimization (SEO) is an essential part of getting views. You can find good keywords to match your selected topic and place them in the metadata of your video.
You Are Not Consistent with Your Content.
If you have no consistency on YouTube, your viewers and subscribers have no idea when you will post videos, what your videos are going to be about, or what your channel is even about. They will not subscribe. No wonder why you have no views on YouTube. This can also be very damaging to your video ranking on YouTube.
The algorithm places much value on channels that are consistently posting valuable videos. The value of the videos will reflect your view and subscriber count.
How to fix it:
Create valuable content consistently.
To ensure high ranking in YouTube results, you should create a content schedule and stick to it. Stay relatively within your niche and establish what type of videos you want to create. Also, being consistent, you're giving the YouTube algorithm more information about what your channel is about so that it can suggest it to the right people who will be interested in your videos.
You Do Not Share or Promote Your Videos.
After creating a video, just uploading it to YouTube is not enough for gaining many views. One thing you can do is increase your video promotion efforts, which will help you to lessen your dependency on the YouTube algorithm.
How to fix it:
Promote or share your video on other platforms.
You can promote or share your videos on Reddit, Facebook, Instagram, or other social media, forums, etc. It is a good way to get your videos in front of more potential viewers. The more people your videos get put in front of, the more potential views you can get. Remember, do not spam your video URL everywhere you possibly can- this will lead to poor results.
Conclusion
This post answers the question of why the video has no views on YouTube and shares the tips to fix it. Just try these solutions to increase your YouTube video views!