As a YouTube content creator, you made a few videos and uploaded them to YouTube, but your channel doesn't grow. You may ask why is my YouTube channel not growing? In this article, we will talk about this issue and give you some insight.
This article covers the most common reasons why is your YouTube channel not growing as fast as you hope. Besides, if you want to download a YouTube video for offline watching, you can try this safe tool: MiniTool Video Converter.
MiniTool Video ConverterClick to Download100%Clean & Safe
Why Is My YouTube Channel Not Growing?
1. Your video fails to retain audiences
This means that you may fail to hold the audiences on your channel. To make it clear, let me take an example. A person comes to watch a video on YouTube and feels that the video is boring, he/she will get off immediately.
Watch time is the main metric that the YouTube algorithm sees when deciding if your video is worth recommending to other users. When people spend more time on your video, it increases the watch time and it leads to pushing the video top in search results.
2. Your video doesn't get to the point fast enough
As we mentioned before, the watch time counts as YouTube recommends your video to new audiences or existing subscribers. The audience will weigh the time on your video is worth it. If your intro is too long that viewers cannot get the point fast, you cannot get growing views.
3. Your videos don't give real value to the audience
Many videos on YouTube are successful because they're helping their audiences get inspired, solve a particular problem or let viewers learn a new skill. They are useful and entertaining.
4. Your channel's target audience maybe not clear
Another reason your channel does not increase YouTube subscribers is that you don't know your audience. It is significant to understand who your videos are made for and create videos relevant to their interests. You need always to know what the majority of your viewers are interested in and record videos that will appeal to them.
5. Your video quality could be promoted
The poor video quality plays a big part when you wonder why is my channel not growing. More often than not, the lighting, the audio in your video, the low-quality camera may result in poor video quality.
6. Poor editing can slow down your YouTube channel growth
In addition to the video quality, video editing is an important factor that affects your viewers' experience. Great video editing will elevate your video to a large degree. Here you can try MiniTool MovieMaker to polish your video footage. While editing, make sure that the video is in sync.
7. Your thumbnails are not attractive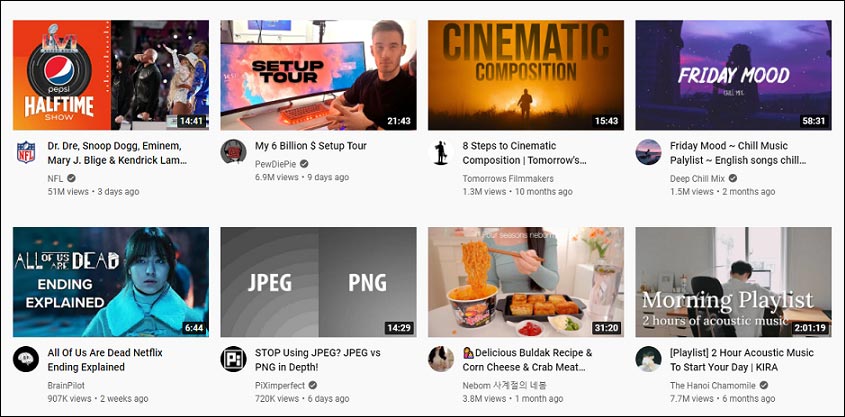 If you have boring thumbnails people won't be interested in watching your video. The truth is that the attractive thumbnail will bring many views to your video. If your thumbnail tells the entire story of your video and doesn't leave space to evoke the viewers' imagination, not many people will click!
8. Not optimizing your video for YouTube SEO
YouTube SEO (Search engine optimization) is an important thing you should learn to grow your YouTube audience. You can start by optimizing your video title and thumbnail. Also, don't forget to optimize your video description, tags, and subtitles. Properly using tags and keywords works wonders when you plan to publish your video.
9. Not promoting your YouTube video on other platforms
If your YouTube channel is new, especially if you have not many subscribers, your video will have little chance to recommend to new viewers. Every time you publish a new video, you can send out an email to your list and ask them to watch it.
You can promote new videos across all of your social media platforms like LinkedIn, Twitter, Pinterest, Facebook, and Instagram. This is a great way to get more people from outside of YouTube to watch your videos.
Conclusion
After reading this article, you can answer the question "why is my YouTube channel not growing". If you have any questions about this article, please let us know and leave your comments in the comments area below.