If you need to know how to know if a song is copyrighted, the answer is simple: almost all music is under Copyrights. YouTube makes it easy to determine if a song is copyrighted and to get free music. If you need high quality music and you want to use background music with no problem, it is best to buy one of the above two services. Get more details from MiniTool right now.
How to know if a song is copyrighted? The answer is simple: almost all music is copyrighted. It all depends on how you use the song.
For Personal Use: there's nothing wrong with playing on your smartphone or in a homemade video that you do not intend to monetize.
For Educational or Commercial Purposes: if you want to add the music to a video and then upload it to YouTube, then you have to be careful and follow the rules.
How to Know If a Song Is Copyrighted or Free?
You may have heard that some people figure out what rights a song has through the YouTube Music Policies page. But sadly, the page seems to disappear.
There used to be a Music Policies page linked from the Audio Library page. The Music Policies page allowed a creator to search on a song title to see whether it was okay to use an existing recording or make a cover of a song. This link was there as of 3/8/20 when I asked How can there be a cover of a cover? But today the link is gone. A Google search on "Music Policies" site:youtube.com turns up a few miscellaneous videos but no Music Policies page.

support.google.com
So, how to use songs as background music in a video without infringing copyright? Continue reading.
How to Safely Use Songs as Background Music?
When you use background music in videos and commercials, all you need to do is use royalty-free songs. With this type of music and sound effects, you can ensure that you always adhere to Copyright guidelines.
A good free video option is to go to YouTube Audio Library where you can find and download thousands of royalty-free songs from different genres.
To open YouTube Audio Library, you should:
Open YouTube.
Click your avatar and then choose YouTube Studio.
Scroll down the left pane until Audo library comes to light.
Click Audio library and you will see lots of free music on the right side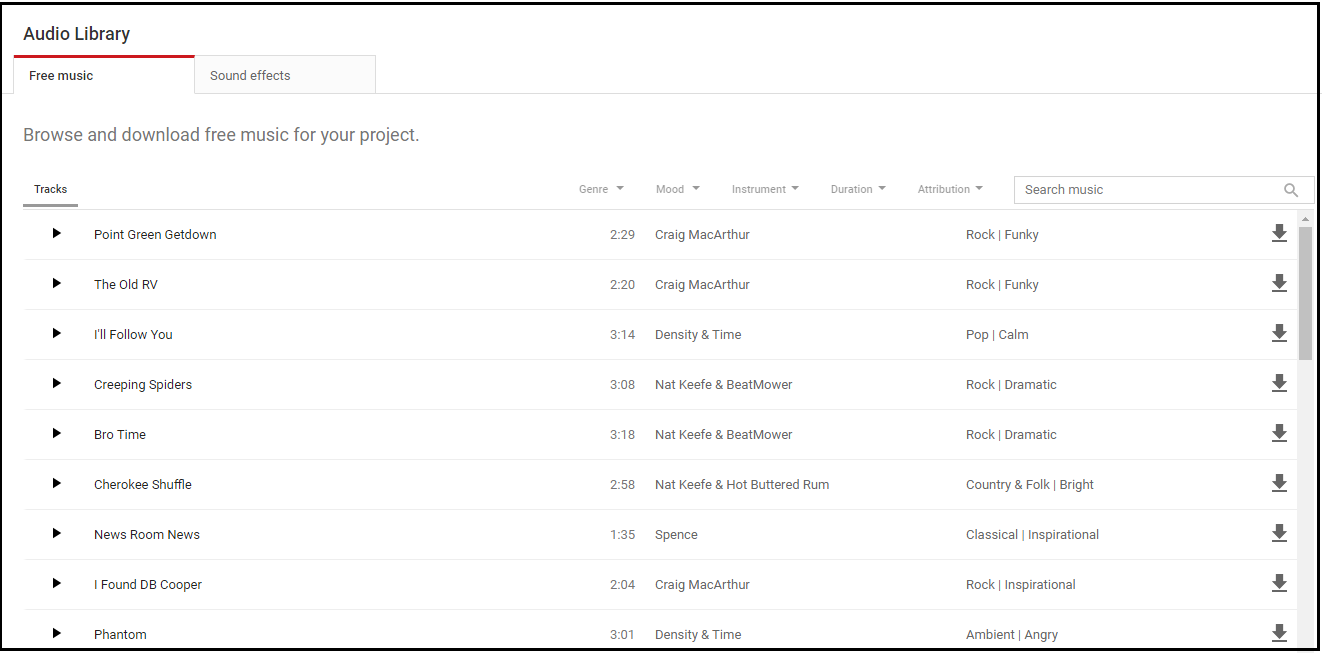 The only thing you have to think about is the so-called attribution and it is marked with a little symbol on the right. Attribution means that if you use a particular song or sound effect, you will be asked to explain in the video description who is the author of the music you are using.
It's easy to know what type of text you have to write in the description. Click on each song, and the same platform will tell you what you need.
But what happens if you don't want to add anyone to your videos, commercials, movies, or digital products or if you need higher-quality music? Take a look at the following part now.
Music without Copyright for Commercial Projects
Right now, you can acquire the relevant use licenses via the two best options given below.
Epidemic Sound:
Epidemic Sound, a platform dedicated to royalty free music distribution, has a library of more than 300,000 tracks.
Envato Elements:
Another good choice is the Envato Elements. you can find thousands of songs and sound effects categorized genres here. It charges at a very affordable price: 14.50€ per month for all the music you might need.
What If You Don't Find the Song on YouTube?
If the song you're searching for isn't on YouTube, you'll have to do some more detailed research. If it's more than 70 years old, chances are it's Public Domain music and you can use it without any problem. You can find a lot of these songs on the PDInfo website.
In any case, the best thing to do if you're not 100% sure is not to risk your project or channel using it. Not only do you allow your videos to be blocked or made money by the music author, but you also run into legal problems later on.
Bottom Line
If you wonder how to know if a song is copyrighted, this article tells you the answer at the beginning.
To sum up, YouTube's music platform makes it easy to verify if a song is copyrighted. On the other hand, YouTube also makes it easier for us to get free music. However, if you want quality music and use background music without any problem, it's best to purchase one of the two services given above.