If you add copyrighted music to YouTube videos, YouTube can block your videos or run advertising on your videos. So using royalty free music for YouTube videos is a good idea. How to find no copyright sound on the web? Thankfully, YouTube Audio Library offers you scores of free music and sound effects.
Due to Content ID claim, if you use a copyright-protected material for your video, content owners can block your video or allow the YouTube video to remain live with ads and share the advertising revenue with you. So using royalty free music for YouTube videos can't be better. Here recommend you a free audio library – YouTube Audio Library.
What Is YouTube Audio Library
YouTube launched the YouTube Audio Library in 2013. It aimed at offering YouTube creators a tool to enhance their content and find perfect songs for their videos. With the YouTube Audio Library, YouTube creators can access over 150 royalty free tracks and use them for any creative purpose. That is to say, you can use these tracks no just for YouTube videos.
Besides, it allows you to preview tracks before downloading them.
To add music to video, you can use MiniTool Movie Maker released by MiniTool.
How to Find YouTube Audio Library
You may wonder where is the YouTube Audio Library? How can I find this free audio library? Take the following steps to find the YouTube Audio Library.
Step 1: Log in to your YouTube account, click on your profile and select the YouTube Studio (beta) option from the drop-down menu.
Step 2: Tap on Other features to choose the Audio library option, then it will bring you to the YouTube Audio Library page.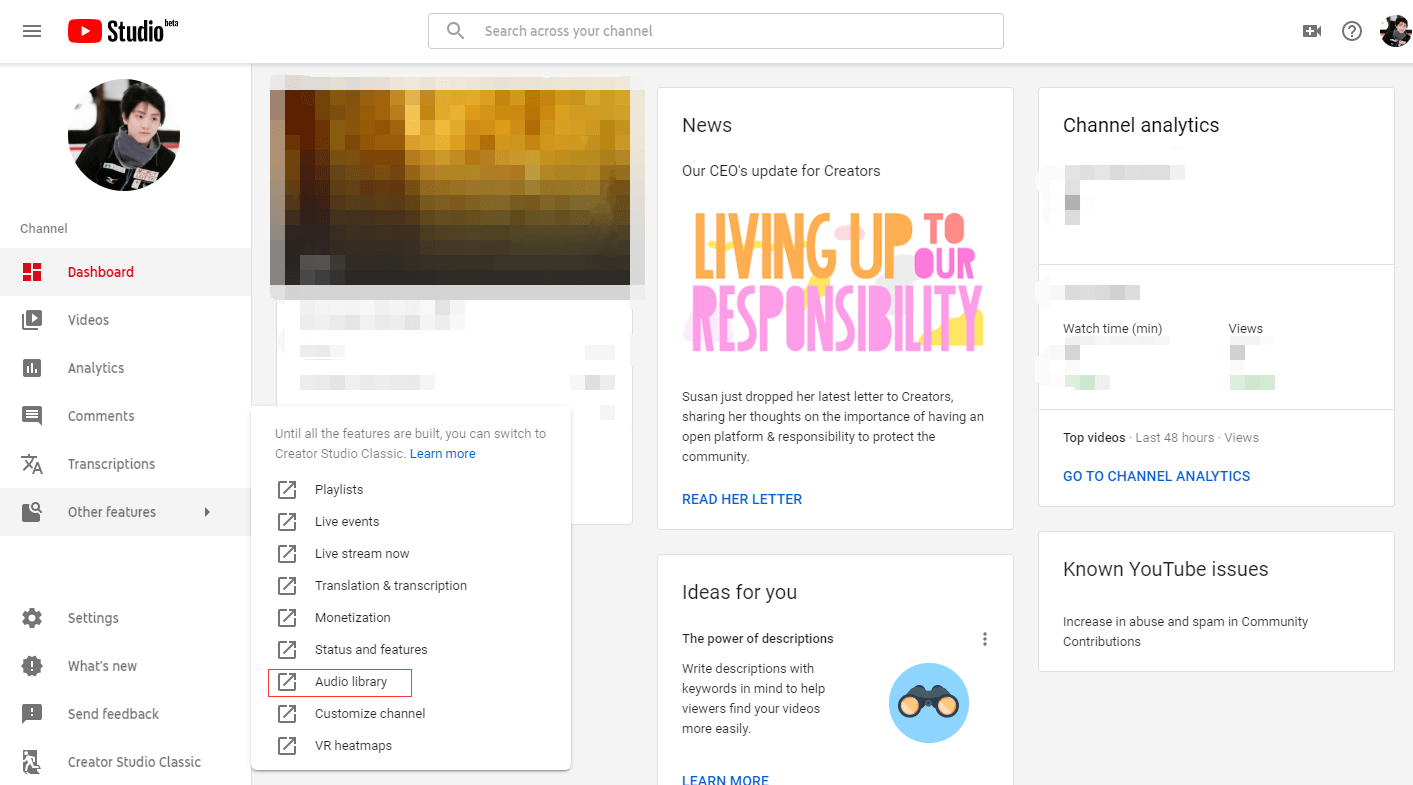 How to Use YouTube Audio Library
There are two categories in the YouTube Audio Library: Free music and Sound effects.
Free music
Free music has numerous copyright-free songs. And you can find the right song quickly by using the following five filters.
Genre
There are various kinds of genres, such as Ambient, Cinematic, Classical and more. If you're looking for a song for your Christmas video, you can choose Holiday by using this filter.
Mood
When you want to express feelings in your video, choosing the right background music is helpful. What kind of feeling do you want to express, sad, angry or happy? You can narrow down the types of songs by Mood filter and find the right song easily.
Also read: YouTube Music Recap: How to See Your 2022 Seasonal Recaps
Instrument
Instrument filter can help you specify instrument music you like, such as Bass, Drums, Organ, Piano, Strings and Synth.
Duration
You may find a song that matches with your video well, but due to the video length, you need to cut a part of the song. If you'd like to use the whole song for your video not the clip, you can use Duration filter to a song which will accommodate it.
Attribution
All tracks in the YouTube Audio Library are free to use, but some songs require attribution. If you want to use a song that not requires attribution, Attribution filter can filter out songs that require attribution.
Sound effects
Sometimes, adding sound effects to video makes the video more interesting. So how to choose the right sound effect? You can use the Category filter.
Category
There are over 20 types of sound effects in the YouTube Audio Library, such as Animals, Doors, Sports, Water and Weapons.
Tip: You can type the keyword of a track in the search box to find what you want.
After you choose the music as needed, you can directly download the music from YouTube by clicking the Download button.
Tips:
Looking to save videos for offline enjoyment? MiniTool Video Converter makes downloading and converting a breeze!
MiniTool Video ConverterClick to Download100%Clean & Safe
Conclusion
YouTube Audio Library offers copyright-free music and sound effects. With it, you can get free music quickly and easily.
If you are using other free music websites and want to share them with us, please comment on this post.