YouTube playlist help creators or users organize their favorite videos and find YouTube videos easily. If you wish to delete YouTube playlists and reorganize your YouTube videos, this post will teach you how to delete playlists on YouTube step by step.
Undoubtedly, YouTube playlist is the most useful feature on YouTube. It not only can help you organize YouTube videos, but also can repeat YouTube videos when you want to loop a YouTube video. To repeat a YouTube song, you can also use MiniTool uTube Downloader developed by MiniTool to download music from YouTube.
MiniTool uTube DownloaderClick to Download100%Clean & Safe
So making a YouTube playlist can't be better. But what if you want to delete YouTube playlists? Continue to read this post to learn how to delete YouTube playlists.
How to Delete Playlists on YouTube
There are two kinds of YouTube playlists: created playlist and saved playlist. A created playlist means the playlist is created by you. A saved playlist means you saved a playlist created by others.
This part will walk you through the steps for deleting created playlists and saved playlists.
How to Delete Created YouTube Playlist on Desktop Version
To delete created playlists on YouTube, follow the steps below.
Step 1. Go to YouTube after launching your web browser, then sign in your YouTube account.
Step 2. Choose Your channel from the drop-down menu by clicking on your profile picture at the upper right.
Step 3. Switch to the PLAYLISTS tab, you'll see all created playlists are listed here. Find the YouTube playlist you want to delete and tap on VIEW FULL PLAYLIST beneath the playlist name.
Step 4. On this page, you can change the playlist name, configure the playlist settings and make the playlist unlisted. Click on Edit behind the profile picture to delete the YouTube playlist.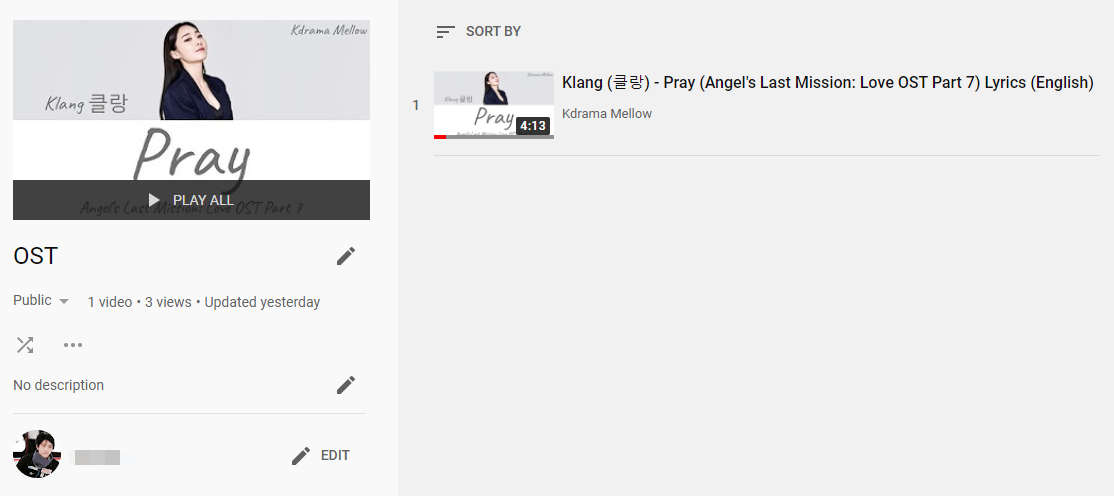 Related article: How to Share Unlisted YouTube Videos Privately.
Step 5. Tap on the three dots icon to drop down a list and select the first option Delete playlist.
Step 6. Then click on Yes, delete it in the pop-up window to execute the operation. Remember, deleting YouTube playlists is a permanent action and cannot be undone. Unlike deleting YouTube playlists, you can recover the deleted YouTube video.
Related article: How to Find Deleted YouTube Videos Easily- 2 Solutions
Step 7. It will take a while. Then you'll find the playlist disappear.
How to Delete Saved Playlists on YouTube
You may like to save some playlists on YouTube in order to watch these videos later. After watching all the YouTube videos in the playlists, you want to remove some of them. So how to delete saved playlists on YouTube?
Here's how:
Step 1. After logging in to your YouTube account, Tap on Library in the left panel.
Step 2. Once you're here, in addition to all your YouTube playlists. You can see your watch history, Watch later playlist and Liked videos. Scroll down this page to find the section Playlists.
Step 3. Once you're here, click on SHOW MORE to view all the playlist.
Step 4. Open the saved playlist you want to remove. Then tap on the blue icon to remove this playlist.
You might be interested in How to Delete YouTube Account – 2 Tips.
Conclusion
This post provides two solutions for deleting YouTube playlists. Now, it's your turn.
If you have any questions about how to delete playlists on YouTube, please share your ideas in the comment box.